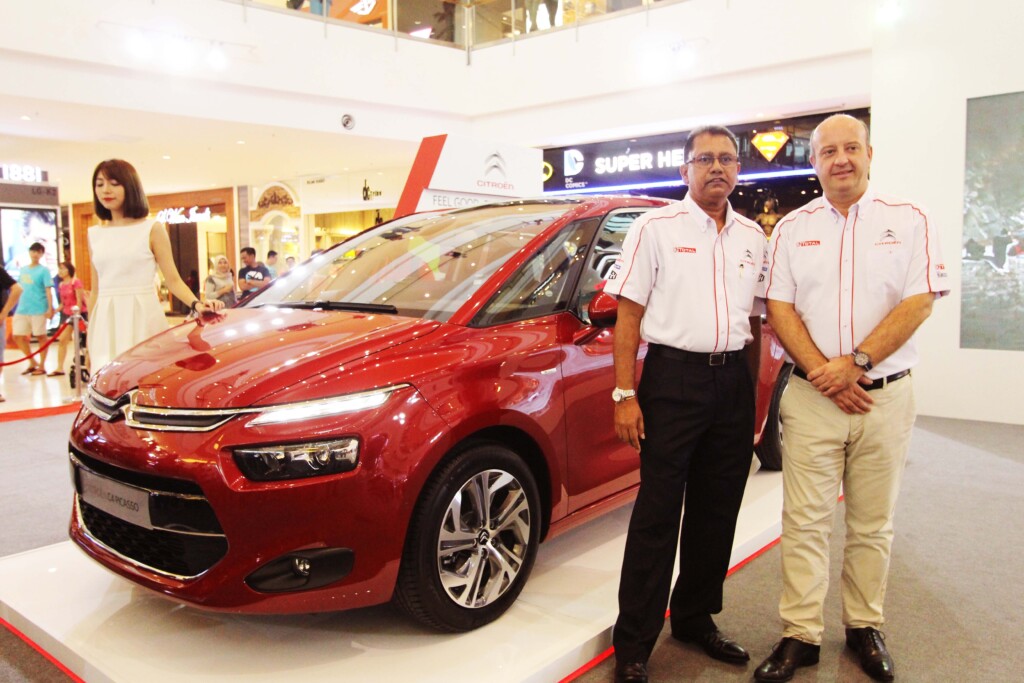 ADVERTISEMENT
Naza Euro Motors, the official distributor of the Citroen brand in Malaysia has launched the all-new Citroen C4 Picasso MPV at the IOI City Mall last weekend. This marks the first launch for the subsidiary in 2016 and the second model in the expanding Citroen line-up after launching the Citroen Grand C4 Picasso in April last year.
In terms of looks, the Citroen C4 Picasso is one of the best-looking MPVs on the market with futuristic and trendy styling. It takes advantage of the possibilities offered by Peugeot-Citroen's EMP2 platform to explore new forms of stylistic expression.
The modular EMP2 platform allows a longer wheelbase for increased cabin space. As a result, the Citroen C4 Picasso is more compact on the outside while offering more space on the inside. Unlike the 7-seater Grand C4 Picasso, the C4 Picasso offers up to 5-seats making it more affordable over its bigger siblings.
Brimming with 'créative technologie', the Citroen C4 Picasso comes with a full digital driving interface that is both intuitive and attractive. The dashboard is structured around two screens located in the central section: a 7-inch touchpad and a 12-inch panoramic HD screen. Driving aids dedicated to comfort and safety include Park Assist System, Active Cruise Control, front and rear parking assistance, dynamic cruise control, reversing camera, Lane Departure Warning System, Blind Spot Monitoring System and driver's seat with electric massage function and adjustable lumbar support.
Under the hood, power is supplied by a 1.6-litre direct injection engine with a twin-scroll turbocharger that produces 165 PS and 240 Nm of torque. Matched to a 6-speed automatic gearbox, it goes from 0 to 100 km/h in 9.3 seconds before reaching a top speed of 210 km/h.
The Citroen C4 Picasso's new THP 165 engine's specifications include fuel efficiency of 17.3km/l and performance, gaining 10 hp in the process and cutting CO2 emissions to 130 g/km.
Driveability is the key strength of the Citroen C4 Picasso. According to the automaker, this new-generation vehicle is simpler to handle and manoeuvre for an easier, more relaxed drive. The reduced weight and lower centre of gravity establish a new balance between comfort and road holding, for improved driveability, greater safety and unequalled suspension comfort, thanks to shock absorbers positioned vertically and vertical axle bolt above the centre of the wheel.
With optimised dimensions, along with electric power steering and a turning circle of 10.8m, the Citroen C4 Picasso is also an agile vehicle able to adapt to all driving situations.
In terms of safety, the Citroen C4 Picasso is packed with technologies to provide assistance as part of a safe and relaxed driving experience. These safety features include Hill Start Assist and the Electronic Stability Programme which consists of Anti-Lock Braking System (ABS), Electronic Brake Force Distribution (EBFD), Electronic Brake Assistance (EBA) and Electronic Stability Control (ESC) with Traction Control. Other features include 6 airbags, automatic handbrake, automatic activation of hazard warning lights in case of rapid deceleration, ISOFIX and active seatbelt safety system.
Available in 5 exquisite colours; Noir Onyx (Black), Blanc Banquise (White), Blue Kyanos (Blue), Gris Aluminium (Grey) and Rouge Rubi (Red), the all-new Citroen C4 Picasso is priced at RM148,888 (on-the-road) and it comes with a 5-year warranty with unlimited mileage.
To find out more info about the Citroen C4 Picasso and other Citroen products, visit www.citroen.com.my.