You'll never know how much you need one till you have one… That's a famous saying among bikers who've gotten used to having a 'top-box' at the back. Admittedly, I was one of the last who actually believed in the benefits of having one, but I'll freely admit now, I have no idea how I coped without one in the past…
ADVERTISEMENT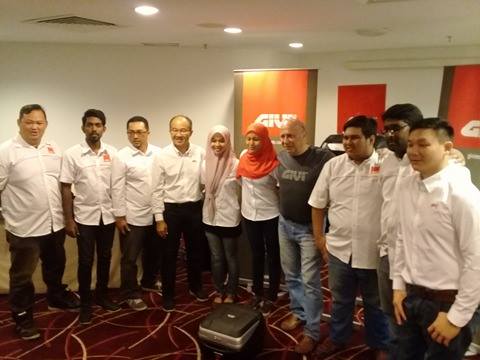 Recently, Givi, one of the most prolific makers of bike apparel and accessories globally and who are celebrating their 40th anniversary next year, announced the availability of the all-new B32 BOLD top-box, priced at a very affordable RM210 w/base-plate (excl GST and rack). The "32" in B32, and in fact all the numeric in the model name of their top-cases denotes the litre-capacity of the box.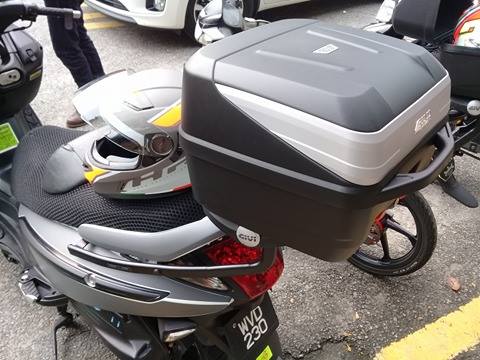 Designed in-house specifically for the Asean market, and favouring small-capacity bikes like scooters (pictured above) and kapchais, as well as bikes up to 600cc, the B32 BOLD is unique in the sense that it is square, where typically top-boxes are usually oval/oblong.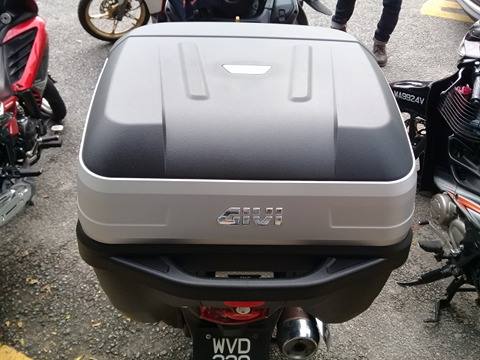 It also uses what Givi calls the 'clack' key system, whereby locking the box is made simpler by just pushing down on the lid-integrated handle (seen above), till a 'click' sound is heard. All Givi boxes come with a 2-year warranty for any defects. Made from highly-durable Polypropylene (PP), the B32 BOLD is specifically made to withstand our harsh climate.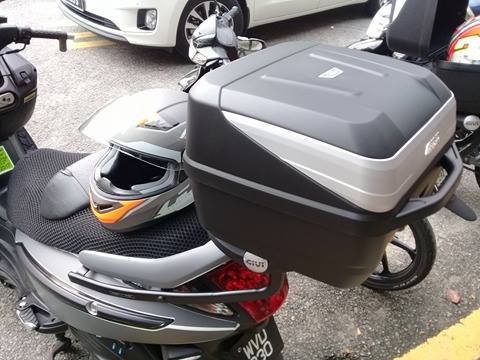 "We specifically chose a square design after some in-depth studies of current top-case users trend" said On Hai Swee, (top photo, fourth from left) MD of Givi Asia Sdn. Bhd. "We realised that a square box is more popular in comparison to oval shaped ones. The B32 BOLD will be available to the public in August this year" he added. And there's good news for buyers too! For a limited time, every purchase of the new B32 BOLD entitles you to a free exclusive Givi dri-fit T-shirt, while stocks last.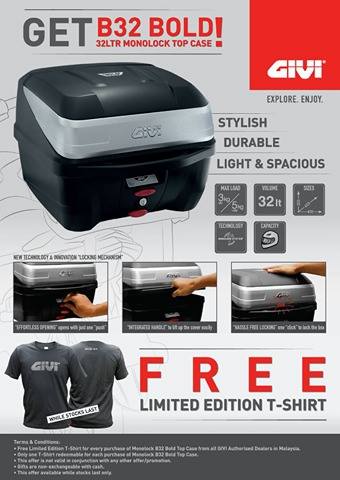 Givi has six production plants around the world, and records a healthy 20-30% growth annually, with 25-40 new products being introduced every year. The iconic Italian company will celebrate its 40th year in the business in 2018.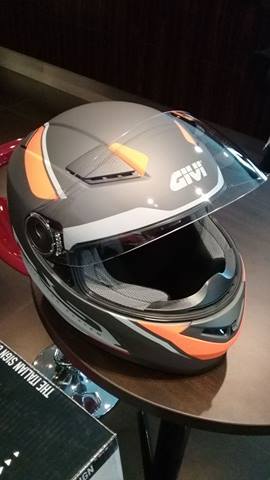 Coinciding with the launch of the B32 BOLD, was the introduction of the new Givi M50.2 full-face helmet (above) with inner drop-down sunvisor. While Givi is more known for their exceptionally well-made open-face helmets, the new M50.2 proved to be no less so. Solid, sturdy and very comfortable, it comes in sizes that range from S to XXL.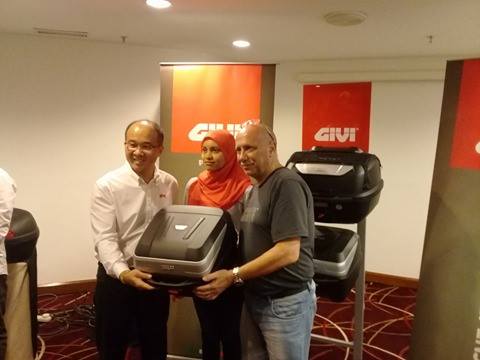 The new Monolock B32 BOLD top-case and M50.2 helmet will be available at various Givi Points around the country starting August 2017. Givi has 300 authorised dealers throughout Malaysia, with the main Givi Point located at Jalan Ipoh in KL. For more information log on to www.givi.com.my