ADVERTISEMENT
Honda Malaysia has introduced a brand new line-up of merchandise which is centred on the "Challenging Spirit" value as its design inspiration.
According to the automaker, "Challenging Spirit" is inspired by the DNA of Honda, which drives the company to be what it is today. This important value of persevering, working hard and never giving up is instilled in each Honda associate and has enabled the company to rise to challenges throughout its existence since 1948. The company is proud that its strong fighting spirit and passion has allowed Honda Malaysia to capture the No.1 position in Non-National segment for two consecutive years and No.2 in overall TIV last year and up to to-date.
In today's environment, "Challenging Spirit" is a particularly meaningful and relevant value for consumers who have to rise to different challenges every day. Honda Malaysia celebrates this value with all customers through a silhouette cut in the new merchandise line-up, and hopes to inspire them to be passionate and persevere with their own dreams.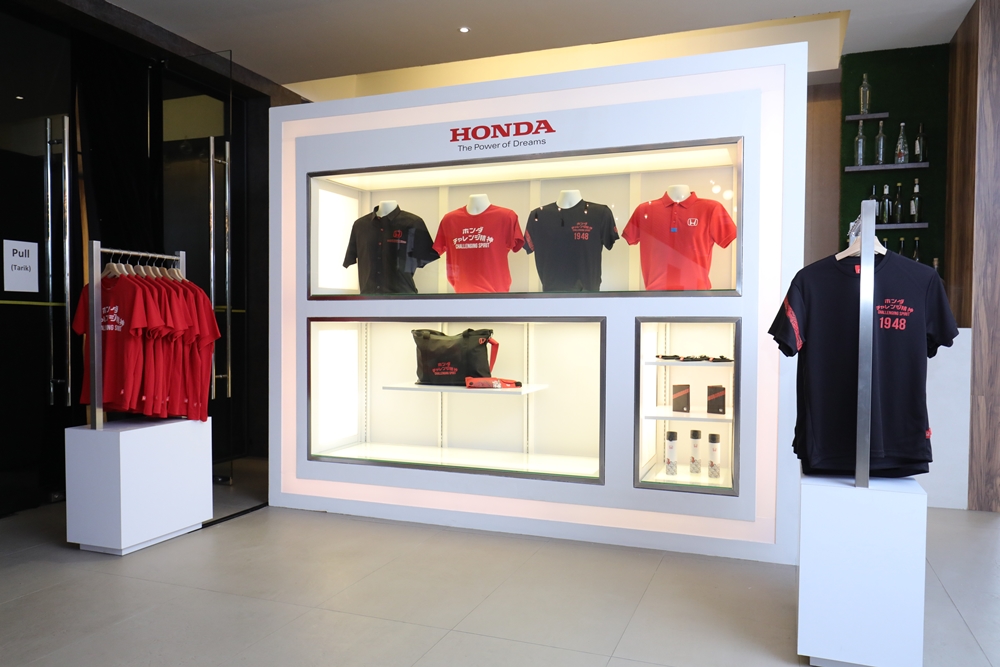 Honda's Challenging Spirit is translated on to the new merchandise collection through the motive of The Great Wave, which is stylised in original artistic lines that were hand-drawn. The Great Wave concept is applied on a range of carefully selected high quality materials to offer maximum comfort and satisfaction. The collection, which is more fashionable and edgier, is suitable for work and leisure, making them relevant to the current, younger Honda fans. Honda Malaysia is also introducing the "Active Wear" for the first time to meet the current lifestyles of Malaysians.
Each piece in this new merchandise collection is accompanied by a unique merchandise tag that pays tribute to the "Challenging Spirit", engaging customers at a deeper and more meaningful level while promoting customer loyalty. Honda Malaysia believes the Joy of Buying is not limited to vehicles, but to all Honda products including merchandise as well.
The new line-up ranges from lifestyle merchandise which includes T-shirts, Polo Shirts, Sweaters, Bomber Jackets, Duffel Bags, Tote Bags, Shoe Bags, Backpacks, Mini Travel Pouches, Caps, Active Wear, Water Bottles and Umbrellas to corporate merchandise such as Racing Shirts.
The new collection that is expected to arrive in all 91 Honda showrooms starting end of August 2017.
For more information on Honda Malaysia's new merchandise line-up visit www.honda.com.my.