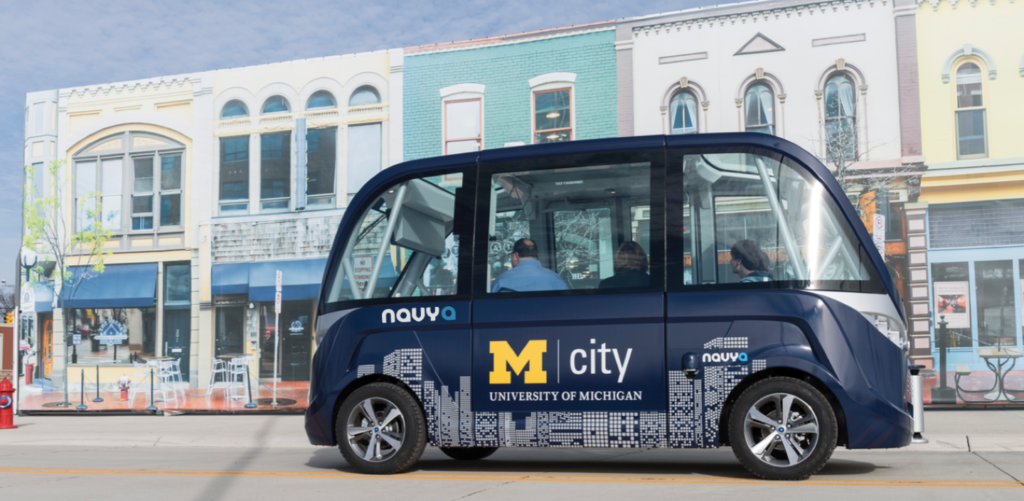 ADVERTISEMENT
NAVYA, a pioneer in developing and manufacturing autonomous vehicles, today announced it will establish its first assembly plant outside of Europe in Southeast Michigan. Beginning last year, the French company partnered with Mcity, a public-private partnership led by the University of Michigan to accelerate advanced mobility vehicles and technologies, to bring the NAVYA ARMA, a 100% driverless, completely electric, autonomous shuttle vehicle to Mcity. Thanks to the strong partnership with the university, NAVYA has decided to manufacture its vehicles in the Ann Arbor area.
The state of Michigan is ubiquitous with auto manufacturing, and this affords NAVYA the opportunity to work with experienced people in the industry. According to NAVYA's Vice President of Sales, Henri Coron, the company has an immediate objective to build 20 vehicles at the new plant by the end of this year. To achieve that goal, NAVYA plans to hire a team of 15 people at the Michigan facility by the end of 2017. The Michigan Economic Development Corporation (MEDC) is currently considering providing an incentive in support of the project.
"Thanks to our strong partnerships with Ann Arbor SPARK, the University of Michigan and the State of Michigan, we decided to choose the Ann Arbor area to establish our US headquarters. The Ann Arbor area offers a lot of possibilities for NAVYA to work with our suppliers and hire high-level professionals," added Coron. NAVYA is currently working with partners to find the best location to bring its technology to the U.S. and build American.
"NAVYA is a global leader in autonomous mobility innovations. With its funding and other resources, it could easily locate anywhere in the world," said Paul Krutko, president and CEO of Ann Arbor SPARK. "With our talent, infrastructure, and established network of mobility technology businesses, it's a great choice for NAVYA to call the Ann Arbor region home."