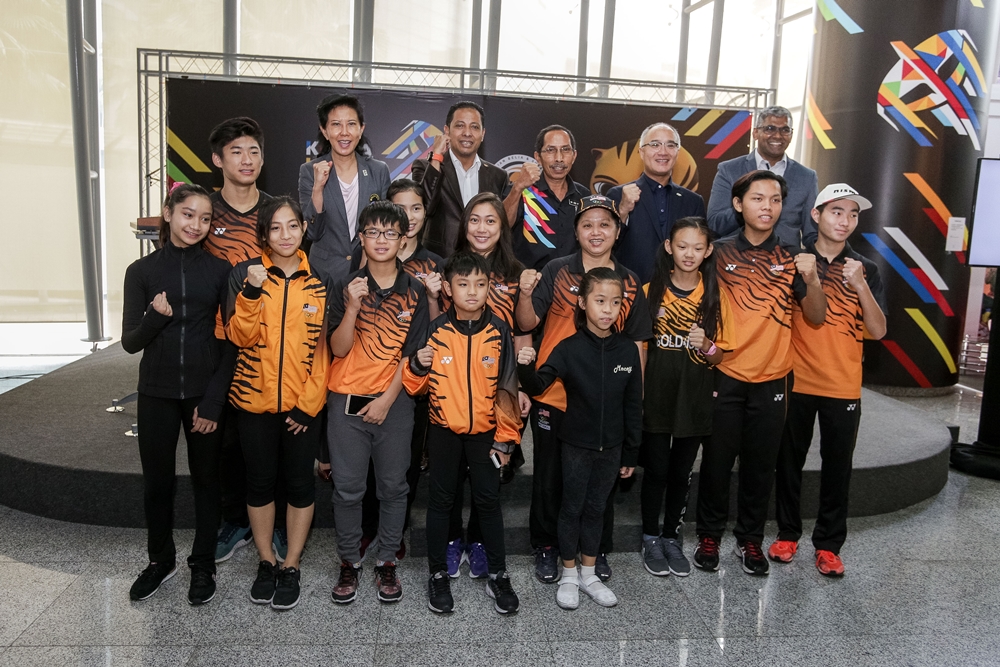 ADVERTISEMENT
BMW Group Malaysia has announced its commitment to support the Malaysian National Team in Figure Skating and Short Track Speed Skating from the Ice Skating Association of Malaysia (ISAM) in their bid to qualify for the Winter Olympics in 2018. The premium automaker's commitment with ISAM begins at the upcoming 29th Southeast Asian (SEA) Games KL 2017 where the Malaysian National Team aspires to bring home gold medals for the sport of figure skating and speed skating.
Speaking at the ceremony, Mr. Han Sang Yun, Managing Director and CEO of BMW Group Malaysia said, "As a brand, we have always strongly believed in supporting sporting initiatives for its potential to inspire, challenge limits and drive the competitive human spirit – all of which are very essential to progress."
Han added that the support of BMW Group Malaysia for the sport of ice skating through ISAM reflects the premium automaker's commitment to cultivate these progress-oriented qualities as well as belief in the potential of the Malaysian National team to aspire and excel in the international competitive scene.
"Through our partnership with ISAM, we hope to not only help raise the profile of the sport in Malaysia but to also drive support for our Malaysian National team in the sport of Figure Skating and Short Track Speed Skating at the coming SEA Games KL 2017 as well as their bid to qualify for the Winter Olympics in Pyeongchang, South Korea in 2018.", said Mr. Han.
At the ceremony, Mr. Nik Abd Kadir bin Nik Mohammad, Deputy Secretary General (Management) of the Ministry of Youth and Sports Malaysia said, "Our athletes have always shown passion and ambition to excel – qualities that give me great confidence in their potential to go far in the international sporting arena. It is really good to see that private multinational companies such as BMW Group Malaysia share the same view point of our local sportsmen and sportswomen. As we get closer to the upcoming SEA Games in Kuala Lumpur and the qualifications for the Winter Olympics in 2018, I would like to urge fellow Malaysians to get behind the Malaysian National team and show your support to give them that extra boost for their ambitions."
Mr. Mohamad Fadzli Johan, President of ISAM meanwhile, said, "We are grateful that BMW Group Malaysia appreciates and believes in the potential of our athletes to succeed in the sport of ice skating both regionally and internationally. We firmly believe that the support from a leading corporation such as BMW Group Malaysia will help motivate and push our team to greater heights in the competitions."
BMW Group Malaysia's commitment with ISAM will see the premium automaker support the Malaysian National team with full skinsuits as well as crash and safety helmets. Additionally, 6 athletes from the Short Track Speed Skating Elite Team will undergo a 4-month training program in South Korea from May to August 2017. The premium automaker will also be sponsoring the SEA Games Test Games by ISAM happening from the 13-16 July in Empire City Mall.
The Figure Skating competition for the SEA Games Kuala Lumpur 2017 will be held from Friday, 25th to Sunday, 27th August 2017 while the Short Track Speed Skating competition will take place from Monday, 28th to Wednesday, 30th August 2017. The Malaysian National Team will be competing for 8 medals – 2 of which are for the Men and Women categories in Figure Skating, and 6 medals for Short Track Speed Skating in the categories of Men, Women, 500 metres, 1000 metres and 3000 metres relay. It is their aim to bring home at least three gold medals from the prestigious regional sporting event.