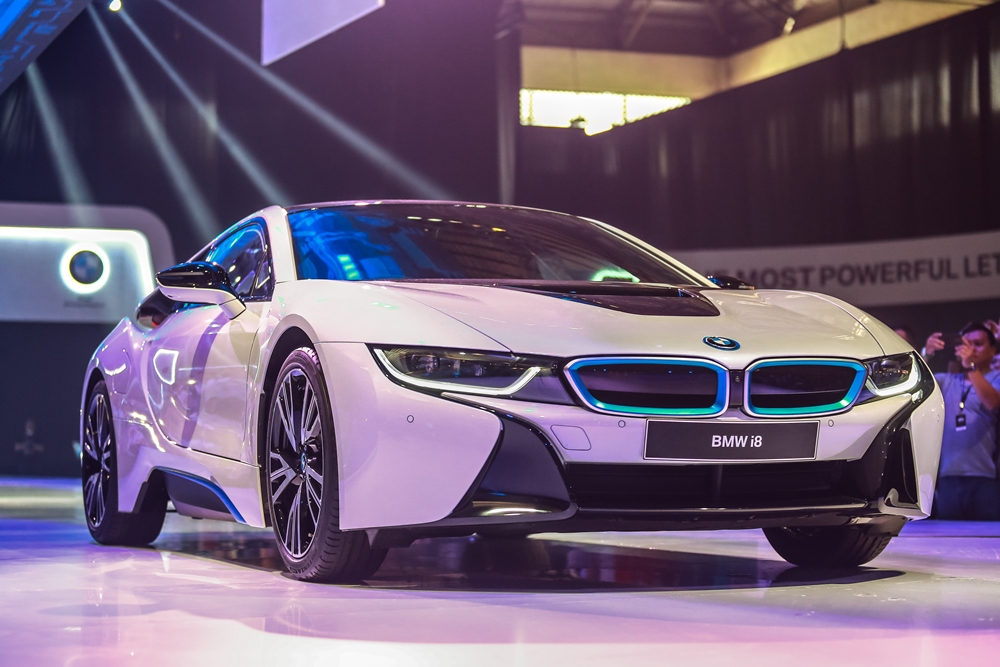 ADVERTISEMENT
BMW Group Malaysia is inviting you to experience BMW Efficient Dynamics and the Mobility of the Future at the Concourse of Bangsar Village II this weekend from Friday, 16th to Sunday, 18th of June, 2017. The event will showcase a selection of ground breaking BMW iPerformance vehicles which include the BMW 330e, BMW X5 xDrive40e, BMW 740Le and the futuristic BMW i8. The event will run from 10am till 10pm on all three days.
Aside from showcasing the future-driven cars from the BMW Group, the roadshow will also feature the innovative BMW eDrive technology – one of the most cutting-edge elements of the ground breaking BMW Efficient Dynamics suite of technology. BMW eDrive is the new drive system technology used in all the electrically powered vehicles from BMW i and the plug-in hybrid models from BMW. At the roadshow, BMW will demonstrate how the BMW eDrive offers outstanding efficiency and seamless everyday practicality while also delivering the highest standards in driving dynamics and quality in keeping with BMW tradition.
Mr. Han San Yung, the Managing Director and CEO of BMW Group Malaysia said, "Experience has always been a key factor in implementing innovative automotive concepts and this is precisely what BMW Group Malaysia aims at bringing to the public with this roadshow. We hope that our vision for forward-looking mobility will be better experienced here as we create greater understanding of premium vehicles that are strongly defined by sustainability."
In addition to the tour, Ingress Auto Damansara, Sungai Penchala and Ingress Auto Puchong, Bandar Puteri will also be hosting a special Supper at BMW event. Held on Saturday, 17th of June 2017 from 8pm till midnight, Ingress Auto is inviting the public to join them in observing the breaking of fast.
With great food, comes great times and keeping that in mind, Supper at BMW with Ingress Auto will correspondingly offer special promotions. For selected models, a 1.88% financing programme will be made available. Additionally, Ingress Auto will be giving out free vouchers up to RM10,000 with purchase of selected models, an offer valid until the 30th of June 2017.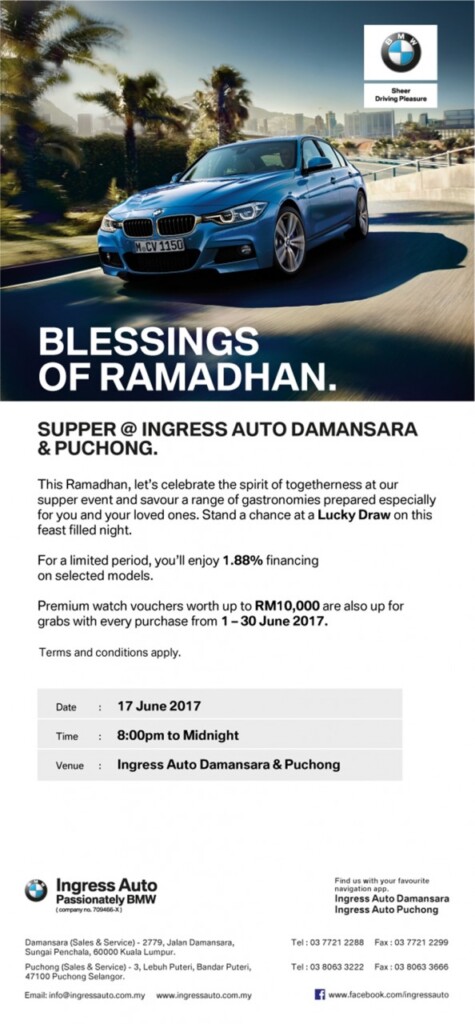 For current BMW owners, there will also be a free 20-point check service conducted that evening in preparation for 'Balik Kampung.' Owners are required to pre-book appointments slots prior to the evening. There will also be a 20% discount on labour fees for body and paint repairs along with engine oil change as well as free wheel alignment and balancing services offered with the purchase of four new tyres. The offer from Ingress Auto lasts until 31st July, 2017.