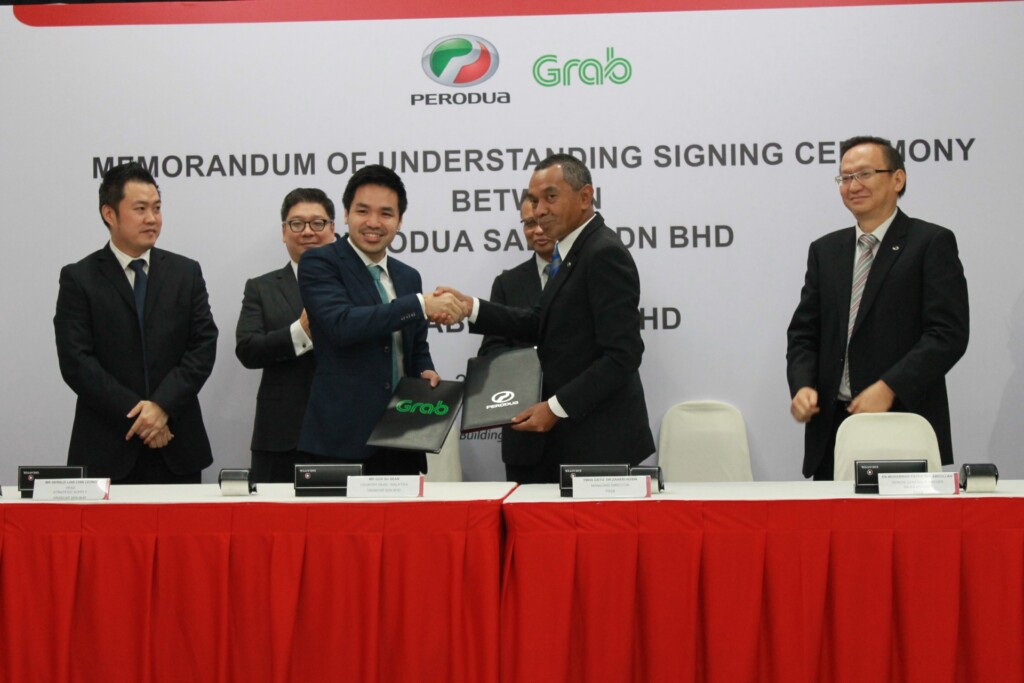 ADVERTISEMENT
Perodua and Grab Malaysia has signed a memorandum of understanding (MoU) to provide value added services ranging from special price packages to competitive hire purchase rates for Grab Car drivers.
The MoU was signed at Perodua flagship 3S centre (Sales, Service and Spare parts) in Petaling Jaya between Perodua Sales Sdn Bhd Managing Director, Dato' Dr Zahari Husin and Sean Goh, Country Head of Grab Malaysia. The event was witnessed by Datuk (Dr) Aminar Rashid Salleh, Perodua President & Chief Executive Officer and Mr Nick Tan, Director of Grab Inc.
"This MoU is a totally new frontier, a blue ocean, for Perodua as it will highlight our products to the masses on a big scale through Grab," Dato' Dr. Zahari said.
"The items within the MoU include a special price packages through Perodua's Corporate and Government Sales Department, allow for minimal time for car registration for Grab drivers, a one-stop centre for servicing and spare parts, insurance and road tax (issuance and renewal)," Dato' Dr. Zahari said.
Dato' Dr. Zahari said the special price packages currently include the Bezza, Myvi and Alza.
"As the region's leading ride hailing and multi service platform, we are constantly focused on how we can empower the 620 million people across the SEA to have better access to safe, efficient and affordable transport."
"At the same time, we are acutely aware of the role our driver-partners play to help us achieve this goal, hence we are continuously identifying mutually beneficial partnerships to help reduce the cost of driving; and the cost of car ownership is a major concern," said Sean Goh, Country Head of Grab Malaysia.
Goh also went on to add that in view of the increase in cost of living and also the high number of local workers who have lost their jobs in 2016, Grab has been viewed as an intermediary step while seeking other job opportunities or as a viable source of income and the exclusive price package will definitely assist drivers to continue to earn a living.
Grab has the largest network in Malaysia, with a presence in 20 major cities and towns across the country, which includes Langkawi, Kuching, Miri and Kota Bahru, with more to come.
"We look forward to working alongside our driver-partners in these areas as well as extending the access to safe, reliable, efficient and affordable transport options to people in those areas," added Goh.