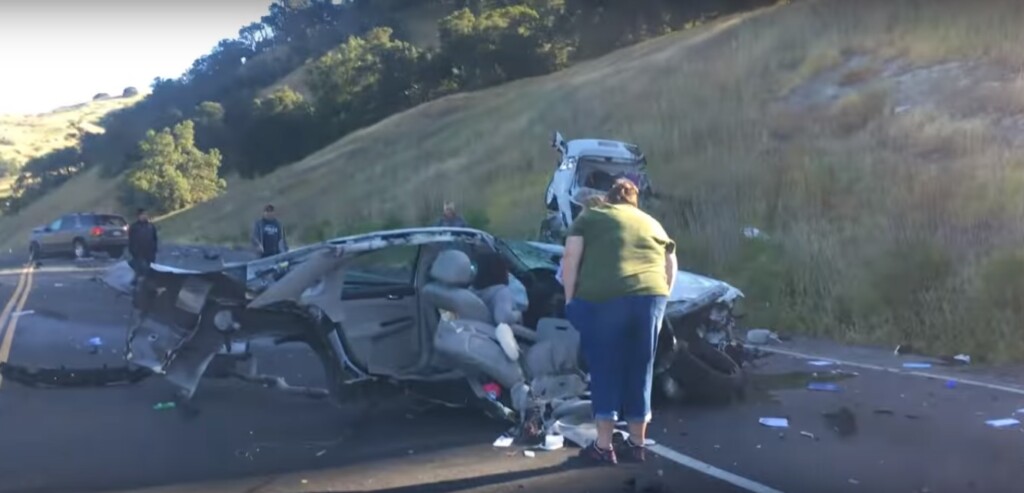 ADVERTISEMENT
Truth is stranger than fiction. Upon watching the video below, you probably won't believe that this horrific accident literally sliced a Chevy Impala into half and there's no way anyone would have survived from the crash.
Fortunately, you'd be wrong, as miraculously, there were no fatalities, only injuries, though we'd probably have to attribute that to the fact that there were no passengers sitting inside the other half-sliced Impala that landed upright on a nearby hillside. If you notice, the driver is still behind the wheel when this video was filmed.
You also probably won't believe that a Toyota Sequoia SUV was what caused the Chevy Impala to split into half. According to California Highway Patrol (CHP) logs, Apol Lansang, 26, was driving her Chevy Impala south on Highway 101 when she was hit by a northbound Toyota Sequoia driven by Kevin Fenty, 27, who drifted into the opposite lane of the road.
While it was Lansang's car that was sliced, Fenty was the one who was ejected from his car – a sign that he may have not been wearing his seat belt. Both drivers were taken to the hospital, with Lansang suffering only minor injuries and Fenty with moderate. Luckily, non-life threatening injuries reported.
Tom Bond, a former U.S. Air Force ambulance driver who filmed the video at the scene of the accident that occurred Saturday morning in California, told the Press Democrat it was "the craziest thing I've ever seen, and I've seen many accidents."
The crash is still under investigation but police told reporters that drugs are believed to have played a role in this accident.
Source: The Press Democrat