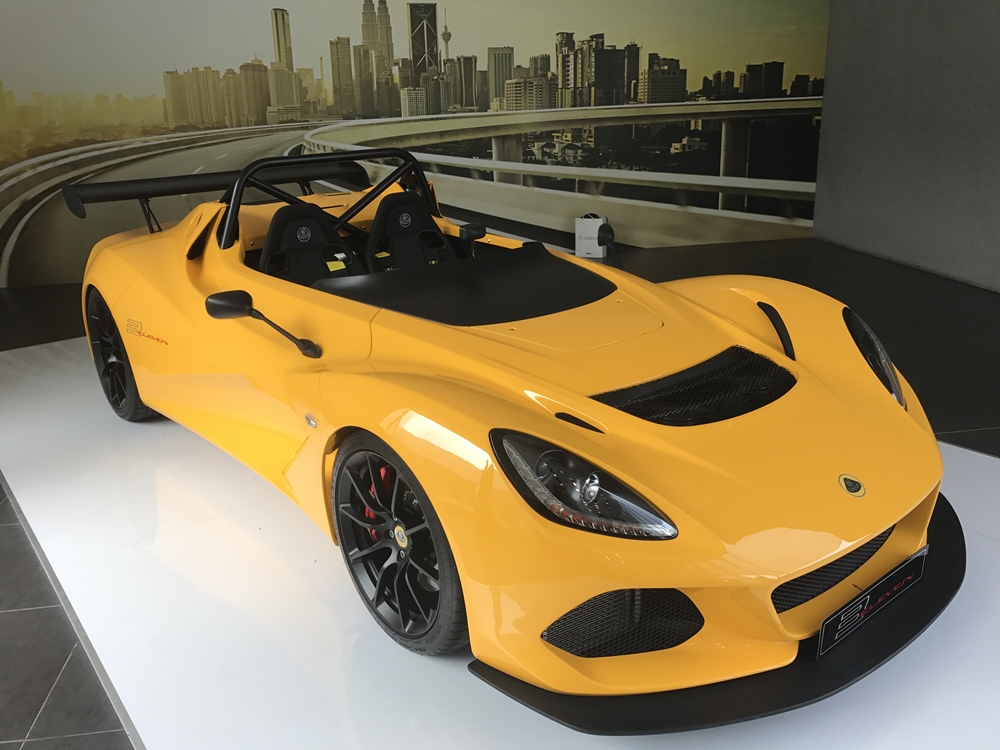 ADVERTISEMENT
Lotus has taken the wraps off the quickest production Lotus ever sold in Malaysia called the 3-Eleven. A successor to the 2-Eleven, this new model features an all-new lightweight body, with an open cockpit design and a revised V6 supercharged engine developing 410 hp.
The Lotus 3-Eleven comes in two variants; Road version and Race version with both retailing for RM640,855 and RM868,214 respectively. It will be limited to a global production run of only 311 vehicles per year, with only two units allocated for the Malaysian market. Unfortunately, if you're planning to place an order for one of these now, you're out of luck because both 3-Eleven models are already spoken for.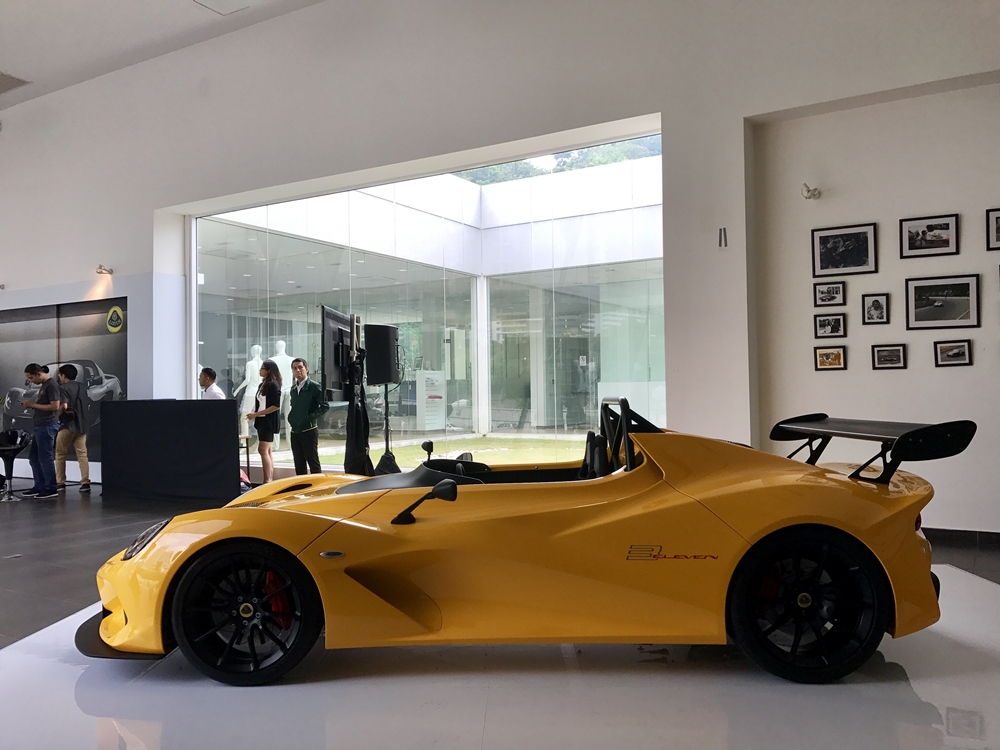 With a dry weight of below 900kg, the Race version Lotus 3-Eleven features a more aggressive aero kit, a sequential gearbox and an FIA compliant driver's seat with six point harness. It is configured exclusively for track use hence its not legal for use on public roads.
The new Lotus 3-Eleven is powered by a revised version of the 3.5-litre V6 engine first shown in the Evora 400, which includes a supercharger with integrated water-to-air charge cooler. Maximum power output has increased to 410hp at 7000 rpm and torque has increased to 410Nm available from 3000 rpm through to 7000 rpm.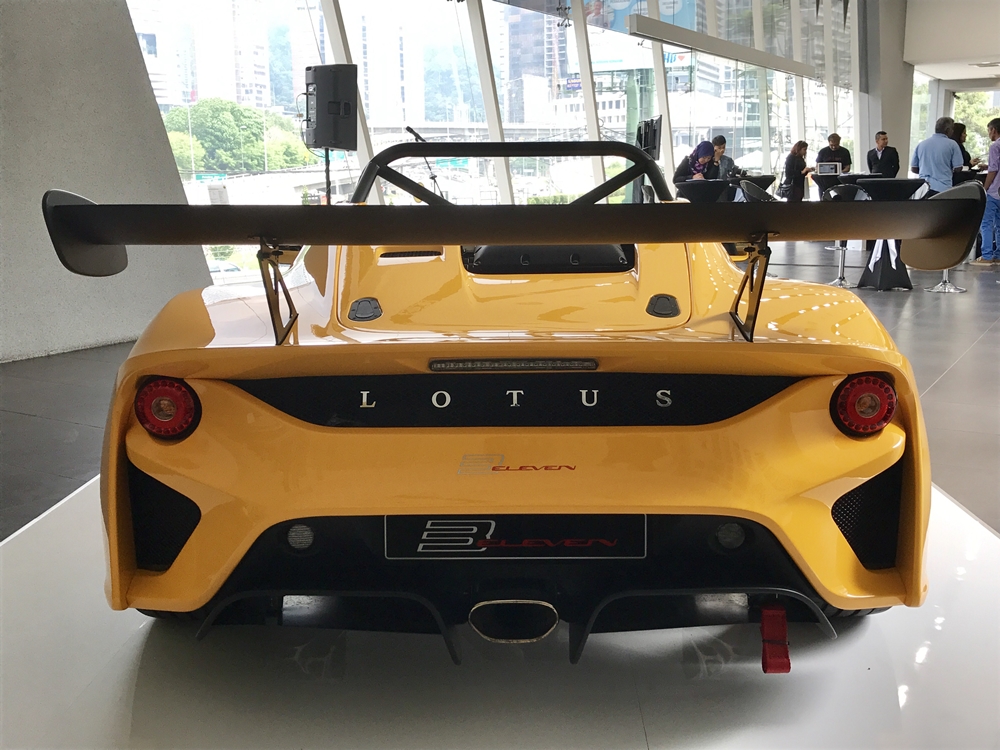 A close-ratio 6-speed manual gearbox with a Torsen-type limited slip differential, featuring a performance clutch assembly and oil cooler, comes as standard on the Road version. The Race version has a 6-speed sequential transmission with a semi-dry sump, oil cooler, limited slip differential and paddle shift.
The Road version 3-Eleven is capable of sprinting from 0-100 km/h in less than 3.4 seconds before reaching a maximum speed 280 km/h while the Race version goes from 0-100 km/h in 3.0 seconds before reaching a top speed of 290 km/h.
The 3-Eleven utilises a bespoke chassis based on the proven Lotus design of extruded and bonded aluminium sections. The Road roll-cage incorporates twin side bars for side impact protection, whilst the Race cage has additional bars to meet international requirements for motorsport use.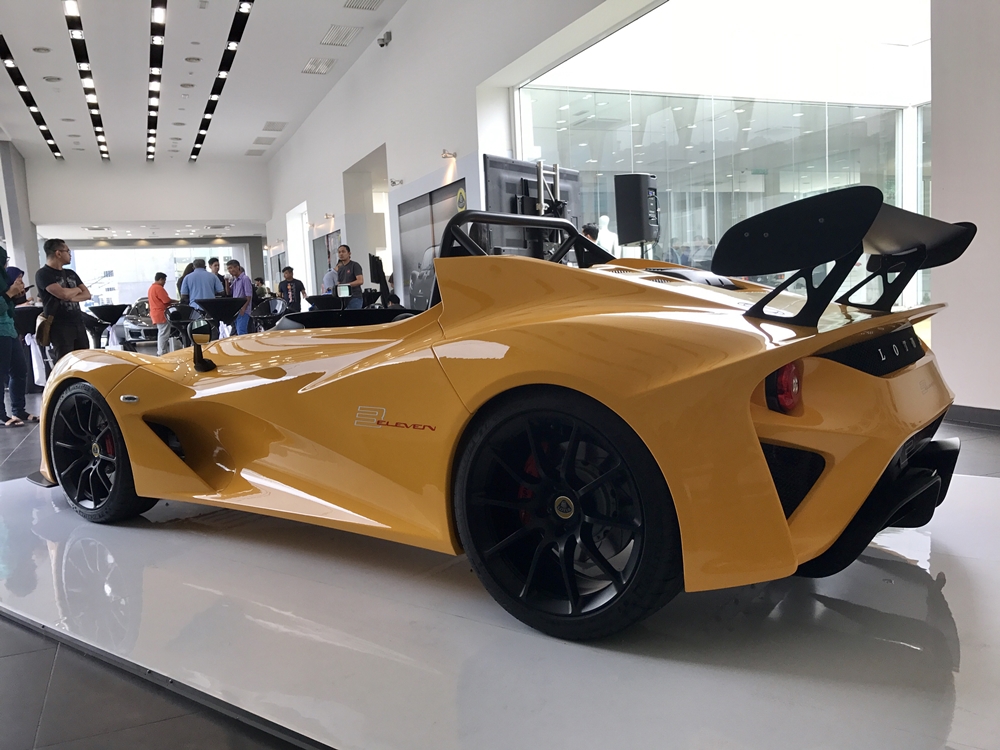 The Lotus 3-Eleven's suspension features lightweight, double-wishbones front and rear, adjustable front anti-roll bar and Eibach springs with Öhlins adjustable dampers. This allows owners to fine tune the vehicle's handling characteristics.
Designed to cope with the 3-Eleven's potential, lightweight forged Aluminium wheels are fitted as standard on the 3-Eleven, with either Michelin Pilot Super Sport or Michelin Cup 2 tyres depending on if it's in Road or Race configuration. At the front 225/40 ZR18 tyres are standard, and to help transfer the 3-Eleven's considerable power and torque to the road, the rear tyres has been specified as 275/35 ZR19.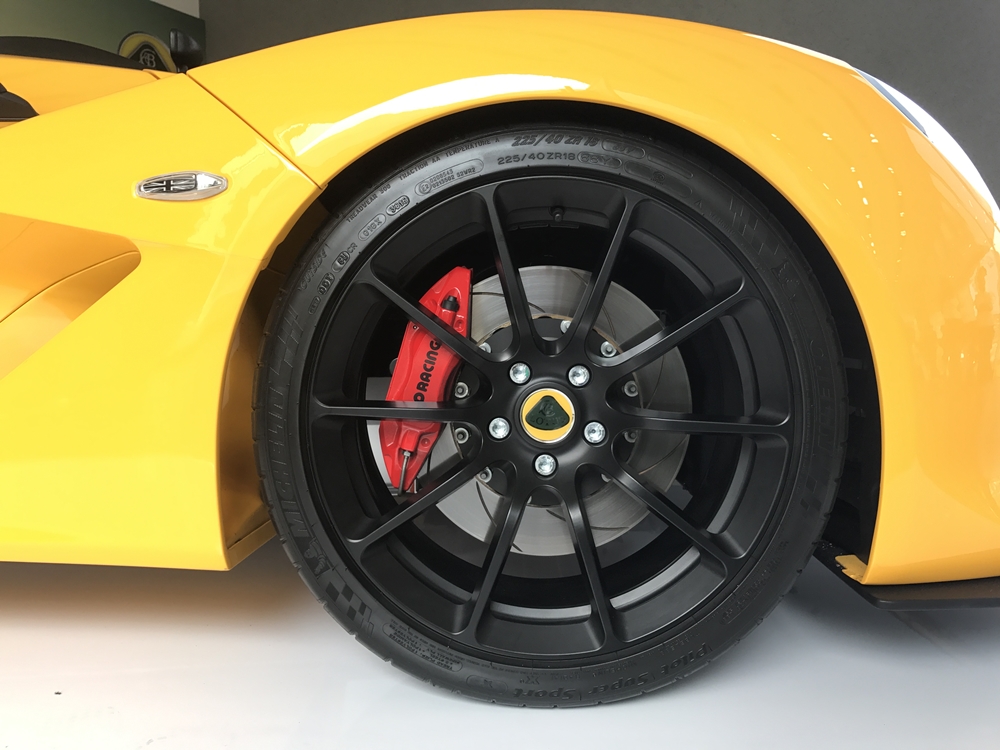 In order to deliver the stopping power required for such a quick car, AP Racing four-piston calipers are complemented by two-part grooved and vented brake discs (332 mm front and rear). Upgraded brake pads are fitted to the Race version.
Manufactured from very light weight composite materials, optimizing vehicle weight, aerodynamic and structural requirements, the 3-Eleven's composite body is 40% lighter than its predecessors. This new process is a first for a production car and the material technology has allowed extreme vehicle performance targets to be met, and help realise the 3-Eleven's dynamic styling.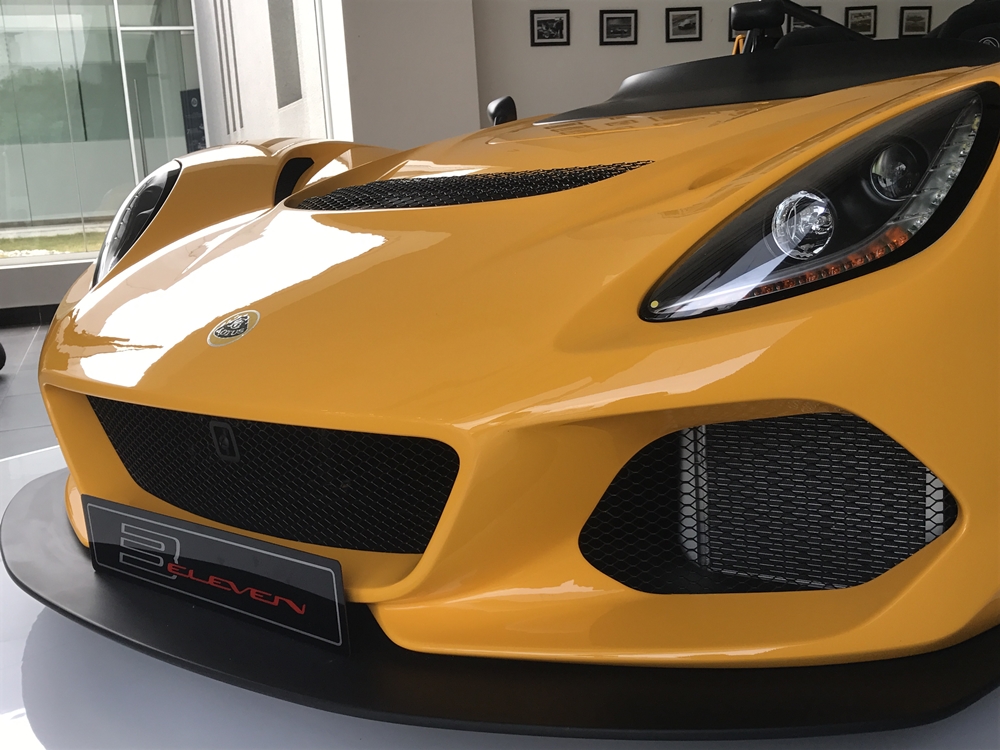 In terms of its overall looks, the Lotus 3-Eleven's new front clam shell incorporates larger openings to deliver the necessary cooling for the powertrain and transmission. This helps give the vehicle a much more aggressive stance.
Two front splitter configurations are available, depending on whether the vehicle is configured for road or race use, and the front arches are wide enough to cover the car's wide track and the new 225/40 ZR18 tyres.
Dramatic side scallops provide a clean exit from the front wheels arches, and the car's profile is dominated by an aerodynamically significant roll bar cover. The car does not come with windscreen and doors, with the roll bar fully enclosing the rear cage.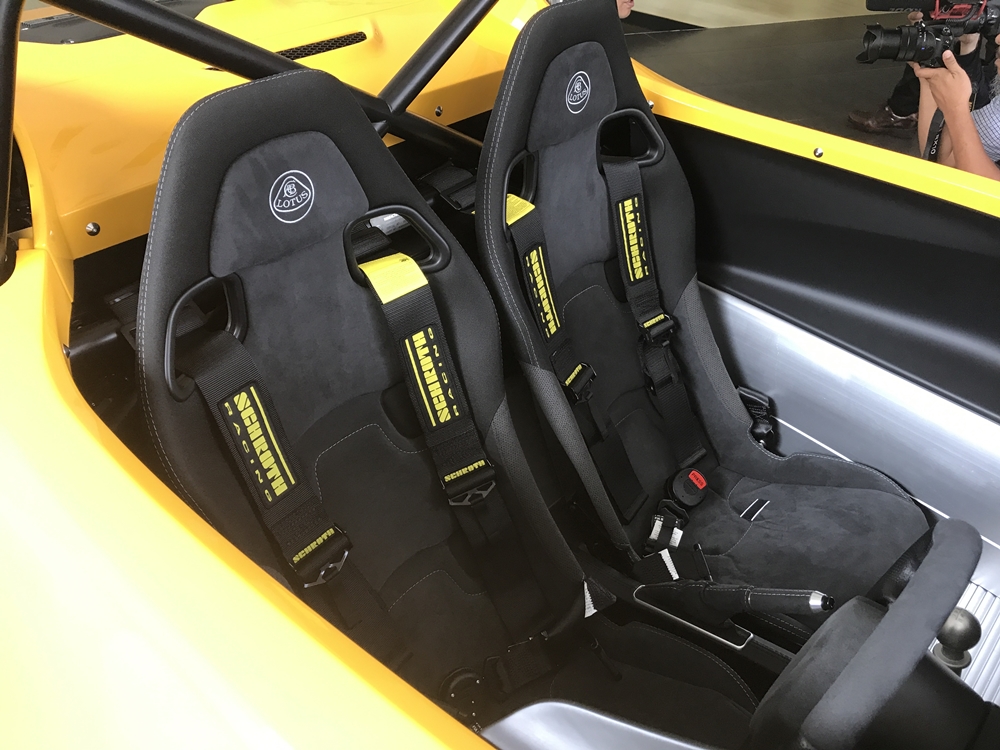 The rear clamshell emphasizes the aggressive stance of the car, with different fixed spoilers available, depending on whether the vehicle is specified for road or race use.
The new rear diffuser and under-tray, which has been developed to ensure minimum drag, complements an exhaust system designed specifically to minimize back pressure and enhance engine performance.
Inside the open cockpit, the 3-Eleven is fitted with the standard aero screen and an optional passenger seat, if owners wants to convert it into a two seater. However, these can be removed and the optional tonneau panel fitted – to envelope the driver and improve overall aerodynamics.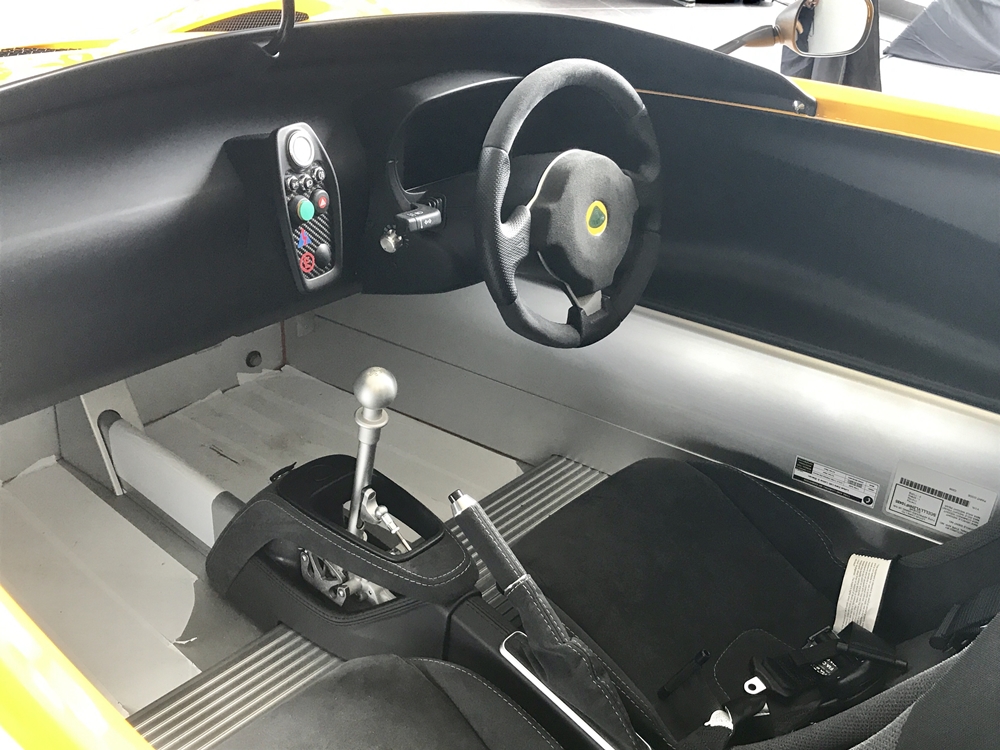 The new instrument cluster has been designed around a colour TFT screen, and can be switched between road and track modes, providing relevant information direct to the driver.
A quick release steering wheel and Lotus sports seats with four-point harnesses are fitted as standard, while the Race variant has the option of a data logger system, FIA approved driver's race seat, and 6-point harness – as well as a fire extinguisher & battery isolator switch.