ADVERTISEMENT
The Malaysia Auto Show returns this year and this time, it will be held at a new and bigger location on the spacious grounds of the Malaysia Agro Exposition Park (MAEPS) in Serdang.
In line with the theme "Energy Efficient Vehicles to the Future", this year's Auto Show highlights the latest line-up of energy efficient vehicles, with a showcase of automated driving.
MAEPS is the largest exhibition space in Malaysia and is connected by 4 major highways which serve the whole of the Klang Valley.
"The new venue gives the industry more opportunity to brand and market their products and services while providing visitors with more immersive experiences during the four day event. All the major car brands will be under one roof, with miles of test drive routes for potential customers," said Dato Madani Sahari, chief executive officer of Malaysia Automotive Institute (MAI) and organising chairman, Malaysia Auto Show 2017 (picture below).
"We want to utilise both the indoor convention halls for new car launches, display of new cars as well as lifestyle and accessory booths, and the abundance of outdoor space for visitors to enjoy test drives and other family-oriented activities in a scenic location," he added.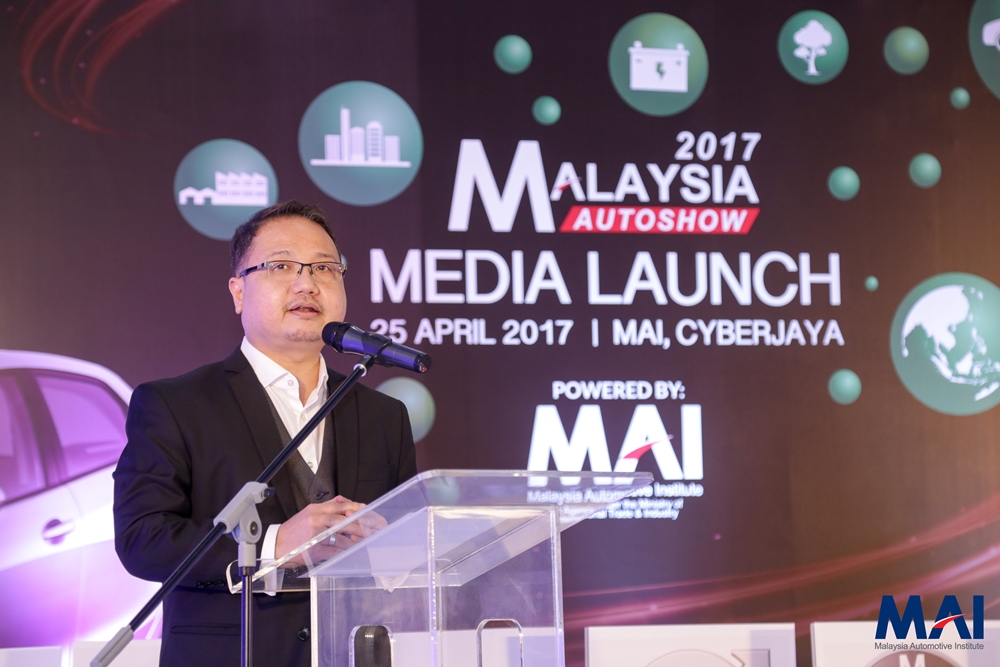 The Malaysia Auto Show which is one of MAI's flagship events and the country's largest annual auto show, will be held from 9 – 12 November 2017. Participating car companies will line up special deals and packages exclusively at the autoshow.
"This year's Malaysia Auto Show will have two new innovations to appeal to car buyers as well as car companies," said Dato Madani.
"Firstly, the winners of the Malaysia Car of the Year (COTY) 2017 will be announced on the evening of the first day of the auto show (Nov 9) so that car buyers can be better guided in their buying decision.
"It also means better sales for car companies that win in the respective Malaysia COTY categories.
"Secondly, all car models currently available in the Malaysian market (OEMs) will now be eligible for judging in the Malaysia COTY awards. This will help car buyers in making more pragmatic purchase decision based on car models that are available in the market and not restricted to new car models launched in the immediate 12 months prior to the event," he added.
As part of MAI's career enhancement strategy, higher education institutions and colleges will be invited to participate in the autoshow, together with an employment drive for job seekers with participating companies from the vendor community.
Safety, security and environment awareness programmes will be ongoing as well during the 4-day event including ASEAN NCAP, MAI Safe Car, MAI Car Care Week as well as automotive conferences and forums.
More than 150 exhibitors from renowned vehicle brands, aftermarket and accessory products will display their extensive product range during the event.
Other auto show attractions lined up include Malaysia COTY 2017 People's Choice, 4×4 offroad obstacle track, Food Trucks, lucky draws with attractive prizes and a property exhibition.
The Malaysia Auto Show 2017 launch also featured a prize presentation to the winners of three contests held in conjunction with the Malaysia Auto Show 2016.  Dr. Atiqah Farah Zakaria, winner of the "Buy a Car, Win a Kia" contest sponsored by Naza Kia Malaysia Sdn Bhd, drove home a Kia Rio 1.4X sedan worth RM74,000.
"This is a wonderful surprise and a sheer coincidence that I am now winning another Kia car as I had booked the Kia Grand Carnival at the autoshow", said Dr Atiqah, 34, who is an ENT specialist at the medical faculty of Universiti Putra Malaysia in Serdang, Selangor.
"I can now use the Kia Rio as my daily working car, and the Grand Carnival for my weekend trips to my hometown in Malacca," said Dr Atiqah, a mother of five children.
Wong Chan Fui, Haswan Rizal Ismail and Gan Seng Haw, the three winners of the "Malaysia Auto Show 2016 Visitor's Contest" received a Treeletrik e-Bike worth RM4,500 from sponsor Tree Letrik Sdn Bhd.
In the People's Choice "Malaysia Car of the Year" 2016 contest, the top three winners were Wong Kah Peng, Joseph Ling Teck Hock and Mohd Zulkflee Ismail. They each received a cash prize of RM1,500, RM1,000 and RM500 respectively.
DealerTech, the software partner of the Malaysia Aut0 Show, customised a voting system for the People's Choice "Malaysia Car of the Year" 2016. Visit awards.carbay.my or www.autoshow.com.my to vote for your favourite car.
For more details on the Malaysia Autoshow 2017, visit www.autoshow.com.my.