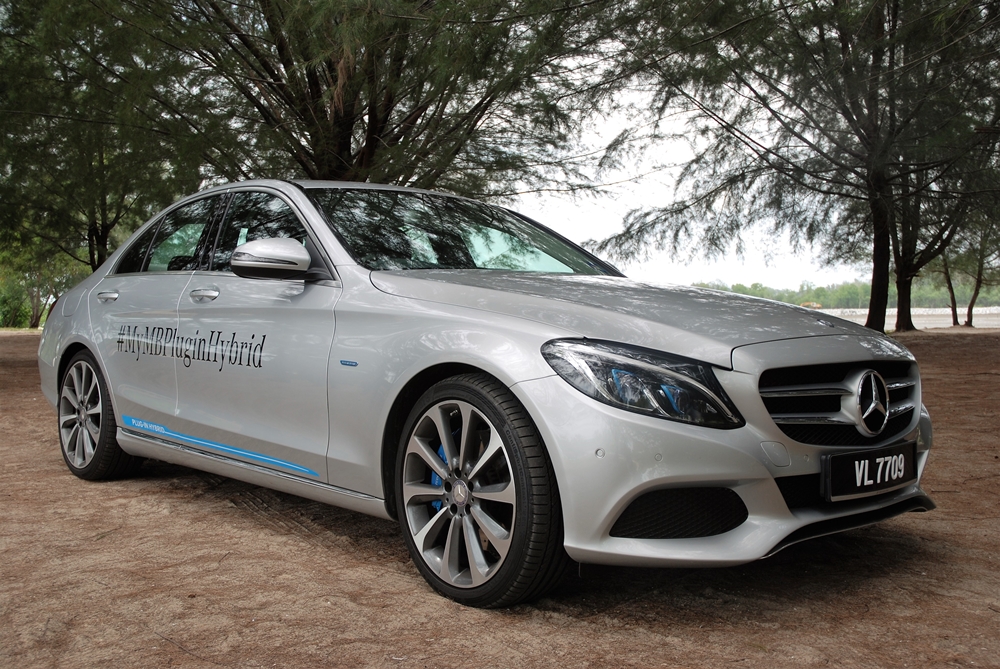 ADVERTISEMENT
For most of us consumers, purchasing a brand-new car is a fairly big-ticket item that usually requires some serious planning. Regardless of what car you purchase, you need to factor in your estimated budget, if its good value for money and if it fulfills the needs and purpose of your purchase.
Some buyers will also dive into the vehicle's aesthetics and its performance before making a purchase, however, the flip-side of this difficult decision process is that the buyer also needs to believe that there's some solid reason to justify their spending. Most of the time it boils down to the vehicle's running costs and, of course, if you're all about being mother nature's superhero, purchasing a hybrid or a plug-in hybrid is a baby-step towards going full electric, that is, if you can even find one to buy today.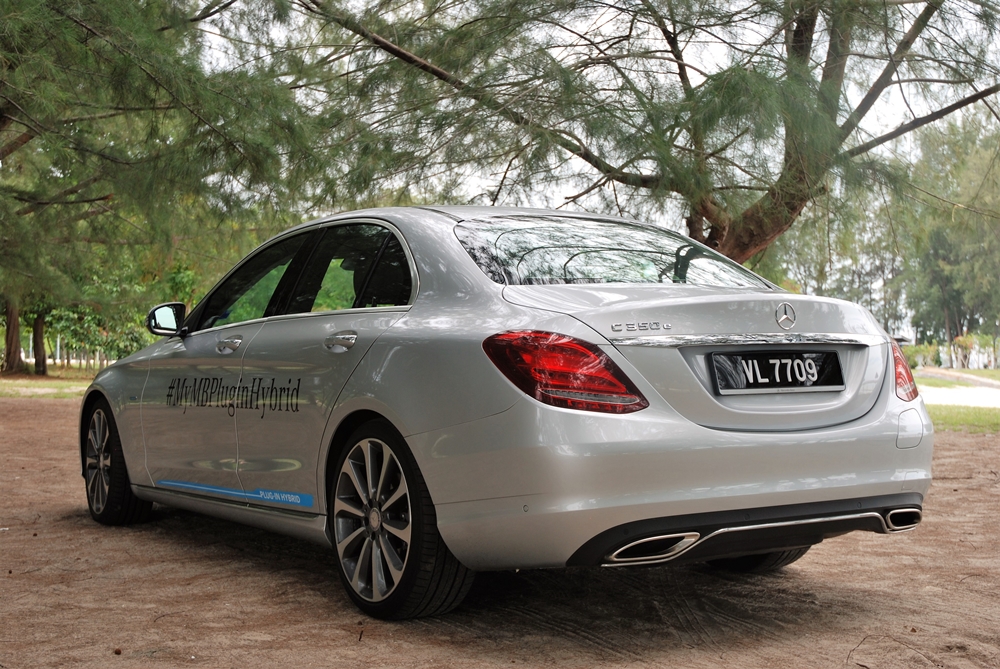 While Malaysia offers a fairly limited choice of Electric Vehicles (EV), the alternative to the traditional petrol-powered or diesel-powered cars that comes in a form of hybrid, electric cars, plug-in hybrid are much wider and more accessible, for instance the locally-assembled Mercedes-Benz C350 e plug-in hybrid (PHEV) as tested here.
Buying a new vehicle is a long-term commitment so before you jump into your purchase and if this is your first time purchasing a plug-in hybrid, there are some things you need to know about the Mercedes-Benz C350 e Plug-in Hybrid.
What is it?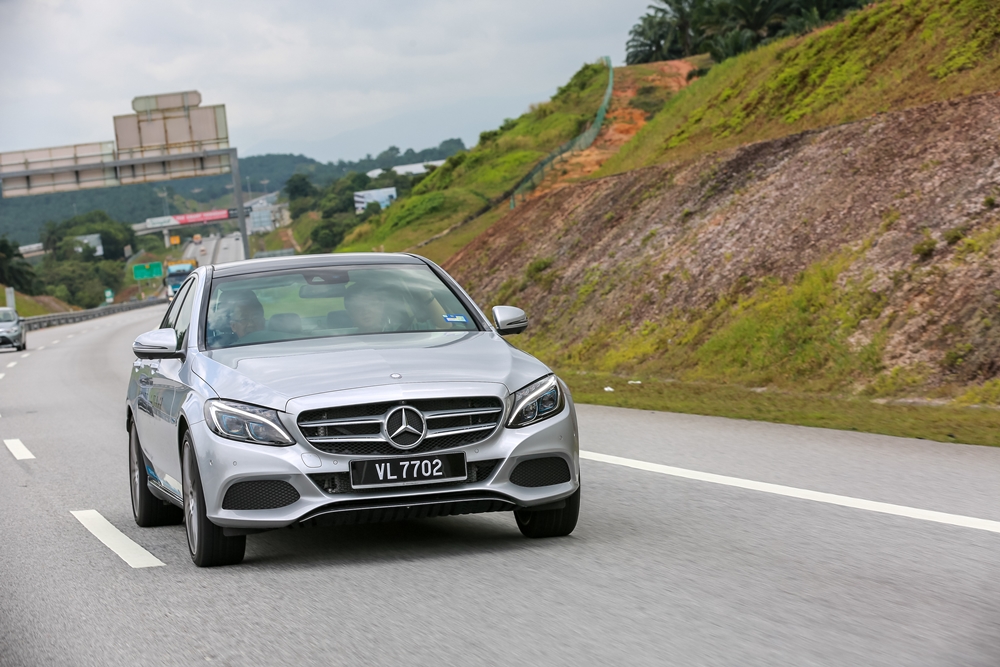 The C350 e is Mercedes-Benz Malaysia's first model to feature plug-in hybrid technology and the company's third locally-assembled hybrid vehicle.
Unlike other Mercedes-Benz hybrid models like the S400h and the E300 BlueTEC Hybrid, the C350 e features a combination of electric motor that allows for a pure electric range of up 31km and a combustion engine that will kick in once the vehicle runs out of electric juice. In this case, the C350 e is powered by a 4-cylinder petrol engine producing a total output of 211 horsepower and a maximum torque of 350Nm, aided by an electric motor that outputs 80hp and 340Nm of peak torque. When combined, the C350 e has a total system output of 279hp, and 600Nm of torque, good enough for a zero to hundred dashes in just 5.9 seconds while top speed is limited at 250 km/h.
What's the difference between a Plug-in Hybrid, Electric Vehicle and a Hybrid?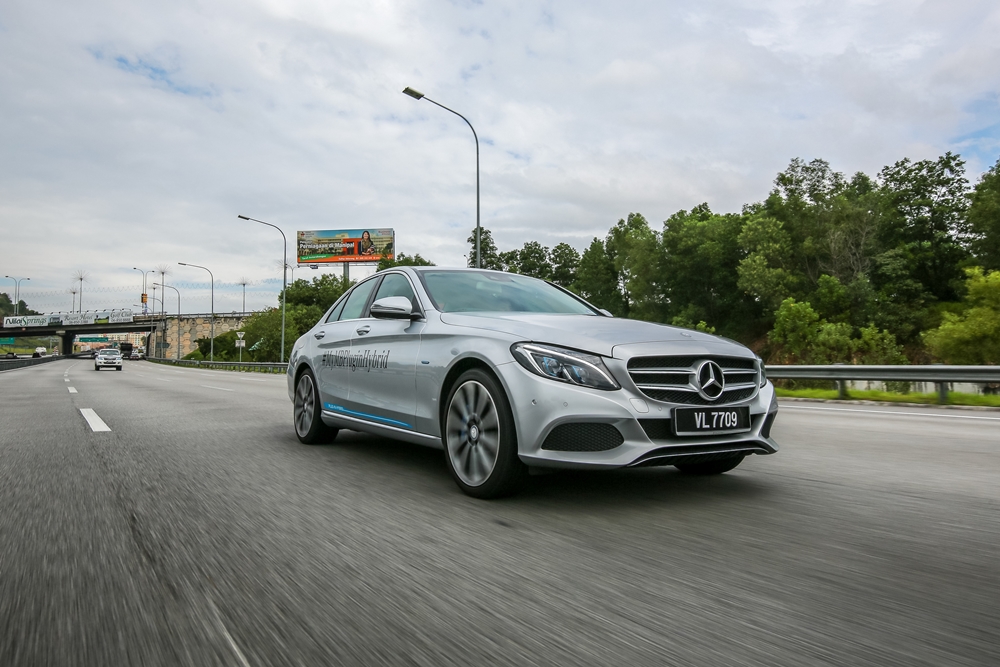 The main difference between a hybrid and a plug-in hybrid is that while both vehicles have an electric motor and an internal combustion engine, hybrids can't be plugged into an outlet and charged like plug-in hybrids can.
Electric vehicles (EV) on the other hand, run exclusively on electricity via on-board batteries that are charged by plugging into an outlet or charging station. Although EVs generate zero emission and don't use any fossil-fuels, they are not a suitable option for long distances driving, especially with the lack of charging stations available across the country.
Plug-in hybrids will give you the best of both worlds; electric-vehicle efficiency for driving around town and traditional car range for longer trips.
How do you charge a plug-in hybrid?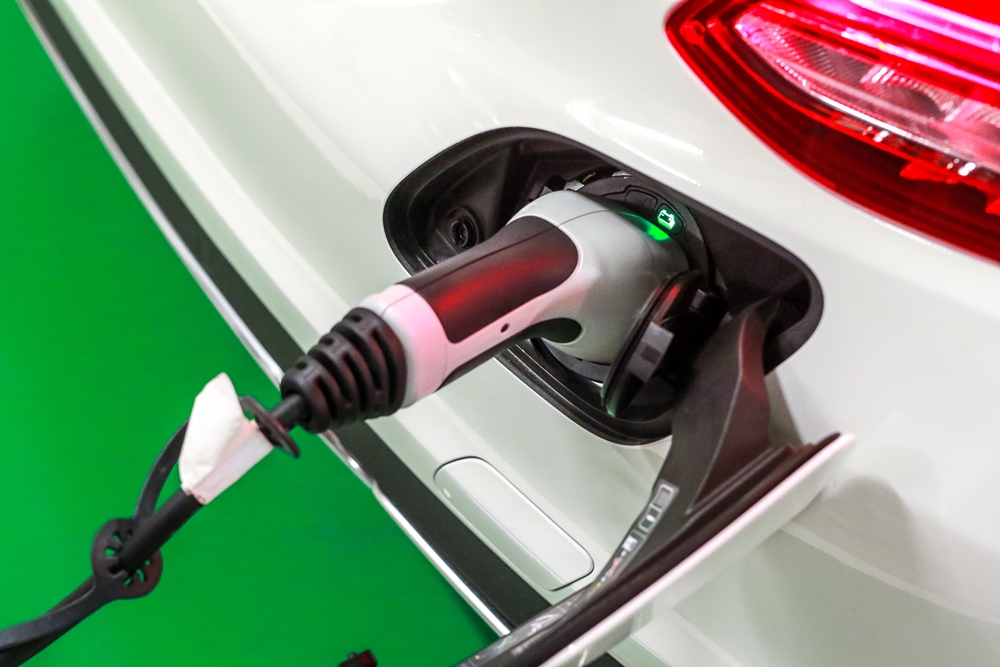 It's worth noting that your parking area would require a charging port to charge the C350 e battery so I wouldn't recommend you to buy the C350 e if you don't have ability to plug it in at home. You can charge it via a standard domestic socket (with 230V and 13A, 3.0 kW) for about two hours, depending on the connection. Alternatively, you can also install a wall box (230V, 16 A, 3.7 kW single-phase) at home which will take about 1 hour 45 minutes for the car to be fully charged.
Besides plugging the vehicle to a charging station, you can also generate some electric energy during coasting and braking.
Drawbacks of owning a plug-in hybrid?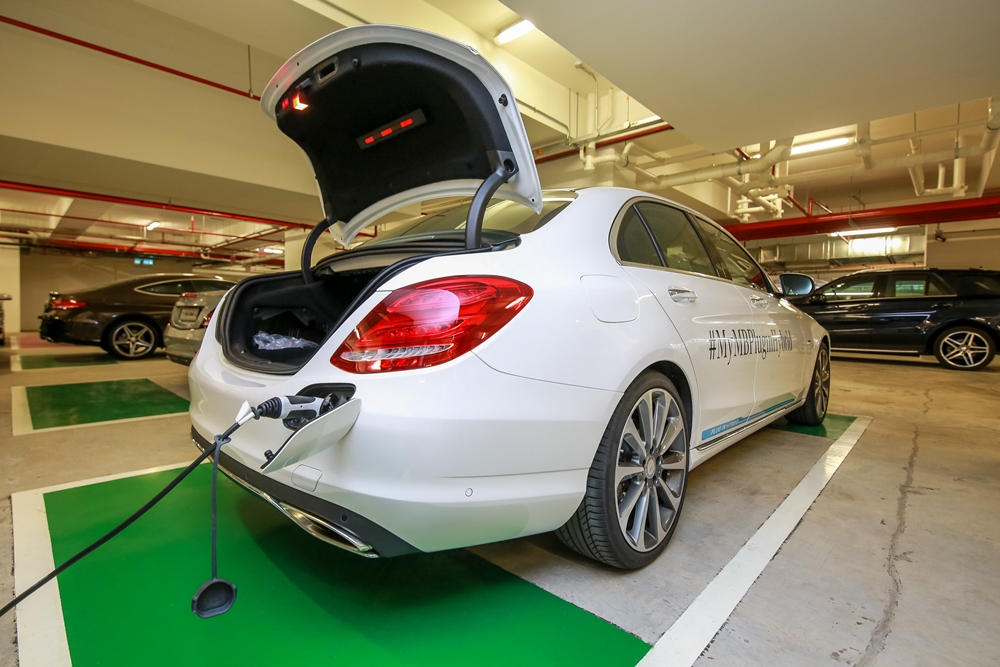 The downside of owning a plug-in hybrid comes on the expense of the vehicle's shrunken trunk space. The high-voltage lithium-ion battery that adds an additional 100kg to your vehicle's weight is mounted in a sheet-steel housing underneath the rear axle. It eats 145-liters of boot space, reducing it to 335-liters of boot capacity or 1,370-liters with the rear-seat backrests folded down.
How does it drive?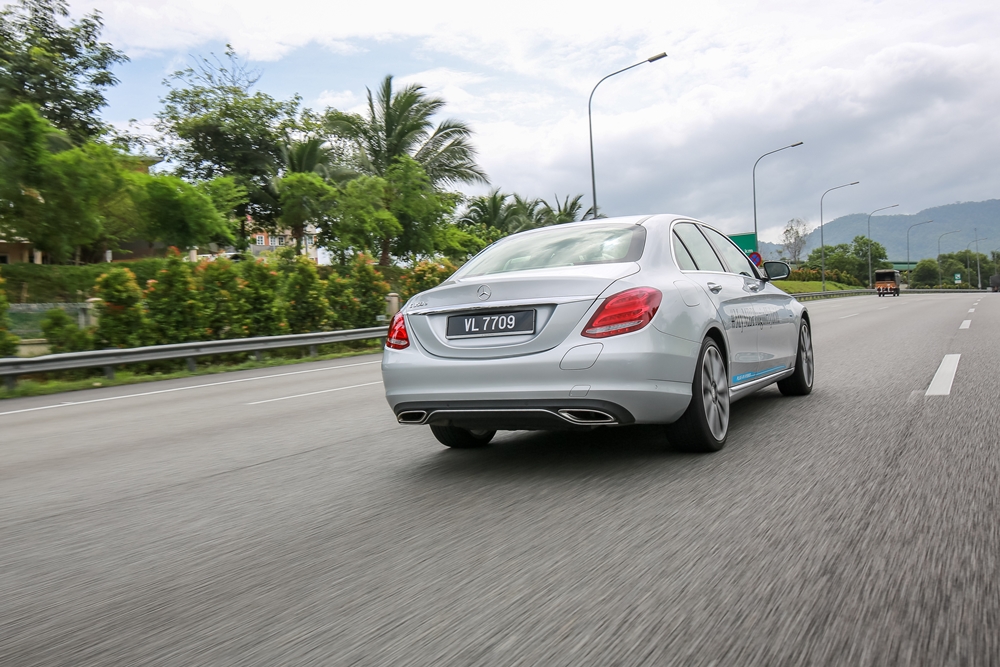 I begin my brief test drive session with a full tank of fuel and a fully charged battery. As you ignite the push start button, the C350 e will run solely on electric power and the combustion engine will only kick in once it ran out of battery. However, if you would like to save the electric battery for later use, you can set your hybrid driving selection to E-save to maintain the charge status of the battery. Electric driving and the boost function are therefore available to a limited extent or during rapid acceleration, for instance.
I managed to cover 31km of calm and serene all-electric driving before the battery flattens, which in reality, is good enough for me to make a round trip from home to office without using a single drop of fuel. That, given if I'm not running late for work and if I have the abstinence of constantly feather-footing the car. However, once you mash hard on the accelerator, you'll drain the battery faster and the car will begin to sip on fuel and run in a more conventional hybrid mode. I have to admit that it requires a lot perseverance of not throttling hard on the accelerator during the fuel efficiency challenge, especially when there's plenty of instantaneous amount of torque supplied by the electric motor available at your disposal.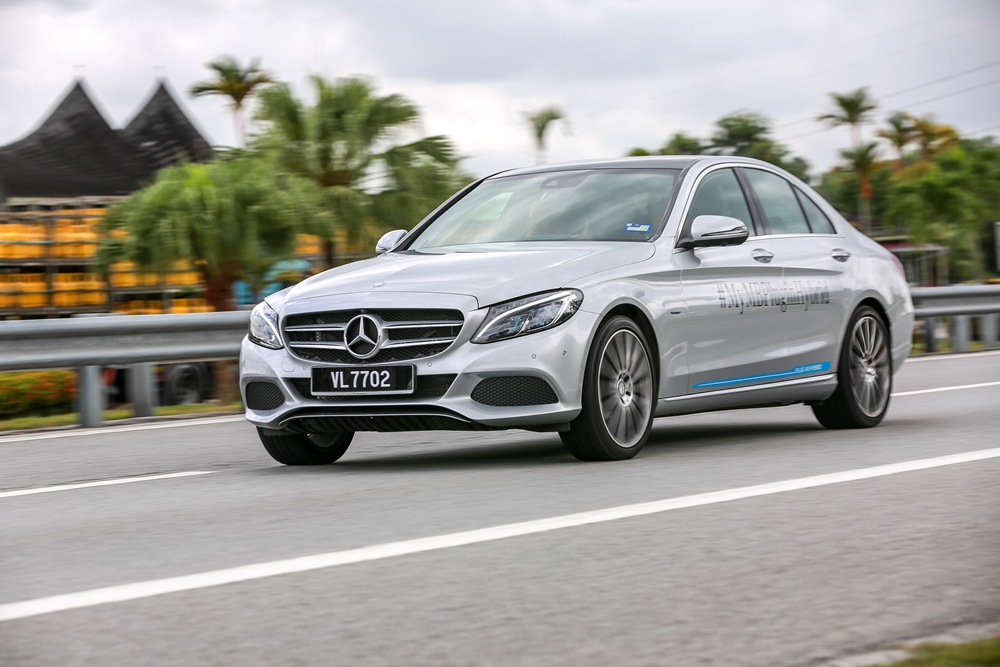 Mercedes claims the vehicle returns a fuel consumption of 2.1 litres per 100km, but it all depends on how you use the car. During my time with the C350 e, I only managed an average 5.5l/100km on a mix of town and highway roads.
The plug-in rides very well, offering supple comfort during cruising, and it makes a wonderful long-haul companion. However, when there's a sudden burst of acceleration, it becomes obvious that the C350 e lacks some of the handling agility and confidence as a proper sports sedan. It has slightly more body roll and not a very keen performer especially at high speed.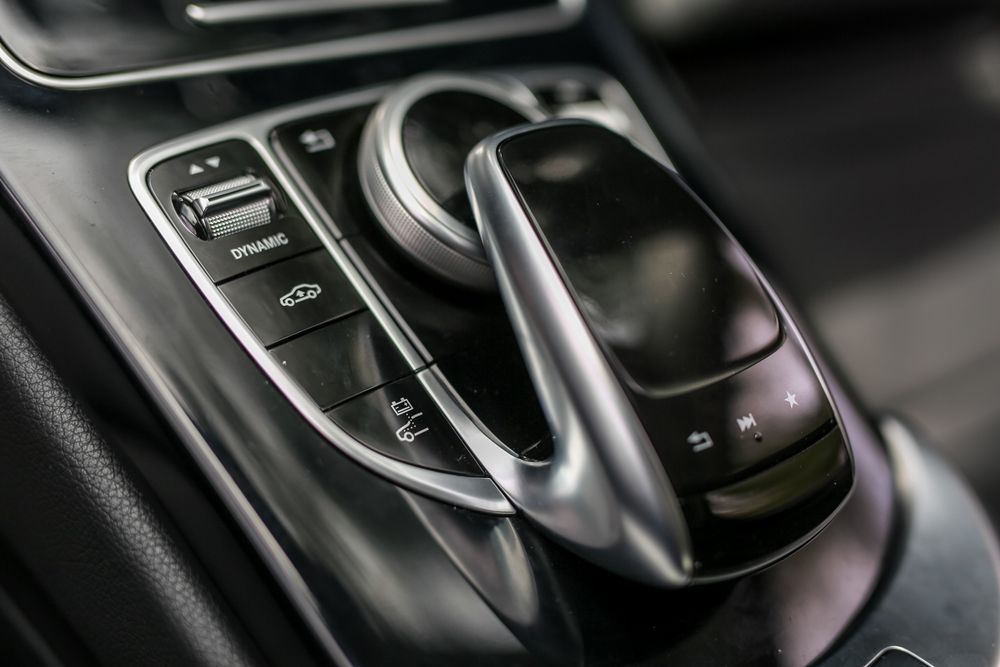 The C350 e offer a range of four drive modes called Eco, Comfort, Sport, and Sport+, pair with a quartet of electricity-management selections called Hybrid, E-mode, E-save, and Charge. It allows you to configure your driving preference from heavy sprint driving to cruising solely on battery power on a congested road.
E-mode for example, is suitable for inner-city areas because the battery holds sufficient charge for the remainder of the journey. E-save hold on to energy in the battery until you need it most. There's also Charge mode, which uses the petrol engine to charge the battery in case you need it for later parts of the journey.
Honestly, anybody has the right to be confused or overwhelmed by its seven modes, and although it might not sound as complicated as you'd think it is, selecting which mode that would suit your driving preference can be a tedious task.
Should I buy one?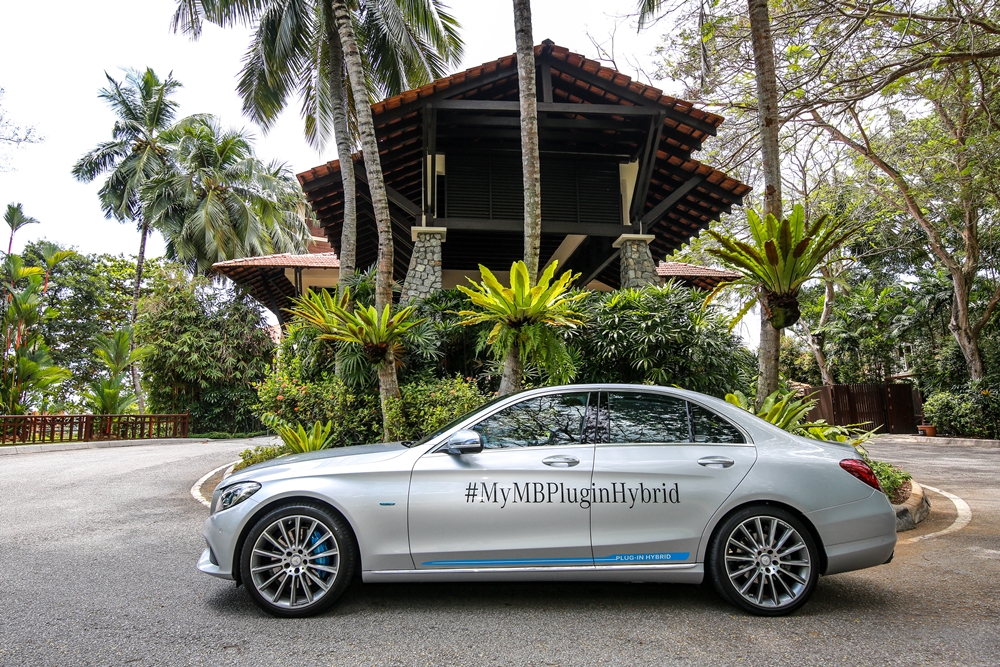 The C350 e would rewarding and relaxed choice of vehicle for those living in the city center with a short commute and regular access to a charge point because it won't cost you that much to run, especially, if you've got a plug-in point at your home and at the end of your journey. It is even possible for you to drive for weeks and hardly ever pay a visit to a petrol station if you can make full use of the hybrid technology.
However, if you couldn't be bothered to charge it and drive it with absolutely no regards of saving the battery via regenerative braking, then the vehicle will practically run like a normal petrol powered car so don't expect a sky-high fuel economy in return.
Retailing for RM289,888 (RM294,88 with AMG line interior) on-the-road without insurance, sure it is the most expensive C-Class in the bunch, but to sweeten the deal further, Mercedes has added Airmatic air suspension, Pre-Entry Climate Control and LED intelligent Light System with Adaptive Highbeam Assist, on top of the familiar range of equipment options that are available in the standard C-Class, to add more value to your money.