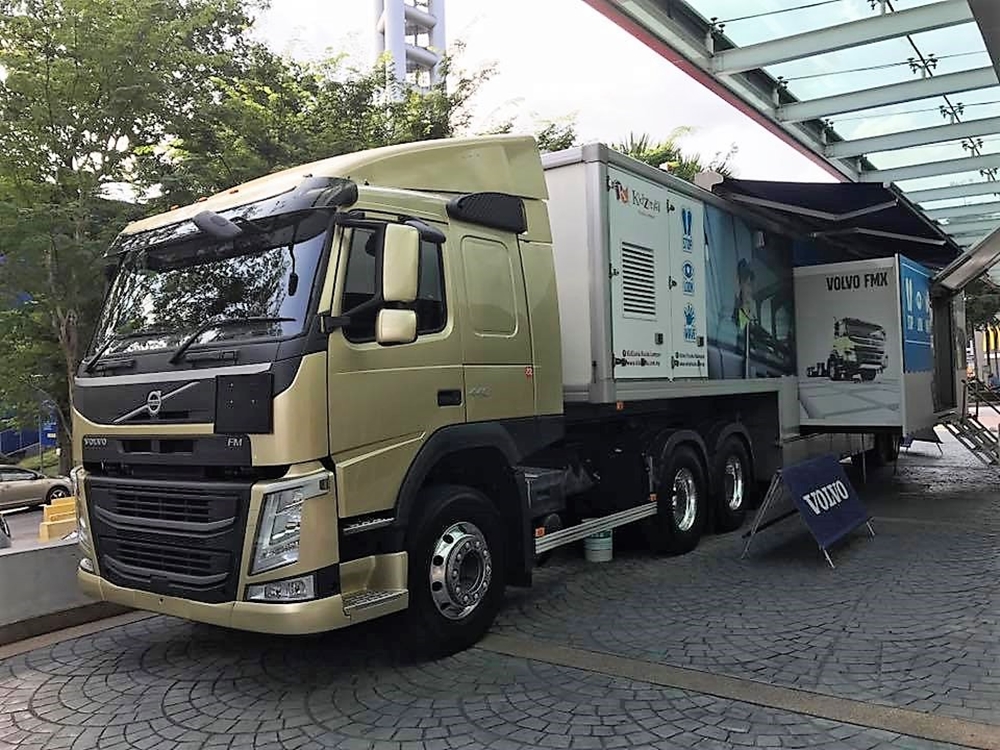 ADVERTISEMENT
Volvo Malaysia announced that it had recorded an increase of 4.8% in sales for its Volvo truck brand for financial year 2016, compared to the previous year. The growth was achieved through the sale of 370 units of trucks, which also led to the brand capturing 45% of the market share in European heavy-duty prime mover segment in Malaysia, making it the top truck brand for the year.
Commenting on the growth, Mats Nilsson, Managing Director of Volvo Malaysia said, "The overall heavy duty truck market in Malaysia had actually shrunk by 5% in 2016, mainly attributed to a slowdown of the economy and currency depreciation, which resulted in companies scaling back on their capital expenditures. Despite a challenging business environment, we managed to stay on course with our business strategy and effectively utilised our resources to achieve continued growth."
"Our success for 2016 is definitely a continuation of our record achievement from three years ago, where we enjoyed a 38.5% growth in truck sales, marking our most robust growth in the past fifteen years," said Nilsson.
In recent years, Volvo Malaysia started to embark on several new strategic initiatives aimed at driving the business forward. These included a RM75 million investment on network expansion that involved the relocation of some of its dealerships to new sites and upgrading of facilities and technical skills for quality services. This effort has enabled the company to establish better dealer coverage of within 3 hours from one workshop location to another.
The company had also actively pursued more market opportunities by enhancing aftermarket support and increasing the number of training sessions for its customers' truck drivers.
Nilsson also remarked, "Our strategy revolves around satisfied and productive customers. As one of the world's largest commercial vehicle companies, we are constantly utilising technology to create smarter, reliable and safer trucks that deliver greater productivity."
"Although trucks constitute our main product selection, the quality of our aftermarket products and services remains a crucial component in the overall customer experience with Volvo Trucks. Thus, the reason we have made significant investments in upgrading all our dealerships in accordance with our global operating standards."
The company's largest flagship dealership was opened in Port Klang early last year as part of its network strategy to raise the bar in customer excellence, and has since recorded a service intake of more than 3,500 trucks with faster turnaround time.
Other than upgrading its physical facilities, Volvo Trucks also continues to engage with truck drivers through its annual Fuelwatch Challenge to foster greater customer relationship and create safer road environment.
The strategic investments and customer-focused initiatives the company has undertaken in the past few years to deliver long-lasting truck ownership experience have paid off, according to Nilsson.
He said, "Volvo Trucks was recognised as the number one brand in customer satisfaction, with an 83% rating in Customer Service Index (CSI) for the European trucks segment, based on feedback gathered recently by an independent research agency."
However, he added that although this proves that the range of trucks made available for the local market alongside the implementation of its dealership network and customer service enhancements are working well, the company aims to achieve much more.
A major plan this year would include the launch of a new premium flagship truck offering the latest in fuel economy, safety features and with massive torque and haulage power.
On this, Nilsson shared, "The new truck that we are launching soon will push the boundaries of what a premium heavy-duty truck can offer in terms of fuel economy, reliability, ergonomics, superior handling, safety and uptime. It will be made available in Malaysia very soon."
On the company's long-term plans, Nilsson said, "Volvo Trucks is gearing up towards the opening of regional borders under the ASEAN Economic Community agenda. When trade borders open, this means that a company can transport goods from Singapore all the way to Thailand or vice versa without having to change prime movers, if they are using a reliable truck, or have its cargo inspected, just like in Europe. We have the most number of dealerships in Malaysia among European brands. This is one of our strengths which we plan to leverage by looking into setting up a common regional call centre in Malaysia that can collectively and seamlessly cater to the needs of our local and regional customers once the trade borders open."