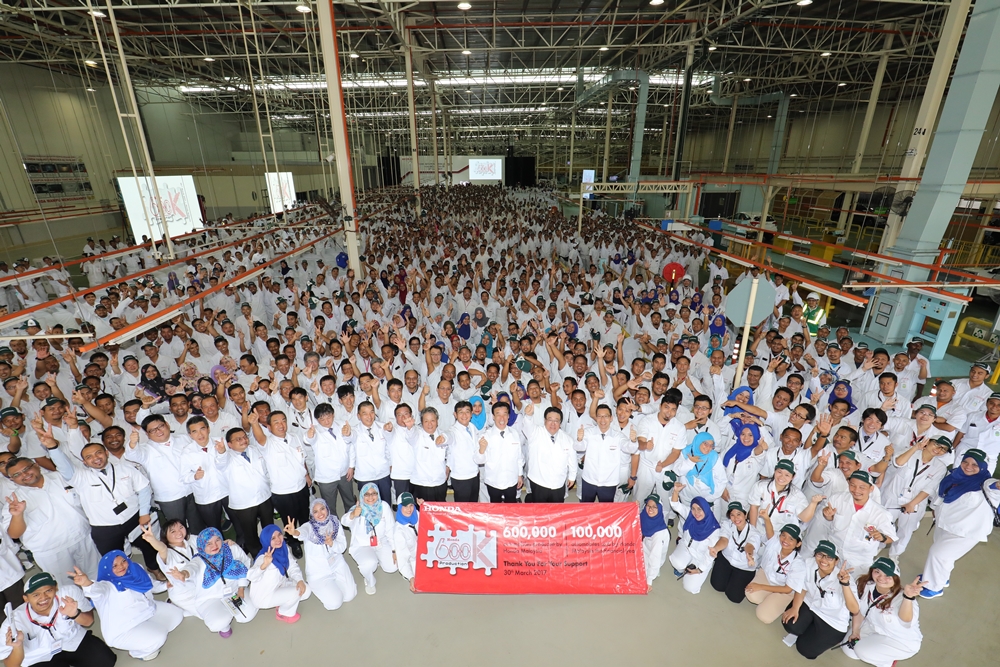 ADVERTISEMENT
Honda Malaysia celebrated a historical milestone today with the production of the 600,000th unit in its local plant in Pegoh, Malacca. In the same event, the company also announced its 100,000 sales units achievement for the current financial year (1 April 2016 – 31 March 2017) despite the challenging market situation over the past year.
The 600,000th unit production was achieved within a span of 14 years since Honda Malaysia started local assembly in its local plant in Pegoh, Malacca. Currently, Honda Malaysia has two production lines in this plant, the No.1 Line which started operations in 2003 and the No.2 Line that began operations in 2014.
Today, Honda Malaysia's No.1 and No.2 Lines produce 7 models to cater to wider customer needs as compared to when it first started with just 4 models, the CR-V, City, Civic and Accord. Currently the Accord, City, Civic, CR-V, Jazz, HR-V and BR-V are locally assembled at the Pegoh plant.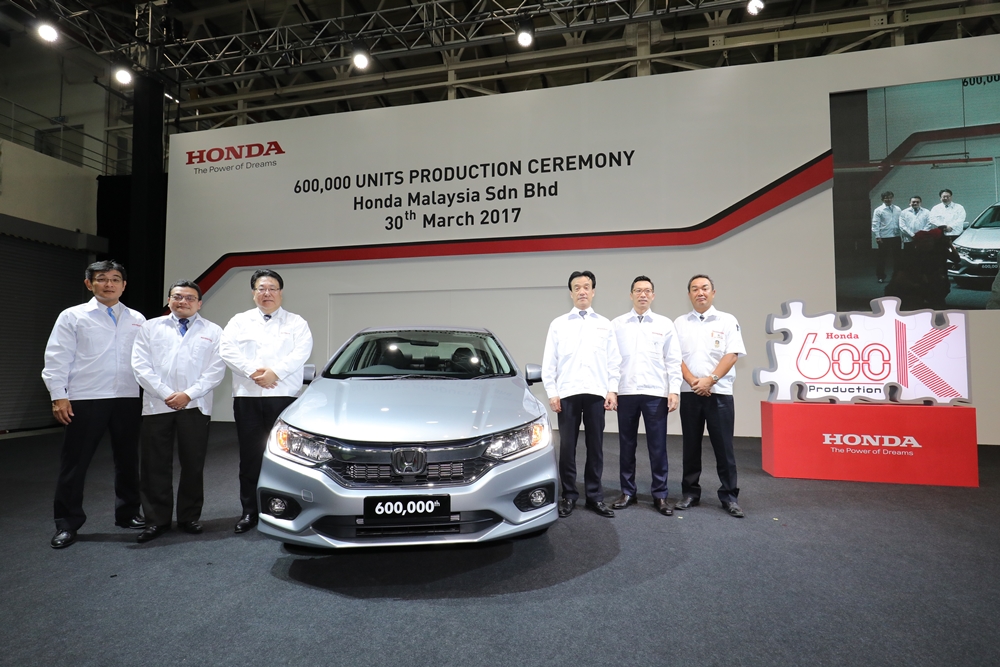 The 600,000th vehicle that rolled out of the No.2 Line at the Pegoh plant was a new City, that was launched earlier this month. To date, Honda Malaysia has received close to 3,000 units of bookings for the new City which is 50% more than the company's monthly target of 2,000 units.
Equipped with advanced technologies, the Pegoh plant was built with flexible production capacity that can produce multiple models at the same time in order to meet market demand. These specially designed production lines and strategic planning have enabled Honda Malaysia to shorten the waiting period for customers when there is a surge in the bookings for certain models. For example, the waiting period for the BR-V is only one to two months despite the bookings being close to 10,000 units, which is 12 times of its monthly sales target. In fact, the waiting period for all Honda models is now just one to two months on average.
Some of the latest technologies applied in the plant include the automated Smart Welding Machine to produce high rigidity body frame utilizing high quality material as well as the international standard painting facility comprising Spray Robots and Under Body Coating which improve the quality of body paint and ensure precise coating thickness.
Meanwhile, the custom-built 2.1km Test Course puts every vehicle that comes out of the production line through rigorous testing to check that it passes the quality and standard. The company spares extra effort to ensure that only vehicles that are of the highest global quality standard bear the Honda logo.
Honda Malaysia Managing Director and Chief Executive Officer, Mr. Katsuto Hayashi said, "The addition of the No.2 Line in 2014 has enabled Honda Malaysia to grow at an accelerated rate. We achieved 300,000 production units in just three years as compared to 11 years taken earlier to reach the first 300,000 units. I believe this was achieved through good strategy and strong challenging spirit from the Honda family. With this readily-available facility in Malacca Plant, Honda Malaysia has the spare capacity to fulfill bookings from customers as well as produce the best products for Malaysians."
"We thank each and every one for their continuous support. Honda Malaysia will continue to serve our Malaysian customers with quality products as well as excellent after sales service that exceed customers' expectations," he added.
Earlier this year, Honda Malaysia introduced the all-new BR-V compact SUV, a model that was developed in Asia exclusively for Asian countries. Since its introduction in January, Honda Malaysia has achieved almost 10,000 booking units and more than 5,200 registrations for the BR-V.