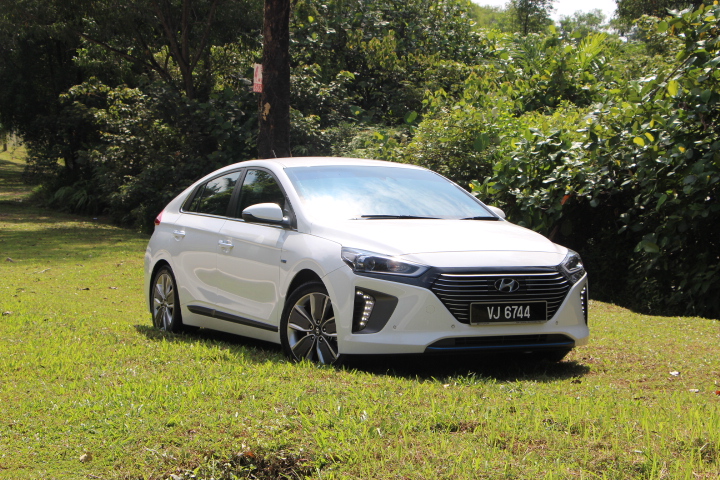 ADVERTISEMENT
Wait, hang on… Active Cruise Control? As usual, I'd not bothered to read the brochure upon collecting the new Hyundai Ioniq Hybrid for review, so yeah, when the car began to slow down all by itself as it approached traffic on the highway, and sped-up when it cleared while I had the cruise control on, I was quite taken aback, because I've only ever experienced this in cars that cost twice to three times (and more) as much as the Ioniq. Actually, even before we get into the drive, I'd be remiss to not mention all the kit available in the new Ioniq, which reads like the wish-list for just about every car in this segment.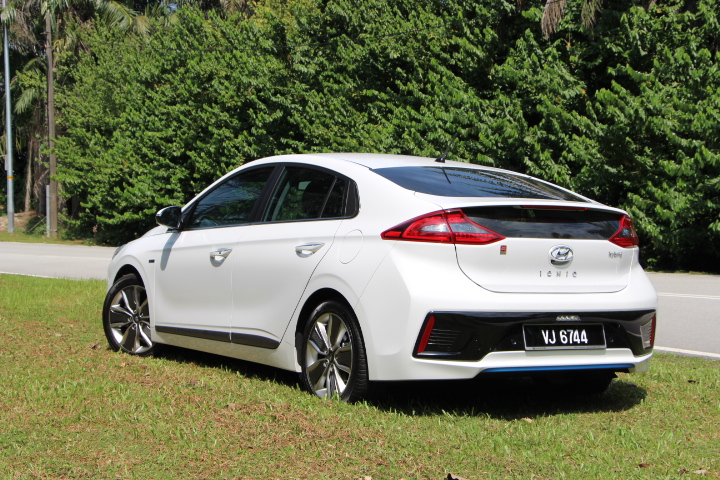 Since AF has already fully reviewed the Ioniq late last year after its official launch, my time behind the wheel consisted mainly of trying to ascertain if I personally would consider buying an Ioniq, if I wanted to get a new hybrid car. Let's face it, in the great scheme of things, hybrids are still relatively new to us. And whilst many have taken the plunge, there are still countless others who aren't really convinced that a hybrid is the way to go, insofar as fuel savings is concerned.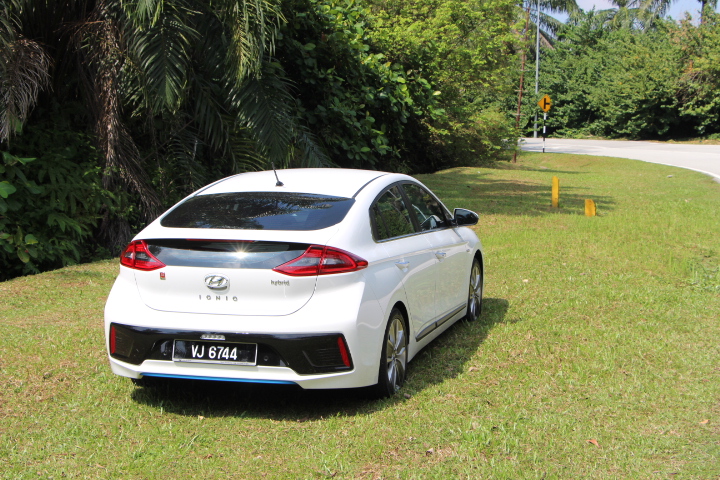 And while we're on that subject, let's just say that when it comes to fuel-efficiency, the Ioniq didn't disappoint at all. When I collected the car on a Friday morning, it had the requisite full tank of fuel, and a mind-boggling "970km to zero" reading (no, really) on the on-board fuel consumption meter. Returning it the following Monday afternoon, the digital fuel gauge hadn't dropped a single bar, despite driving it all weekend, through a combination of highways, traffic jams and B-roads. I actually harboured thoughts of siphoning fuel out of the tank to feed my ever hungry stable of old cars, especially the Merc 280SE which burns 2-litres just on start-up, but decided against it…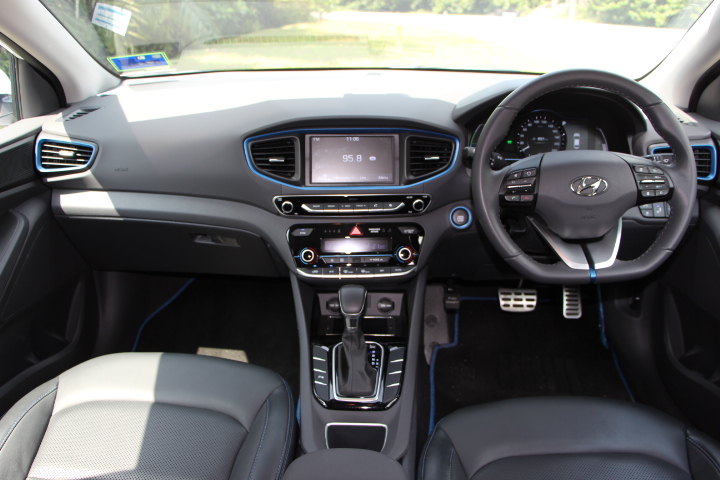 Now as far as kit-and-caboodle is concerned, there's a lot of it in the Ioniq, and it's pretty up-to-date stuff too like the Qi wireless smartphone charging in the centre console. Simply place your phone there, and it begins to charge, no wires required. For the more conventional, there's also a 12V socket and USB ports. Apart from the aforementioned active cruise-control, the Ioniq also has Lane Departure Warning and Assist, Blind-Spot Detection, Autonomous Emergency Braking, in addition to the standard 7-airbags, ABS, ESC and VSM. It's like a who's who of electronic gizmodery in there…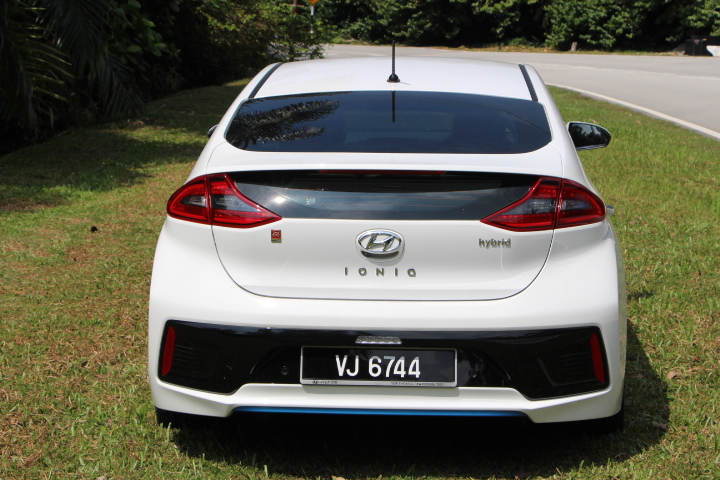 It's also a practical car, and because it's a lift-back with fold-down rear seats, there's an abundance of space for cargo carrying. Remove the retractable tonneau cover and there's a massive amount of space even for bulky items. Seats up, and the Ioniq is able to accommodate 5 adults comfortably. It may look small from the outside, but don't believe it.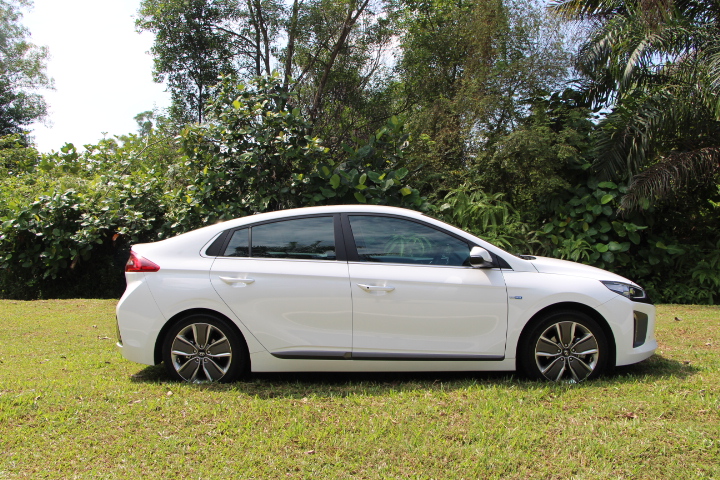 While external looks are subjective, I did quite like the futuristic design of the car, which features LED DRL's up front and boasts a very slippery drag-coefficient of just 0.24cd, which of course only adds to the fuel-efficient nature of the car. Even the alloy wheels are designed to be as slippery as possible. There's no arguing about the interior though. Hyundai designers should be given plaudits in this area, because they've done a remarkable job with the Ioniq. Comfortable, spacious and blessed with excellent NVH characteristics, on take-off in EV mode, only the grumble of tyre sound on asphalt gives the game away.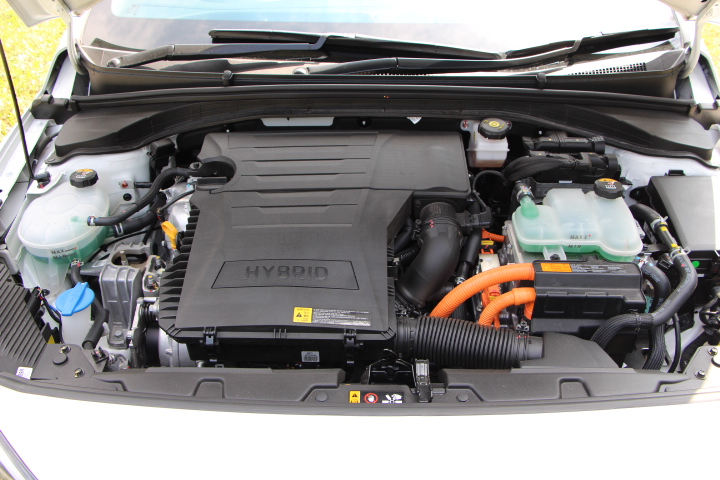 As far as acceleration is concerned, the Ioniq scoots away quickly for a 1.6-litre n/a powered car, aided no doubt by the hybrid motor. Surprisingly the gearbox sees a dual-clutch configuration, with 6-speeds. Surprising insofar as how smoothly the gears swap cogs. I actually thought it was a CVT at first, but the occasional noticeable cog 'hunting' while slowing-down for a speed-hump and speeding-up again later gave the game away. With an output of 105Ps and 147Nm from the engine, and 32kW and 170Nm from the electric motor, the Ioniq is by no means a slouch. There's very spirited acceleration to be had if you're willing to forego fuel-efficiency and put the pedal-to-the-metal as they say. Top speed is a governed 196kmh.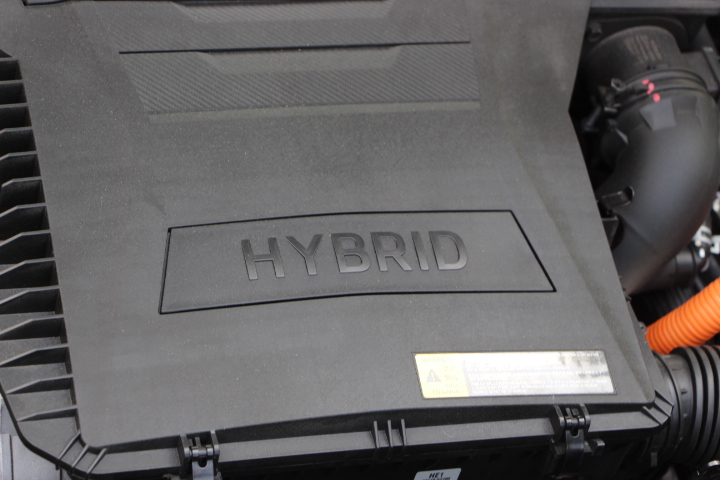 But speed and power is not why anyone would buy the Ioniq, priced very decently at RM114,008 (model as tested which is the HEV Plus, the base model HEV is even cheaper at RM100,328 both OTR w/o insurance). And maybe not many would even buy the Ioniq strictly because it's a hybrid either. Let's be honest, how many out there actually bought the Honda CR-Z because it was a fuel-sipping hybrid, and not because it's the spiritual successor to the iconic CR-X and looks stonkingly, awesomely sporty? Thanks to the Ioniq's rear multi-link suspension system, it handles more spirited driving with ease as well, so I'd be lying if I didn't say there are shades of a fun-to-drive, sporty car hidden beneath the 'greenie' façade too.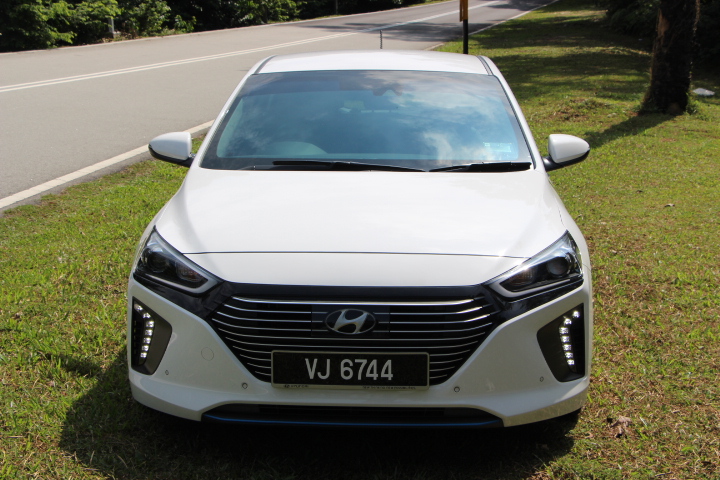 Thus I reckon it's going to be the same way for the Ioniq, for having driven it extensively – and still managing to return it with a full tank of gas – I came to the conclusion that hybrid or not, the Ioniq is a splendid all-round car. The fact that you can travel almost 1000km on a full tank (45-litres) of fuel is just an added bonus. Anyone looking for a car in this segment with 100k to spend would be wise to put this fella on their watch-list. I most definitely would… – Chris Wee.
Specifications: Hyundai Ioniq Hybrid HEV Plus
Engine: Kappa 1.6L Atkinson GDI, 1,580cc
Max Power: 105Ps @ 5,700rpm (engine) / 32kW & 170Nm @ 0rpm (electric motor)
Transmission: 6-Speed DCT, FWD
Wheels & Tyres: 225/45 R17 alloy 7.0Jx17
Battery: Lithium-ion Polymer
Fuel tank: 45L
Safety: 7-airbags, ABS, Brake Assist, Hill-Start Assist, Electronic Stability Control, Vehicle Stability Management (both variants)
Hyundai Ioniq Photo Gallery