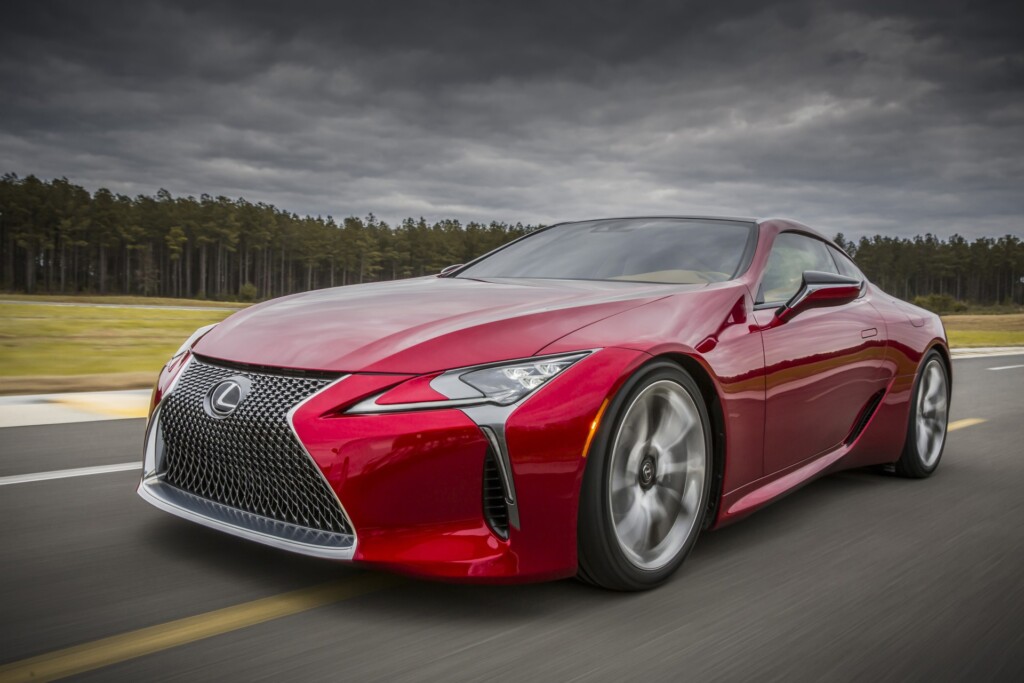 ADVERTISEMENT
J.D. Power has released its annual U.S. Vehicle Dependability Study where Lexus and Porsche tie to rank highest in vehicle dependability among all nameplates, with a score of 110 PP100.
The study, now in its 28th year, examines problems experienced during the past 12 months by original owners of 3-year-old vehicles. In this case, that means we are looking at ratings for 2014 model-year vehicles. In total, there were 35,186 respondents to the study which was fielded from October through December 2016.
Overall dependability is determined by the number of problems experienced per 100 vehicles (PP100), with a lower score reflecting higher quality.
The study covers 177 specific problems grouped into 8 major vehicle categories. This includes problems related to exterior, engine/transmission, audio/communication/entertainment/navigation, interior, the driving experience, features/controls/displays, heating/ventilation/air conditioning and seats.
Besides Lexus and Porsche, Toyota (123 PP100) follows in the rankings, moving up one rank position from 2016. Following Toyota in the rankings are Buick (126 PP100) and Mercedes-Benz (131 PP100).
Hyundai (133 PP100) is the most improved nameplate in the study, improving by 25 PP100 from 2016. At 6th position (up from 19th in 2016), this is Hyundai's best-ever ranking in the VDS. Other notable improvements include Dodge and Ford, which both improve by 21 PP100 from 2016, and Land Rover, which improves by 20 PP100.
The study finds that the 10 top-selling 2014 model-year vehicles average 134 PP100, which is significantly better than the industry average of 156 PP100.
"We find buyers are increasingly avoiding models with poor reputations for dependability, so manufacturers can't afford to let quality slip, particularly on their best sellers," said Dave Sargent, vice president, global automotive at J.D. Power. "While many expensive and niche vehicles do have excellent quality, the fact is that most consumers are shopping in the high-volume mainstream segments. The good news is that consumers don't have to spend a lot of money to get a very dependable vehicle."
J.D. Power finds that in addition to impacting purchase decisions and brand loyalty, better long-term quality is a key factor in contributing to higher residual values for vehicles. For example, J.D. Power estimates that Toyota—the highest-ranked non-premium brand in the study—has a residual values benefit of more than $750 (RM3,332) per vehicle, compared with the average brand. This translates into a benefit of more than $1.3 billion (RM6.6 billion) for the 2014 model year alone.
"In the current industry environment of record levels of leasing and long-term loans, higher residual values allow automakers to provide more competitive deals to buyers," said Jonathan Banks, vice president of vehicle analysis and analytics at J.D. Power. "This creates the opportunity to achieve higher market share and/or elevated profit margins."
As shown in the images below, awards are also given to individual cars in different market segments. Toyota models receive 10 of the 18 segment awards, representing the highest number of awards ever received by an individual corporation in the study. These awardees are Lexus ES; Lexus GS; Lexus RX; Toyota Avalon; Toyota Camry; Toyota FJ Cruiser; Toyota Prius; Toyota Prius v; Toyota Sienna; and Toyota Venza. The Toyota Camry has the lowest PP100 score industry-wide.
General Motors models receive 4 segment awards for the Chevrolet Camaro; Chevrolet Sonic; Chevrolet Silverado HD; and Chevrolet Tahoe, while other models receiving segment awards in the study are the Ford F-150; Honda Ridgeline; Mercedes-Benz GLK-Class; and Volkswagen Tiguan.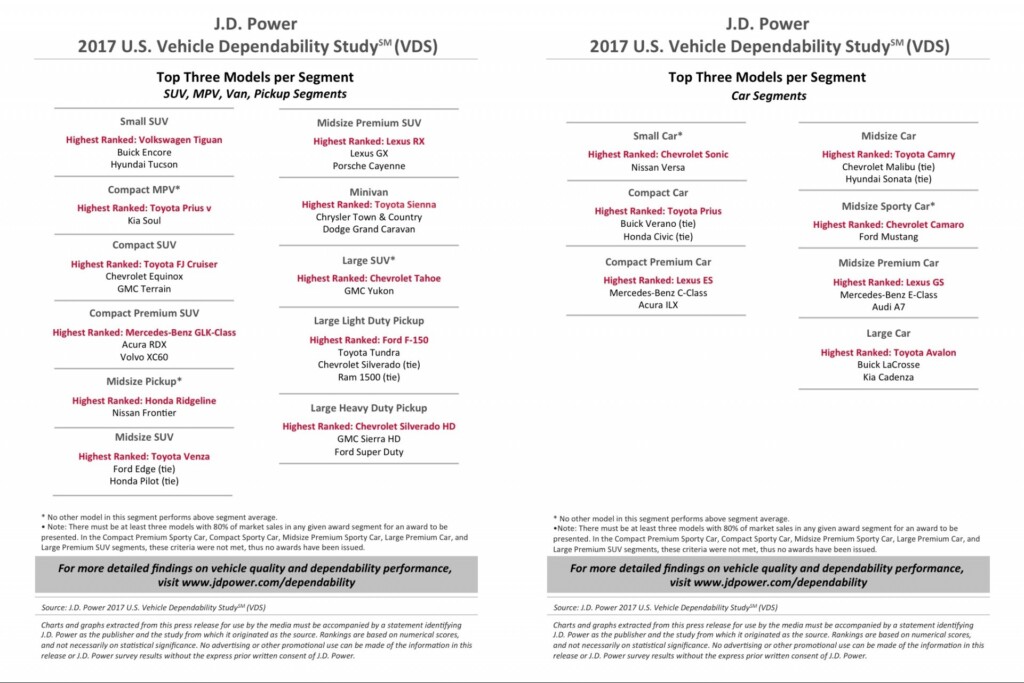 Source: J.D. Power