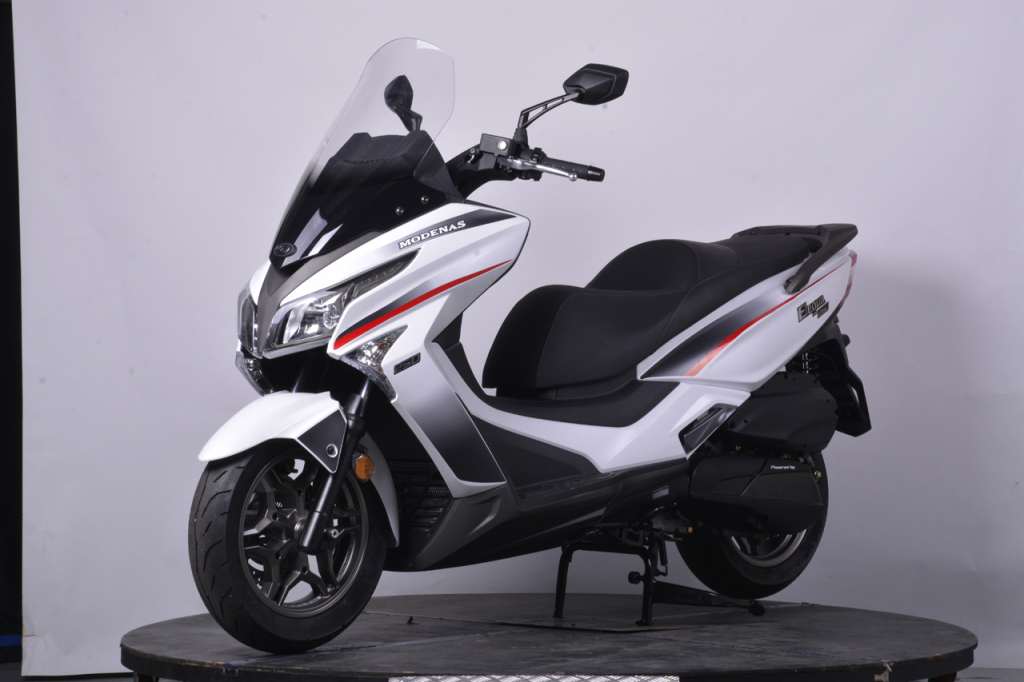 ADVERTISEMENT
Right, so I'll be the first to admit, I'm a huge scooter fan. Don't get me wrong though, I still adore regular motorbikes, you know, the kind with a clutch and actual gears, and nothing gives me a bigger thrill than swinging a booted leg over one and heading for the hills; however insofar as commuting is concerned, journeys of the "daily-grind kind" into and out of the city are best left to the ubiquitous scooter me thinks. No gears to engage, no clutch to fumble with, just start up, twist the throttle and go. On that end of the scale, my current daily-commuter just happens to be a scooter, a SYM200. However not so long ago, I used to trudge around on a Modenas Elegan 150… no, really.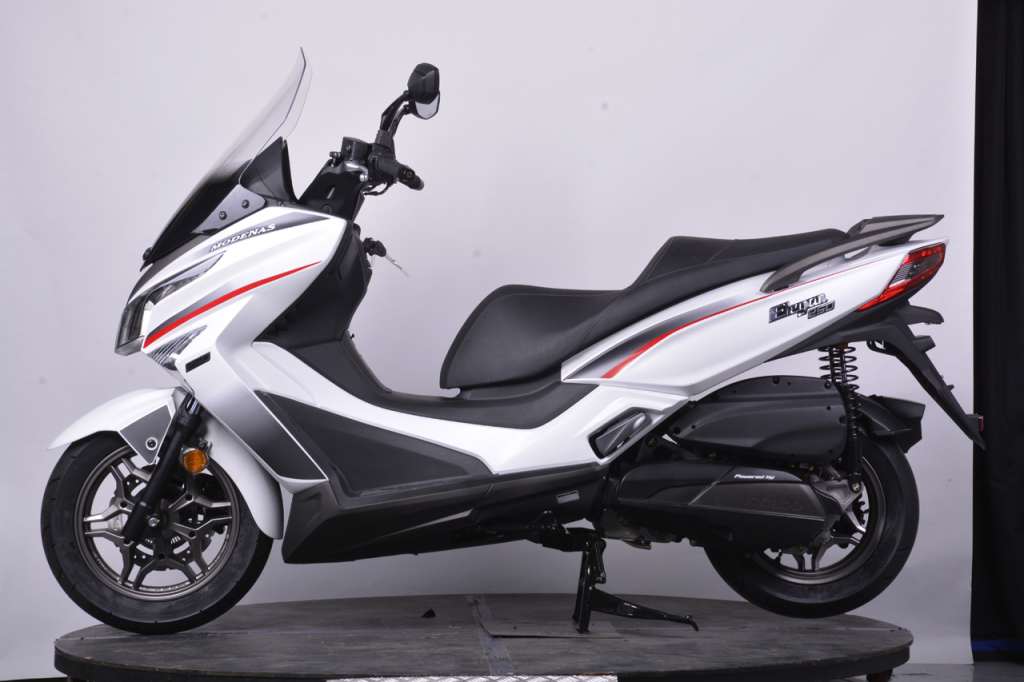 While we're being honest, let me tell you that my past experience with scooter ownership actually stretches back to the 90's where the very first scooter I owned was a Suzuki V100. I kid you not. Anyone who's ever seen me (or a V100 for that matter) will attest that that was not the best of biking ideas. The term 'Russian circus bear on a bicycle' was often bandied about my way. I graduated from that to a Suzuki VS125, which was only slightly less ridiculous in terms of size, followed by the aforementioned Modenas Elegan 150, to the current SYM200.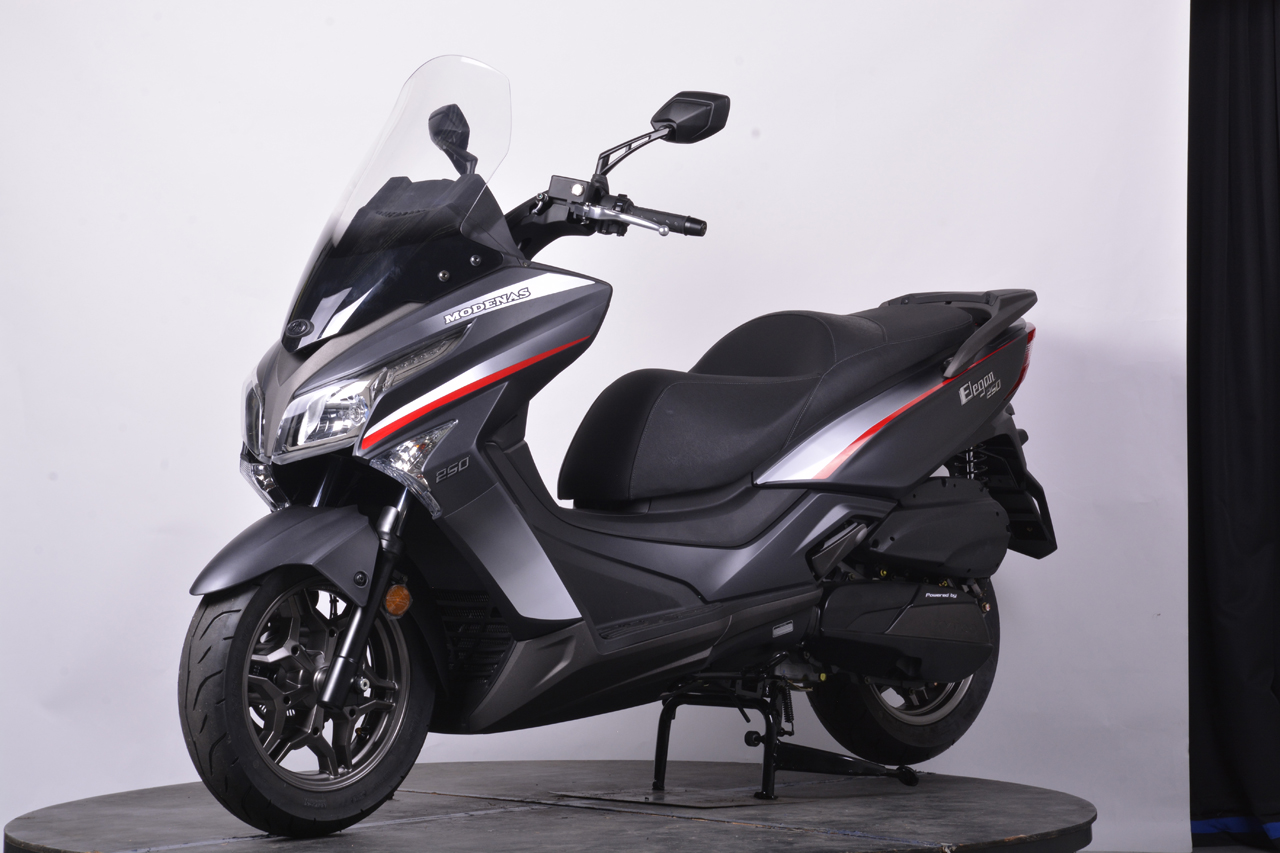 Thus, when I heard that Modenas had launched an updated version of the ever-popular Elegan scooter (above), I was interested to see for myself just how much of an improvement it was compared to the pervious model which I had owned. First the info and tech: The Elegan 250 is now powered by a 250 cc fuel-injected SOHC engine that produces 16.5 kW at 7,000 rpm. Telescopic forks for the front suspension and trailing swing-arm for the rear suspension, it is aimed to provide riders with a more comfortable ride. For better braking performance, the Elegan 250 comes with all round disc brakes. Available in Matt Black and Matt White, the Elegan 250 has a retail price of just RM12,830. Yes, I copied those last 4 lines from our previous launch article here.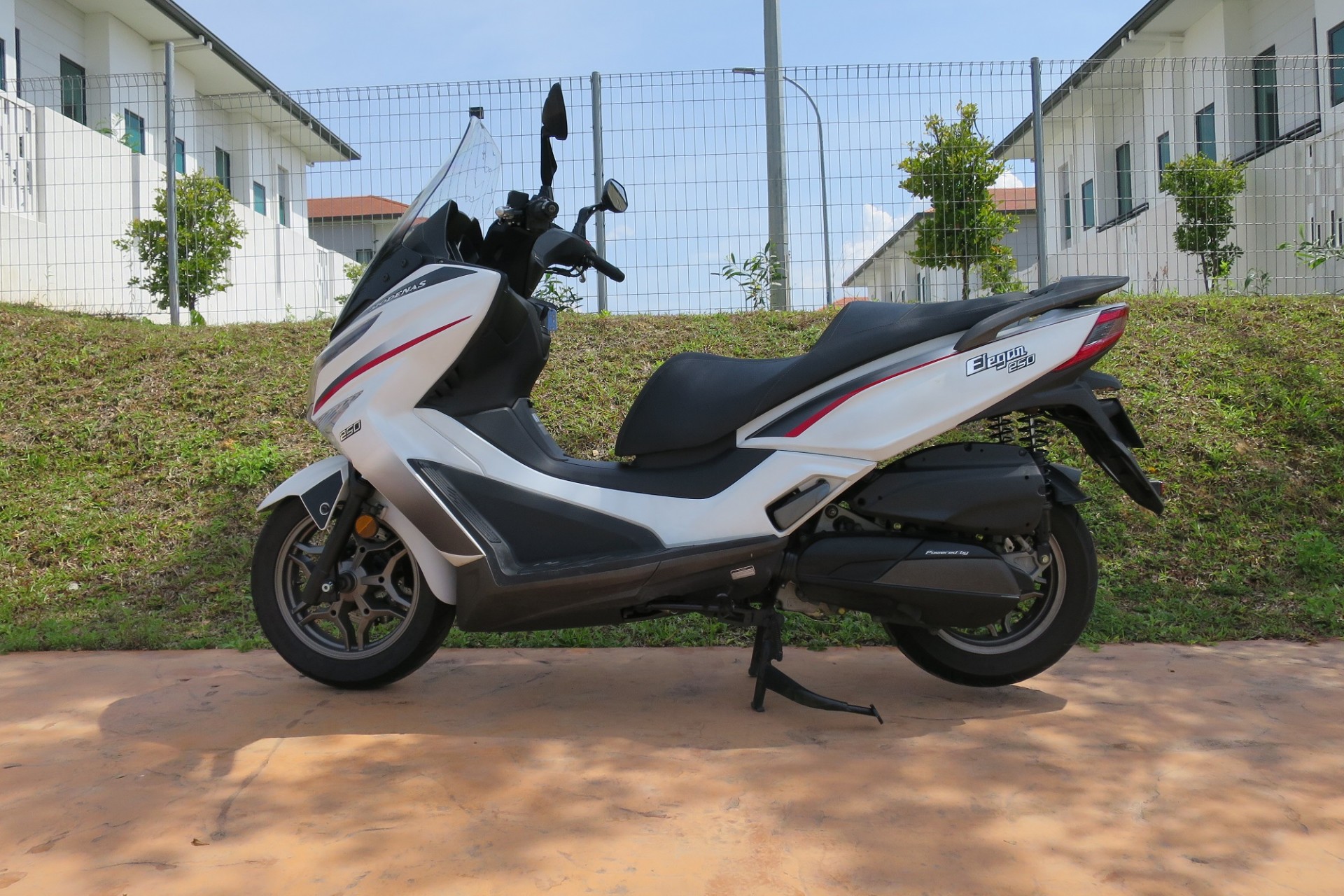 So apparently since its launch in November last year, Modenas has sold more than a thousand of these new Elegan 250 already, but only a handful of the Kymco 250, which they launched simultaneously with the former, having procured the sole-distributorship rights locally somewhere in the middle of 2016. The reason for this is simple; the Kymco costs almost double, for what's by-and-large the same scooter…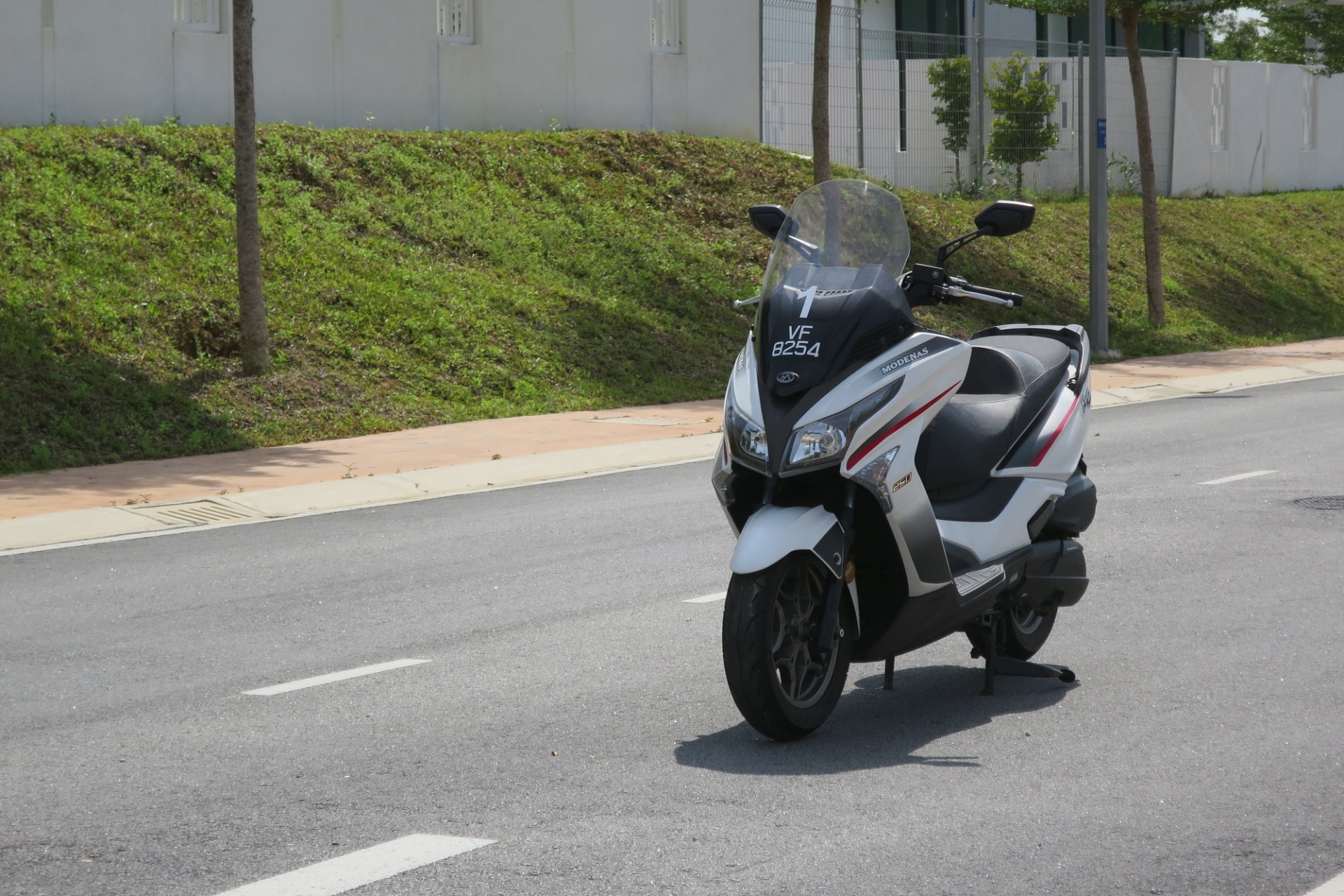 I'll cut to the chase. Insofar as a daily-commuter is concerned, the new Elegan 250 is a remarkable scooter. Not only is it exceedingly comfortable (I was tempted to swap the seat for the one on my SYM, but it would have been unethical to do so…plus it didn't fit), but it has more than enough low-end torque to ensure city-manoeuvring is seen to with ease. Acceleration from a standstill is spirited to say the least, the fuel-injected 16+kW allows for quick get-up-and-go, while top-end is around 120-130kmh, depending on how heavy the rider is. Plenty fast enough for a scooter.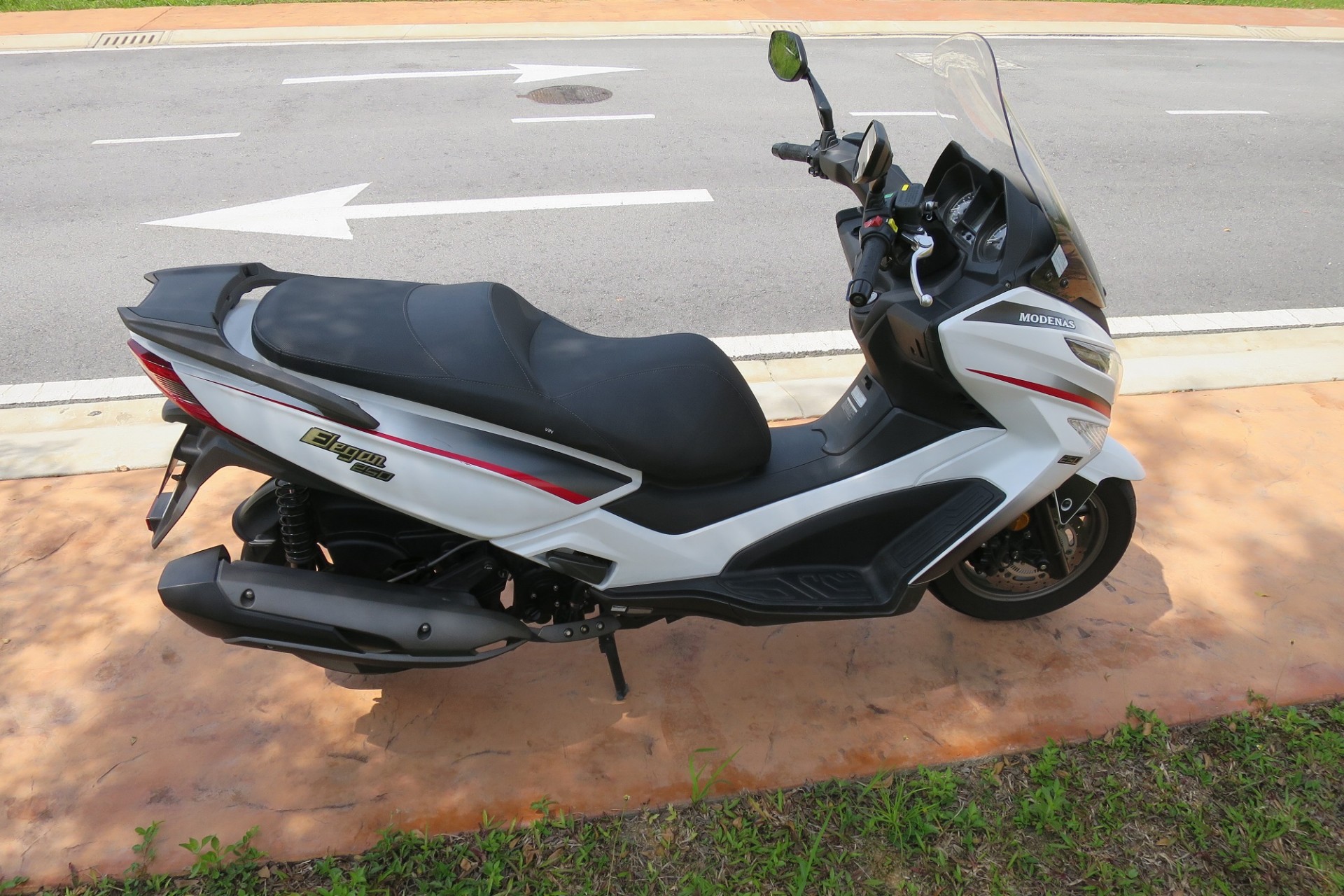 There's decent under-seat storage space, and coupled with an optional GIVI top-box at the back, the Elegan 250 will fulfil yet another growing trend among scooter enthusiasts nationwide, which is long-distance travel. I call it 'scootouring', an amalgamation of 'scooter' and 'touring', and yes, it's a lot of fun. On the open highway, the Elegan 250 is as composed as one would expect from a scooter. Its less than 200kg dry weight does tend to succumb to cross-winds, but that's to be expected of all scooters, or so I've found, except for maybe the BMW 650 scooter, which is so fast that the wind can't even catch it… that's a frightful exaggeration of course, but you get the idea.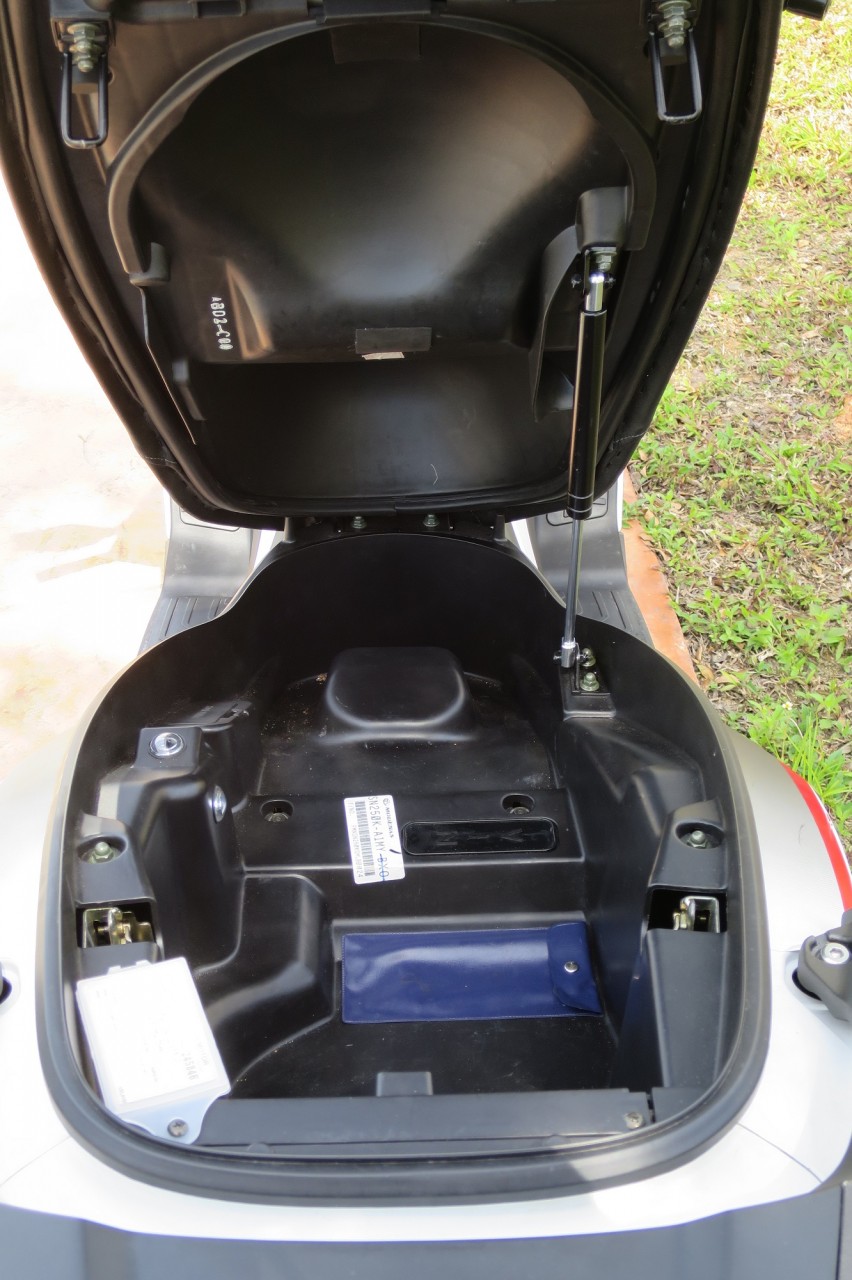 Another point worth mentioning is just how smooth the Elegan's 250cc EFi engine is (below). Of course this may be attributed to the fact that this test unit was brand spanking new with less than 1k on the odometer, but even when wrung for all its worth, it still feels exceptionally smooth and well composed. The riding position, thanks in part to that aforementioned 'sculpted and staggered' seat, is very comfortable, and this of course allows for extended 'seat-time' during long-haul rides. I'd venture to say that as far as scootouring is concerned, Modenas has just opened up this option to a much wider market than what was previously available.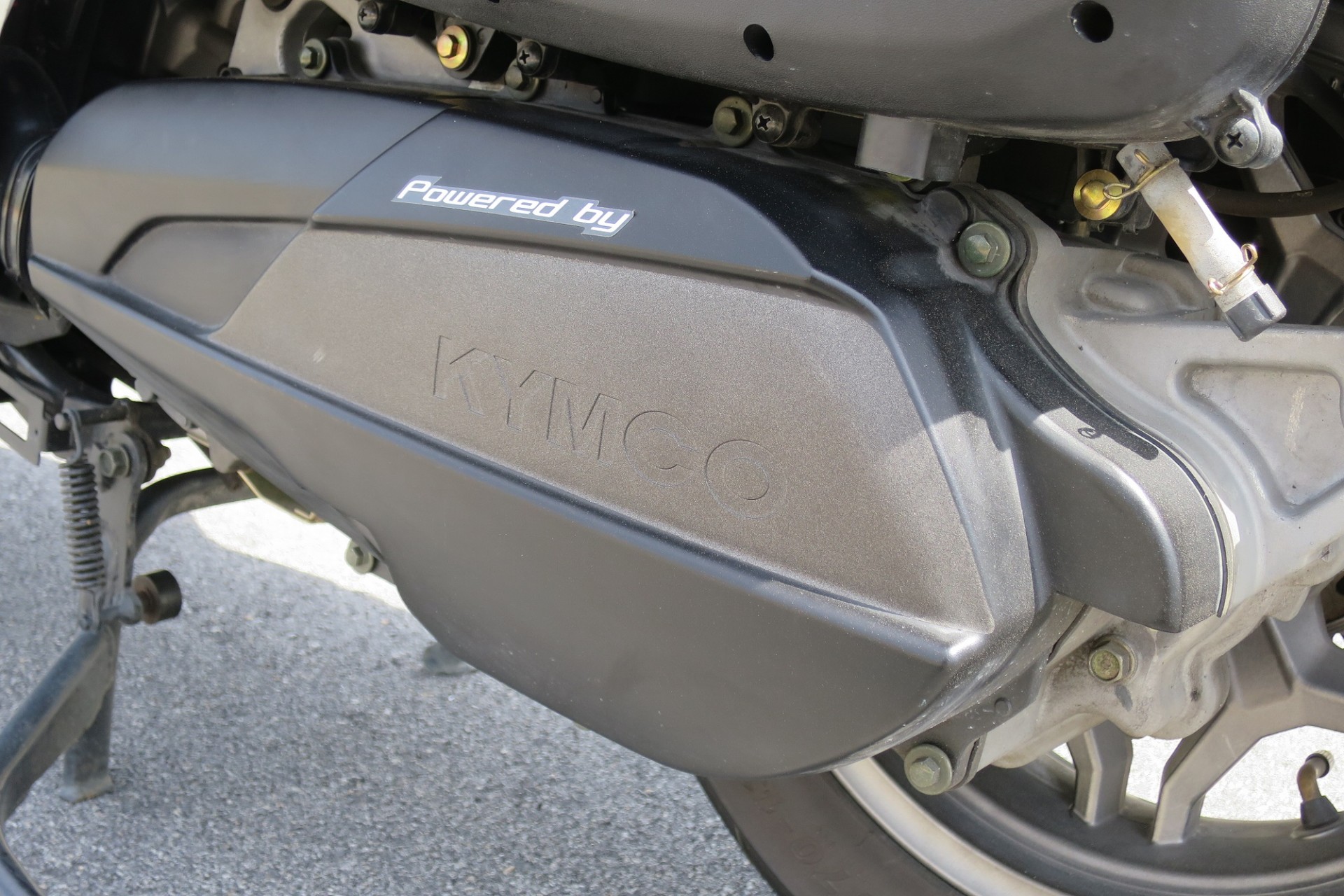 All in all, I can't fault the new Elegan 250. Given its price of less than RM13k, it's a lot of bike for that kind of money. If I were to nit-pick though, I'd venture that it should have come with ABS (anti-lock brakes) as standard, which are a God-send for scooters, since they're are void of any 'engine-braking', and riders have to rely solely on the front and rear brakes to slow-down and stop.  In the wet especially, that can be a dicey deal, which is why if you own a scooter, do ensure that your brakes and tyres are in the very best possible condition, all the time. Funnily enough, the Elegan 250 does seem to have the 'ring-sensor' for ABS on its wheel hub (below), which means it is possible to have this fitted onto the bike.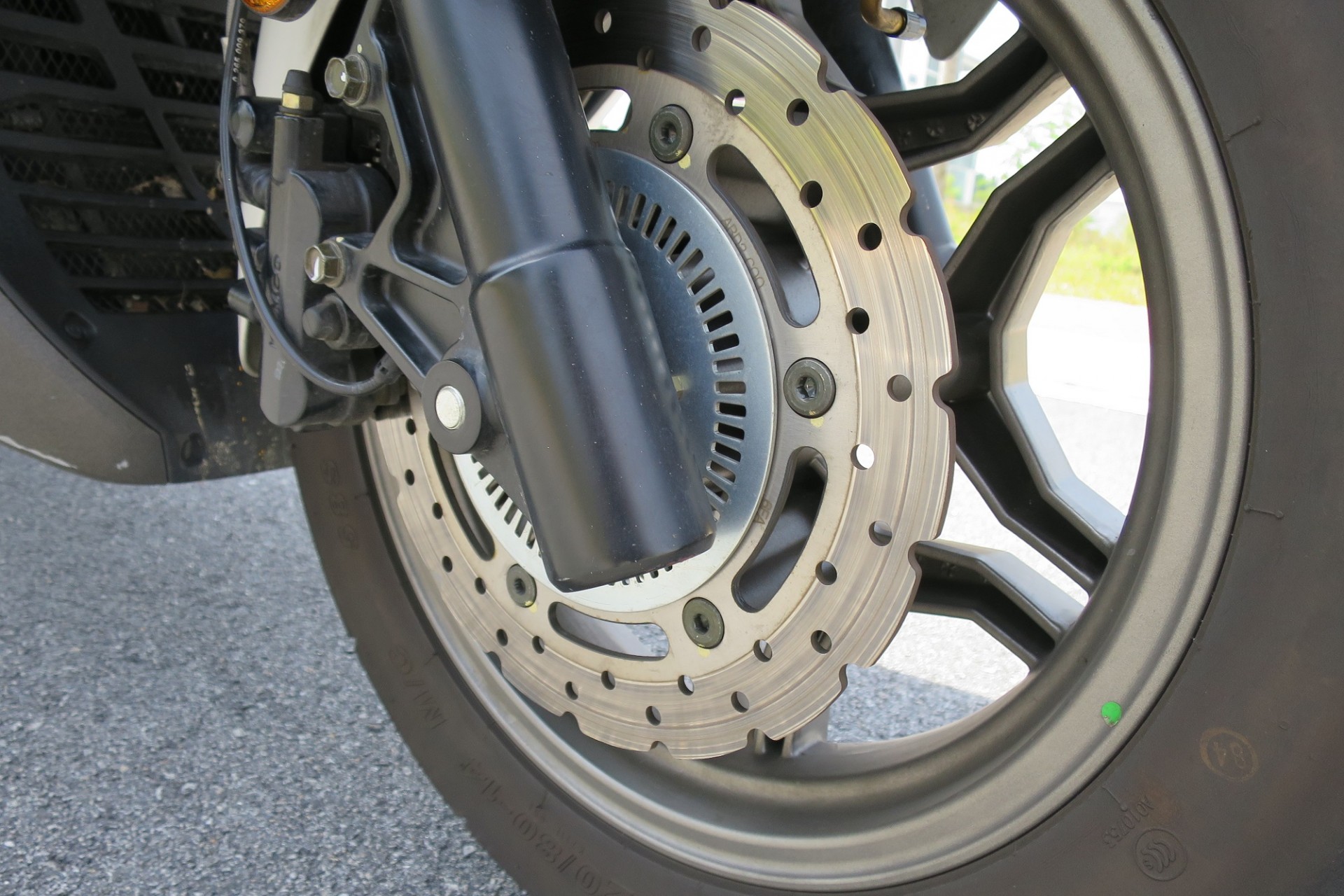 I digress though. Back to the matter at hand, if you're looking for an affordable daily-commuter, as well as an occasional long-distance runner, I highly recommend giving the new Elegan 250 a long, hard look. It's a worthy consideration, and priced really well to boot. – Chris Wee.
Modenas Elegan 250 Photo Gallery…