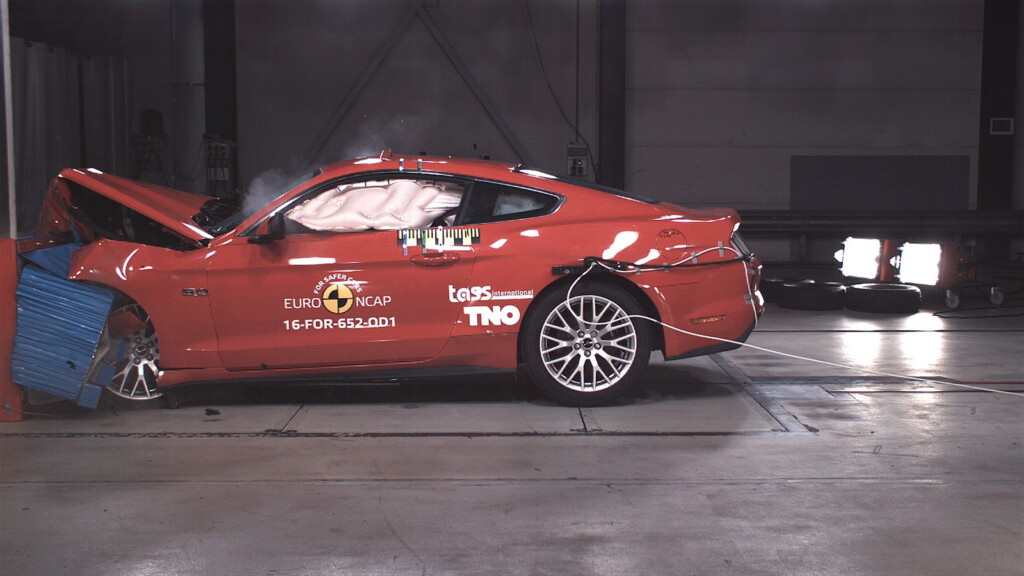 ADVERTISEMENT
Whereas the Volvo S90 sedan and the V90 wagon both excel with flying colours in Euro NCAP's safety tests, Ford's iconic muscle-car, the Mustang, failed to achieve a satisfactory rating.
Based on the recent crash test results, Ford Mustang has scored only a two-star rating for overall safety, with concerns about its crash protection of adult and child occupants and a worrying lack of safety equipment commonly available on the European market. The results reveal the American "DNA" of the Mustang that is designed to score well in the less wide-ranging US consumer tests. The European variant has seen only those minor updates required to meet European (pedestrian) safety regulations and the Forward Collision Warning system was removed when it was introduced in Europe.
In the frontal offset test, the airbags of both the driver and passenger inflated insufficiently to properly restrain the occupants. In the full-width frontal test, a lack of rear seatbelt pre-tensioners and load-limiters meant that the rear passenger slid under the seatbelt, implying higher risk at abdominal injuries in real life accidents. In the side impact crash, the head of the 10-year dummy contacted the interior trim bottoming out the curtain airbag.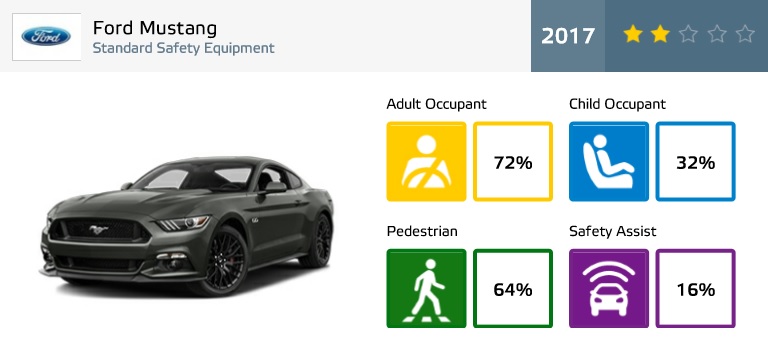 Euro NCAP's Secretary General, Michiel van Ratingen, said, "Ford did not expect Euro NCAP to test the Mustang and chose not to fit safety technology in Europe which is available to its American consumers, and available on several other sports cars for that matter. Such an attitude to safety should trouble Ford's customers, whether they are buying a high-powered muscle car or a regular family car."
In response, Ford says that the facelifted version of the Mustang, which will go on sale in Europe later this year, will be fitted with Pre-Collision Assist and Lane Keep Assist, as a standard; the updated vehicle is also expected to be tested by Euro NCAP.
"We welcome any improvement, of course, and look forward to publishing a new rating for the updated model. However, more fundamental updates may be needed if the Mustang is to get a significantly better result. We therefore hope Ford takes the opportunity to invest in the changes needed now for future Mustang generations," Michiel van Ratingen added.
You can watch Euro NCAP's crash test of the Ford Mustang via the YouTube link below.
Source: Euro NCAP