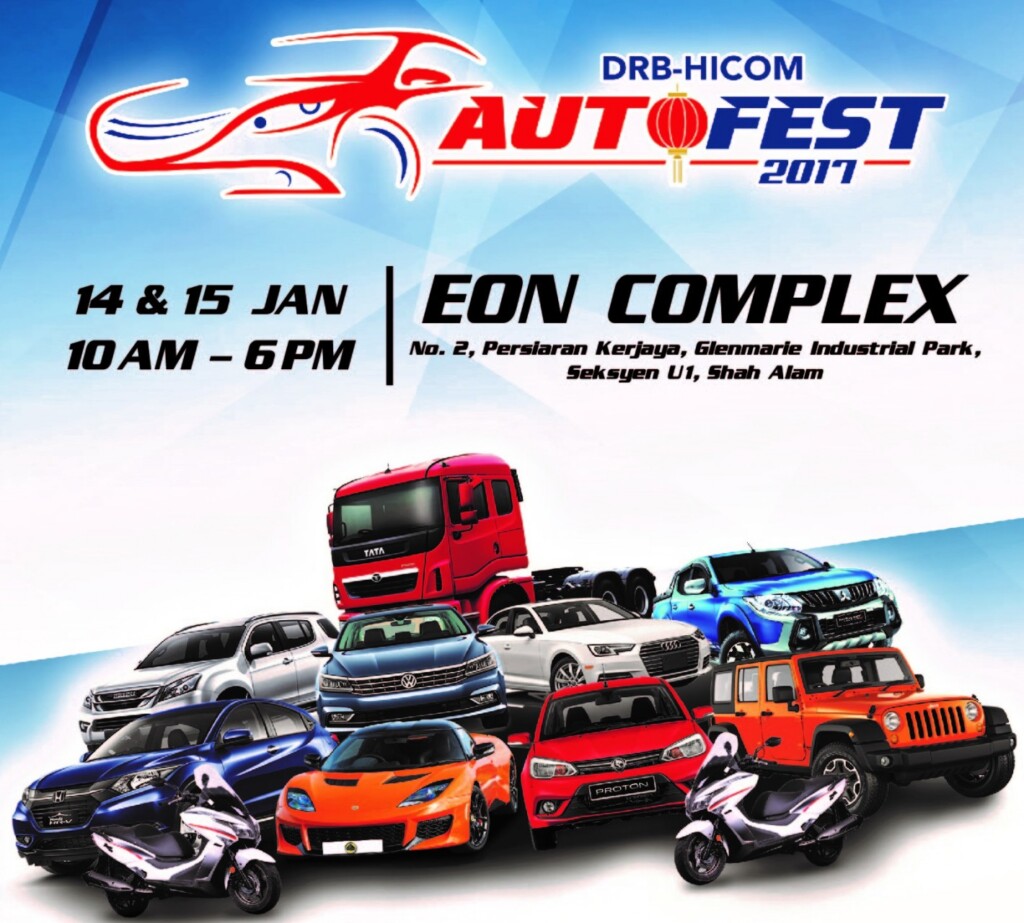 ADVERTISEMENT
DRB-HICOM's Autofest returns for the 6th edition, once again with great deals and fantastic packages up for grabs. DRB-HICOM Autofest 2017 will showcase 10 brands under the group's automotive portfolio, namely Proton, Lotus, Audi, Volkswagen, Honda, Jeep, Mitsubishi, Isuzu, Tata and Modenas.
The two-day family styled carnival will be held from 14 to 15 January 2017, from 10:00am to 6:00pm, at EON Complex in Glenmarie, Shah Alam. The public will get to view the latest cars, trucks and motorcycle models, as well as take advantage of irresistible deals which includes special discounts and amazing exclusive packages from the automotive companies.
"This will be the perfect time to take advantage of the amazing offers to own a new car and celebrate this festive season in comfort and style. Both local and foreign makes will put up unbelievable offers for the visitors," said Dato' Sri Syed Faisal Albar, Group Managing Director of DRB-HICOM Berhad.
He added that visitors will not get better prices than what are being offered exclusively during the fest. The Audi range will offer low interest rate of 0.88% on top of great price discounts, while Jeep will offer discounts between RM70,000 and RM150,000 for their range of vehicles.
Proton cars will offer up to RM13,000 discount, while the Honda range will shave up to RM12,000 off their prices. The Volkswagen range will see discounts of up to RM4,000 being offered, and the Isuzu pick-up range will see discounts of up to RM8,000.
For commercial vehicles, Tata will be offering a special discount package of up to RM18,000 for its range of vehicles.
Meanwhile, in the motorcycle segment, in addition to a free helmet and raincoat for each purchase, Modenas will also be offering a special booking fee of only RM50 for its range of motorcycles during the fest.
There will also be a special auction of Proton and Audi cars on 14 January 2017 (Saturday) at 2.30 pm. A total of 45 Audi cars and 132 Proton cars of various models will be auctioned.
Attractive deals throughout DRB-HICOM Autofest 2017 will not be limited to vehicles alone. There's also discounts for automotive-related products and services such as car accessories, auto financing, auto insurance and car inspection services (by PUSPAKOM). Ralliart merchandise and Mitsubishi spare parts will be on a 20% discount, while visitors will also enjoy a massive 70% discount on Spyder accessories.
Besides DRB-HICOM's automotive brands and related products, non-motoring subsidiaries such as POS Malaysia and DRB-HICOM University of Automotive Malaysia are also showcasing their products and services at the fest. There will also be a special participation by the Raja Zarith Sofiah Foundation.
The DRB-HICOM Autofest 2017 has also lined up various fun-filled activities for the entire family, including games, racing simulator, RC Car track, celebrity appearances, children's play area, stilt walkers and clowns, a Pikachu show and a Chinese lion dance.
Visitors can get a memento of their visit at the DRB-HICOM Autofest photo booth, and also visit the food trucks serving local and western cuisine.
If you're feeling lucky, stand a chance to win the grand prize of a brand new Proton Saga CVT 1.3 in a special lucky draw, as well as a Modenas CT115s motorcycle and other attractive prizes. To qualify, visitors need to buy products at the fest worth RM50.00 or more, or book a vehicle at the fest.
DRB-HICOM will also provide shuttle services from the the Glenmarie LRT station and nearby parking locations for the convenience of visitors to the DRB-HICOM Autofest 2017.
For further information on the DRB-HICOM Autofest 2016, click here.