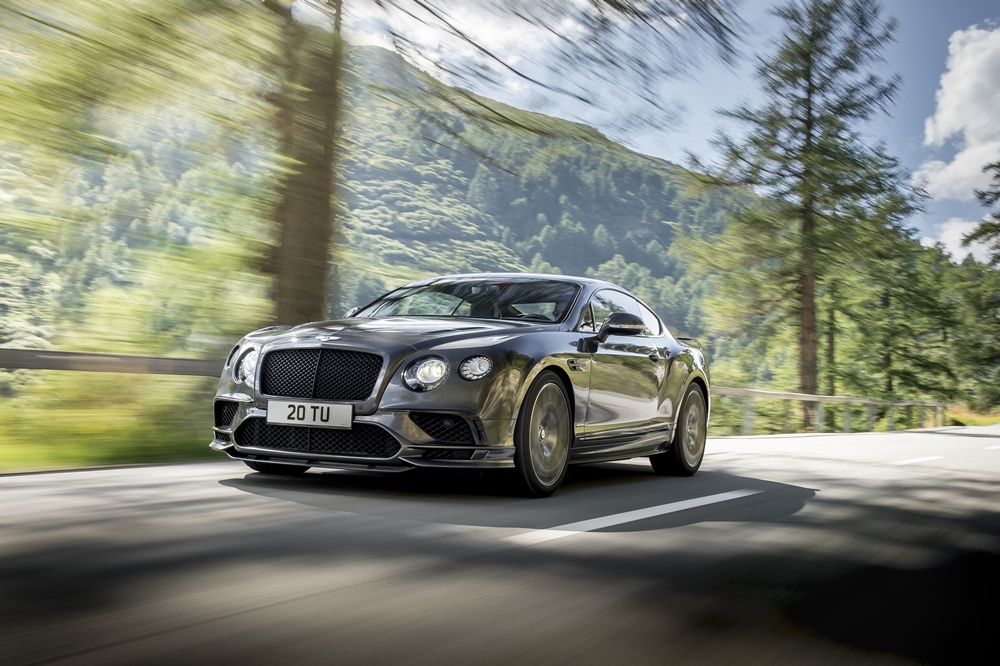 ADVERTISEMENT
Bentley has unveiled its fastest and most powerful production model to date called the Continental Supersports.
With a top speed of 336 km/h and a 0-100 km/h time in 3.5 seconds, the new Continental Supersports the world's fastest and most powerful luxury four-seat car. Bentley will also offer the Supersports as a convertible, and while it makes the same amount of power, its performance accolades suffer slightly, with a 0-100 km/h time of 3.9 secs and a top speed of 330 km/h.
The Continental Supersports is powered by Bentley's mighty biturbocharged, 6.0-litre W12 engine, redeveloped for this car with new high-performance turbos and engine hardware, and a torque vectoring system.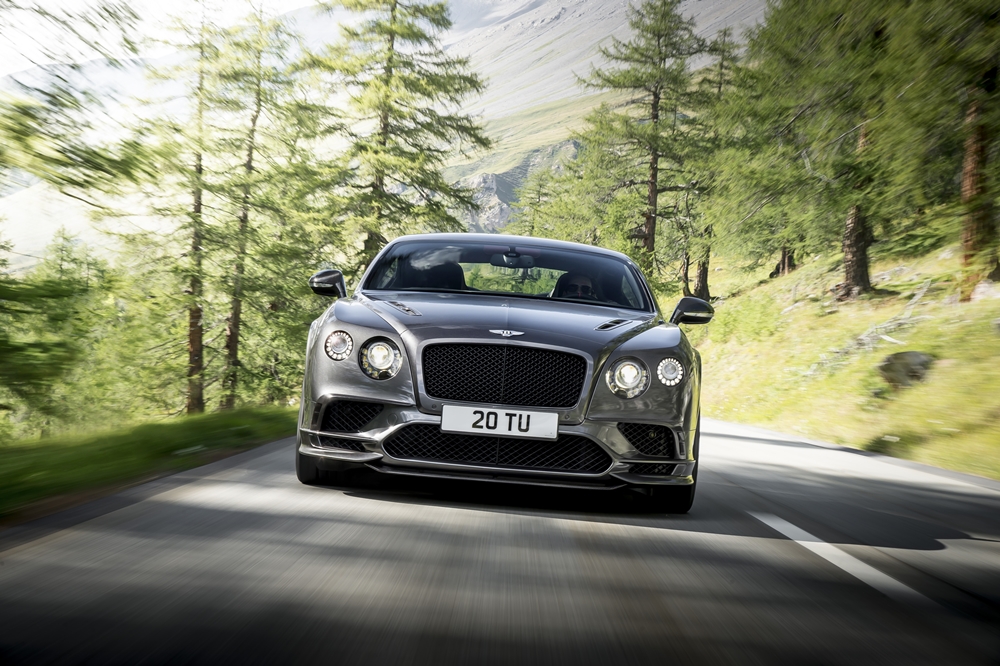 These extensive engine revisions result in an increase of 79 bhp and 217 Nm over the 2009 Supersports model – a 10% power-to-weight and 25% torque-to-weight ratio improvement. While its top speed rises by 8 km/h (and the 0-96 km/h time drops by 0.3 seconds). It produces a massive 700bhp and 1,017Nm of torque where power is sent to all four wheels via an 8-speed automatic transmission.
In order to rein in this immense performance, the new Supersports is fitted with high-performance carbon ceramic brakes with enhanced cooling. Bentley says these brake discs are the largest of their type in the world, providing excellent performance with minimal fade under extreme conditions.
The brakes sit behind lightweight 21-inch forged alloy wheels, together offering a 20 kg weight saving in unsprung mass. A further 5 kg weight-saving is offered via an optional titanium exhaust system. The new Supersports is the lightest-ever iteration of the current Continental GT and lighter than the 2009 four-seat Supersports model.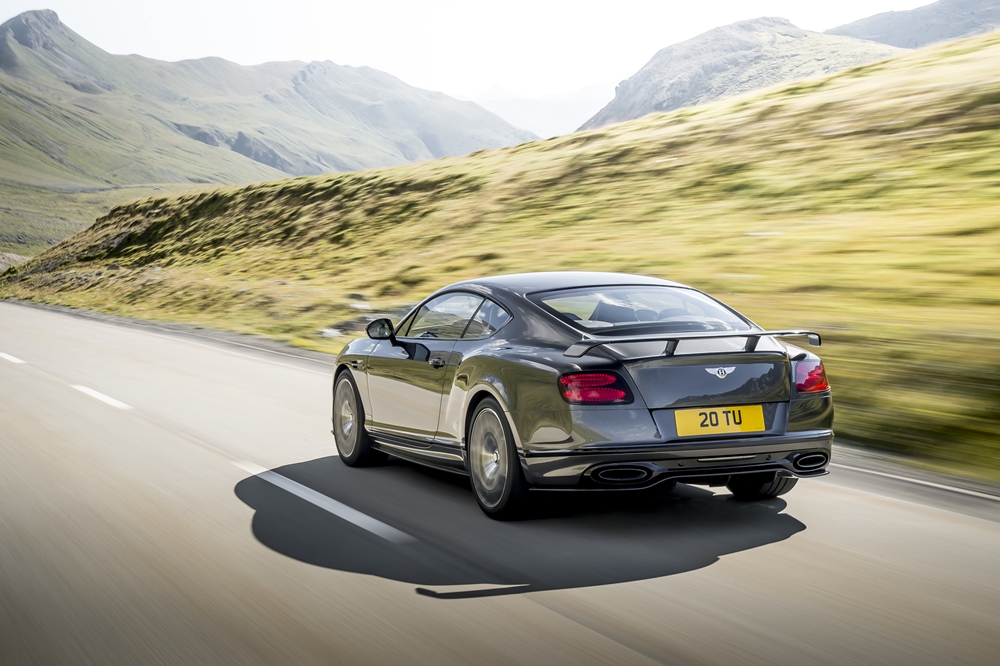 The performance is matched by athletic handling. The Supersports has a specifically calibrated and updated version of the torque vectoring system first introduced on the Continental GT3-R.
This dynamic system brakes individual front and rear wheels during acceleration out of corners to increase performance, whilst maintaining full power to unbraked wheels, and brakes the inside rear wheel on turn-in to improve agility. It also has a bespoke, less intrusive stability control calibration for a more precise chassis response.
Despite the focus on sharper driving dynamics, the Supersports' lowered and stiffened dynamic suspension set-up retains all of its luxurious ride quality for passengers who prefer extra ride comfort.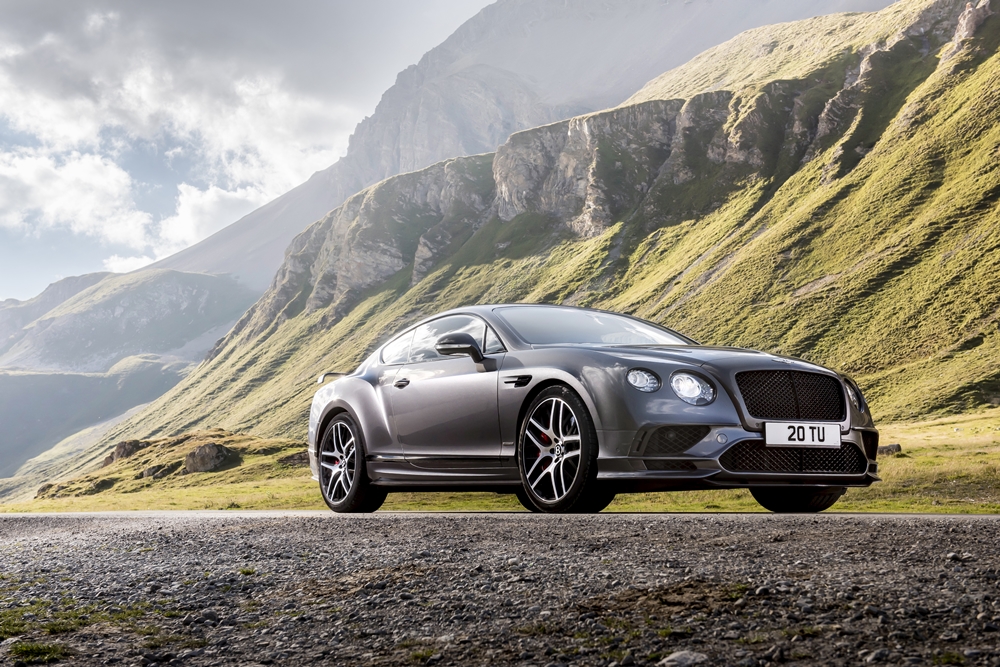 In terms of its overall looks, the new Continental Supersports exterior changes include newly sculpted front and rear bumper designs incorporating a carbon-fibre splitter and diffuser respectively, new side sill extensions and bonnet vents also finished in carbon-fibre, gloss-black front wing vents and a new gloss-black, rifled exhaust tailpipe design. Completing the exterior look are dark-tint headlamps and tail-lamps, and a complement of black-finished brightware to the front grilles, lights, rear bumper, door handles and window surrounds.
There is also an optional, aerodynamically balanced rear spoiler and front splitter combination for the coupe, new Supersports badging, a new black and bright-machined finish for the 21-inch forged alloy wheels and optional side decals. An optional gloss-finished, Supersports-branded carbon-fibre engine cover can be specified upon request. A titanium exhaust is also available for buyers as an option. It produces a more intense audible experience and also provides a weight reduction.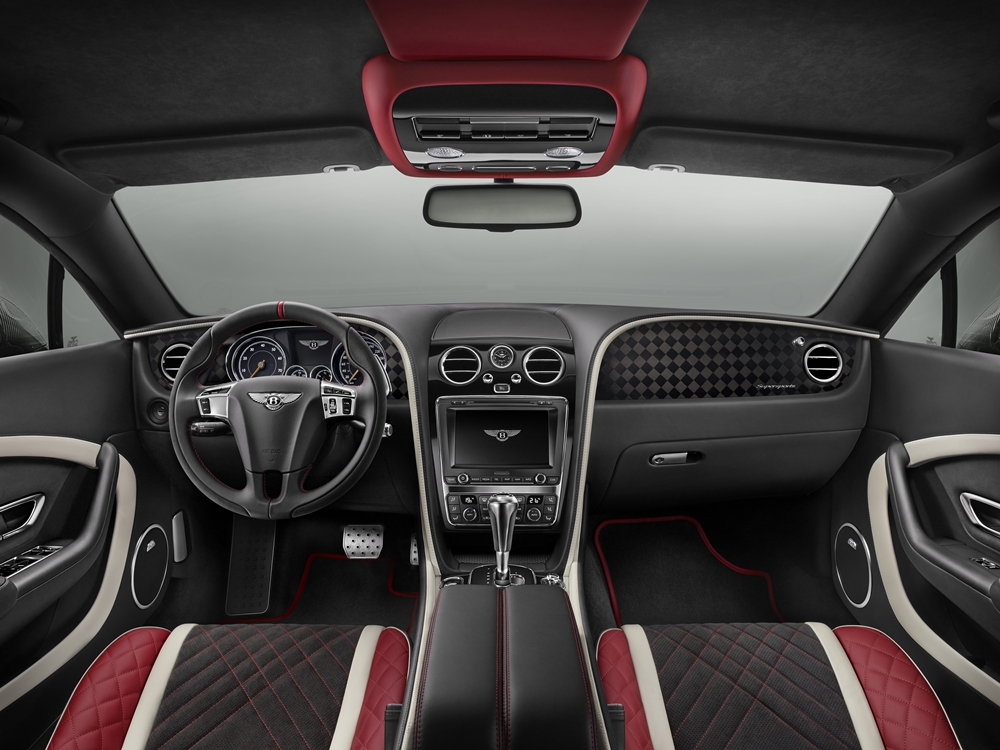 Inside, Bentley offers a tri-tone cabin design, with a diamond quilting pattern on the seats and door panels in Alcantara, while chequered Supersports carbon-fibre fascia panels join the list of 10 veneers and technical finishes available for the Continental Supersports. The interior is completed by new Supersports emblem stitching, and a bespoke Supersports steering wheel and unique gearlever, both featuring Alcantara accents.
Pricing? Well, if you have to ask, you probably can't afford one!
Technical Specification
Continental Supersports
Continental Supersports Convertible
Engine
Type
6-litre twin-turbocharged port injection W12
Max Power
700 bhp / 710 PS / 522 KW @ 6,000 rpm
Max Torque
1,017 Nm / 750 lb.ft @ 2,050 – 4,500 rpm
Transmission
Type
ZF 8-speed automatic with Quickshift, Block Shifting and
wheel-mounted paddleshift
Driveline
Continuous all-wheel drive (40:60 rear bias)
Ratios
1st : 4.71; 2nd: 3.14; 3rd: 2.1; 4th: 1.67; 5th: 1.29; 6th: 1.00; 7th: 0.839; 8th: 0.667
Final Drive
2.85
Brakes
Front
420 mm Carbon Silicon Carbide, cross drilled
Rear
356 mm Carbon Silicon Carbide, cross drilled
Wheels and Tyres
Wheels
21″ x 9.5J forged alloy wheels in two finishes
Tyres
275/35 ZR21
Steering
Type
Rack & pinion, power assisted, speed-sensitive ZF servotronic
Turns lock-to-lock
2.6 turns
Turning circle
11.3 m
Suspension
Front
Four link double wishbones, computer controlled self-levelling air suspension, with anti-roll bar
Rear
Trapezoidal multi-link, computer-controlled self-levelling air suspension, with anti-roll bar
Damping
Continuous Damping Control, tuned for dynamic performance
Dimensions
Wheelbase
2,746 mm / 108.1 in
Overall length
4,806 mm / 189.2 in
Width (across body)
1,944 mm / 76.5 in
Width (inc. mirrors)
2,227 mm / 87.7 in
Overall height
1,394 mm / 54.9 in
1,403 mm / 55.2 in
Fuel tank
90 litres / 20 gallons / 24 US gallons
Boot volume
358 litres / 12.6 cu ft
260 / 9.18 cu ft
Kerb weight (EU)
2,280 kg / 5,027 lb
2455 kg / 5412 lb
Gross vehicle weight
2,750 kg / 6,063 lb
2,900 kg / 6,393 lb
Performance
Top speed
209 mph / 336 km/h
205 mph / 330 km/h
0-60 mph
3.4 secs
3.7 secs
0-100 km/h
3.5 secs
3.9 secs
Photo Gallery