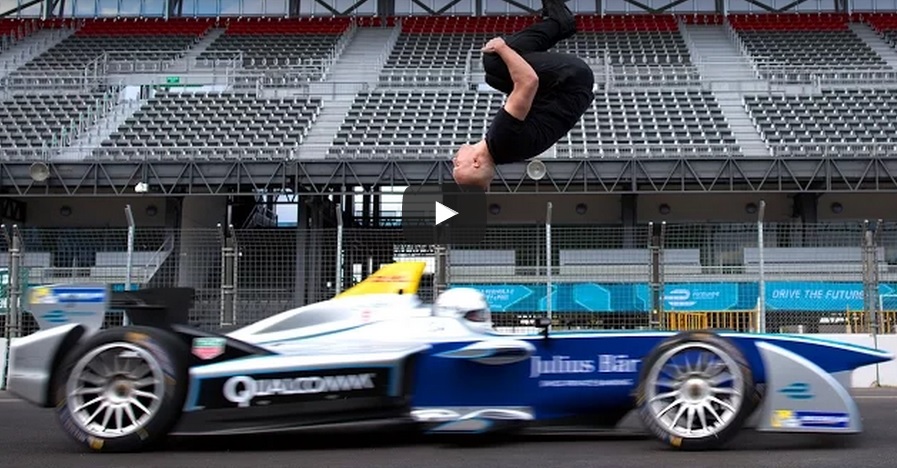 ADVERTISEMENT
While free-runner, gymnast and Hollywood stunt performer, Damien Walters, has performed many daring performance in his entire career, doing a blind backflip over a fast-approaching Formula E car is the most nerve-wracking stunts he's ever tried.
Walters, who has worked as a stunt double for Daniel Craig (Skyfall) and Michael Fassbender (Assassin's Creed), accepted the challenge to become the first person to ever carry out a blind car-dodge, by turning his back on a fast-approaching Formula E car and then performing a back-flip over it at the last second.
The stunt was carried out ahead of the race's event in Mexico City last month, with a team of highly-trained stunt experts, meticulously planning and calculating exactly when Damien needed to make the jump or without risking any injuries.
So did Walters successfully pull-off the stunt, in one of the most nail-biting videos we've ever watched?
"I've done loads of dangerous stunts in my career, but I've got to admit that I've never been as nervous as I was for this one. I'm thrilled with how it worked out though, and it's a credit to Formula E that they gave us the opportunity to do something so dramatic!", Damien Walters said.
Check out the perfect synchronisation of Damien Walters and the Formula E Race on 'The Leap Of Faith' video below!
Source: Carscoops