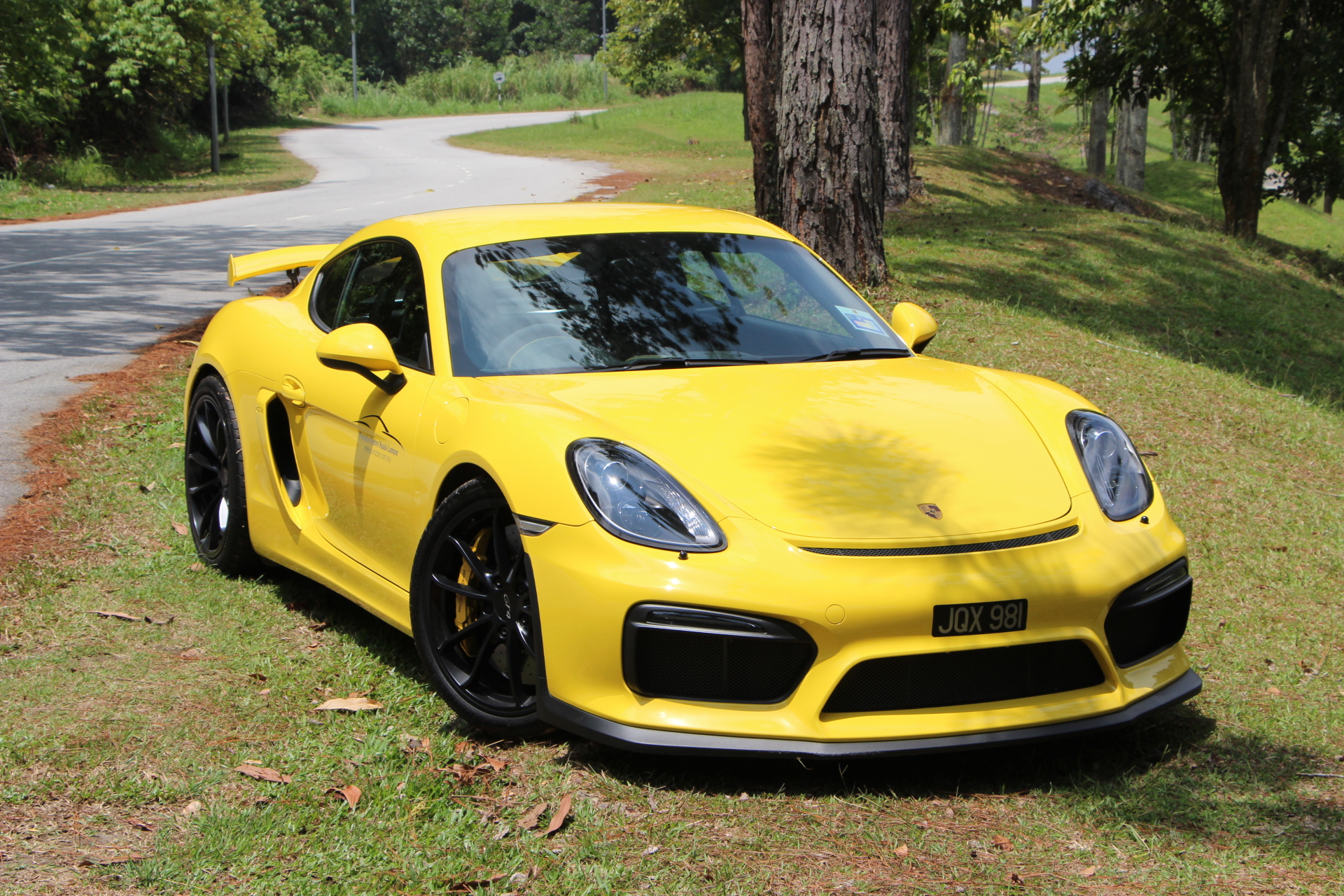 ADVERTISEMENT
The age old debate of auto versus manual has been raging for quite some time now. In a recent article of ours, we found that even men are leaning more toward the automatic transmission than women these days. Of course there are pros and cons to both, but advocates of a good old-fashioned manual tranny have been very vocal in recent times, like the ones here.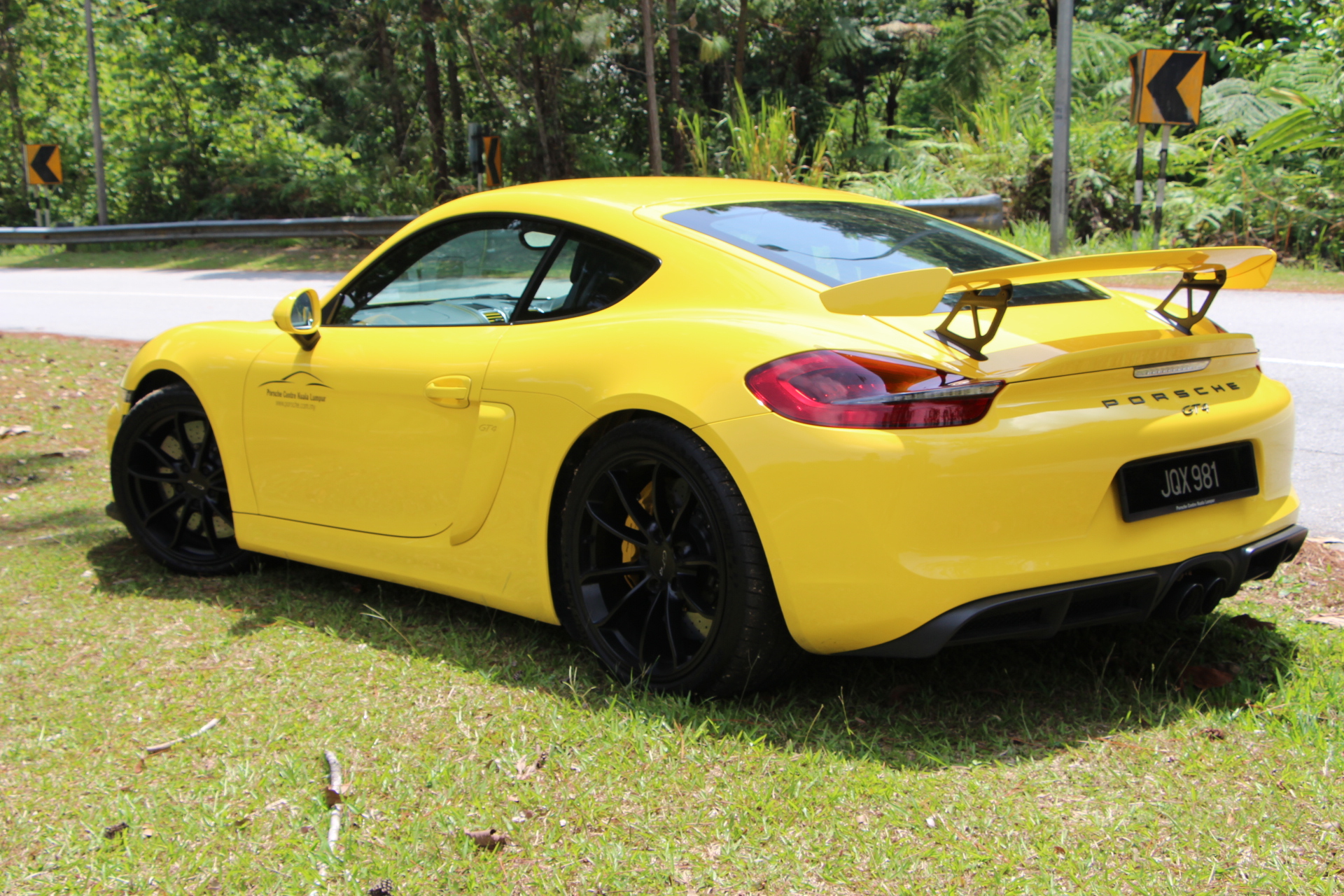 "If your boyfriend can't drive a manual, you have a girlfriend", "Real men use three-pedals" et al have been floating around on social-media sites rampantly, however, get yourself caught in a downtown traffic snarl and the convenience of an auto tranny will soon become very apparent.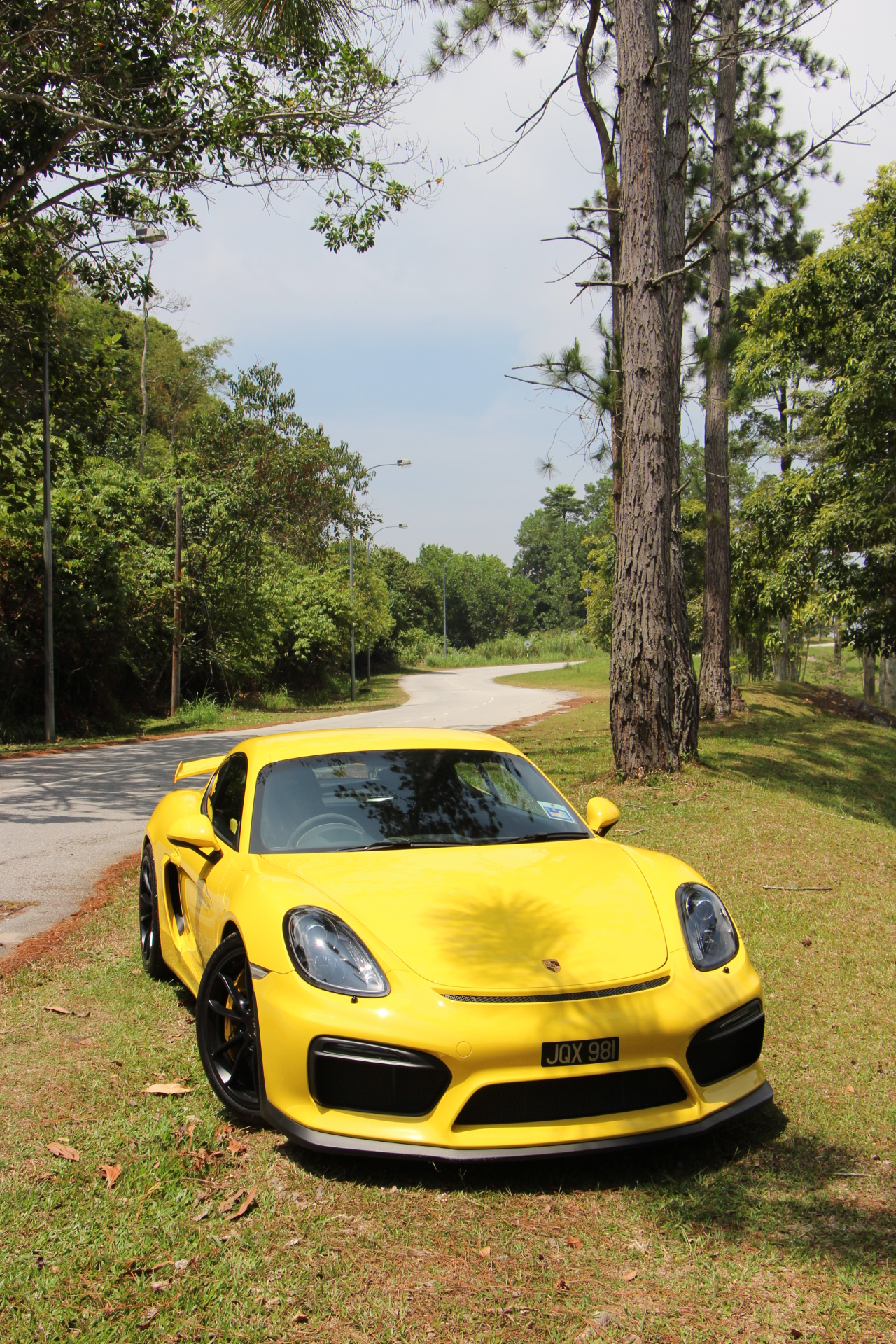 There's no right and wrong to it, it's just a matter of preference, and carmakers have been trying desperately over the years to gel the 'fun' properties of a manual transmission, with the convenience of an auto, coming out with things like a clutchless-manual, semi-auto, DSG, DCT, Selespeed (urgh), Robotised (remember that crap?), and of course for the sake of this article, the PDK (don't ask me to spell it out).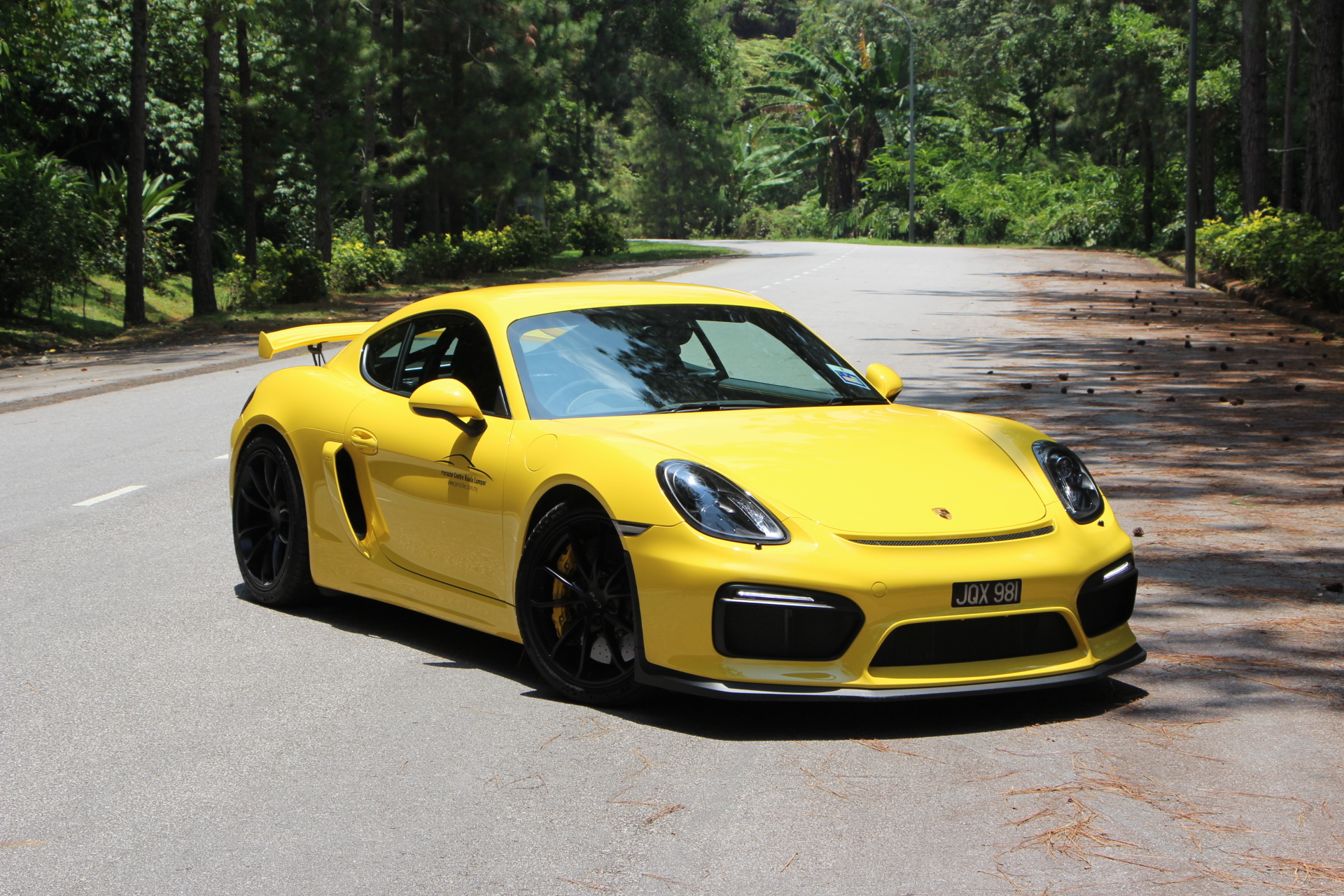 With that in mind, when Porsche called me up recently to have a go at the new Cayman GT4, the only thing on my mind was, it's a manual. Anyone who's been keeping up with the times will know just how rare new cars with manual transmissions are getting, and since there's only 20 units of this GT4 in the country, it's as rare as they come. So why would you even consider getting this car over a PDK equipped version? Here's the main reason why…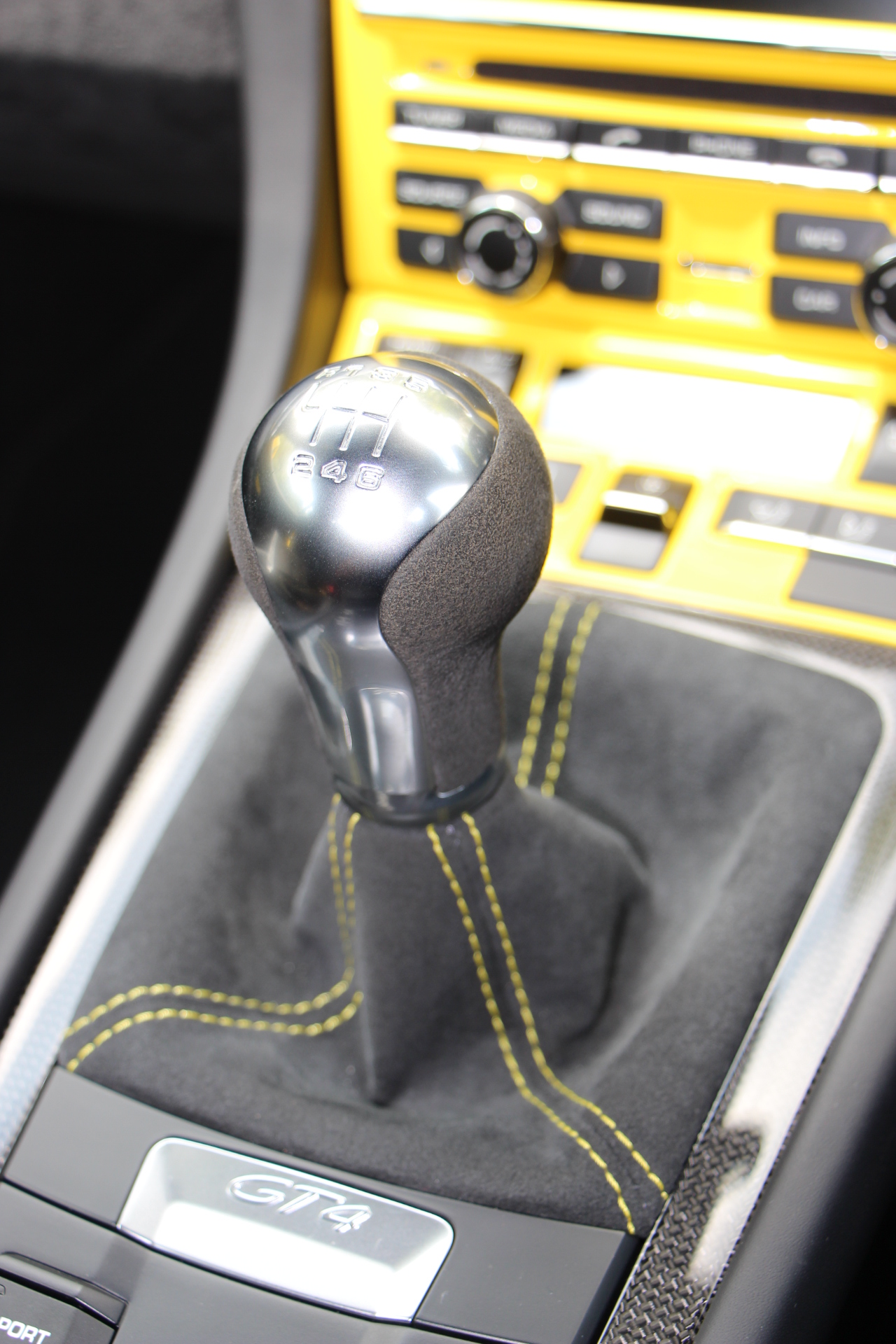 It's a Manual!
I'll not beat around the bush, I love manual cars. There's just something about being able to swap gears by yourself, being able to heel-and-toe during downshifts, matching the revs just right on up-shifts, scrubbing-off speed by dropping cogs before a corner, etc. that to me, is an integral part of any 'fun' drive. I detest CVT's – although I certainly understand its advantages – and while a DSG / DCT does make shifting gears a lot faster – I'll admit that 'boom' between DSG shifts is glorious, as long as it's not the kind of 'boom' followed by 'your gearbox is behind you on the highway' – somehow there's no getting around the fun factor of a manual transmission.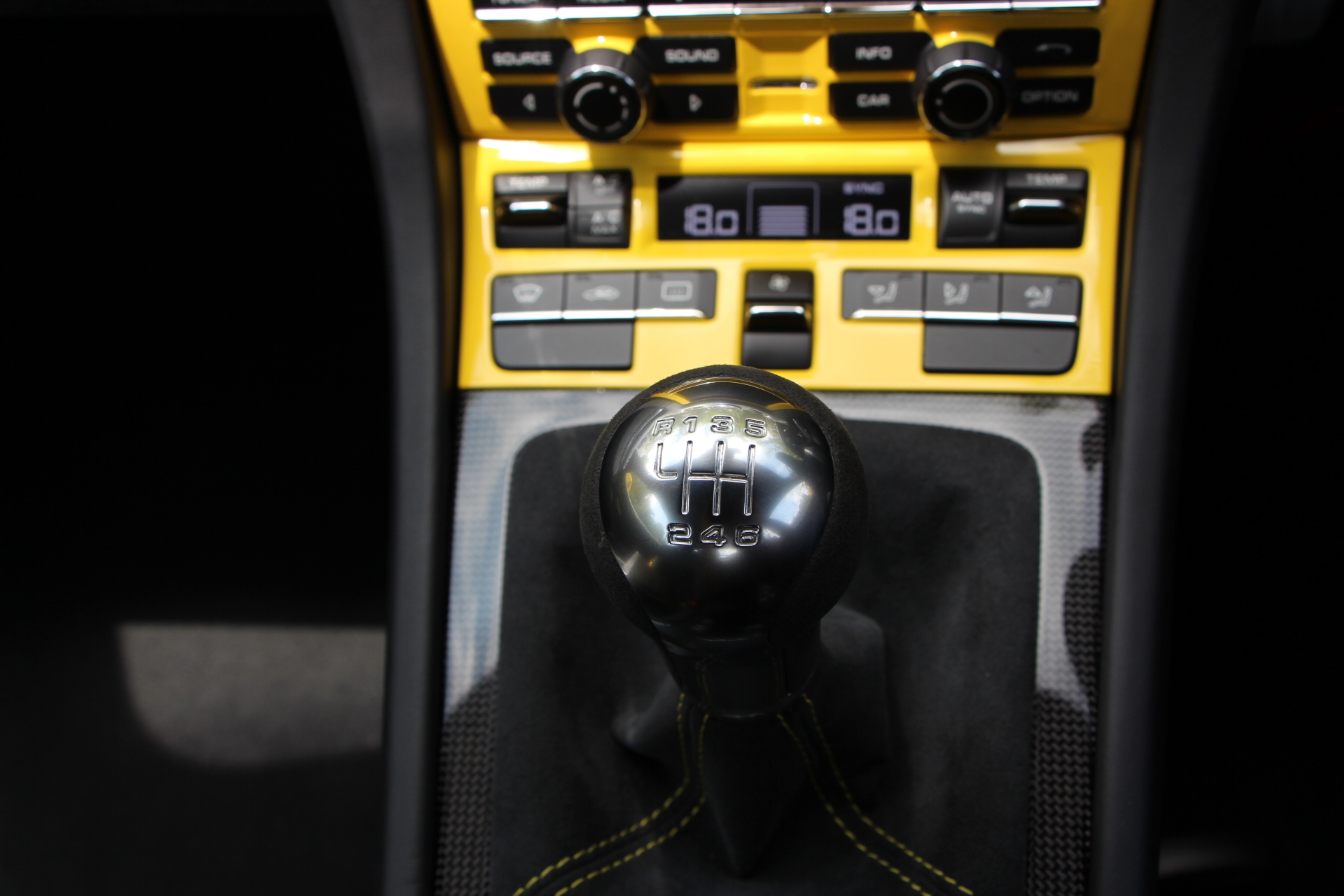 The Cayman GT4 is a proper, proper 6-speed manual, with three pedals. It even requires you to depress the clutch before cranking the engine to life, and reminds you via a digital message in the instrument cluster if you forget. Getting the GT4 into reverse requires a rather awkward 'dog-leg left / up' movement, replete with a 'resistor' to stop you from actually engaging 1st gear by mistake.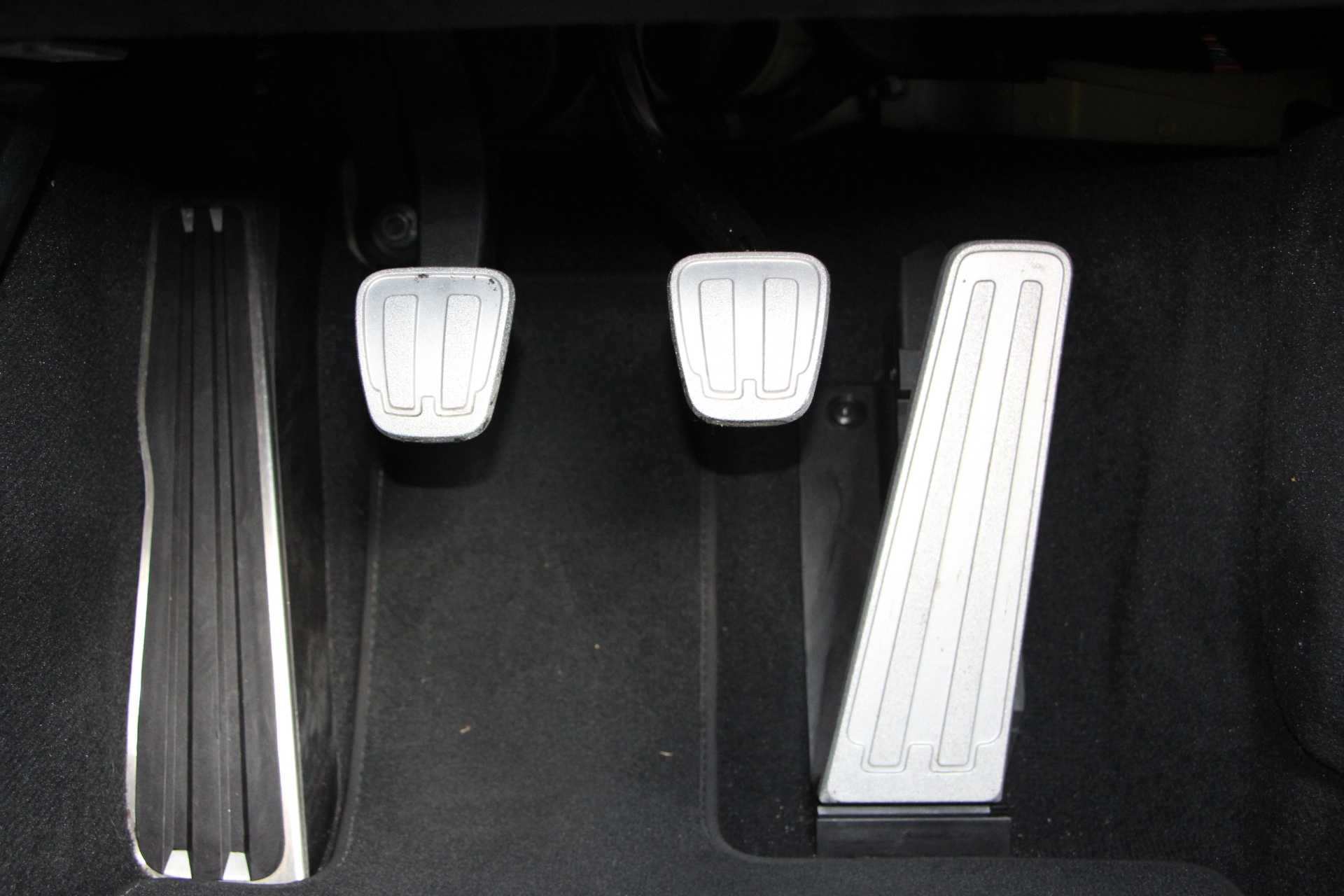 But first, before setting-off, I'd be remiss to not mention the cabin of the GT4. In short, it's sublime. With a combination of leather, Alcantara and colour-coded stitching, as well as similarly coded inserts and brushed aluminum finishes, the cockpit of the GT4 may feel a tad snug, but it's that way for a purpose. In typical Porsche fashion, everything essential to the drive is close by, while everything that's peripheral is thus.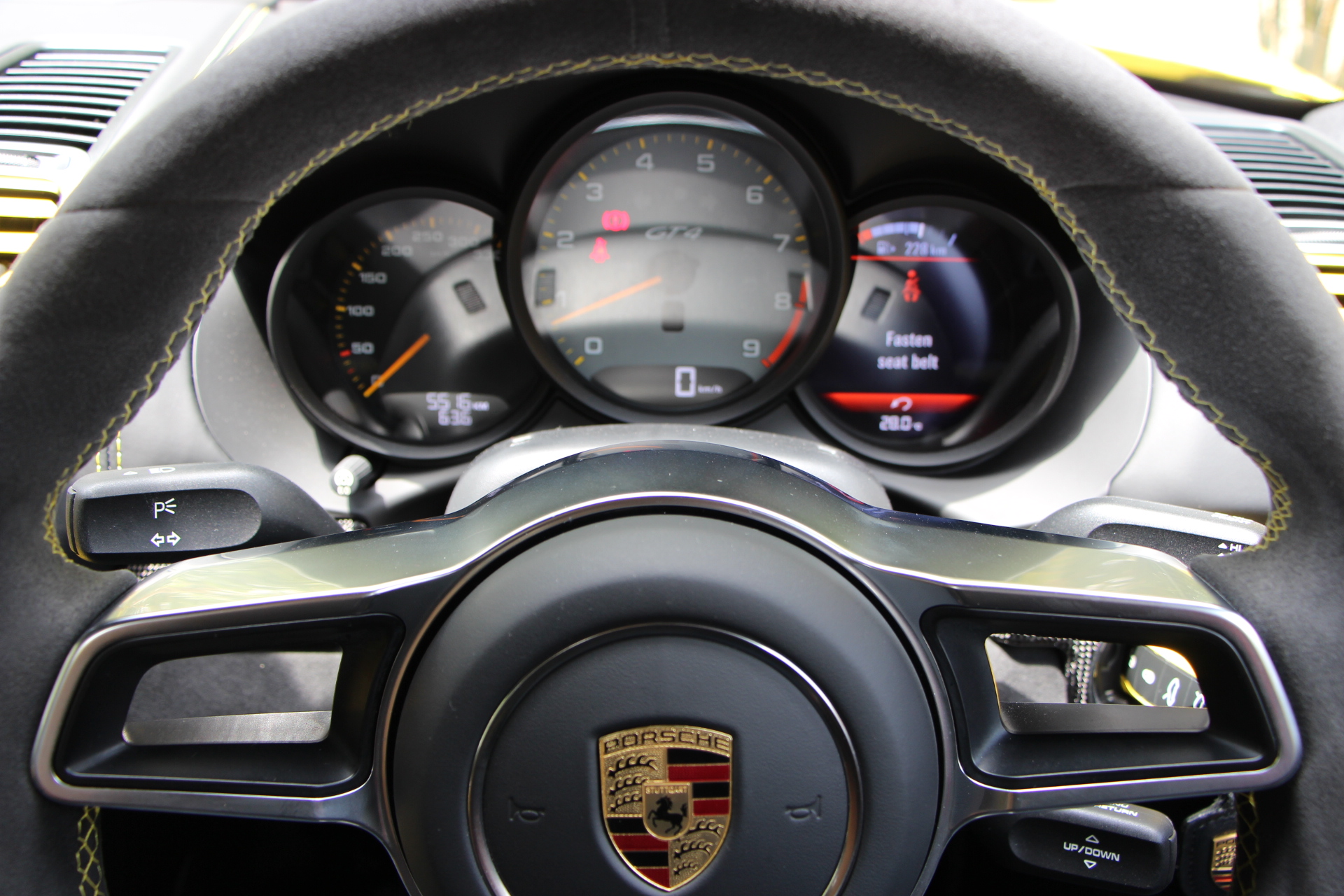 While bucket-seats may not be your idea of comfort, nonetheless the ones in the GT4 offer plenty of support, which the driver and occupant will be thankful for. More on that later. In essence, despite looking brilliant, the cabin of the GT4 is a lesson in purpose. Because it's a manual, Porsche knew that a driver's extremities would be in constant motion, and thus they designed the cabin of the GT4 to accommodate exactly that. Nothing gets in the way of the drive.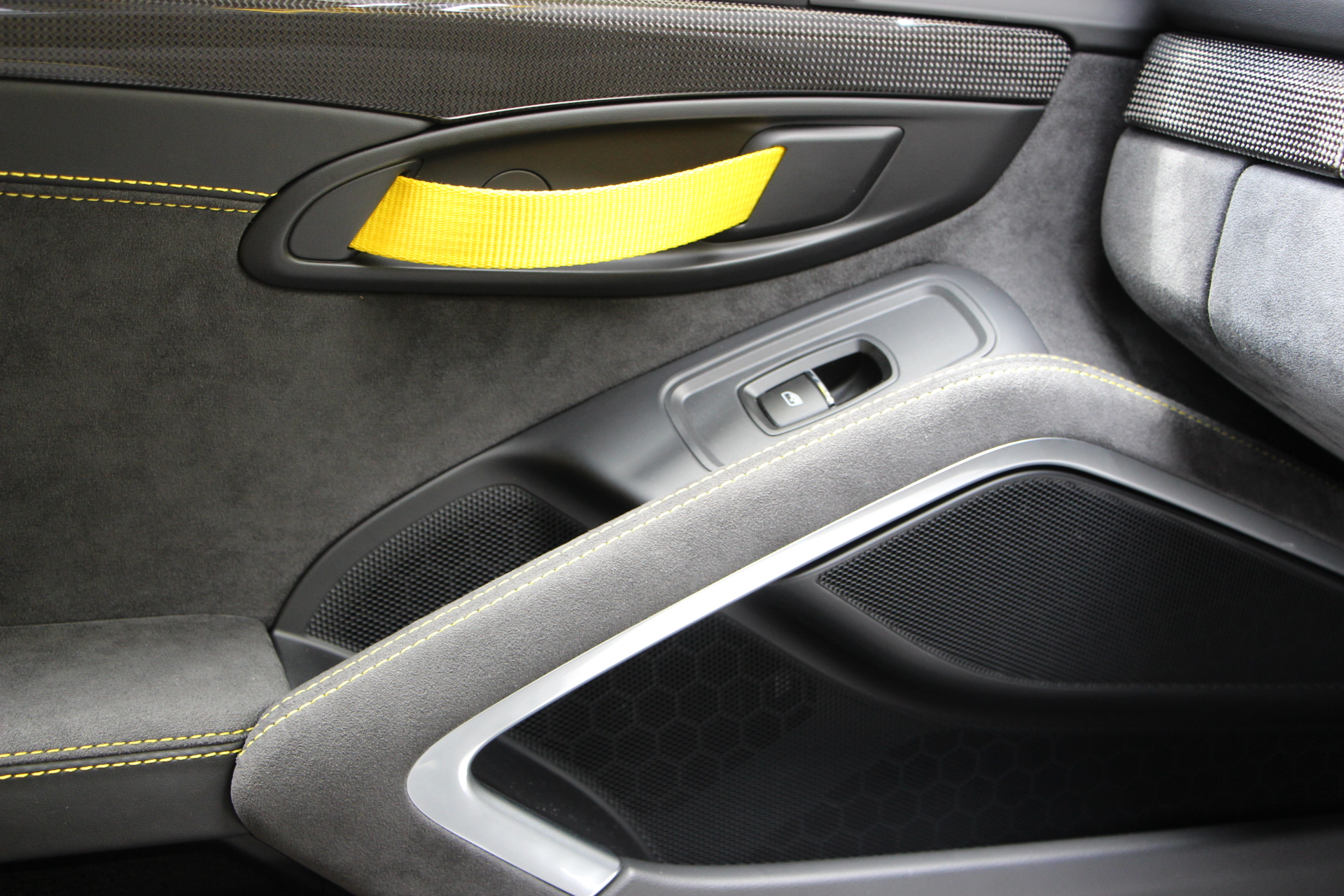 Driving the GT4…
To be honest, the clutch isn't the lightest in the world, but then again, it's not as heavy as some I've experienced, and nowhere near as heavy as a 'racing' clutch. However, the 'shifting' action more than makes up for this. The GT4 has a short-shift close-ratio gearbox, and snicking the 'box between gears is nothing short of automotive nirvana. And unlike some manuals, the GT4's sixth gear is still a 'working' gear, so with 420Nm of torque on tap, it's still possible to accelerate in sixth, hard.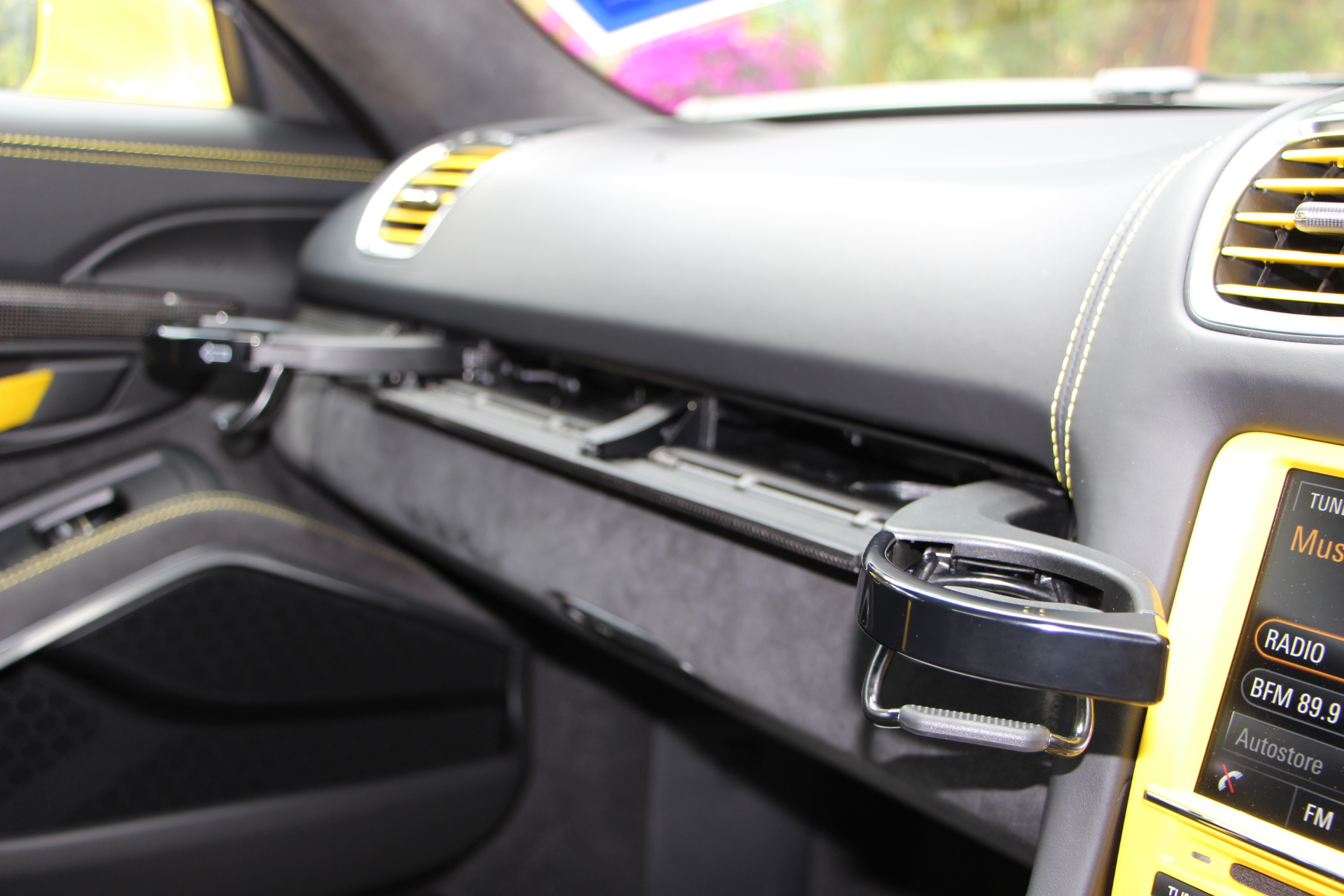 There's really no need to use the 'active-muffler' function (engaged via a button just below the gear shift) because the GT4 sounds just amazing anyway. I found that despite the slightly stiffer ride, keeping the chassis / handling and drive-mode in 'Sport' all the time suits the GT4's driving characteristics best.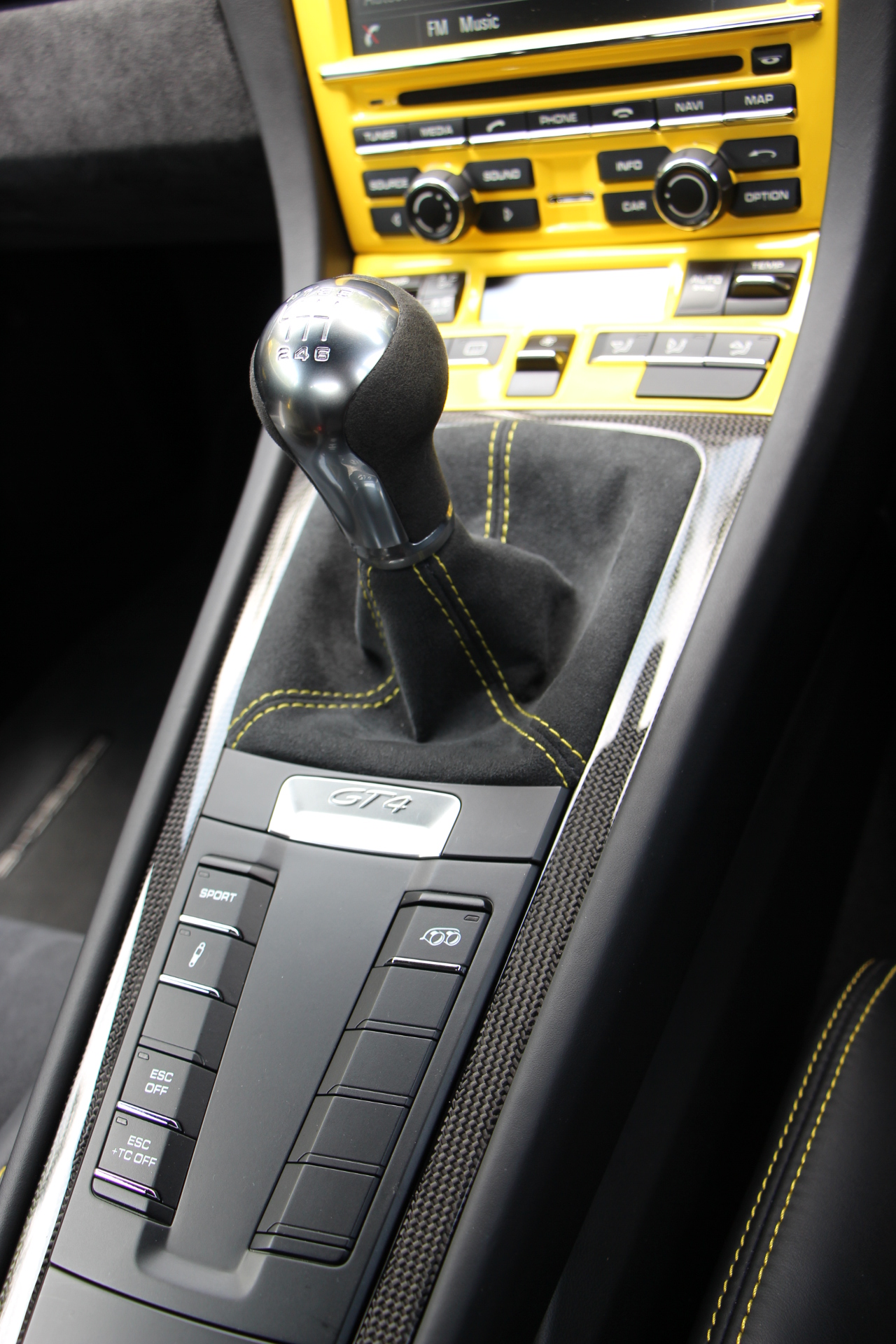 As an added bonus, there's a 'Hill Hold' feature that engages the brakes for 3-seconds on a slope, giving you time to move your right foot from the brake pedal to the accelerator, without sliding back. The most impressive aspect of the GT4's transmission though is the auto 'blip' function, which rev-matches itself when you downshift.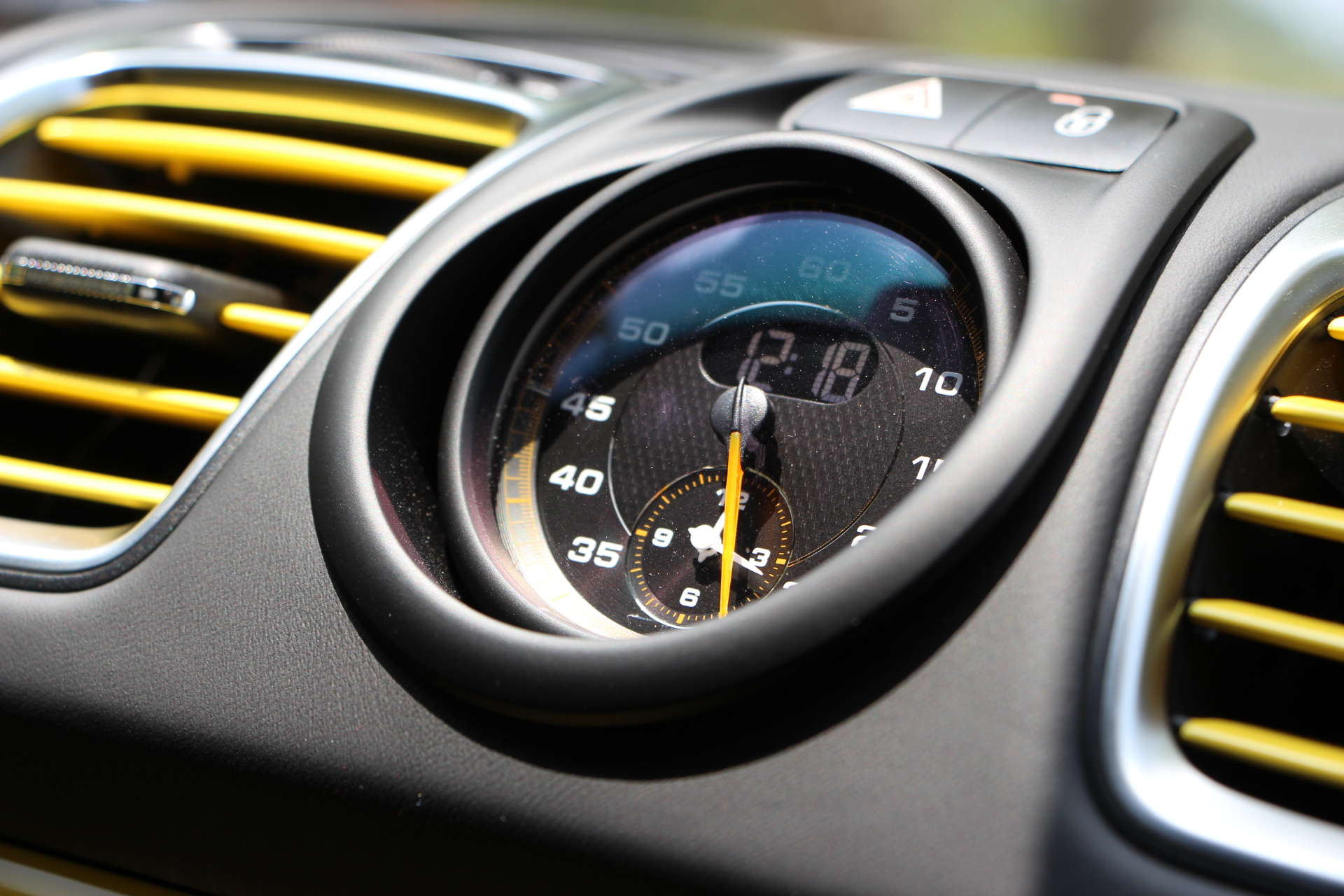 I found out about this 'auto-blip' quite by accident actually. I was merrily heeling-and-toeing away till I cocked-up and missed once and heard the car do it for me automatically. I have to admit though, I would rather have been doing this for myself.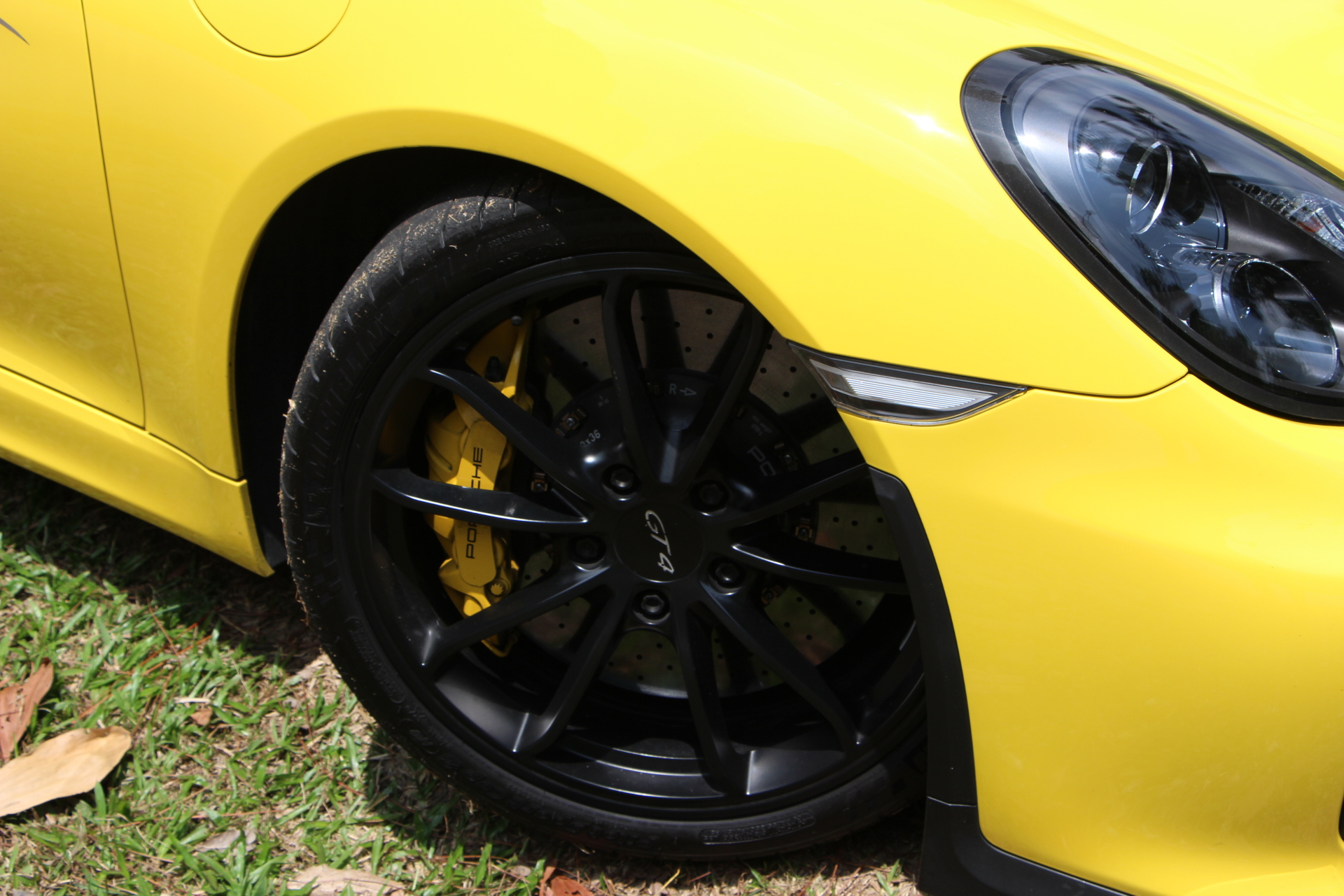 With 385bhp and 420Nm coming from the 'hidden' engine just behind me, the GT4 is good for a top-speed of 295kmh if given enough road, and seeing as how quickly it got to 200kmh, and was still pulling hard in sixth-gear when I backed off, I don't doubt this claim at all. A 0-100kmh time of 4.4sec and a Nordschlife lap time of the 'green hell' of 7m 40s is nothing to sneeze at.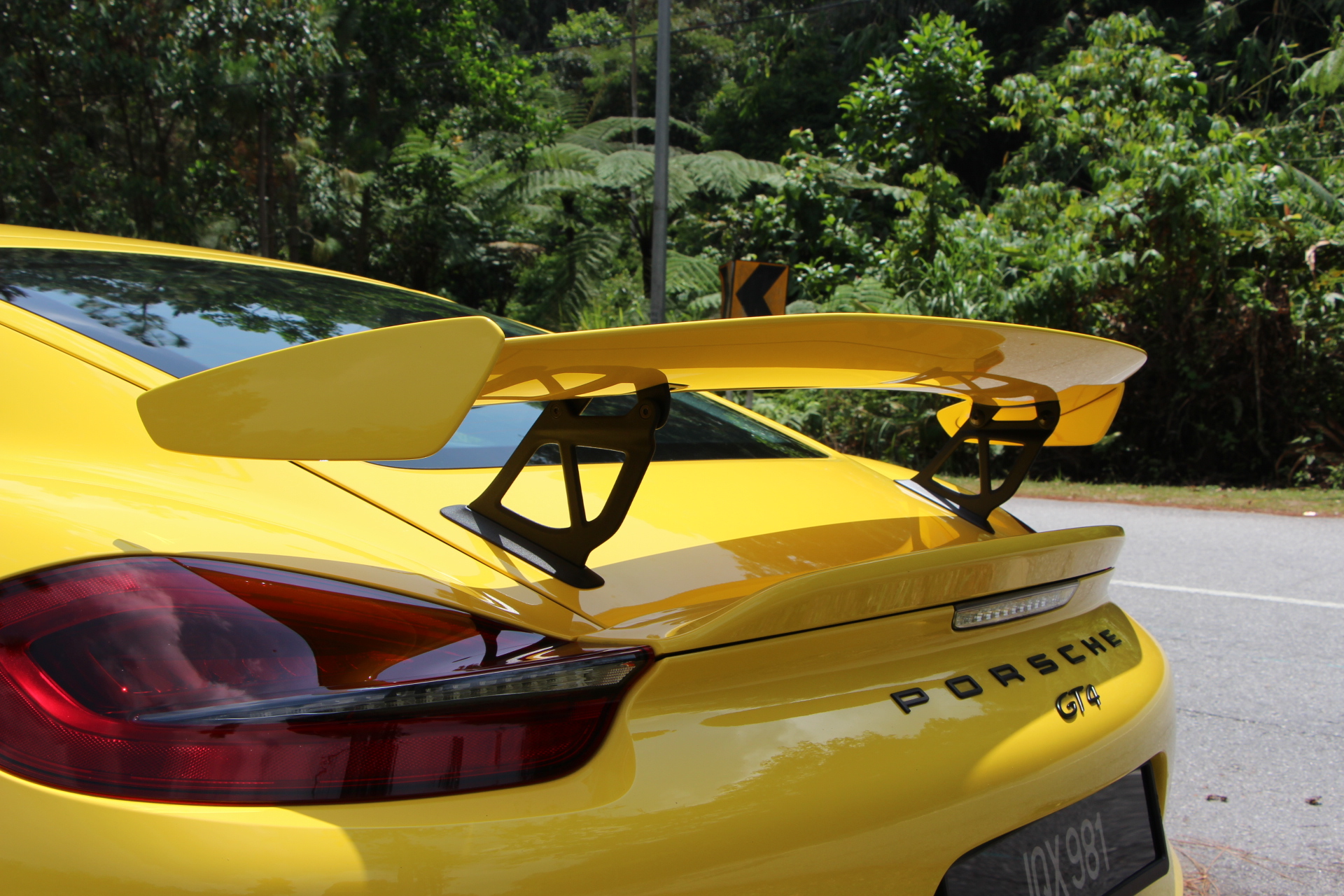 The GT4 is also the first Cayman to use down-force. Its front spoiler and rear-wing (above, hard to miss) generate contact pressure with the road at the front and rear axles. PASM Active Damping and dynamic transmission mounts are configured for 'motorsport driving dynamics', and yes, unlike other 'hidden' dynamic-drive enhancers, these you can feel working.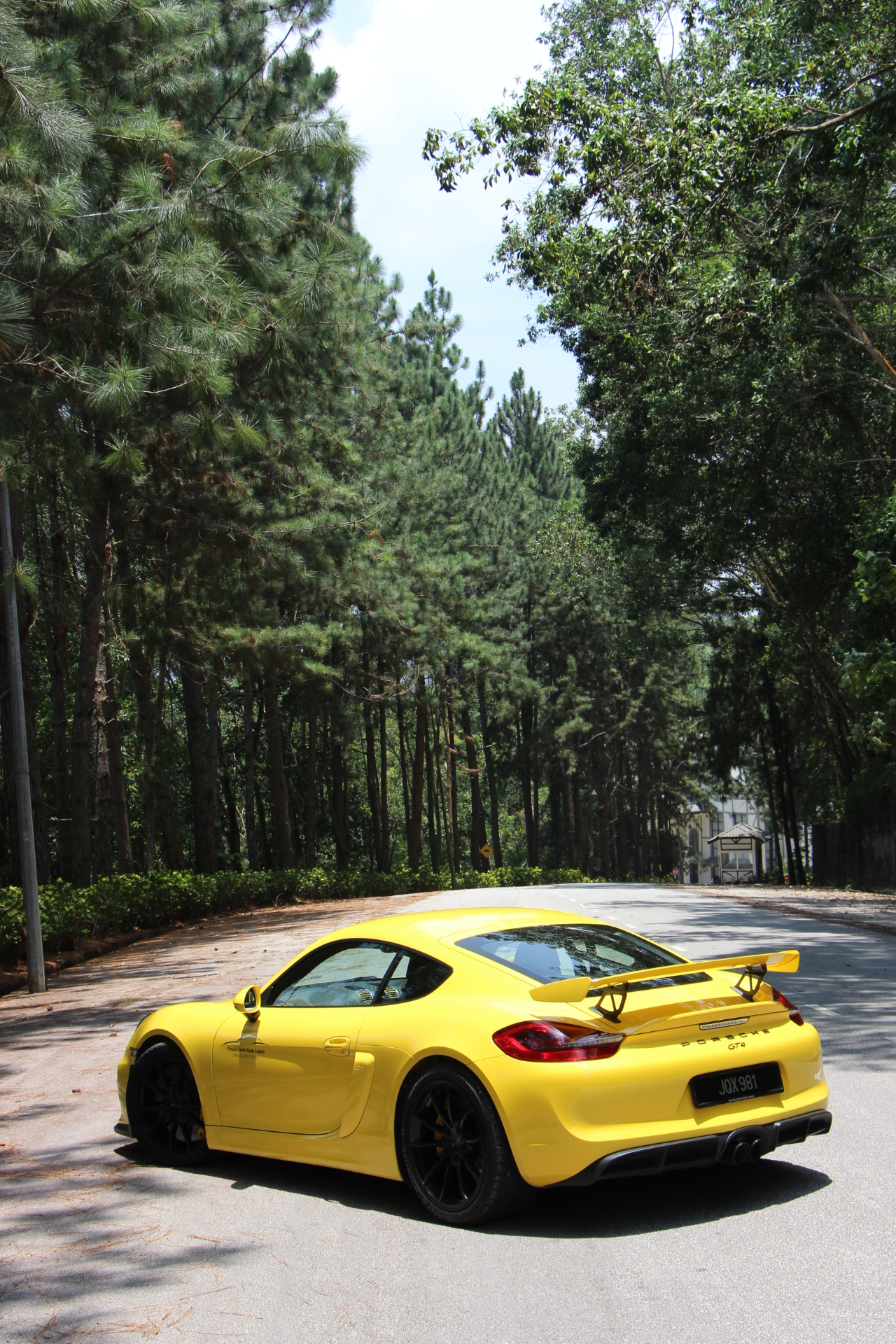 It's hard to put into words what it's like to hoon around in a GT4, but it's safe to say, I've not had this much fun in a manual car since, well, ever. There's so much power on tap, and the option to just keep going becomes so addictive, I can honestly say, you will not want your journey to end. The only time I didn't enjoy the day's drive was when I got caught up in an unusual traffic snarl thanks to roadworks on the Karak.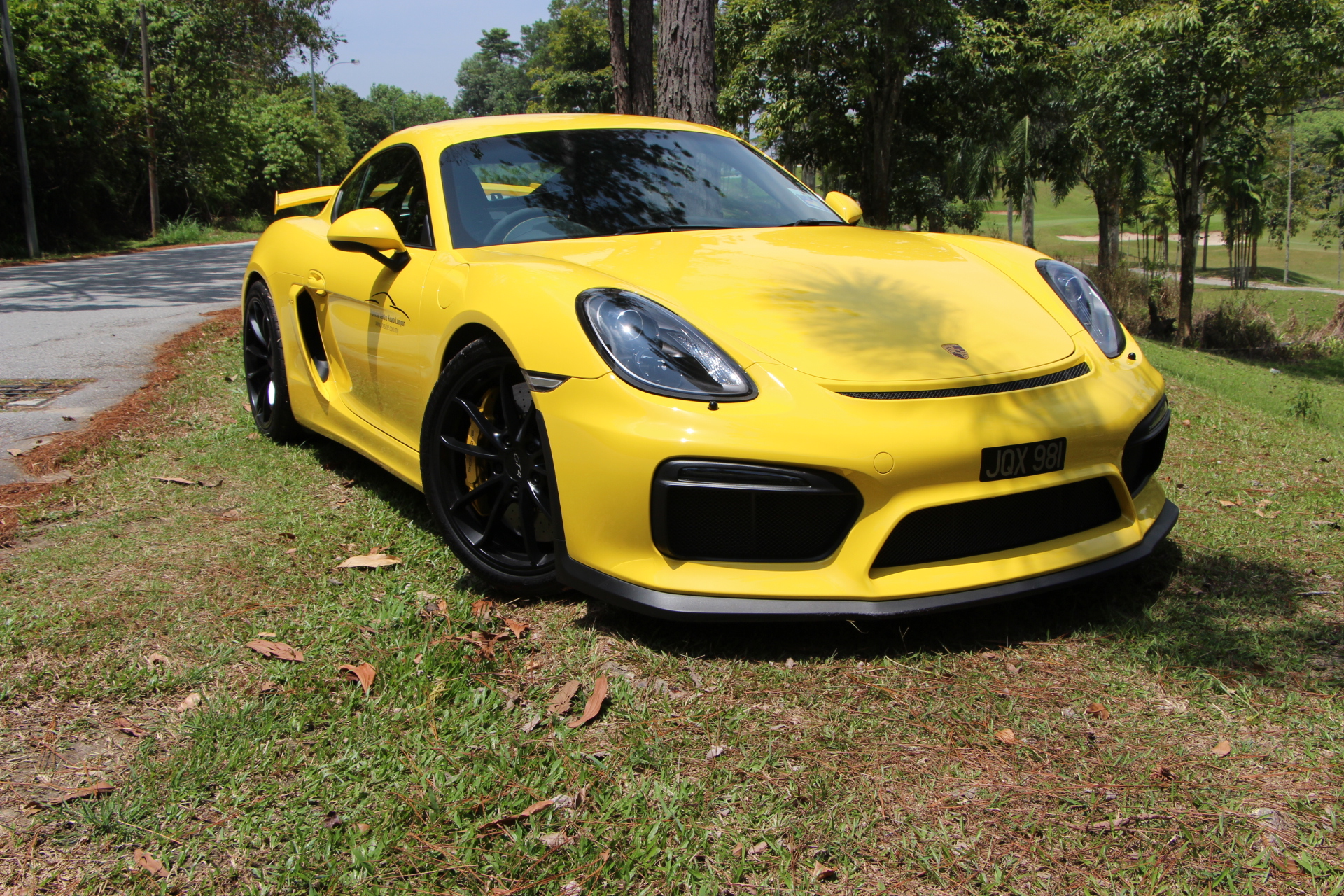 That's when the weight of the clutch- although assisted – becomes apparent. The anti-slip hill-start assist helped a lot, seeing as how (unfortunately) the GT4 is equipped with an electronic parking-brake, positioned where the bonnet release usually is. And speaking of bonnets and boots, there's pretty good storage capacity in both, in fact, the one in front (below) is actually unfathomably deep.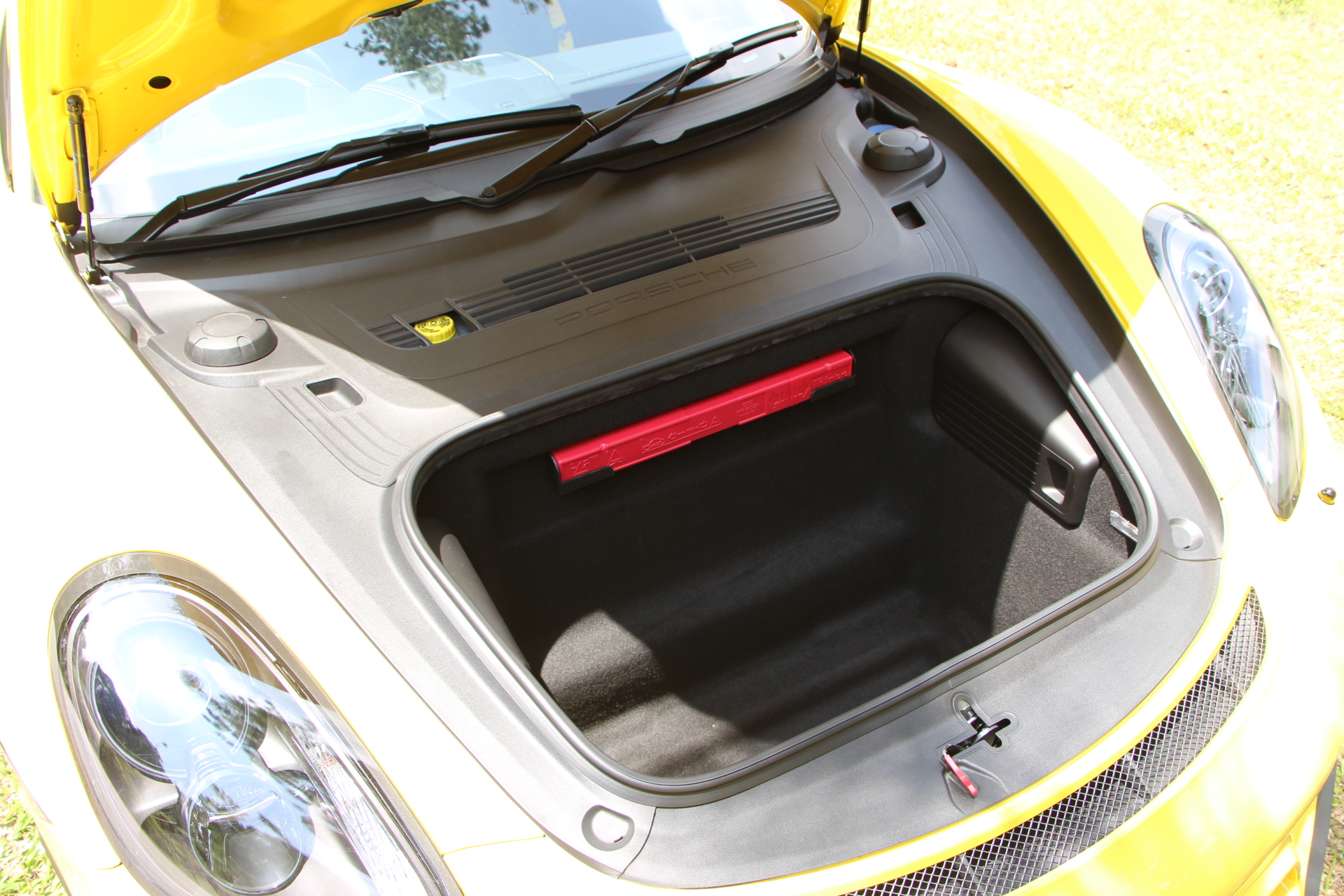 It's to accommodate the custom made luggage that one could purchase as an optional extra, for both the front and rear, err, boots. That leads me nicely to my only gripe about this car, the fact that I can't see the engine. Okay I'll be honest, I like 'looking' at engines. It's weird, I know, and if there was medication for it I'd be first in line, but for some inexplicable reason, I get a tad worried when I can't see a car's engine. Not that I'd be able to do much if it threw a rod or died for no apparent reason, but somehow it's just comforting to see the 'heart' of a car. I blame this affliction on my penchant for classics and affinity for Alfa Romeos.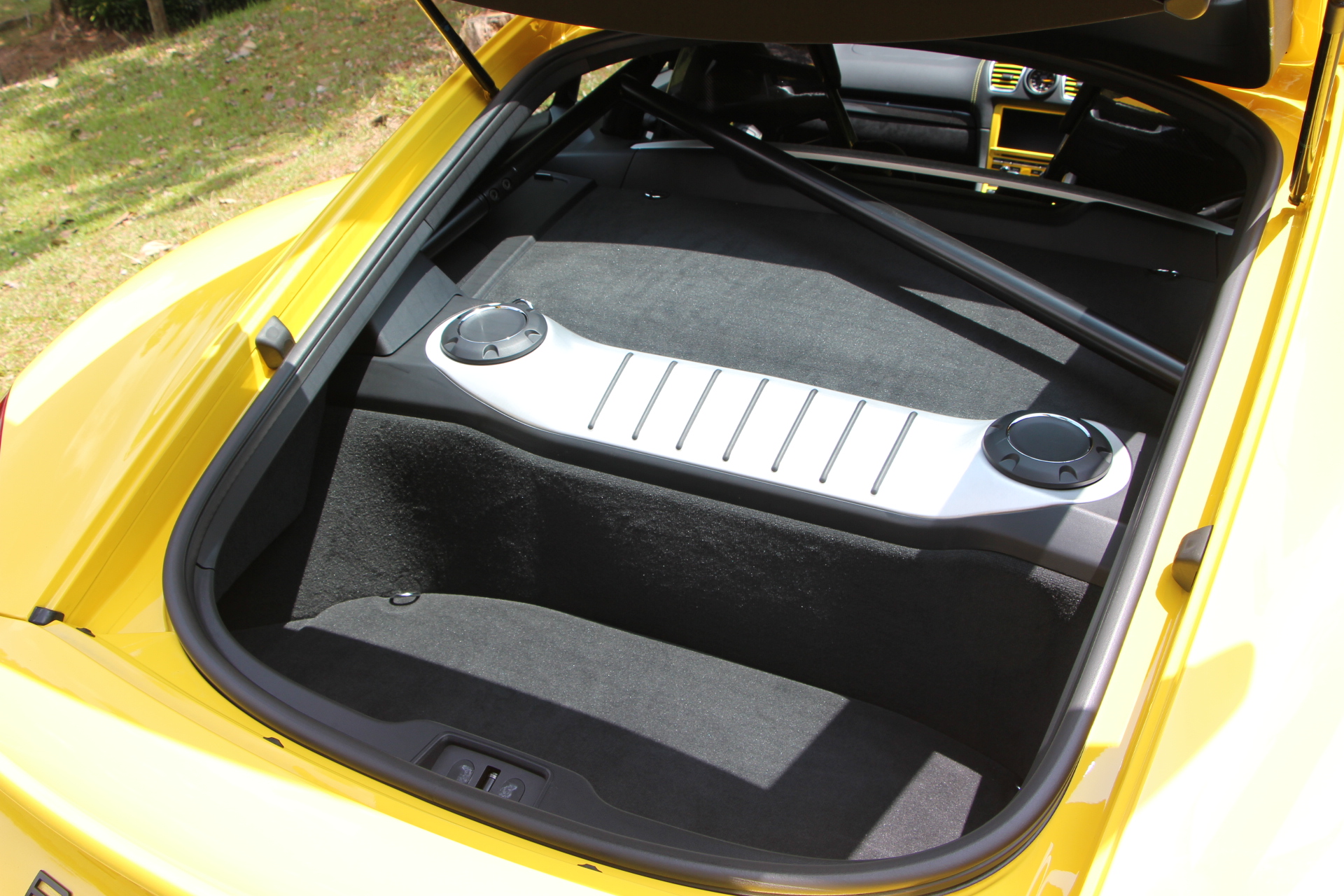 That aside, there's no faulting the GT4. Some have said that it's better than a 911, the unsurprising comparison borne from the fact that the GT4 gets its  3.8-litre, six-cylinder lump right out of the Carrera S, and shares some components from the 911 GT3 in its chassis (no, really).
I've never been sadder to return a test car than the GT4, but at the end of half a day, and with only 100km left in the fuel tank – despite the claimed 10.3L / 100km FC – it was time to bid farewell to this yellow monster. Priced at RM840,000 and with the first 20 units already snapped-up, the Cayman GT4 isn't going to hang around for very long.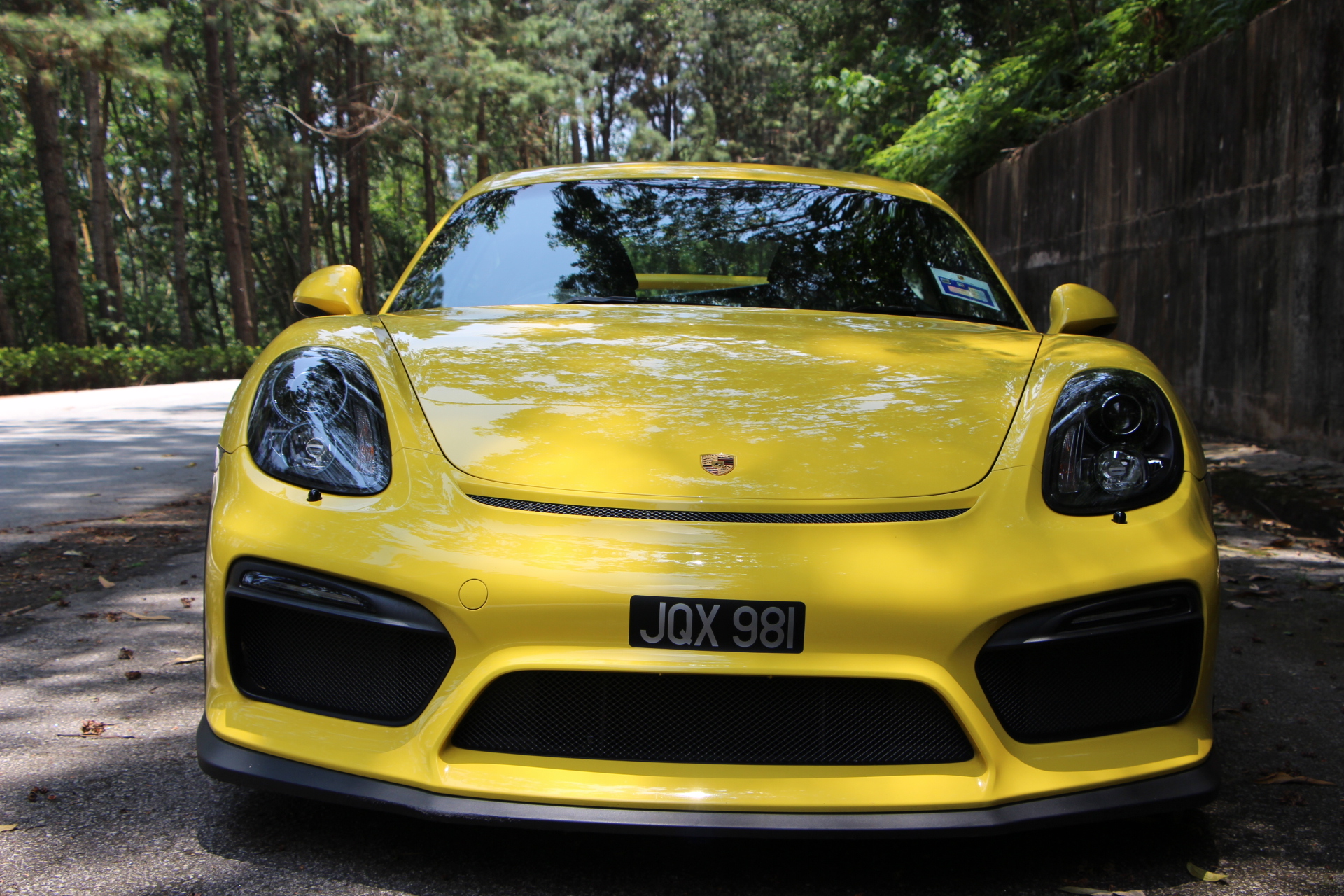 I really did think that after the 911 Targa, I'd found and driven the best Porsche, and while I still adore it, there's no getting around the fact that the Cayman GT4 has usurped the former, resoundingly. As I've always said, 'if you have the means, by all means'; and when it comes to the Porsche Cayman GT4, boy, do I mean it! – CW.
Porsche Cayman GT4 Photo Gallery…