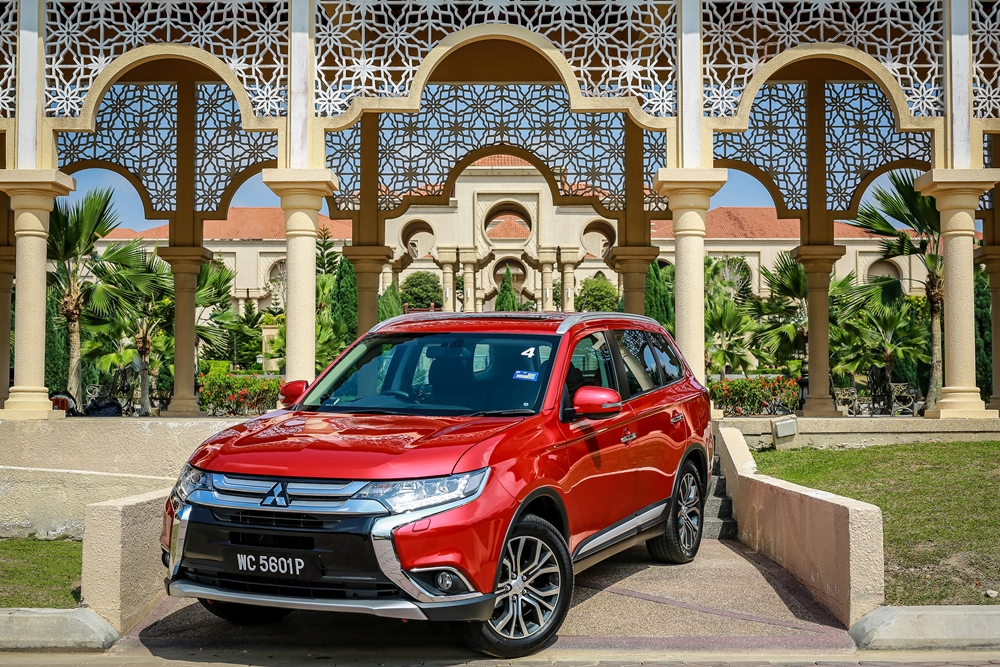 ADVERTISEMENT
In the mid-size SUV segment, it seems like nothing can beat the popularity of the Honda CR-V, which has been one of the best-selling family 'cars' for many years.
However, thanks to a wealth of online information – like this article for instance – a new breed of Millennial shoppers – born between 1980 and 2000 – tend to be a very well informed shoppers who not only looking for a good product, but also seek brand uniqueness, place a high importance on safety and ownership convenience when purchasing a brand new car.
This new generation of buyers have the potential to shake-up industries across the board, giving rise to smaller innovative automotive companies, and forcing established players to evolve or fall behind in this fast growing segment.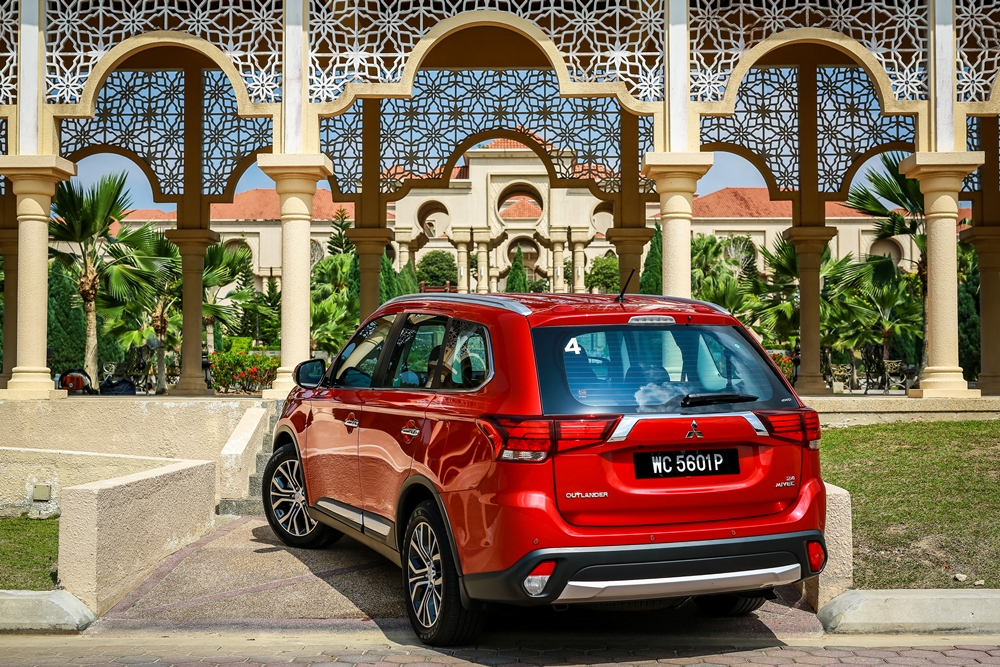 Recently, AF was given the chance to sample Mitsubishi Motor Malaysia's (MMM) latest SUV offering called the Outlander. Unveiled at the New York Motor Show last year, this is the third-generation Mitsubishi Outlander SUV which has been vastly improved inside and out.
The Outlander can be characterized as a very masculine looking crossover but also practical enough to make it the new standard for family transportation. It is built for large or growing families and if you're not into driving a minivan, then this mid-size SUV will be perfect for you!
Why? Because while most SUVs in this size category are strictly 5-seaters, the Outlander on the plus side, can accommodate up to 7 occupants, yep SEVEN!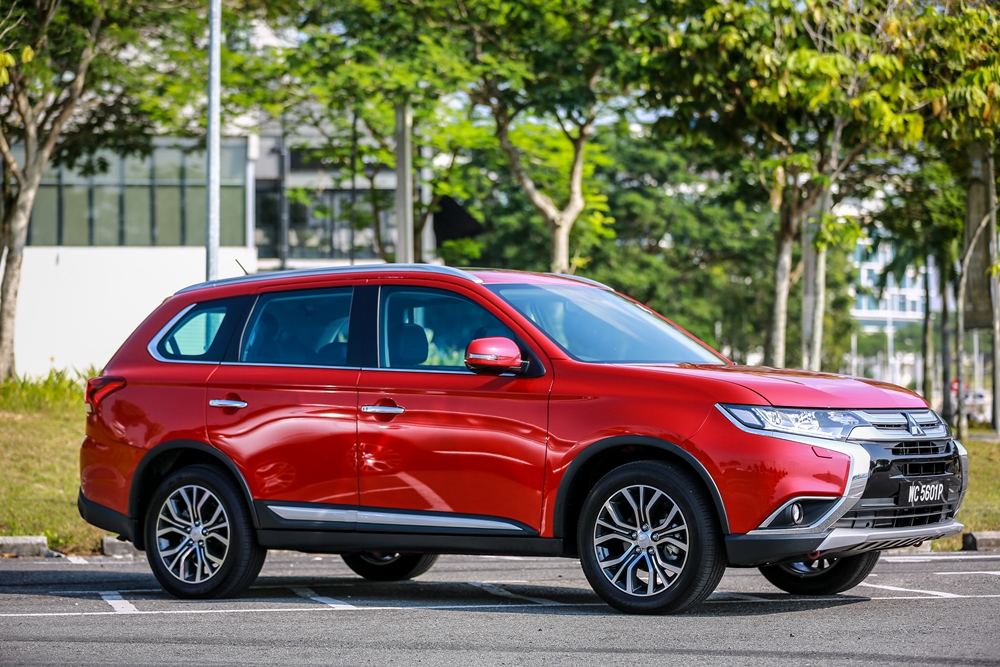 The Mitsubishi Outlander comes with foldable third-row seats that's good for a quick trip to the grocery store, carpooling kids or friends around town.
However, I do have to point out the 'occasional' use nature…
The third row seats are sensible for small kids rather than adults. Not only because it's small, but because you need the agility of a yoga practitioner in order to get in there. Yes, I did put myself through the task of trying to ingress and egress the third row seat and trust me, it wasn't easy.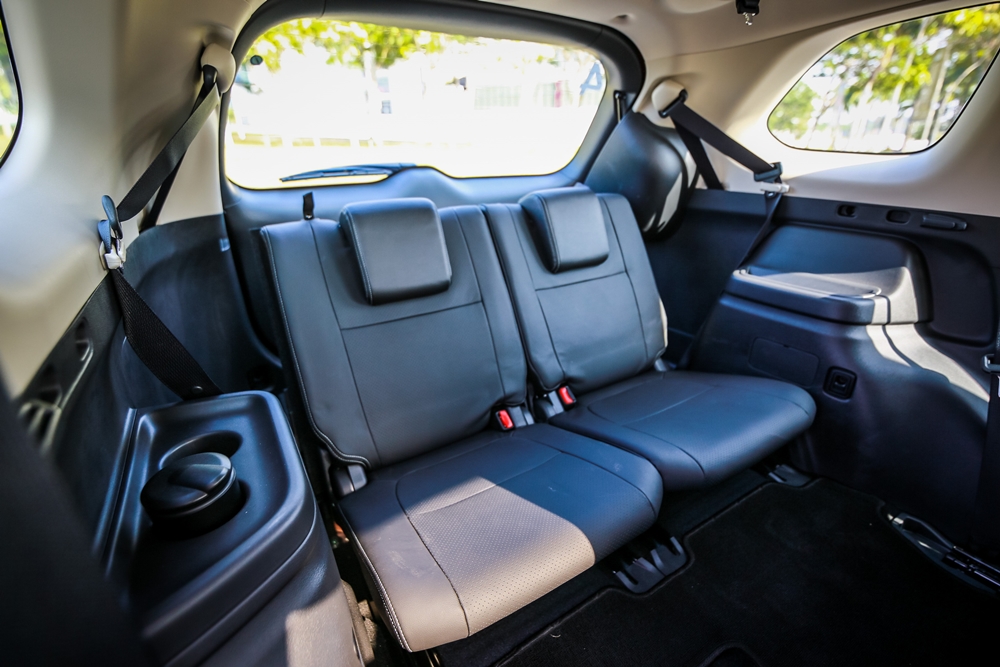 My other concern is that the rear seats (second and third) do not come with dedicated A/C vents, thus it will require some time to cool down the whole cabin, especially in our typical weather where the temperature is usually very hot. On the plus side, each passenger gets their own cup holder and there's plenty of small compartments available to store all your belongings.
Beyond that, the third row seats come at the expense of the cargo space. Also, do note that the third row seat does not come with ISOFIX child seat mountings and airbags. So if you regularly carry six or seven people on board on a long-distance trip, you'll be better off with a proper type of vehicle, for convenience and safety sake…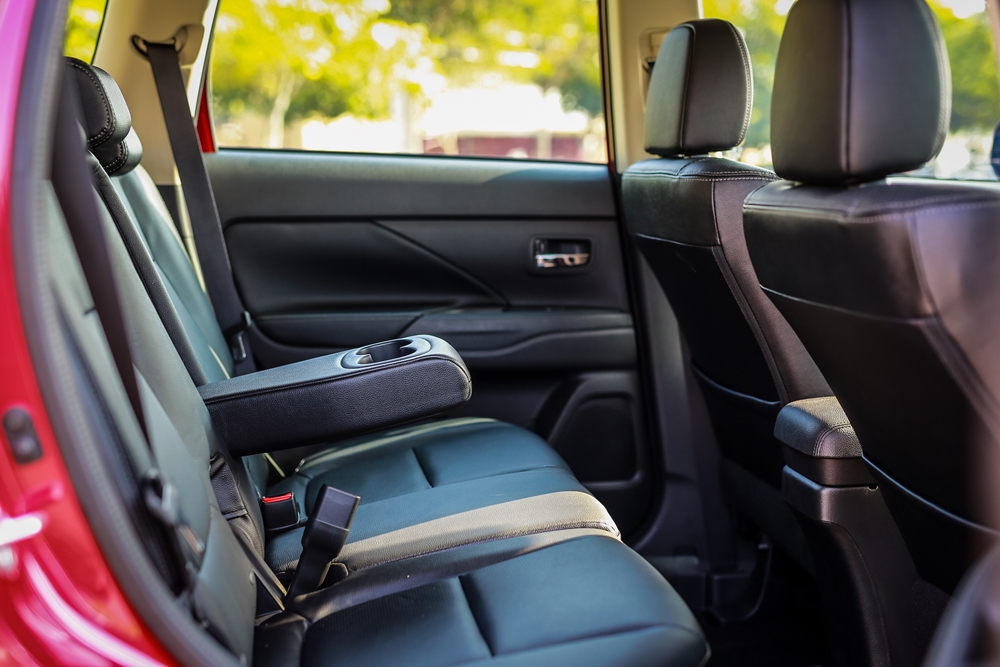 Personally, I think that the Mitsubishi Outlander is a much happier place as a five-seater instead. The second row seat is a more comfortable place for two or three adults, with big windows, lots of headroom and legroom and best of all, the seats can be angled to recline a little, so you don't have to sit upright all the time and take a good nap or enjoy the panoramic view of the sky via its standard fitted sunroof.
On top of that, the cargo space behind the second-row seat is massive enough to accommodate all the items you could possibly wish to haul. With the second and third row seats folded flat, Mitsubishi claims that the Outlander features best-in-class cargo space of up to 1,608-litres, which is enough to fit up to 4 golf bags or a single-bed mattress. This best meets the needs of people with active lifestyles and those who enjoy outdoor activities, like going out for camping, fishing, hiking, biking, golfing or better yet, shopping!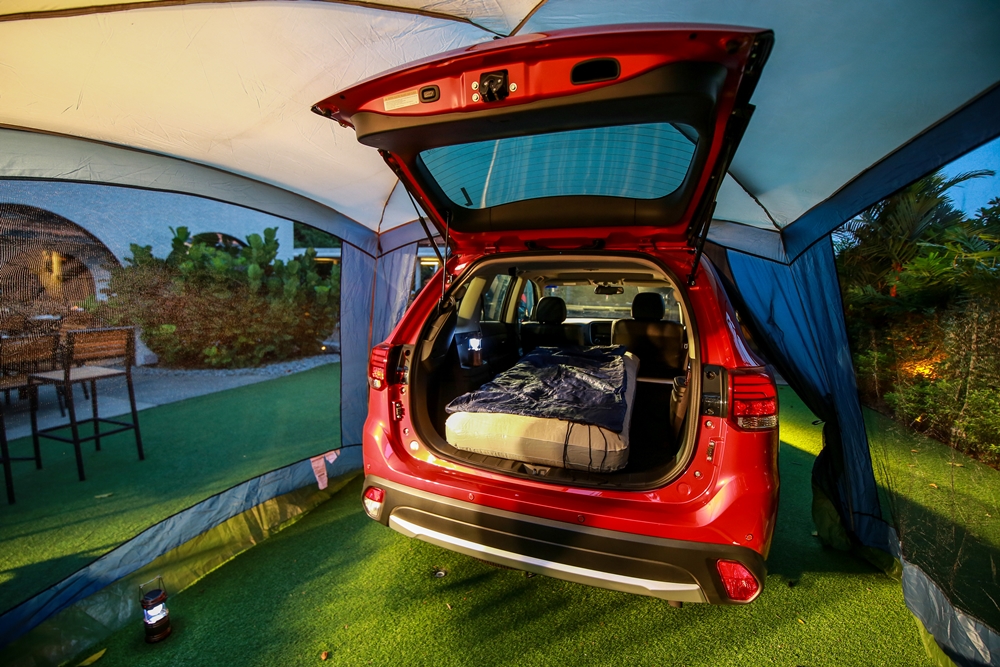 I also like the new power-operated tailgate that allows you to close the cargo door with a push of a button, which makes life much easier especially when you're carrying a kid around.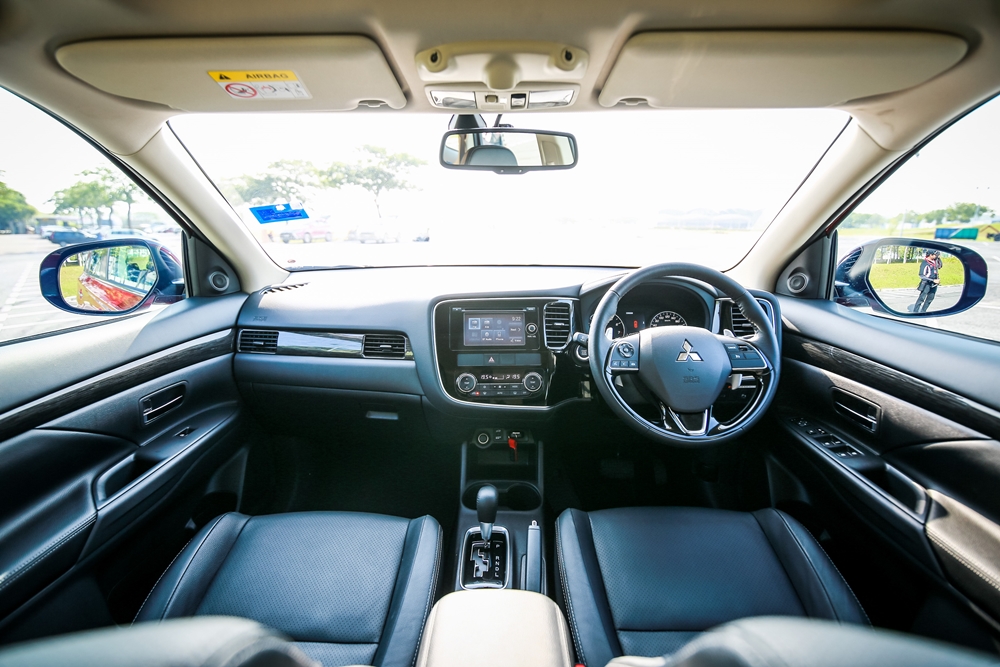 Up front, the driver gets excellent all-around visibility thanks to the raised seating position with plenty of headroom and legroom for the driver as well as for the front seat passenger.
Elsewhere inside the cabin, the Outlander will simply make life easier for you thanks to a plethora of standard features available like a Push Start button, dual-zone climate control, touch screen audio system with Bluetooth, iPod and USB compatibility, as well as a reverse camera that comes as standard in this vehicle.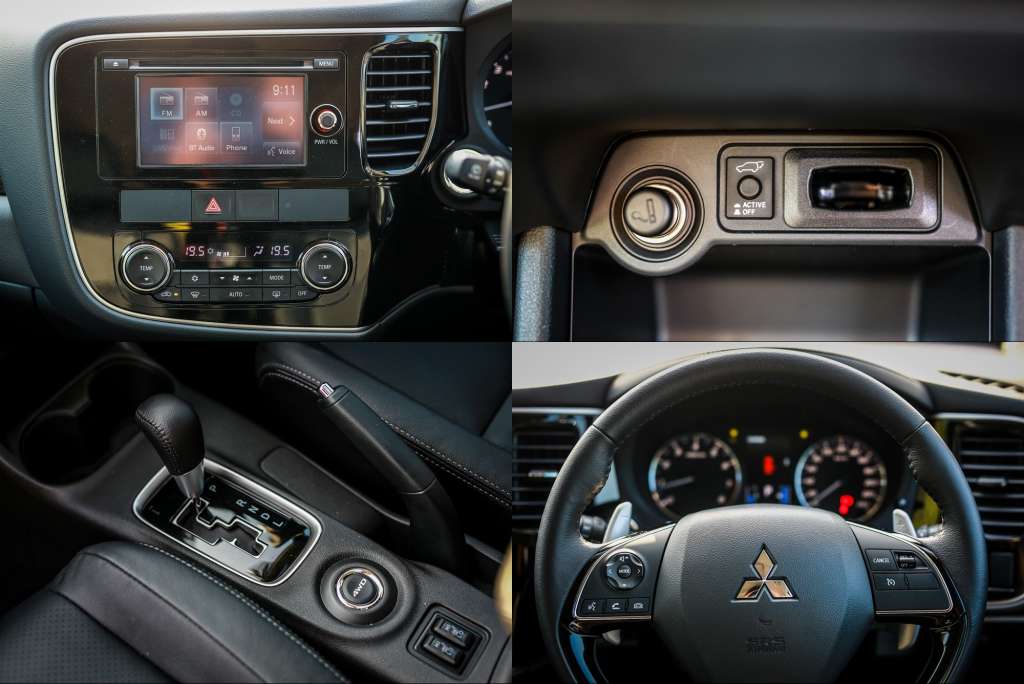 What really intrigues me the most is its seat heating function, in which I did try and they do heat up pretty fast, although it would be nice if it comes with a cooling function instead!
Under its skin, the Mistubishi Outlander is powered by a 2.4-litre Mitsubishi Innovative Valve timing Electronic Control (MIVEC) engine boasting a maximum output of 167PS and 222Nm of torque. Power is channeled through all four wheels via a Continuously Variable Transmission (CVT).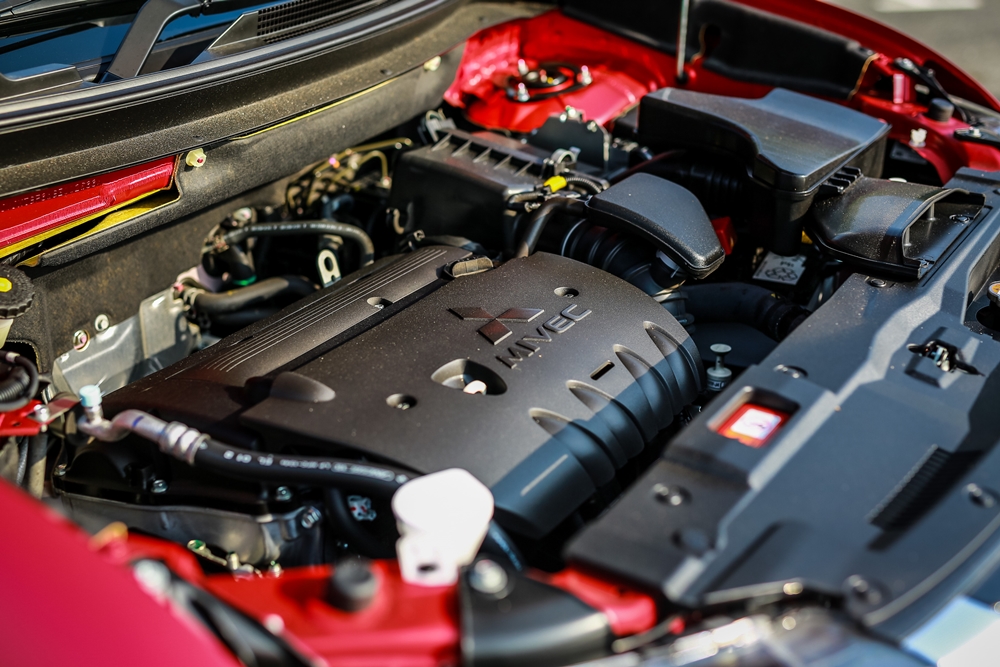 The CVT works fairly well but it is typically complemented with a loud engine buzz, especially under hard acceleration. Once you have come up to a decent highway speed, the Outlander settles down fairly quickly by providing linear power delivery while maintaining high speed stability.
I was also surprised to find that even with 3 adults and a few suitcases on board, the Outlander does not seem to struggle much in keeping up with high speed traffic.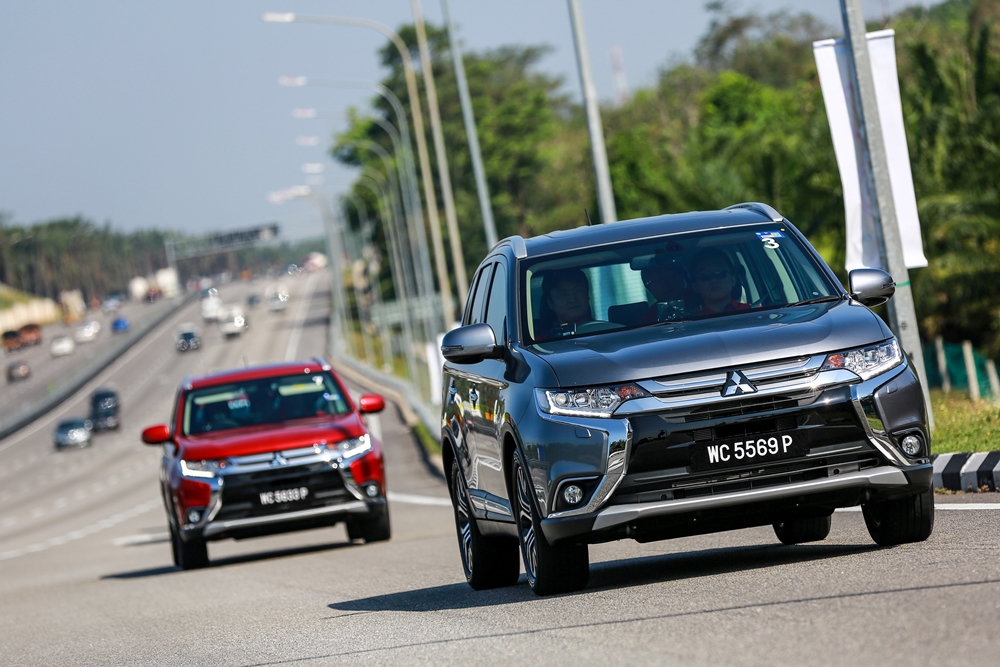 Given its true nature and size, the Outlander is not intended for high speed maneuvers, especially if you have your whole family aboard! However, the Outlander grips the road well and provides a stable ride even when tackling tight turns with a tad body lean that can be a bit disconcerting if you're not used to driving a big size vehicle.
In fact, during our media trip, none of my motoring buddies developed car sickness despite all the tossing and turning when going through the windy, twisty back roads of Negeri Sembilan combined with my vigorous driving skills!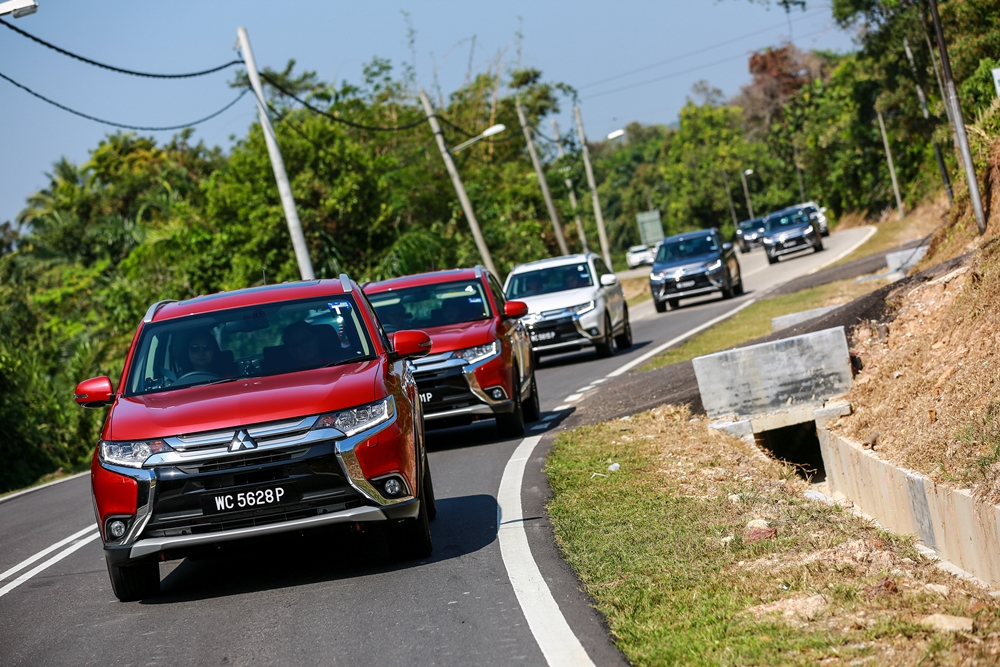 According to Mitsubishi, the Outlander comes with a 4WD Lock mode that permanently feeds torque to all wheels during a hill climb, muddy trails or rough roads. We have yet to put the Outlander on a test in a rugged terrain but hopefully, once we've gotten a chance for a longer term review with the Outlander, we'll be able to put this SUV to a series of tests.
Besides 4WD Lock, the Outlander also comes with a 4WD ECO that emphasizes fuel economy. Thanks to the combination of the 4WD ECO and its new CVT transmission, MMM's claims that the Outlander SUV has one of the best environmental performances in its class which is able to deliver 12.8km / litre ( 7.8 litres / 100km). I managed to top out only 11.5 litres / 100km during my test run, which isn't as efficient as I expected it to be.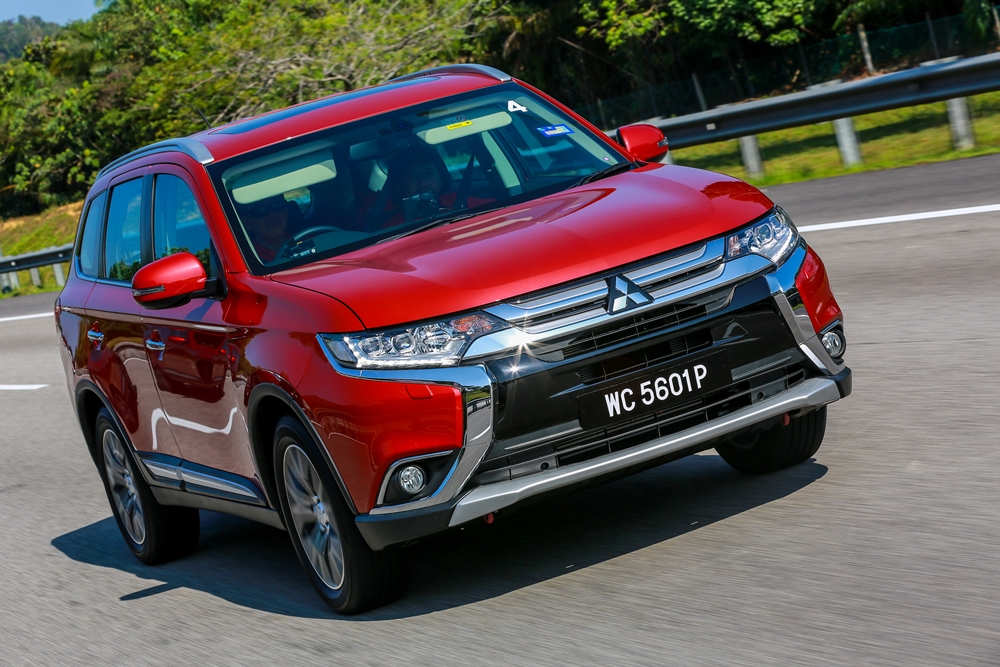 The Mitsubishi Outlander is one of the most family-friendly vehicles in its segment, thanks to a wealth of safety features available as standard. It is a home to 7-Airbags, Active Stability and Traction Control (ASTC), Hill-Start Assist (HSA), Anti-lock braking System (ABS) with Electronic Brake-force Distribution (EBD), Brake Assist and ISOFISX child seat mount (available in the second row seats).
At an introductory price of RM166,720*, the all-new Mitsubishi Outlander (fully imported from Japan) is a great bargain for mainstream shoppers who would like to get more out of a typical 5-seater SUV at no extra cost. The best thing about owning this SUV is that while it gives priority first to the driver, it also leaves plenty of comfort and satisfaction for the rest of its occupants as well.
*The price is only valid for cars booked and registered before 31 May 2016.
SPECIFICATION: Mitsubishi Outlander (CBU)
Displacement: 4-cylinder 2.4-litre MIVEC engine
Transmission Type: Continuously Variable Transmission (CVT)
Power: 167PS @ 6,000rpm
Torque: 222Nm @ 4,100rpm
Price: RM166,720 on-the-road without insurance