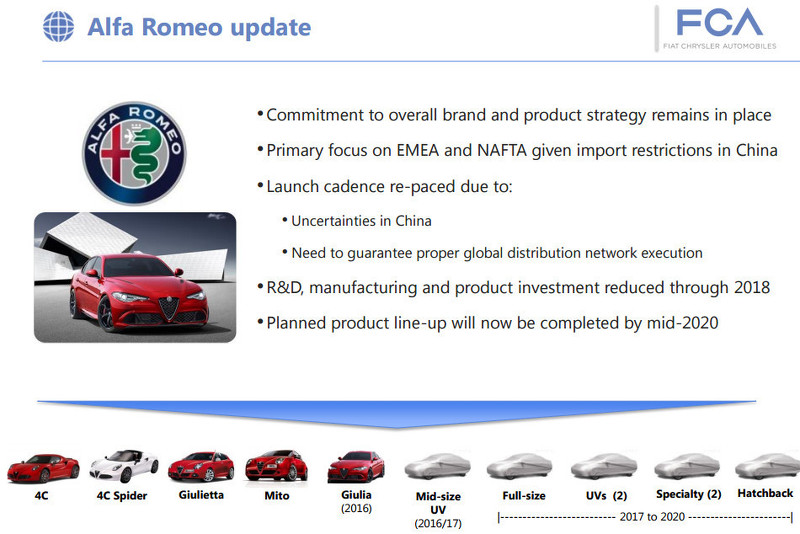 ADVERTISEMENT
Fiat Chrysler Automobiles (FCA) CEO Sergio Marchionne recently announced a revised business plan for the Italian automaker, Alfa Romeo.
During the announcement, FCA is once again rescheduling Alfa Romeo's much-needed new car introductions. This may come as no surprise for many as we'll briefly remind you that FCA has broken promises over the future of Alfa Romeo dating back a decade ago during the Fiat Group's 2006 Product Plan. The most recent one being in 2014 when Marchionne said that the Italian brands' product plan would be completed by 2018 with the presentation of 7 new vehicles – besides the Giulia compact luxury sedan.
Now, FCA says that Alfa's revised product-lineup will see the Giulia, which was revealed in the high-performance QV outfit in June last year, entering production by the end of March, with a mid-size SUV joining the range by the end of 2017, while 6 other models, including a hatchback, a sedan, 2 CUV or SUVs, and 2 "specialty" vehicles to appear sometime between 2017 and 2020.
The company said due to uncertainties in China and the need to guarantee proper global distribution network execution, they will reduce spending on manufacturing as well as research and development through to 2018. The much-loved Italian brand certainly deserves better than this.
News Source: via Carscoop