ADVERTISEMENT
Ford recently made its debut on the HKTDC Hong Kong Fashion Week runway as part of The Eco Chic Design Award 2015/16 grand finale show. 5 outfits featured in the show were made entirely from the up-cycling of Ford's sustainable seat fabrics, which are made from recycled plastic bottles.
The garments were designed at The Redress Forum 2016: Ford Design Challenge, in which 10 emerging designers were tasked with creating high-fashion outfits using Ford's sustainable seat fabrics. When designing the collection, the designers – from Hong Kong, mainland China, Thailand, Poland, Spain and the United Kingdom– took inspiration from the landmarks of the city of Hong Kong.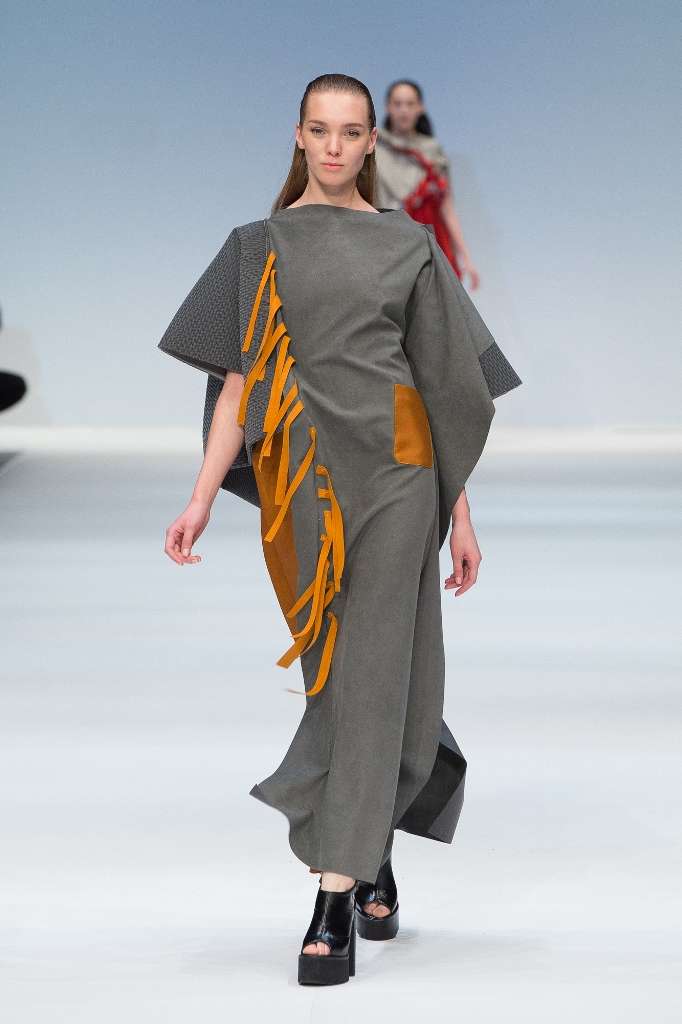 Amy Ward (United Kingdom) and Pan Wen (China) put forward this dramatic floor-length gown (picture above). The outfit –inspired by a quiet underpass on Hong Kong's famous Victoria Peak– is characterized by the draping of Ford's sustainable seat fabrics in contrasting hues of copper and neutral materials.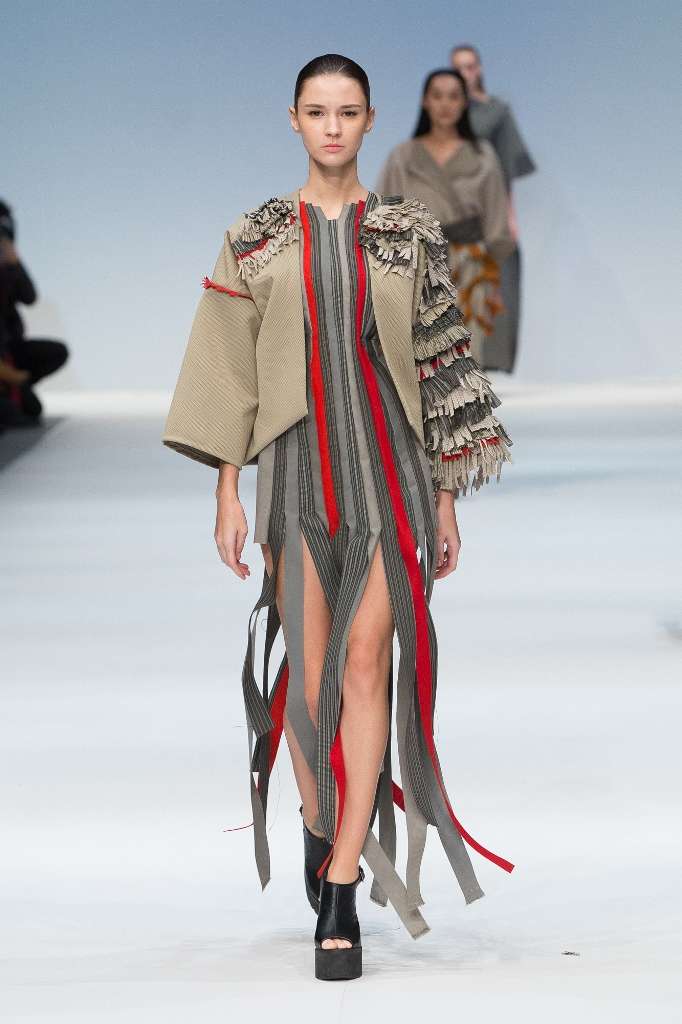 Esther Lui (Hong Kong) and Patrycja Guzik (Poland) put forward this romantic jacket and dress (picture above). The ruffled sleeve of the jacket utilizes 5 different Ford fabrics, all hand-sewn in layers to create a fringed texture.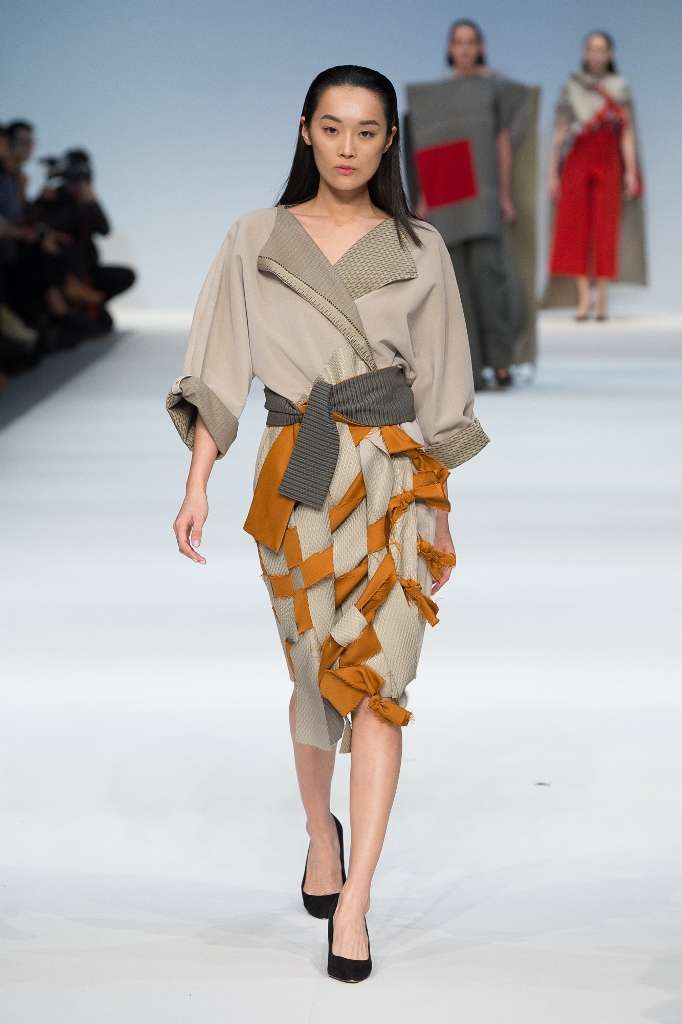 Bella Benyasarn (Thailand) and Sara Kiani (United Kingdom) created a luxurious oversized kimono (picture above). Sashed at the waist, the outfit features weaved panels of different fabrics to elevate the overall look.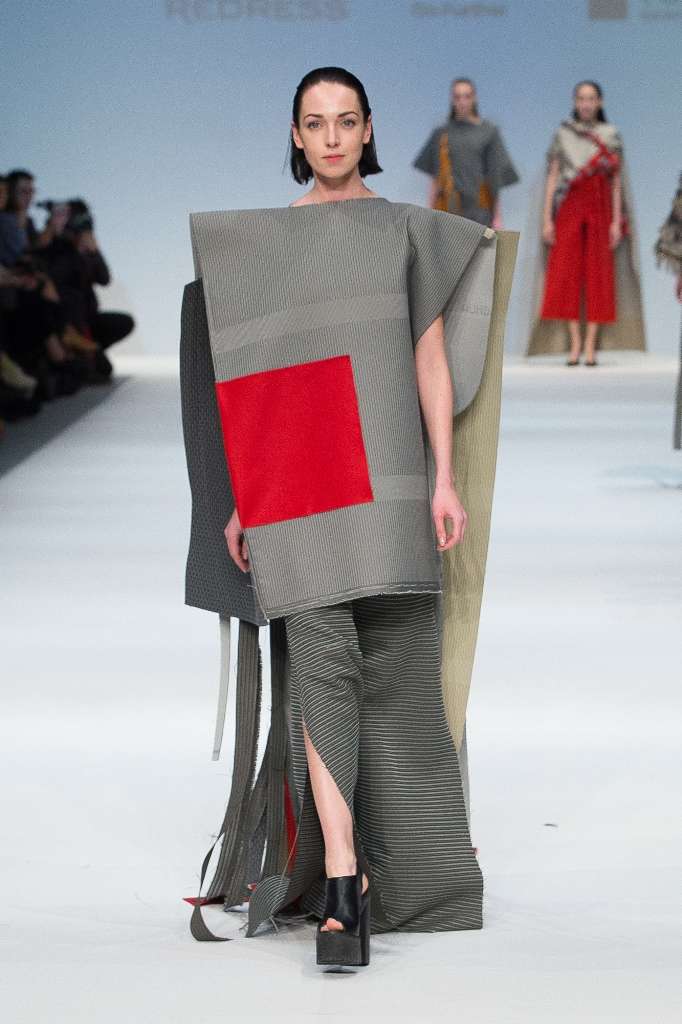 Meanwhile, Tsang Fan Yu (Hong Kong) and Annie MacKinnon (United Kingdom) created this voluminous tunic and floor-length skirt (picture above). Taking inspiration from the Man Mo Temple in Hong Kong, the dramatic outfit creates a strong and powerful silhouette.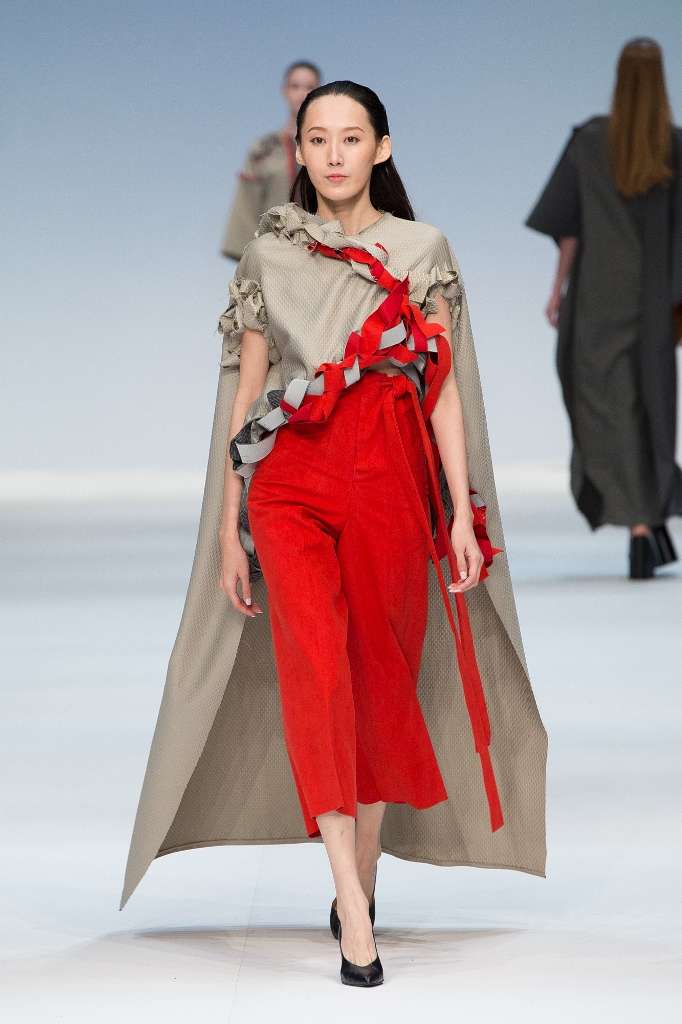 Last but not least, Wang Di (China) and Cora Bellotto (Spain) put forward this spiritually inspired outfit (picture above). A pair of tailored red pants is topped off with a floor-grazing jacket. The collar and lapels of the jacket are lined with plaited pieces of Ford's fabrics.
This is the second year in a row that Ford has teamed up with Redress to raise awareness about innovative ways to reduce waste through better design.
"We armed these talented designers with off-cuts of our sustainable seat fabrics – which are made from recycled plastic water bottles," said Marie Smyth, senior designer, Color and Materials Design, Ford Asia Pacific. "We wanted to give them the opportunity to work with this alternative material and show them that eco-friendly fabrics can come from surprising sources.
"As designers, we constantly need to look to the horizon – both in regards to style forecasts and the environmental challenges ahead. When we sit down to design a product, we always look for new ways to reduce its environmental impact. So when it comes to sustainability, designers have a huge responsibility – one that we are passionate about."
"We were expecting the materials at the challenge to be a lot heavier and more difficult to manage, but were surprised at how easy they were to work with," said Pan Wen. "Working with Ford's fabric today has definitely inspired me to look for more sustainable fabrics in my future designs."