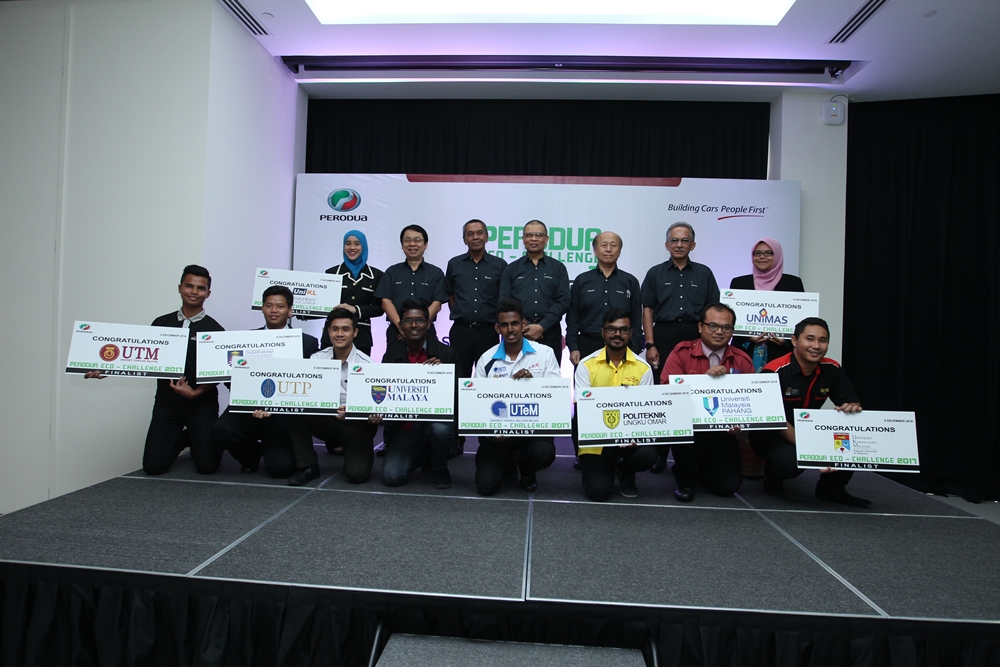 ADVERTISEMENT
One of Perodua's main Corporate Responsibility programmes, the Perodua Eco Challenge 2017 (PEC) returns where to company invite institutions of higher learning to propose the best innovative components which might be incorporated in its future models.
"The PEC 2017 is very unique and comes with a new format as we need them to create a part of a car that includes the element of ECO (Environment, Creativity and Originality) which will be considered to be included in our new models," Perodua President & Chief Executive Officer, Datuk (Dr) Aminar Rashid Salleh said.
Launched in 2009, the Perodua Eco Challenge offers students and faculty members from local institutions of higher learning an avenue to show their creativity in terms of design, engineering and business prowess against their peers from different institutions.
Between 2009 and 2013, the challenge was focused on redesigning of existing Perodua models then to building up a new car and marketing them with fuel efficiency as the main objective for the participating institutions of higher learning. Typically, the theme of the PEC this time around was more distance-race oriented.
For 2017, the institutions of higher learning will focus more in research and development (R&D) and they will work closely with Perodua's R&D team as well as Perodua's vendors to produce a prototype component with more of a parts development theme incorporated in the challenge.
A total of 21 institutions of higher learning were invited to participate in the Perodua Eco Challenge in November 2016 of which 10 were chosen recently to compete in the PEC 2017.
Perodua provides a small seed grant to develop the ideas for these institutions and by April 2017, these 10 institutions will work with Perodua R&D as well as vendors to produce the prototype for a final assessment.
"These ideas must incorporate the 'unique Malaysia' element in their designs as to make them truly stand out from other model offerings," Datuk (Dr) Aminar said.
The role of the Perodua R&D and vendors would be to advise and educate the institutions of higher learning on the importance of proper work culture, procedures and processes.
"We believe that this will be a great help to both the institutions and students as they could incorporate these processes in their education and work-life environment," Datuk (Dr) Aminar said.
Once the prototype is completed, the component will be reviewed by a team of judges in December 2017. Marks will be given on a stage basis, where the institutions will be evaluated based on their progress and team participation.
"The PEC's core idea is to empower youths through education and we believe adding "real-world" elements such as competition and actual processes in developing a global business mind-set are essential for a vibrant as well as innovative nation," Datuk (Dr) Aminar said.