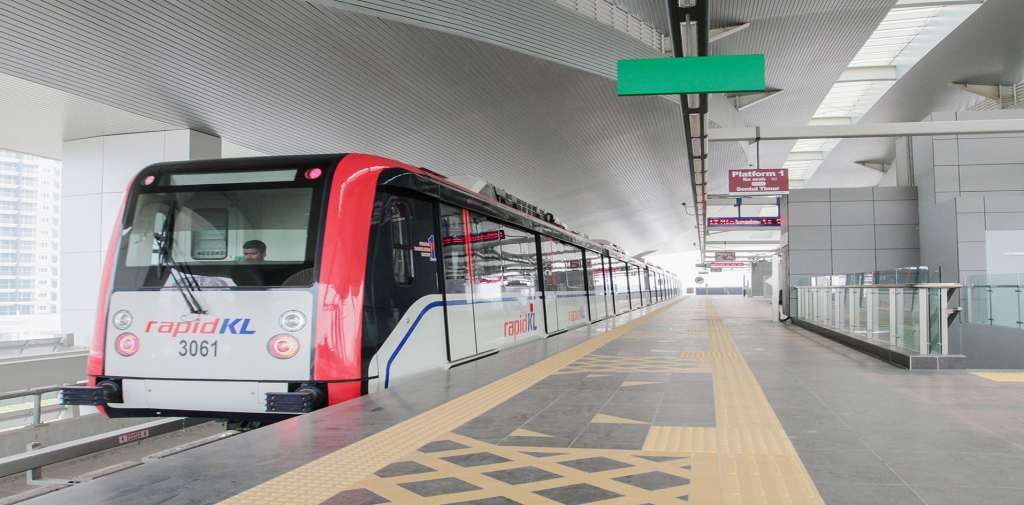 ADVERTISEMENT
Starting today (1st December), commuters traveling on Rapid KL LRT Ampang Line can travel directly from Ampang station to Sentul Timur without needing to change train at Chan Sow Lin station any more.
The direct travel has been made possible following completion in the upgrading of the signaling system, or technically termed as the Communication – Based Train Control (CBTC), for the entire Ampang and Sri Petaling Line for usage of the new six-car AMY trains.
"Beginning December 1, the entire Sri Petaling and Ampang Lines will also be using the new six-car AMY trains. The Adtranz trains that had been used since 1996 and serving the Ampang Line now, will be completely decommissioned," said Dato' Ir. Zohari Sulaiman, Rapid Rail CEO.
A subsidiary of Prasarana, Rapid Rail is the operator of Rapid KL's LRT Ampang Line, LRT Sri Petaling Line, LRT Kelana Jaya Line, the Monorail Line and the MRT Sungai Buloh – Kajang Line, which will open its Phase 1 between Sungai Buloh and Semantan on December 16.
Prasarana has acquired a total of 50 new six-car trains from CRRC Zhuzhou Electric Locomotive, China to serve the LRT Ampang and Sri Petaling Lines including the 11 new stations built under the LRT Line Extension Project (LEP). To-date, 45 train sets have already been delivered to Rapid Rail with the remaining 5 sets currently being assembled at CRRC plant in Batu Gajah, Perak and due for delivery in stages by January next year.
The new six-car AMY trains were introduced into service in stages with the first batch in October last year to serve the first stretch of LEP alignment covering the first 4 new stations – Awan Besar, Muhibbah, Alam Sutera and Kinrara BK5 to Sri Petaling station where commuters needed to switch trains in continuing their journey. The services of the AMY trains were extended to IOI Puchong Jaya, Pusat Bandar Puchong, Taman Perindustrian Puchong and Bandar Puteri stations from March 31.
With the full opening of the LEP on June 30 this year, the new AMY trains serviced the entire stretch of extended LRT alignment up to Sri Petaling station before being extended further to cover the entire alignment until Sentul Timur in July after completion of the CBTC for the Sri Petaling Line. The route for Ampang Line was then restructured to cover only between Ampang and Chan Sow Lin stations; and had used the Adtranz train sets while CBTC upgrading is being undertaken.
Zohari said, "We are happy to announce that the system has now being upgraded to cover the stretch between Ampang and Chan Sow Lin stations to facilitate movement of the new AMY trains directly to Ampang station.
"Until we have all 50 new trains, we would be working with a frequency of 6 minutes for trains between Chan Sow Lin to Ampang and to Putra Heights. With the trains moving alternately after and until Chan Sow Lin, the frequency within the city from Chan Sow Lin will be only 3 minutes.
"Naturally, we aim to reduce the waiting time further when we have all 50 new trains next year," he added.