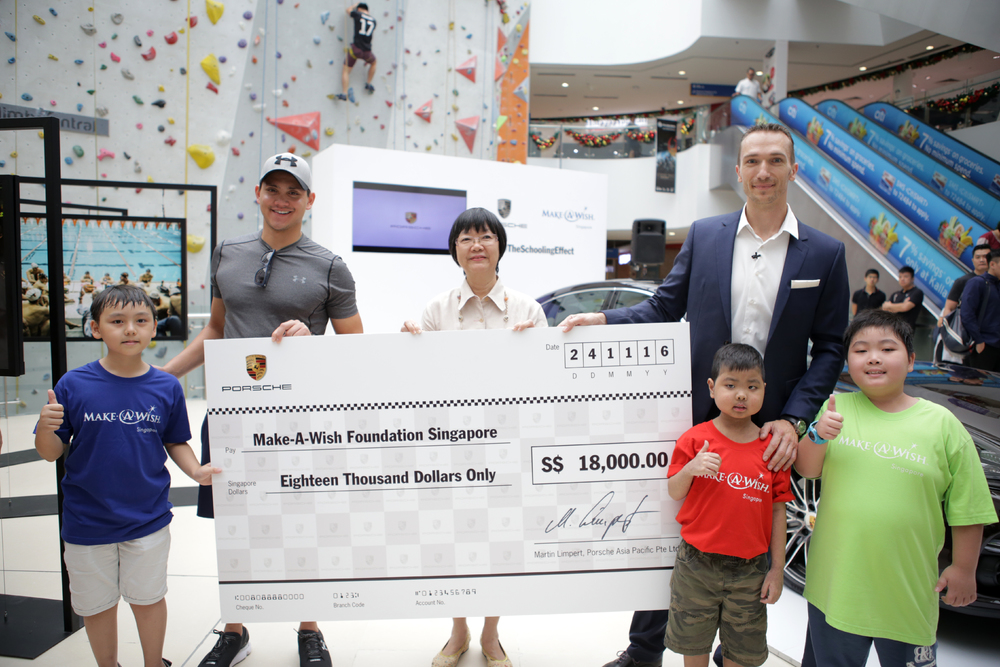 ADVERTISEMENT
Porsche Asia Pacific recently donated $18,000 (est RM562,99) to Make-A-Wish Foundation Singapore, an organisation that serves to bring to life wishes of children with life-threatening medical conditions. The donation will fund wish fulfilment for the foundation's beneficiaries this Christmas season.
Martin Limpert, Managing Director, Porsche Asia Pacific, presented the cheque to Make-A-Wish Foundation at Singapore's Kallang Wave Mall. Also present were Swimmer and Olympic Gold Medallist Joseph Schooling and his parents, Colin and May, strong supporters of the Make-A-Wish Foundation.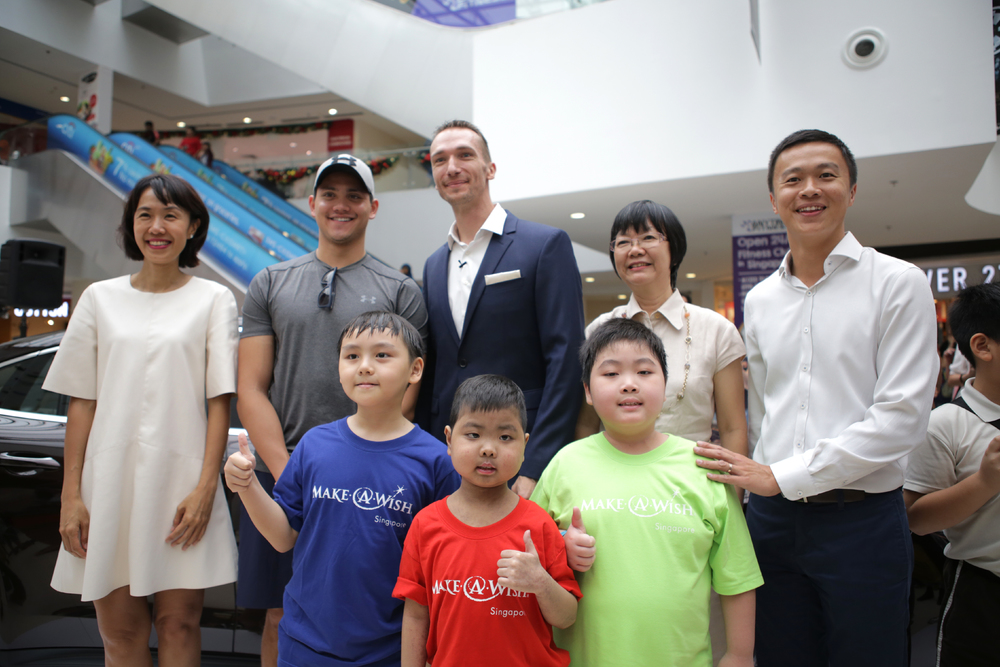 "Ferry Porsche, the founder of Porsche, once said that he looked around and could not find quite the car he dreamed of, so he decided to build it himself. This has long since become the company's tradition and motivation, to always pursue one's dream. Porsche places a strong interest in supporting youth and young children, making their dream come true, a value that is aligned to Make-A-Wish Foundation's vision and mission," said Martin Limpert, Managing Director of Porsche Asia Pacific. He continues, "Joseph Schooling, a role model for the youth and a sportsman after our own heart, has also been a strong supporter of the foundation."
At the event, 3 Make-A-Wish Foundation beneficiaries who look up to Joseph Schooling as their role model and are avid fans of sports cars and motorsports, had the opportunity to meet and spend time with the Olympian. Seated in the new Porsche Panamera, the children, along with Joseph Schooling, enjoyed a photo together. Schooling then took them for a spin in a Porsche Cayenne around the Sports Hub area.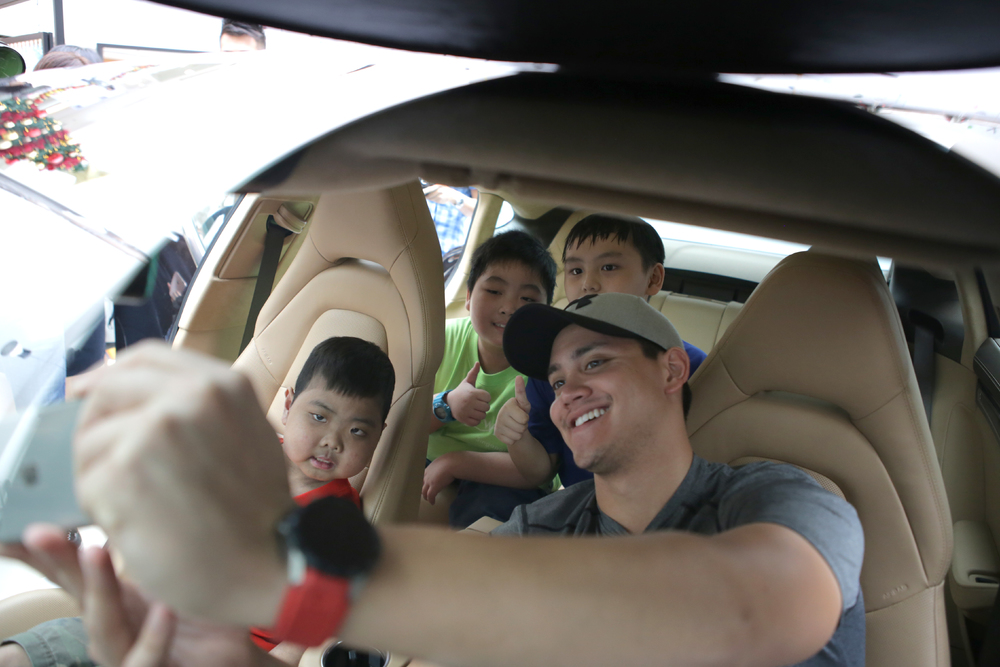 Limpert continues, "In line with the current Porsche campaign to introduce the new Panamera, Courage Changes Everything, Porsche is proud to be working with the Schoolings for a good cause. The Schooling family too, reflects strength, courage, and tenacity. In overcoming adversity, in making multiple sacrifices, in their strong support for one another, the Schooling family exemplified the courage it takes to succeed in an ultra-competitive arena of Olympic-level sports."
The young beneficiaries under Make-Wish Foundation are the epitome of courage and grit, and Porsche hopes that in joining forces with the Schooling family, the brand can inspire and bring joy to these children.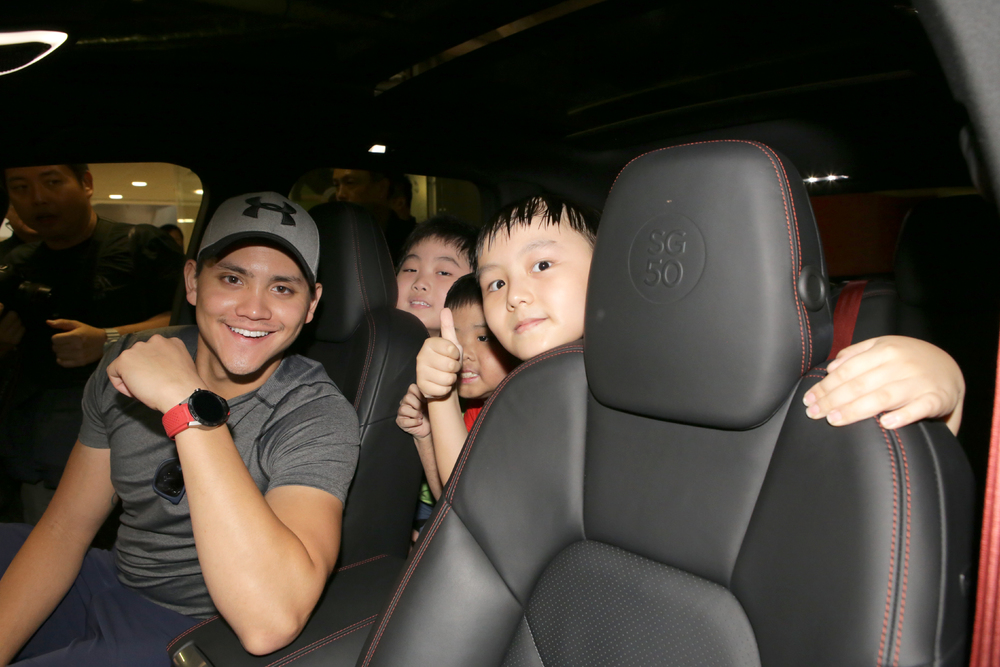 "I've been extremely fortunate in that my parents have been extremely supportive. They have also taught me the value of courage and a dare-to-dream attitude," said Joseph Schooling. "In the same way, Porsche has always had the courage to push boundaries, and it has been a privilege to work alongside them to give back via the Make-A-Wish Foundation."