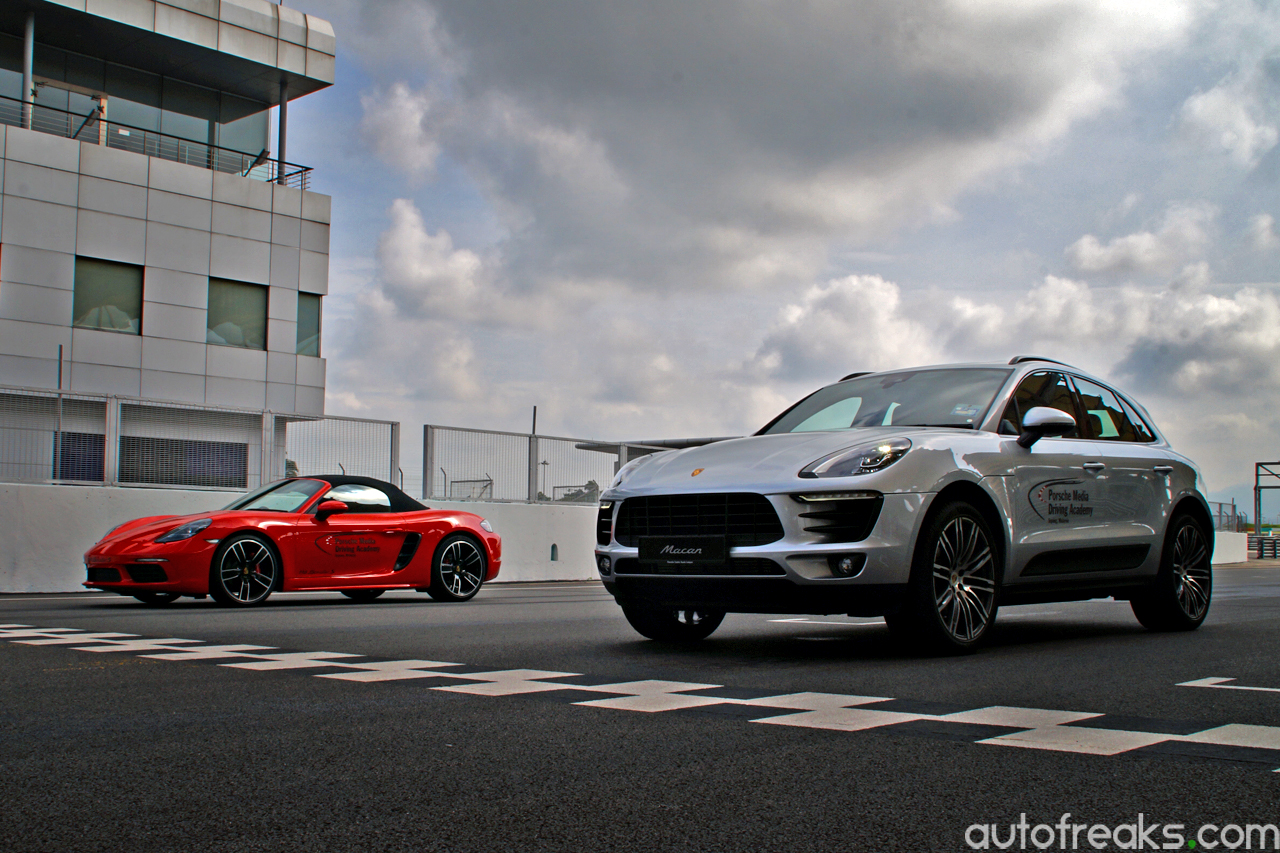 ADVERTISEMENT
An opportunity to sample various Porsche models on Sepang International Circuit for an entire day? Who could give that kind of opportunity up? After spending a day driving various Porsche models, including the newly launched 718 Boxster S, 911 Carrera S, Macan and Cayenne, here's the gist of the entire day. The course comes in three levels, which starts from Individual, before moving up to Professional and then Elite. I attended the Individual session, since this was my first outing.
Unlike other driving courses I used to attend, Porsche started the day with a difference. Whilst other car makers will start with a driver's briefing, Porsche had us perform a weight balance test, using water containers. The purpose of this test was to familiarize ourselves with the weight balance nature of a front engine, mid engine and rear engine vehicles. What sets Porsche apart from other car makers is the fact that Porsche is perhaps the only car manufacturer that offers all three engine placements across their entire lineup. This exercise allowed me to properly understand how the engine's placement can affect a vehicle's handling, which I found that mid-engine to be the most neutral when it comes to weight balance.
Moving on, our group went through some vehicle dynamics basics, which included how to handle a car understeering and oversteering. On top of that, we were also taught the friction limit of each given wheel on various surface conditions.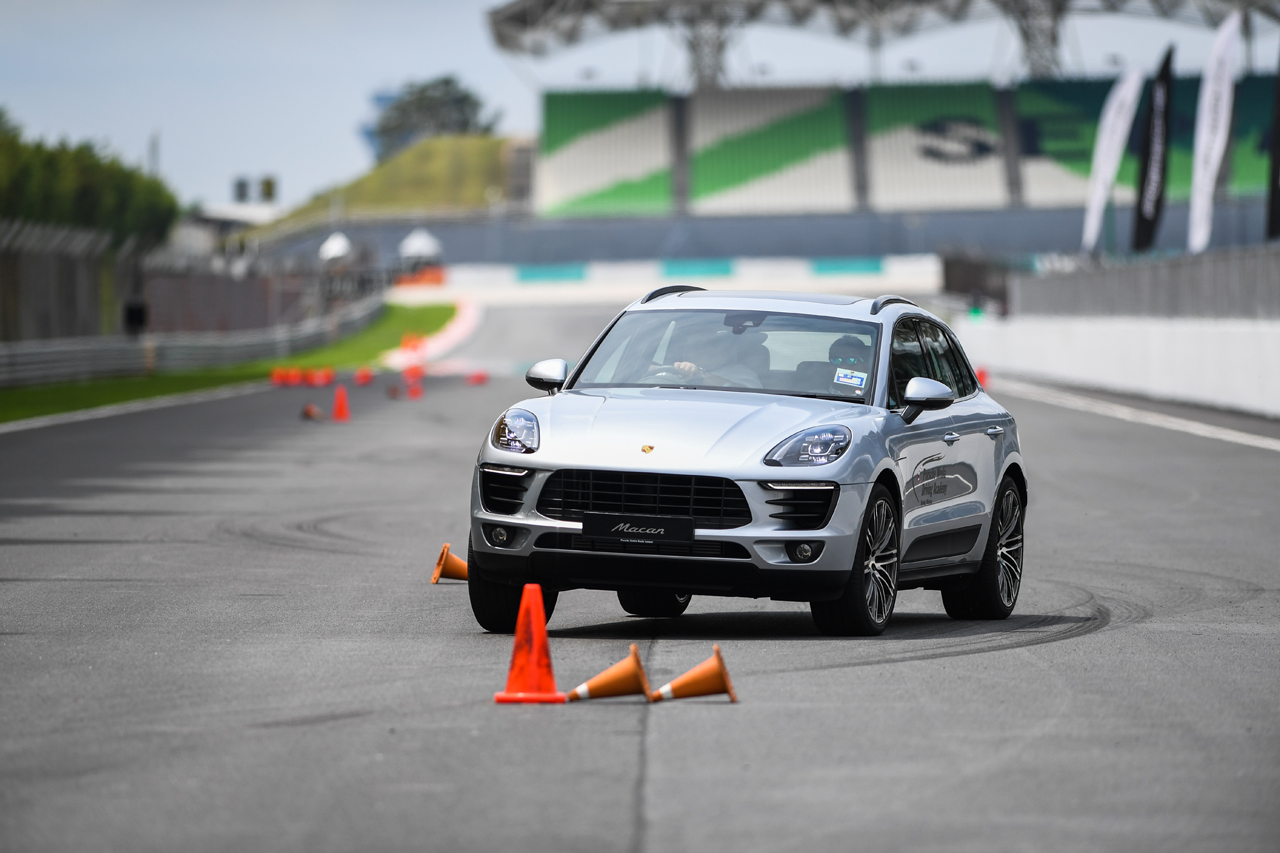 My first stint was the slalom course. Here, Porsche provided participants with a 718 Boxster S and a Macan. The slalom test seemed easy enough, which needed us to weave through a number of cones placed on the final straights of Sepang. Our instructor, ace driver Matthias Hoffsümmer demonstrated the technique to tackle the slalom course with ease. Behind the wheel however, the story changes. Not only was my steering input too abrupt, my throttle control also needed some fine tuning. But the instructor was really good, as I managed complete the slalom course with reasonably quick times.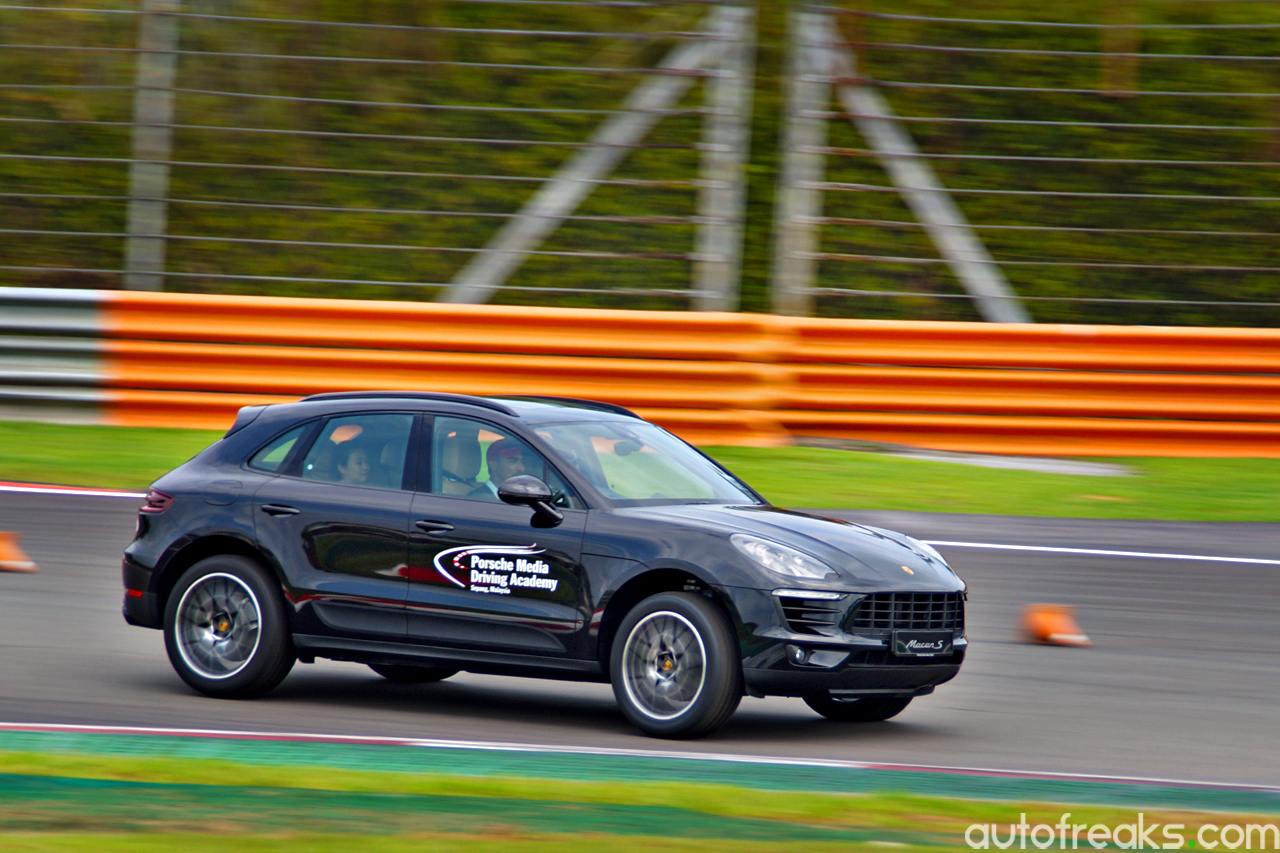 After the slalom test, the group proceeded to the next agenda, which was navigating through a corner. For this section, our instructor, Admi Shahrul gave a few valuable pointers, including using my left foot to anchor myself securely, so that I won't be moving around the cockpit when navigating through a turn. In fact, braking point was also an important point when it comes to tackling a corner. Brake too soon, you'll lose precious momentum. Brake too late and chances are you may end up in the sand pits. The key is to brake at the latest moment possible without breaking traction, allowing the car to carry as much momentum through the corner as possible. Of course, turning in at the right time was also crucial, as you do not want the vehicle to understeer into the gravel pit. Like the earlier practice, we were provided with two cars, this time a Porsche 911 Carrera S Cabriolet and a Porsche Macan S. In the 911, I was able to brake slightly later and carry more speed into the same corner, as opposed to the heavier and less nimble Macan.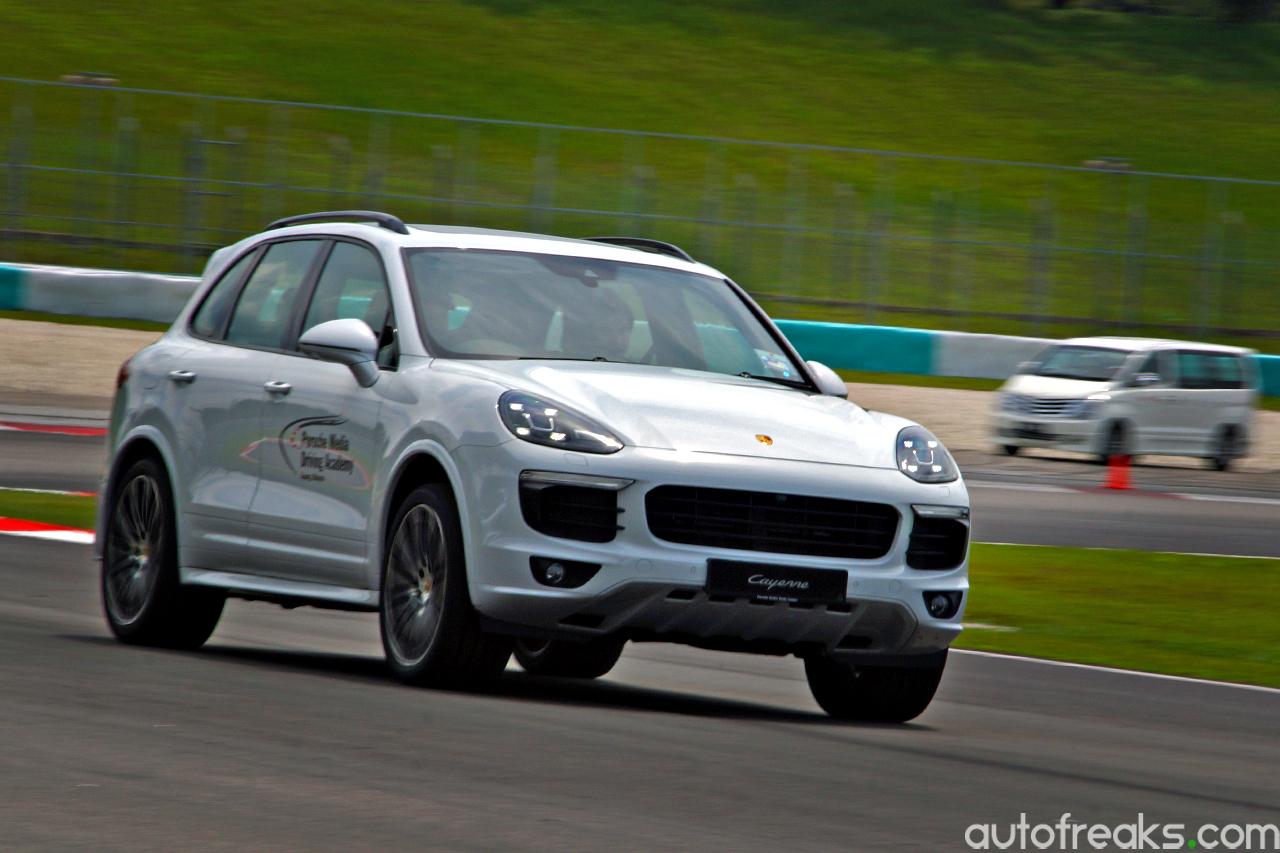 By the time our group completed the cornering course, we proceeded to the emergency maneuver course. For this section, participants' reaction time was tested. We had to accelerate hard and navigate through the cones without hitting any. In the Porsche 911 Carrera S, acceleration was brutal thanks to its 3.0-litre flat-six that does 420 PS and 500 Nm. Avoiding the cones didn't take much effort initially, but difficulty was taken to a new level when our instructor Faisal Asri had to give last minute direction change. Some cones were killed in the process, unfortunately. Moving into the Cayenne, things were a little different. Thanks to Porsche Stability Management (PSM), emergency maneuver was not as hard as it seems. Trust the electronics, they say.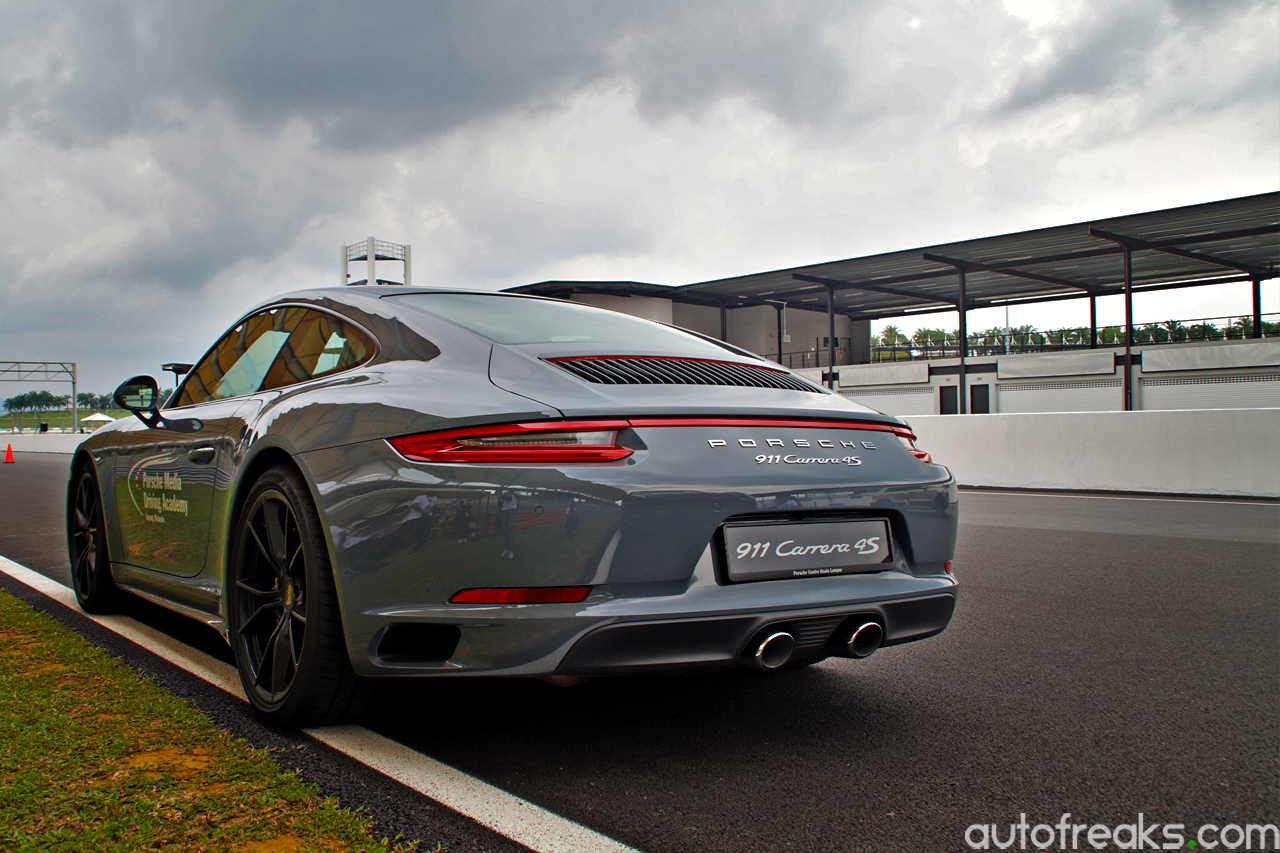 Our final training stint was ABS braking. Like the emergency maneuver course, the ABS braking section meant that we had to trust the ABS system to do its work while we as the driver had to navigate around the cones. With a Porsche 911 Carrera 4S and Cayenne S fitted with optional Porsche Ceramic Composite Brake (PCCB) at our disposal, repeated braking did not result in any fade. A definite plus in our books, as long as you tick that option.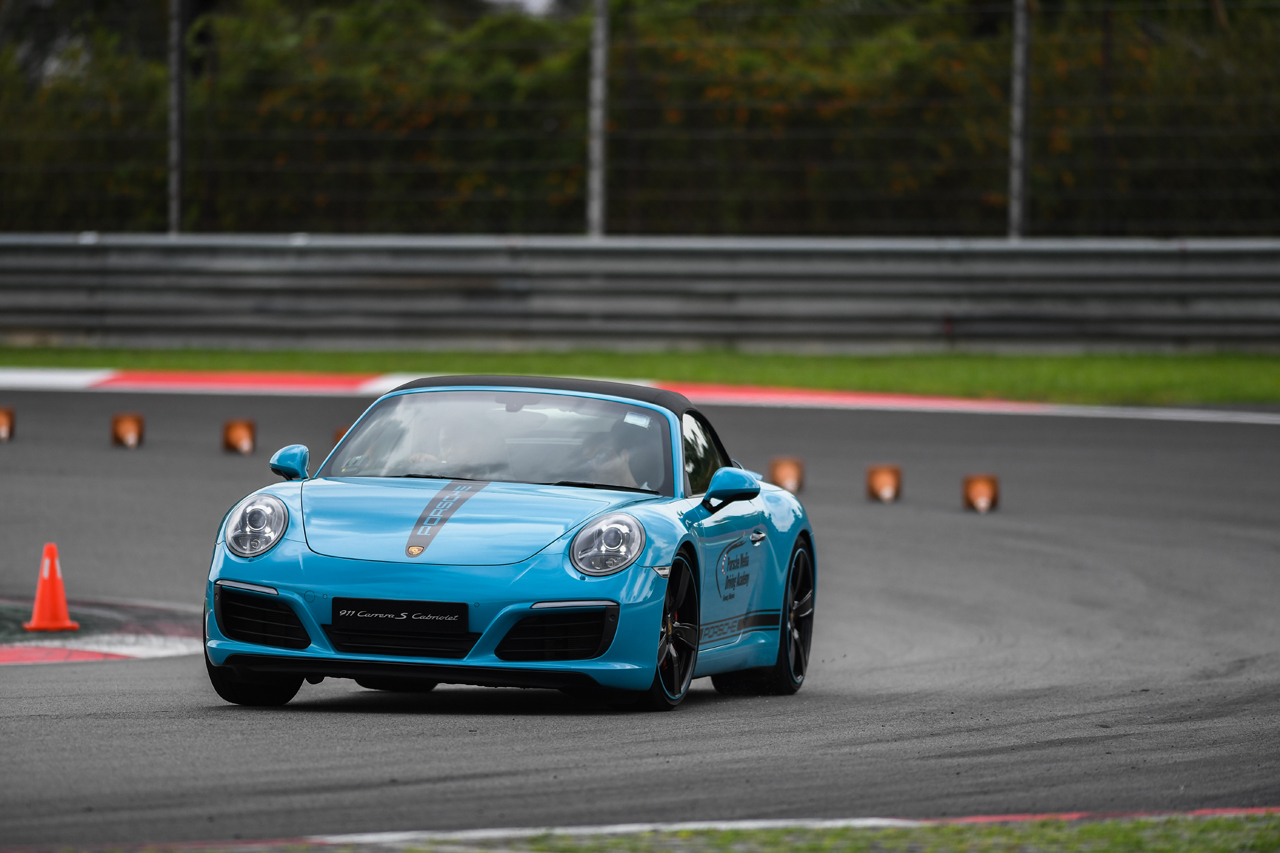 Last but not least was the guided drive around Sepang itself. Here, we had a bit more liberty at the wheel of a Porsche 718 Boxster S and a Macan. Whilst the 718 Boxster S behaved like what a Porsche would, the surprise came from the Macan. Though the Macan may not be as nimble and agile as the Boxster, it does hold its own rather well. I pushed the Macan hard through all 15 corners of Sepang, without having a single issue. Granted, the comfort-biased suspension set up meant that some body roll was evident when tackling the corners, especially through turn 6 moving to turn 7. Acceleration was decent enough, thanks to its available 250 hp and 370 Nm.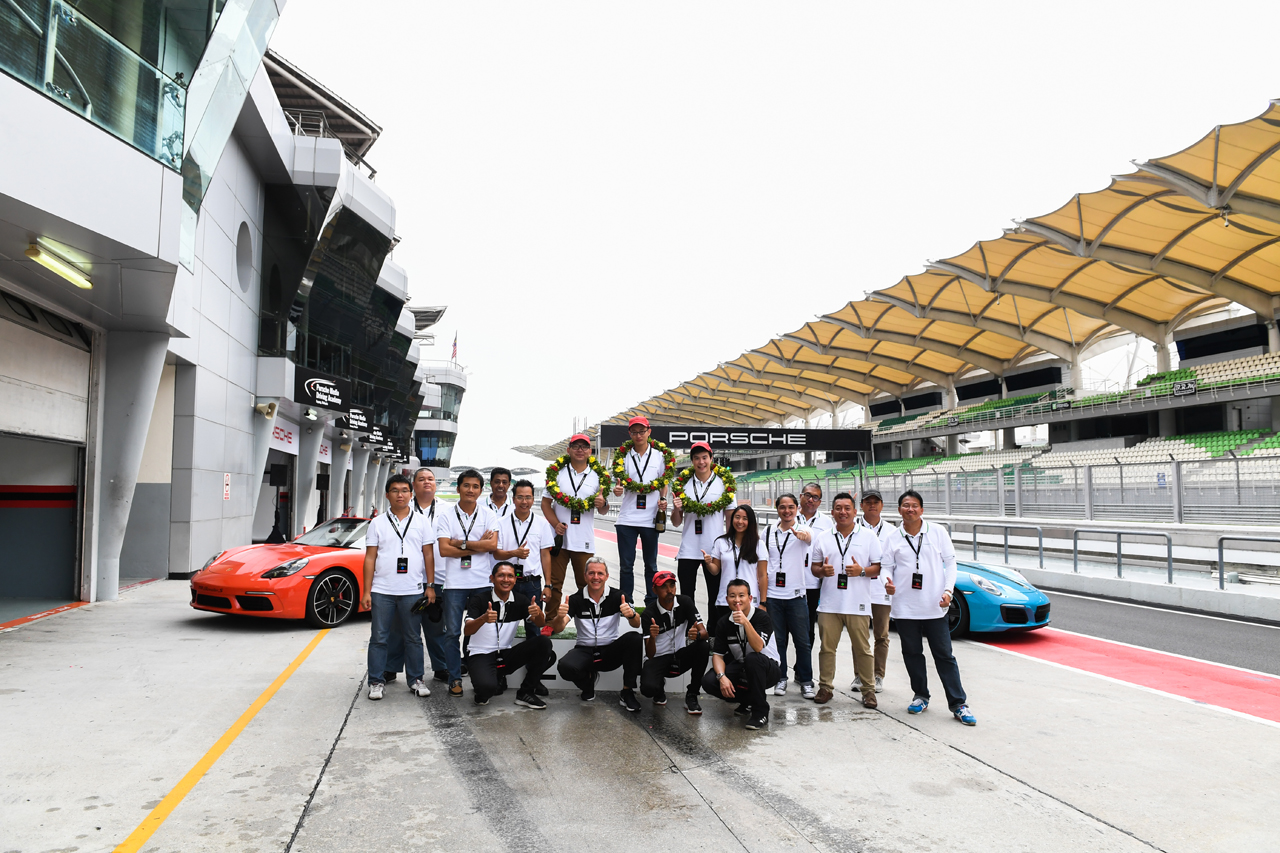 At the end of the day, I would really like to extend my appreciation to Sime Darby Auto Performance for the invitation to join the Porsche Media Driving Academy 2016. It was a fun-filled day that was also extremely educational. I learned a lot from the driving instructors, which included the correct seating position, steering position and driving techniques.