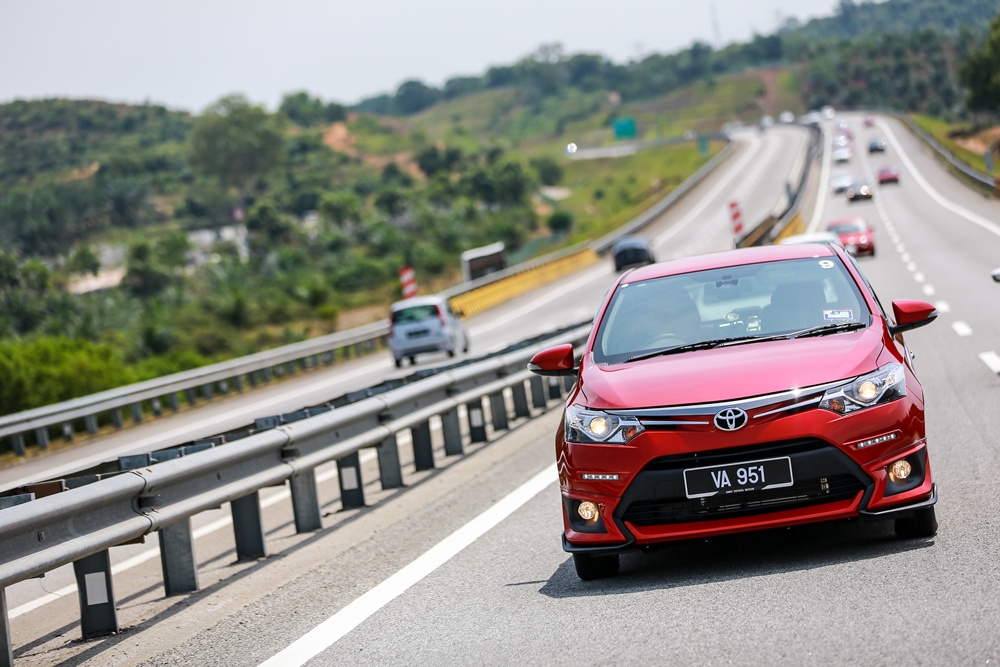 ADVERTISEMENT
Good news folks! PLUS highway users on the North-South Expressway (NSE), Butterworth-Kulim Expressway (BKE), North-South Expressway Central Link (ELITE) and the Malaysia-Singapore Second Crossing (Linkedua) paying toll electronically will be able to enjoy a 20% toll rebate in conjunction with the upcoming Deepavali celebration.
According to PLUS Malaysia Berhad (PLUS) Managing Director, Dato' Noorizah Hj Abd Hamid, "Highway Class 1 users (light vehicles with 2 axles and 3 or 4 wheels except taxi) paying toll electronically via PLUSMiles cards, Touch 'n Go cards or SmartTAGs will be able to receive a 20% toll rebate for electronic toll transactions on 29 October (Saturday) in conjunction with Deepavali. It is offered to those travelling more than 100km on the PLUS highways."
The public paying toll electronically will still be required to pay the full toll amount on 29 October. However, the 20% toll rebate (in a form of toll reload) can be redeemed when they reload their electronic cards at all PLUS customer service centres between 15 November 2016 and 14 February 2017.
The toll rebate can be enjoyed the whole day of 29 October (Saturday) and is not restricted to a particular time of the day.
The toll rebate however does not apply at these following toll plazas – Tanjung Kupang, Bukit Kayu Hitam, Bangunan Sultan Iskandar and Penang Bridge.
In addition, PLUS Malaysia has also issued the Travel Time Advisory aimed at preventing vehicles heading towards various destinations from 'converging' at the same location on the highway and contribute to traffic congestion.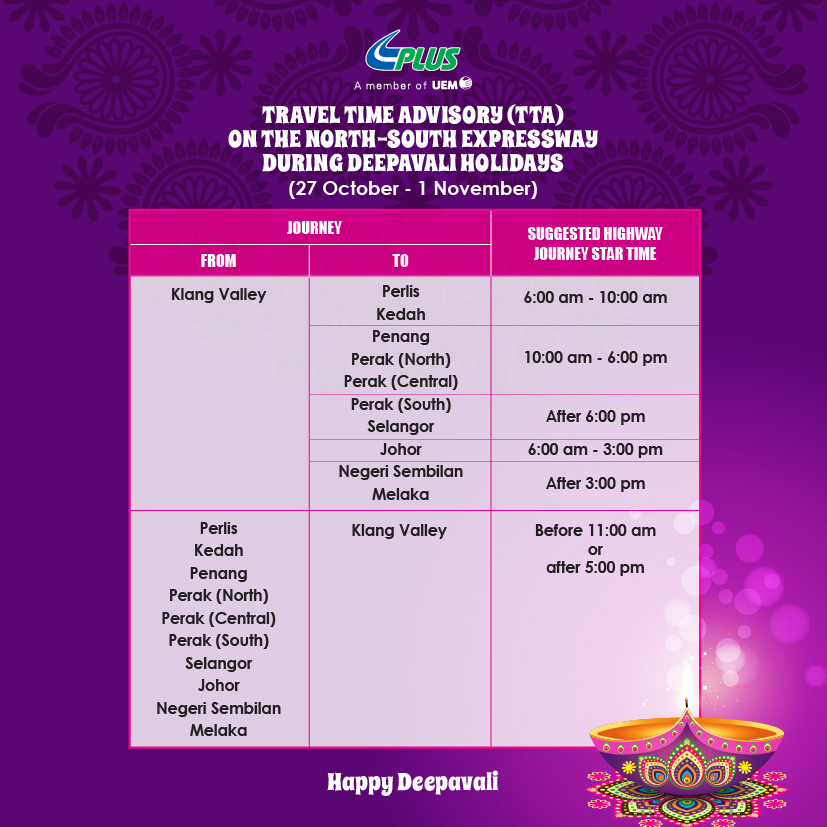 Based on the PLUS TTA above, Perlis and Kedah bound traffic from the Klang Valley are advised to enter the NSE between 6 a.m. and 10 a.m. While Pulau Pinang and Perak (Northern and Central) bound traffic are encouraged to enter the NSE between 10 a.m. and 6 p.m.
"The advisory, if adhered to, prevents vehicles heading towards Pulalu Pinang and Perak (Northern and Central) 'converging' with Perlis and Kedah bound traffic. Instead, these vehicles will be scattered and distributed at various locations along the mainline. This will contribute to smoother traffic flow heading north. The same concept also applies to traffic heading down south," Noorizah explained.
Based on travelling patterns of highway users of past festive seasons, PLUS expects the traffic on the NSE to increase by 7% to 1.5 million vehicles every day between 27 October and 1 November 2016 as compared to 1.4 million on normal days.