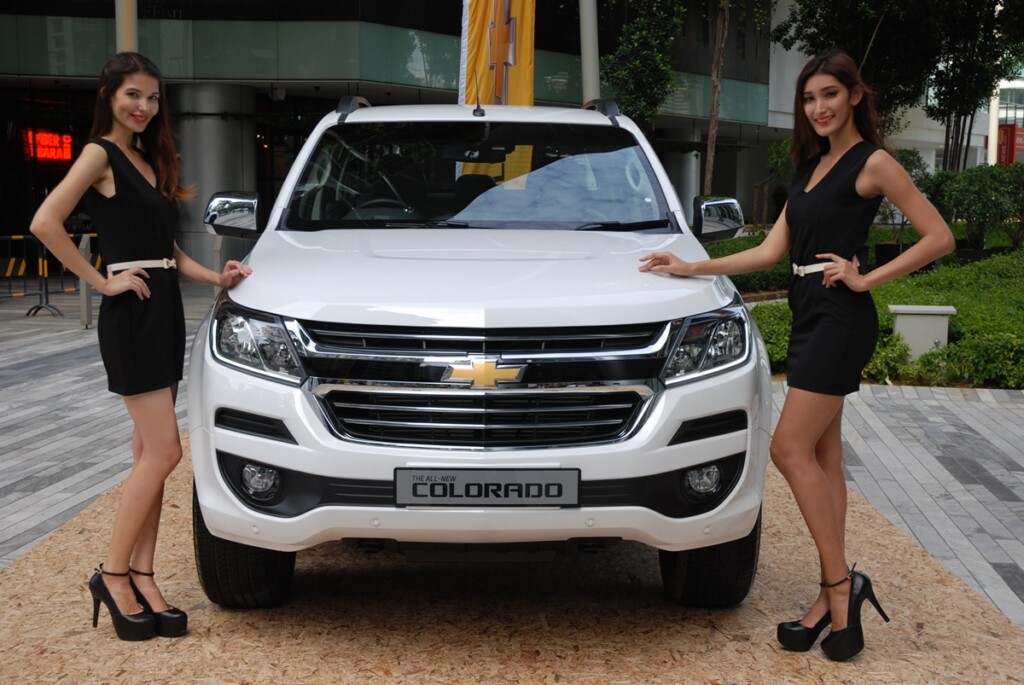 ADVERTISEMENT
Hot from the launch floor, Naza Quest Sdn Bhd, the official sole-importer and distributor of Chevrolet vehicles in Malaysia has just taken the covers off the all-new Colorado 4×4 pickup truck in Malaysia.
Available in 5 variants; 2.5L Standard LT (MT), 2.5L Standard LT (AT), 2.5L Standard LTZ (AT), 2.8L Standard (LTZ) and 2.8L High Country, the pickup truck goes at a selling price starting from RM99,911 to RM133,127. All prices are on-the-road inclusive of road tax and insurance and GST.
In terms of looks, the all-new Colorado's appearance is now more refined than ever with more angular lines and strong proportions – a nod to its American truck DNA.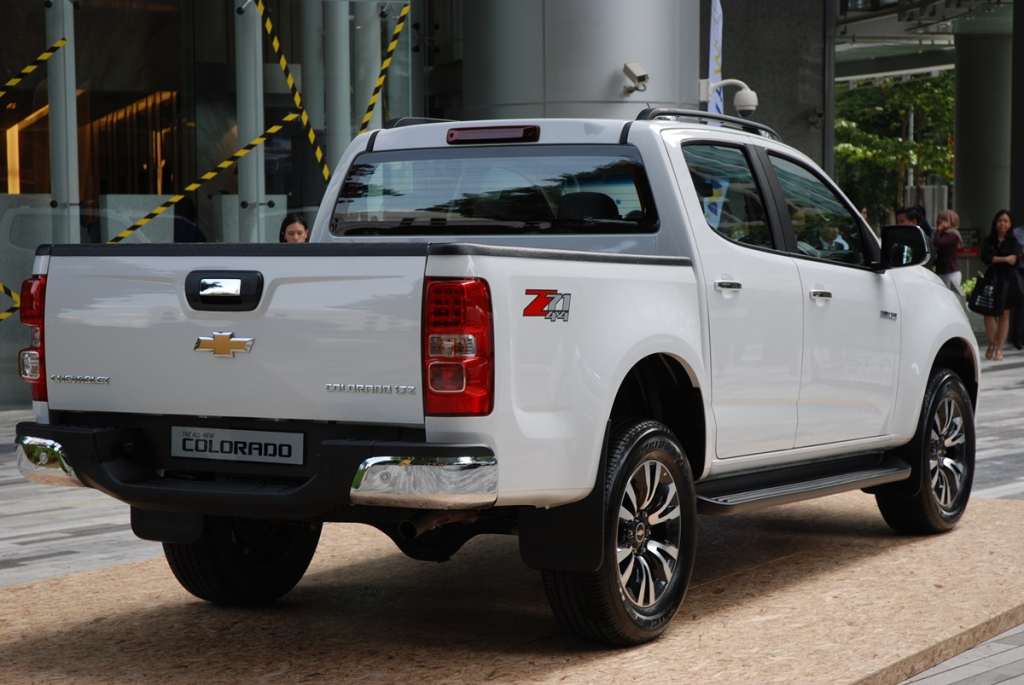 The most obvious exterior enhancement can be found in front with new LED Daytime Running Auto Headlamps. The eye catching new headlamp is designed with a glass tube type (Tube LED) LED daytime running lights to further add to the premium styling of the vehicle. What's more, these new headlamps are also equipped with a follow-me home system, an enhanced passive safety that keeps the headlamps on for a scheduled preferred time even after the ignition is turned-off.
The all-new Colorado comes in 3 choice of engines – a 2.5L Duramax Turbo-diesel Fixed Geometry Turbocharger (FGT), a 2.8L Duramax Turbo-diesel Variable Geometry Turbocharger (VGT) and the all-new 2.5 Duramax Turbo-diesel with Variable Geometry Turbocharger (VGT). Depending on the variants, the engine will be paired to either a 6-speed automatic or a manual 6-speed transmission.
The upgraded 2.5L Duramax 4-cylinder turbo-diesel FGT produces 163hp and 380Nm of torque, while the higher specs of 2.5L & 2.8L Duramax 4-cylinder turbo-diesel VGT produces 180hp/440Nm and 193hp/500Nm respectively, making the Colorado the most powerful in its segment.
Beyond its outstanding performance, the all-new Colorado offers convenience and advantages making driving and travelling a pleasurable experience. The Remote Engine Start function is now available in the all-new Colorado as a standard feature. It allows the engine be started using only the key fob, allowing the cabin to be cooled sufficiently before occupants get into the vehicle.
The all-new Colorado also comes with Electric Power Steering (EPS) which allows effortless control over the vehicle both at high and low-speeds while creating a more responsive steering feel at the same time. In other words, the steering is light at low-speeds and will weight-up at high-speed.
Other features that raise the comfort level of the all-new Colorado is the Comfort Closing Windows. When the vehicle is opened or locked, the front windows automatically drop a fraction to facilitate door closing by reducing noise and shut softly.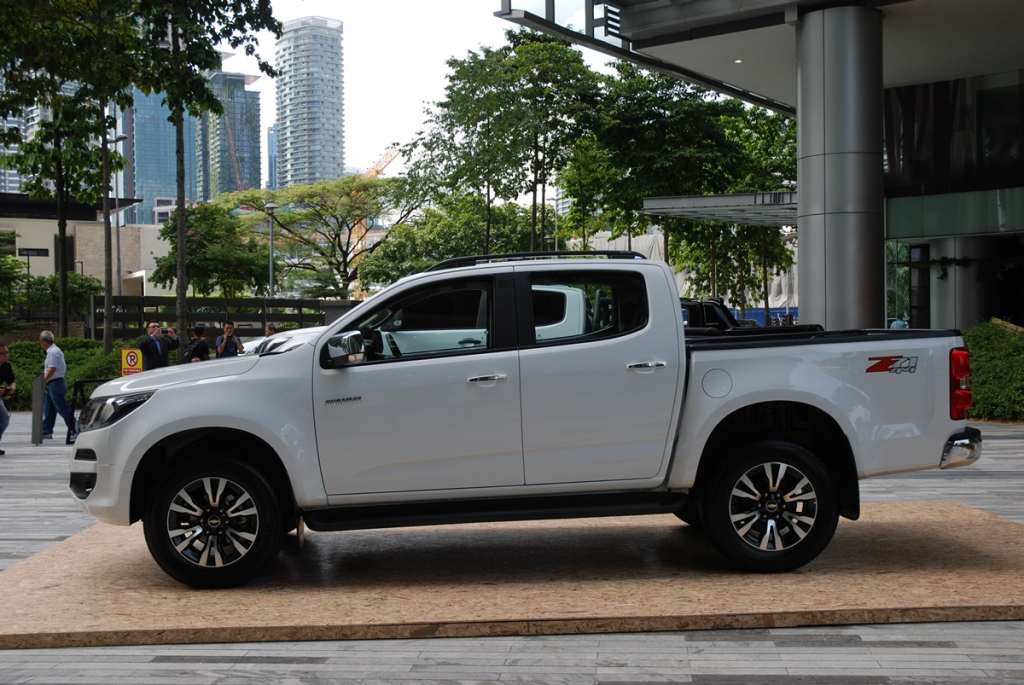 Parking is now made easier with the Front and Rear Park Assist with 8 points ultrasonic sensors from the front to the rear bumper. Driver is alerted to unseen obstacles with its built-in rear vision camera and audio sensor alert when moving in tight spaces.
In terms of technology, the all-new Colorado is the first in its segment to come with an Apple CarPlay applications with Siri Eye Free feature. The Apple CarPlay allows intelligent functions such as phone screen mirroring where your smartphone screen can be projected directly onto the truck's infotainment system colour touchscreen.
The all-new Chevrolet Colorado has been awarded with ANCAP & ASEAN NCAP 5 star rating, thus making it one of the safest pickup trucks in the industry. With a wide range of new active safety features such as Lane Departure Warning (LDW) Forward Collision Alert (FCA) and Tyre Pressure Monitoring System (TPMS), drivers will have extra peace-of-mind when getting behind the wheel of this all-new pickup truck.
The all-new Chevrolet Colorado comes in 3 colour choices which include, Summit White, Black Meet Kettle, Switchblade Silver, in addition with 2 new colour namely, Pull Me Over Red and Blue Mountain. Excellent names!
The All-New Colorado 2.5L Price List

The All-New Colorado 2.8L Price List