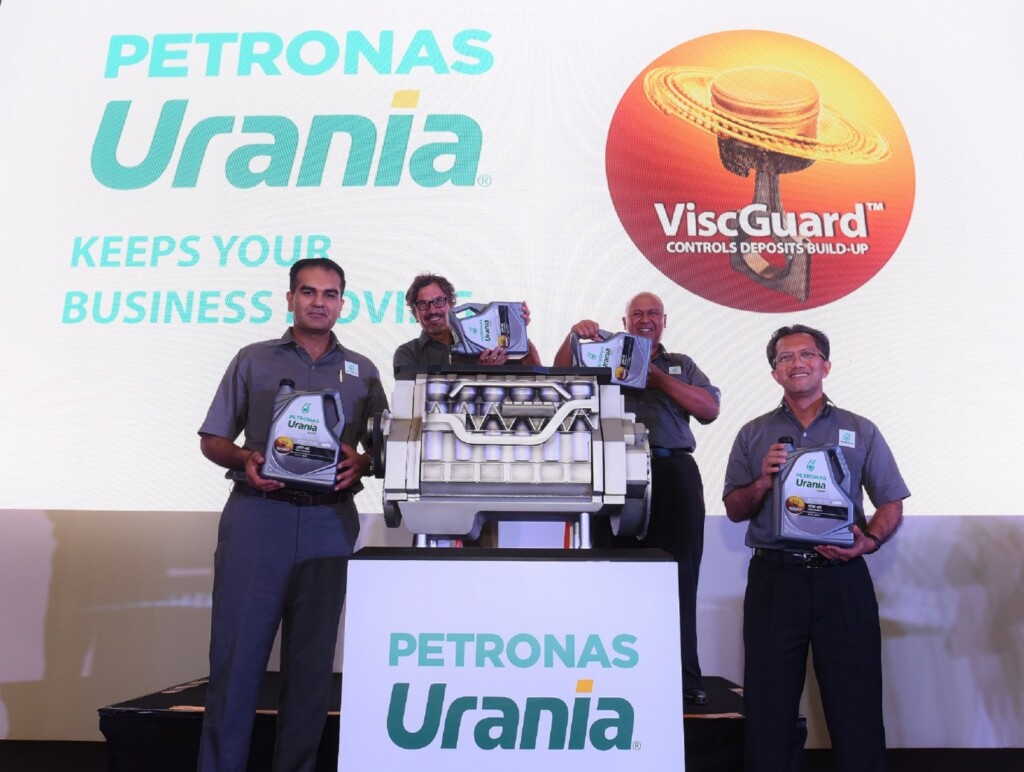 ADVERTISEMENT
Petronas Lubricants Marketing Malaysia (PLMM) has launched the Petronas Urania with ViscGuard, a commercial vehicle lubricant (CVL) formulated to effectively guard against engine deposits build-up.
This new range of diesel engine lubricants prevents abrasive wear and oxidation to maintain optimal oil viscosity that is necessary to keep commercial vehicle drivers and businesses on the move.
First launched in the European region in May 2016, the Petronas Urania with ViscGuard is currently available in Malaysia.
"Petronas Urania with ViscGuard not only guards the heart of a vehicle against engine deposits build-up, but also has a direct impact on the total cost of ownership for our customers. More importantly, it ensures that our customers are able to remain operational and meet their business commitment day after day," said Chief Executive Officer, Petronas Lubricants Marketing Malaysia, Zubair Abdul Razak.
The build-up of engine deposits is a common but underestimated problem, which can lead to engine failure and unplanned downtime if not addressed. Soot and ash particles exist in all engines, a byproduct of diesel fuel combustion. Over time, they can cause oil thickening and further agglomerate to form larger particles that stick to critical engine parts. These 'silent killers' can starve critical engine parts which require necessary lubrication and increase engine's wear and tear. Over time, and aggravated by the severe operating conditions that commercial vehicles undergo, it will eventually lead to total engine breakdown.
Petronas Urania with ViscGuard is engineered with robust oil film that disperses engine deposits, while maintaining optimal oil viscosity for longer engine life. When tested against latest industry standard, Petronas Urania with ViscGuard performed up to 89%2 better at maintaining oil viscosity integrity under high soot conditions. Petronas Urania with ViscGuard also performed up to 50% better in controlling carbon build-up.
The launch of Petronas Urania with ViscGuard is on the back of the company's strategic growth aspiration to be among the world's top lubricants players by 2019. It capitalises on the upward trend in the global lubricants market, projected to be worth US$ 166.59 billion by 2021 as well as driven by the increasing commercial vehicle sales and rapid industrialization in emerging countries.
With the construction and manufacturing sector in Malaysia set to grow consistently over the next few years, Petronas expect that there will be a steady demand for commercial vehicles to support this growth. Despite commercial vehicle sales easing slight in 2016, the market is forecasted to bounce back in 2017 and remain on an upward trend until 2020.
Locally, Petronas aims to be the market leader by 2018.