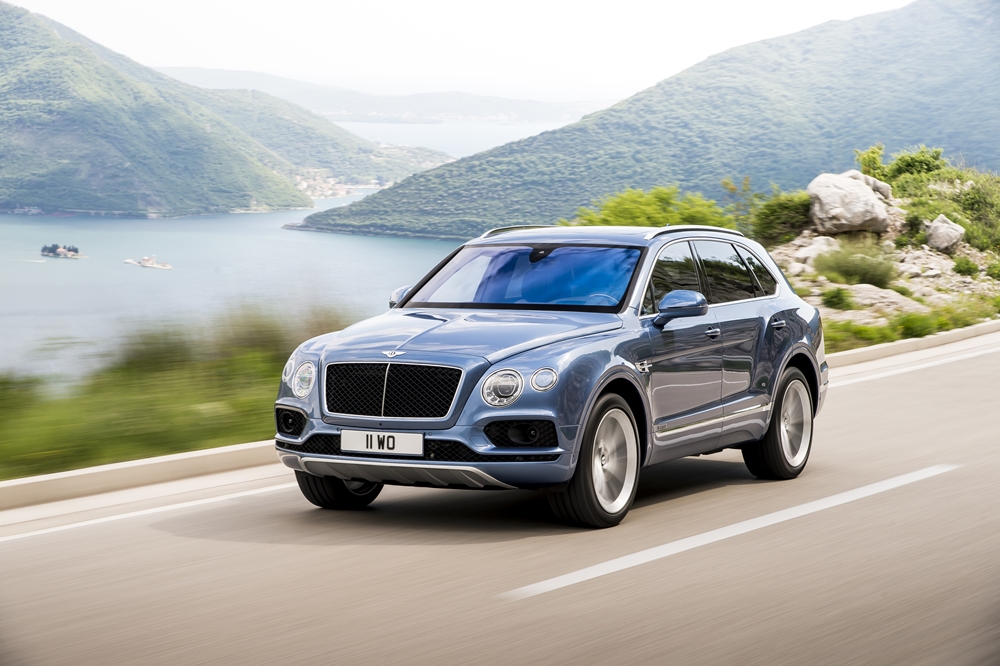 ADVERTISEMENT
Bentley has created its first ever diesel-powered vehicle based on their Bentayga SUV. It retains the dynamic performance of the Bentayga W12, while introducing new clean technologies and enhanced range.
In terms of looks, the Bentayga Diesel can be differentiated by a V8 Diesel badge embedded on the lower front door edge, complemented by a new Bentley 'twin-quad' exhaust tailpipe design.
Further distinctive external styling cues include a bold, black matrix grille with chrome surround and central bar, which serves as a signature for the powertrain that lies behind. A new optional Mulliner Driving Specification 21-inch wheel – available in a silver or grey painted finish (the latter with machined accents to the spoke and rim) – can be specified, with a 20-inch 10-spoke alloy wheel offered as standard.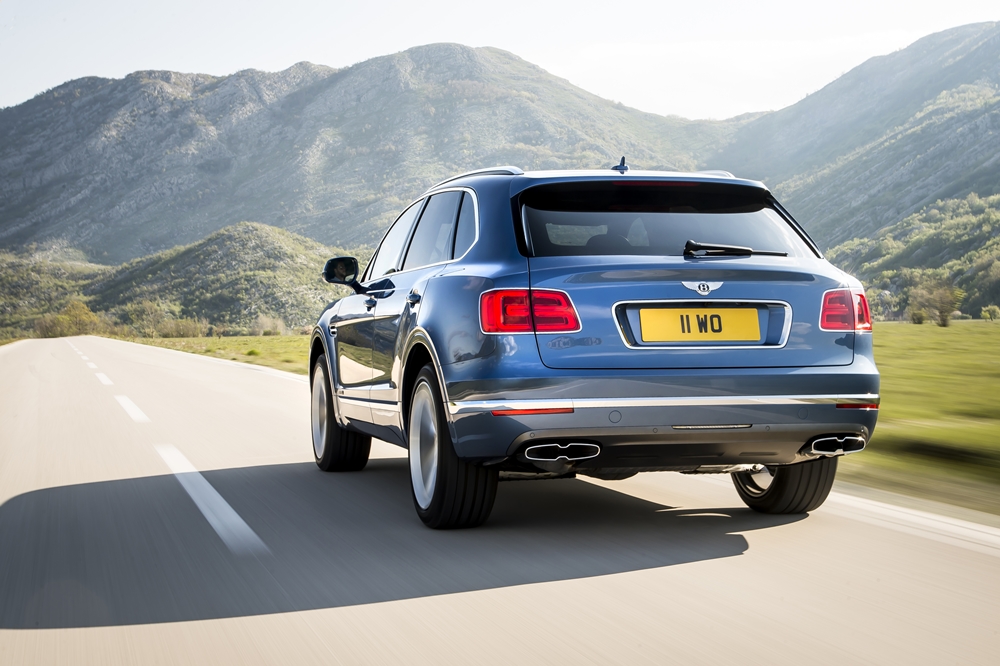 Inside the Bentayga's cabin, buyers can expect an exquisite veneered woods and metal elements found throughout the cockpit. The hand-selected veneers – including a new Liquid Amber finish introduced with Bentayga Diesel – are shaped by Bentley's artisans and finished with trademark Bentley attention to detail.
As with all Bentleys, the Bentayga Diesel can be customized by the highly skilled craftspeople at Mulliner, Bentley's bespoke coachbuilding department, who will respond to individual customer requirements.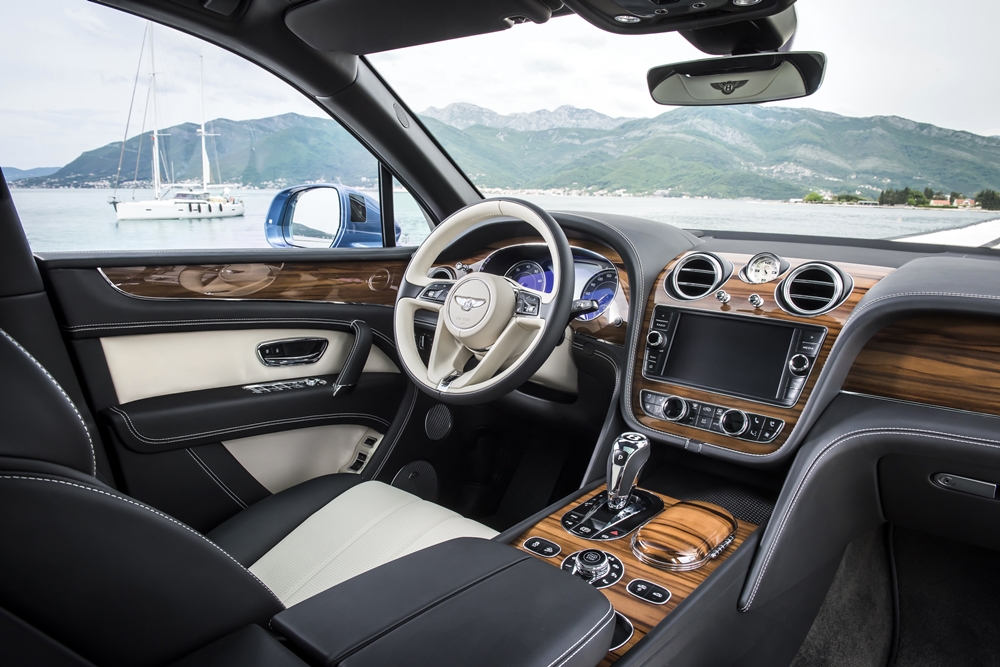 At the heart of the world's fastest and most powerful luxury diesel SUV is an all-new, technologically advanced, triple-charged, 4.0-litre, 32-valve V8 engine, mated to a ZF 8-speed automatic transmission. Developing 429bhp and 900Nm of torque, the Bentayga Diesel can accelerate from 0-100 km/h in just 4.8 seconds before reaching a top speed of 270 km/h.
An immense amount of torque is available from very low speeds, with peak torque achieved from just 1,000 rpm, for both on-road performance and off-roading ability. The new model has also been made with a number of specific developments to provide a comfortable driving experience. For example, the exhaust system has been acoustically engineered to be as quiet and refined as possible.
On top of that, the new clean technology gives the Bentayga Diesel the lowest CO2 emissions of any Bentley (210g/km), as well as a range of over 1,000 km – allowing owners to, for example, drive from London to Verbier, Bordeaux or the Scottish Highlands on a single tank.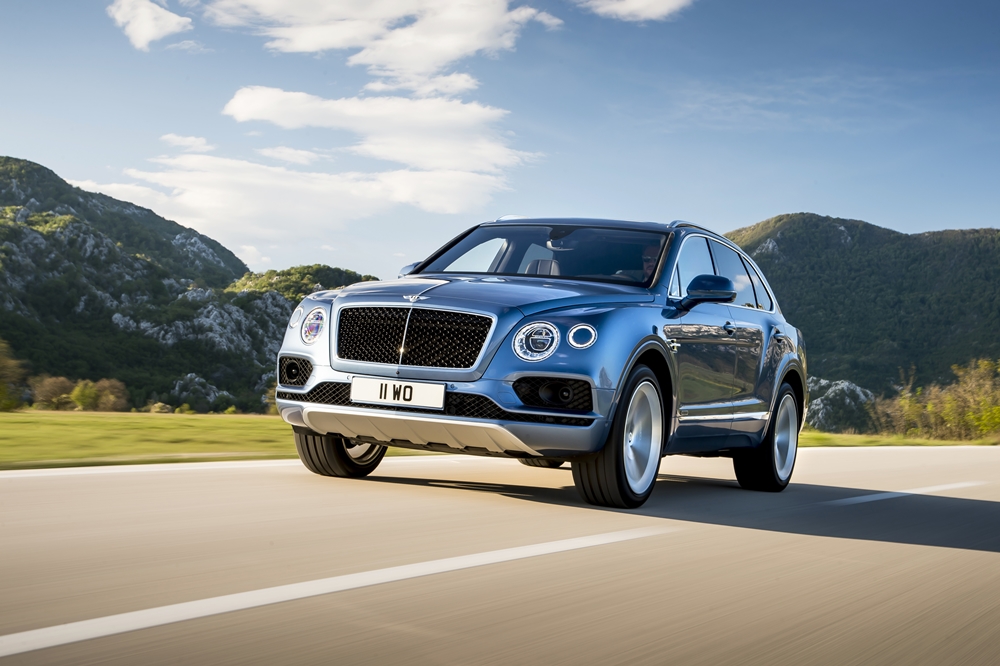 The Bentayga Diesel can be specified with Bentley Dynamic Ride – the world's first electric active roll control technology that utilises a 48V system. Inherent in larger vehicles with a higher centre of gravity, this system instantly counteracts lateral rolling forces when cornering and ensures maximum tyre contact to deliver class-leading cabin stability, ride comfort and exceptional handling.
Bentley's adaptive and reactive system provides variable torsional resistance, allowing the Bentayga to be both dynamically capable and comfortable for all occupants at all times. The use of a 48V system – which on Bentayga Diesel utilises a new lithium-ion battery system to offer even greater reserves of power – results in silent, instantaneous responses to deal with all road surfaces.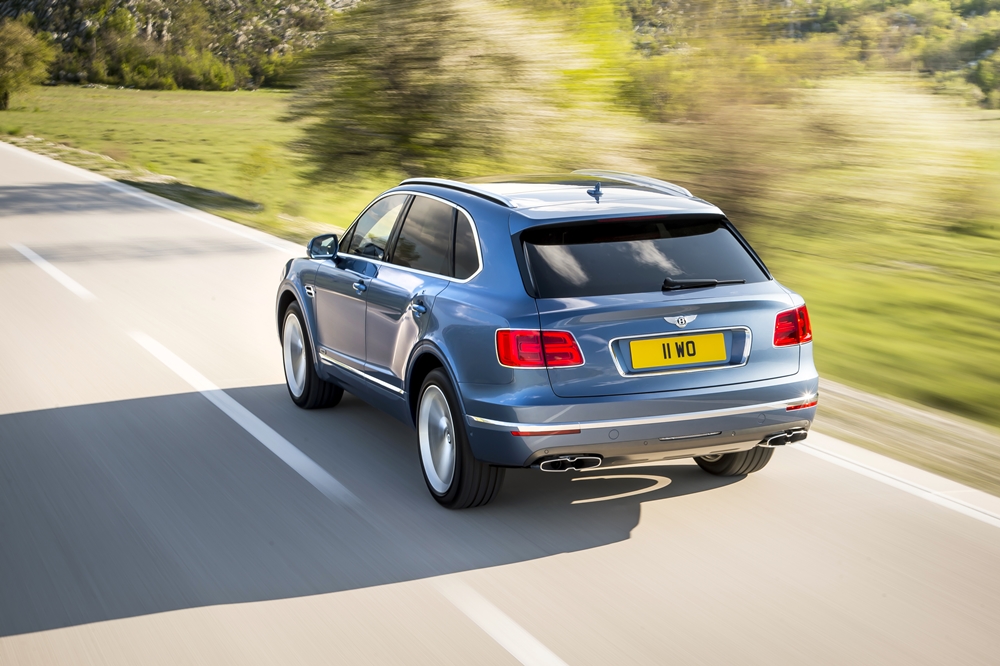 Electric Power-Assisted Steering (EPAS) is also featured on the Bentayga. It improves feedback to the driver, while providing isolation from steering kick-back both on- and off-road. EPAS also features a variable rack ratio, permitting light and fast steering while manoeuvring at low speeds, as well as a more subdued response for excellent stability at high speeds.
The Bentayga Diesel offers class-leading ride comfort, steering feel and handling thanks to the partnership of a highly sophisticated chassis and Electronic Stability Control (ESC). In addition to advanced, multi-mode Traction Control (TCS), the Bentayga also features Hill Descent Control.
As with all Bentleys, the Bentayga Diesel comes with multi-mode air suspension. The driver has 4 different modes to choose from: High 2, High 1, Normal and Low. High 2, for example, can be manually selected when tackling more severe off-road surfaces. Customers can also lower the rear suspension via a switch in the boot, to ease loading and trailer hitching.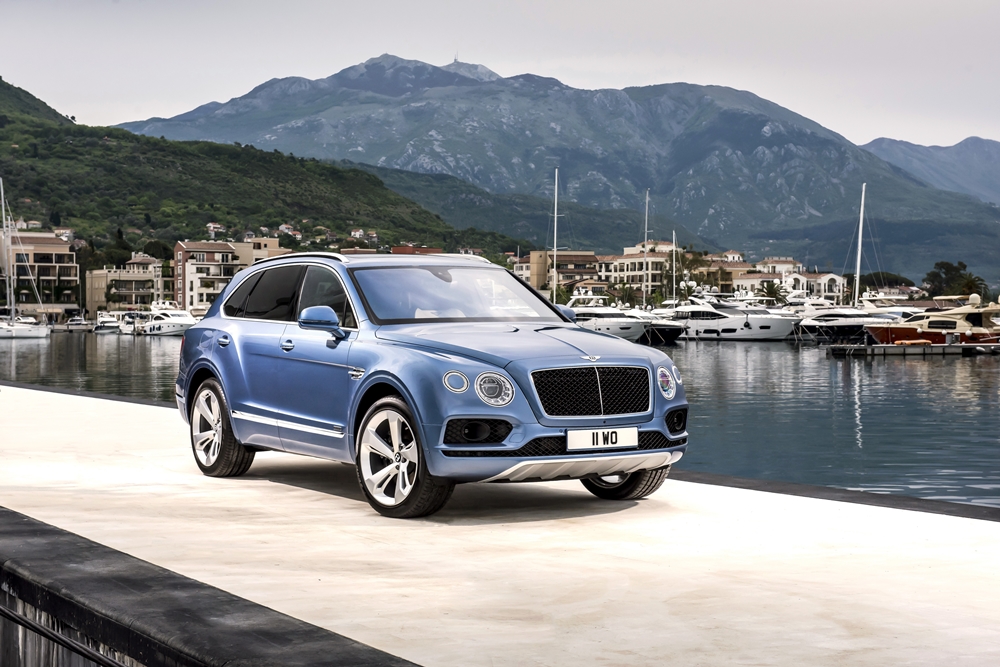 Aside from that, there's a full suite of state-of-the-art driver assistance systems and infotainment features available in the Bentayga Diesel designed to enhance safety, comfort and convenience.
It offers the widest range of on- and off-road drive settings via Bentley's Drive Dynamics Mode and optional Responsive Off-Road Settings. Up to 8 modes are available, allowing drivers to select the perfect dynamic set-up for any surface or road condition. This versatility is complemented by Bentley Dynamic Ride (electrically activated 48V active roll control) and Electric Power-Assisted Steering (EPAS).
Responsive Off-Road Settings allows the customer to select the appropriate vehicle settings for a wide range of off-road surfaces, while the Driver Information Panel displays information on pitch, roll, wheel articulation, steering angle, compass bearing and altitude.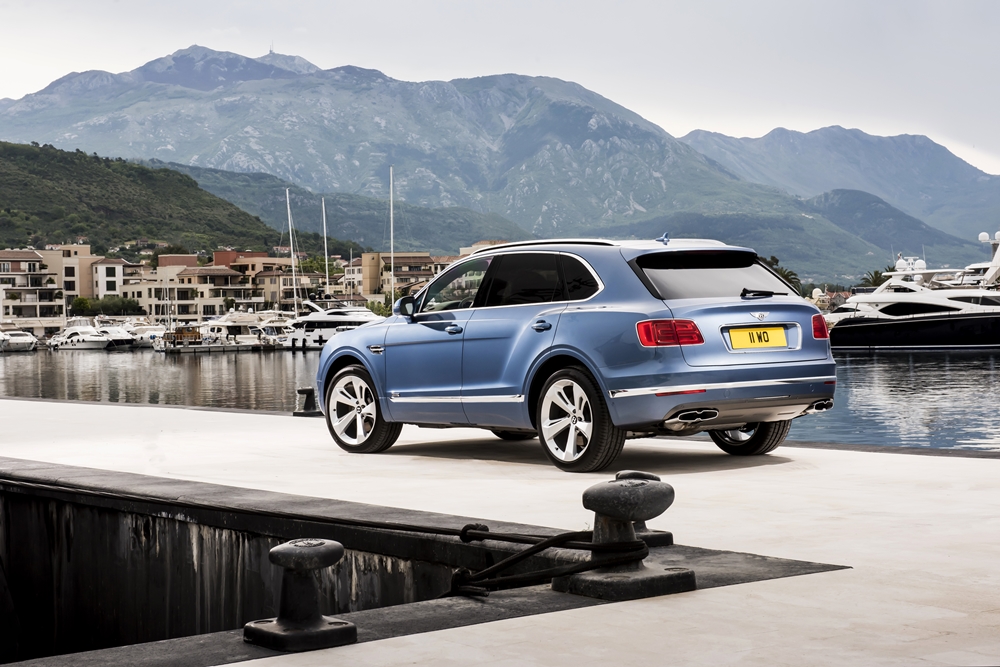 Adaptive Cruise Control (ACC) including Stop & Go, Predictive ACC and Traffic Assist enables the driver to maintain a set distance to the vehicle in front. Predictive ACC uses the navigation data, sensors and cameras to predict upcoming corners, city boundaries and speed-limit changes and can then modify the vehicle speed accordingly, improving both comfort and fuel economy.
In urban environments, there are a number of driver aids available on the Bentayga Diesel. These systems – such as Traffic Sign Recognition, which detects a wide variety of traffic signs and displays information to the driver; Rear Crossing Traffic Warning, which uses radar technology to detect crossing traffic when reversing out of a parking space; and Top View, a system which uses four cameras to display an overall picture of the vehicle's surroundings – combine to enhance everyday usability.
Other innovative systems available include Park Assist, Head-Up Display and Electronic Night Vision, which uses infra-red technology to identify potential obstacles ahead.
The Bentley Bentayga Diesel will go on sale across Europe before the end of 2016 with customer deliveries will begin in early next year. It will also debut in Russia, South Africa, Australia, New Zealand and Taiwan in 2017.