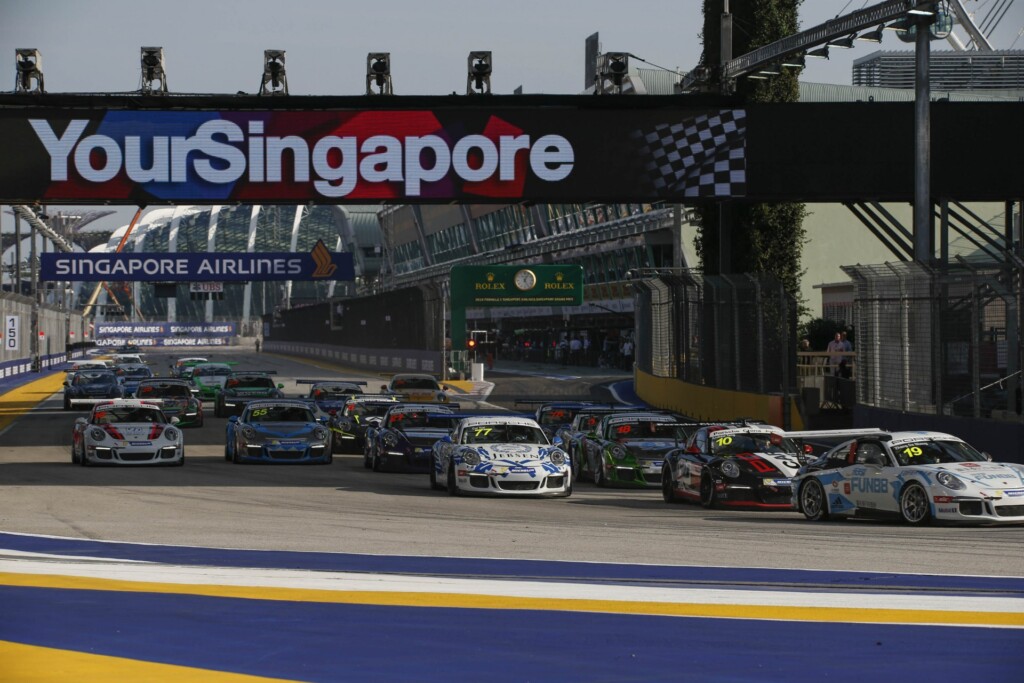 ADVERTISEMENT
Team Porsche Holding's Martin Ragginger barreled across the finish line to perfect a flawless lights to flag victory as Round 9 wrapped up another intense and exhilarating Porsche Carrera Cup Asia race at the stunning Marina Bay circuit in Singapore last weekend.
Ragginger's victory was no easy achievement for the Austrian driver, who started in P1, as P2 starter PICC Team Starchase's Nico Menzel immediately began piling on the pressure on turn 1. Not far behind the two pack leaders was KLM Racing's Maxime Jousse, who was equally combative, locking Menzel in a delicate balancing act of offensive and defensive driving.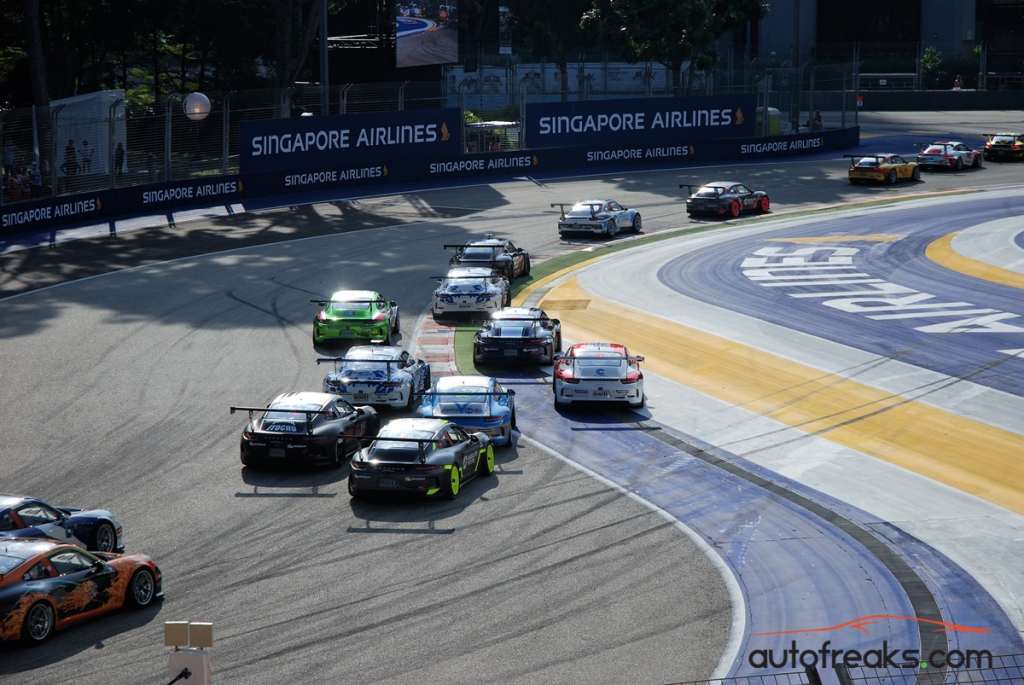 The race soon turned to a game of wait-and-see as Menzel and Jousse waited for Ragginger to make even a slight slip-up that would open a gap in the front. The window never came, however, as the three meticulous drivers each completed an immaculate, mistake-free race with Ragginger in first, Menzel in second and Jousse in third.
"I managed to do a good start, but Nico was there in the first lap so I had to defend quite a lot. Definitely there was no space for one mistake, I really had to drive on the limit carefully and to not lock-up or make a mistake. In the end it was a race that was really tough for all of us, but nobody made a real mistake, "Martin Ragginger said in a post-race press conference.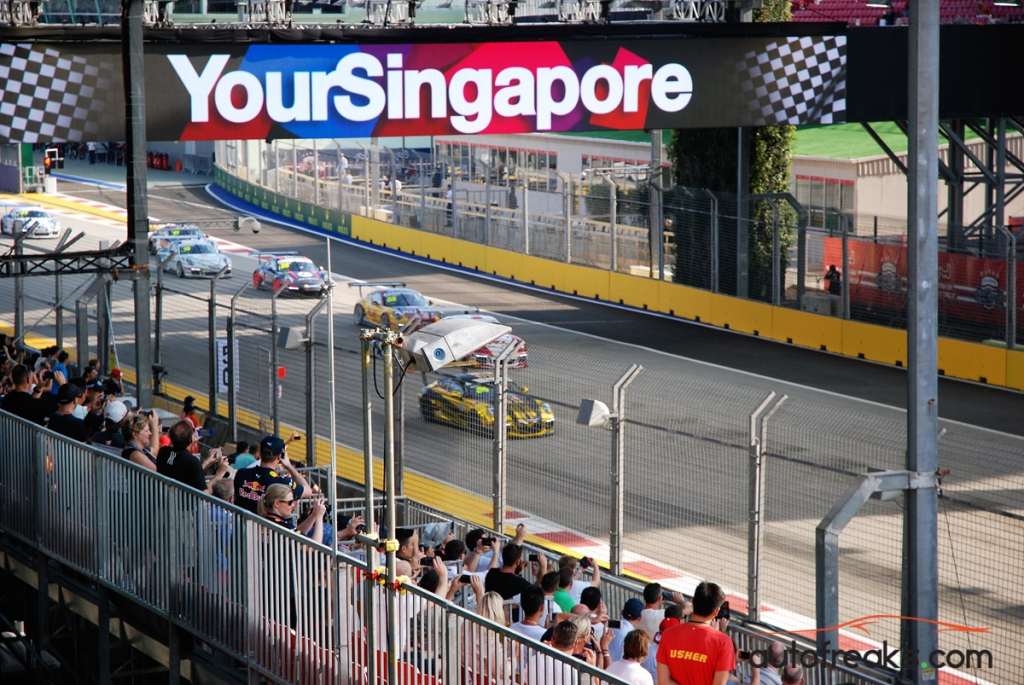 Finding a comfortable pocket in between the front runners and the mid-pack, Absolute Racing's Mitchell Gilbert executed a fine show of driving, navigating the notorious narrow turns and enclosed spaces that make Singapore a pleasurable challenge for drivers to finish fourth.
Leading the mid-pack melee, Fun88 Team Sunfonda's Zhang Da Sheng and Andrew Tang of the Porsche China Junior Team were locked in a struggle early on the race, with Tang hot on Zhang Da Sheng's trail from the start.
Zhang Da Sheng managed a valiant defense, deflecting clever attempts by Tang to overtake, but in the end he succumbed to the young driver and was passed mid-race, with Andrew Tang finishing 5th and Zhang Da Sheng earning 6th.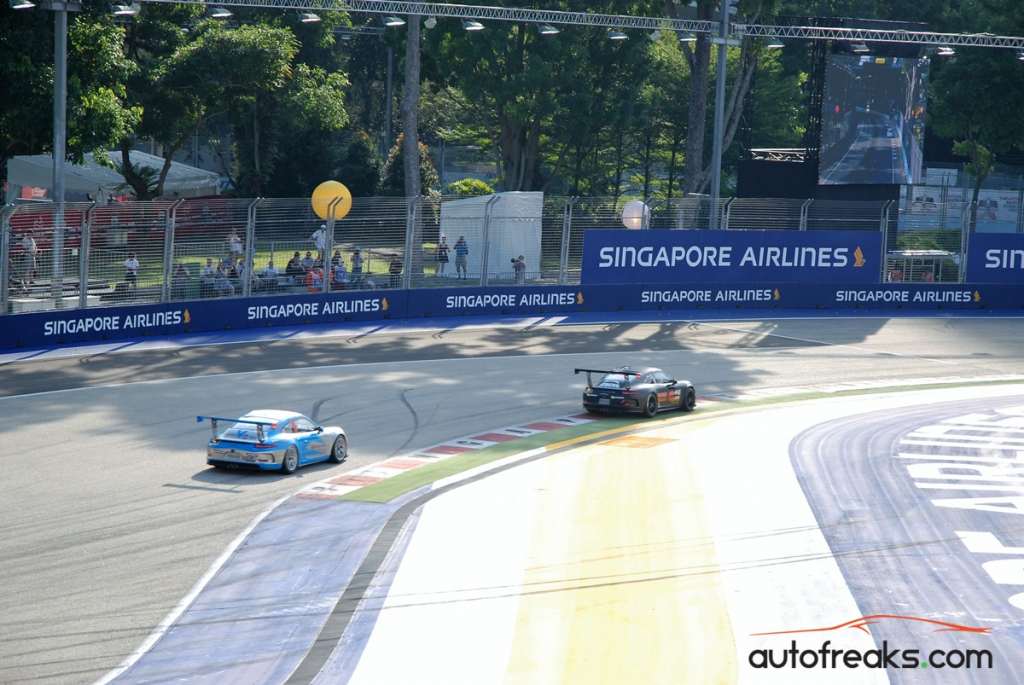 In Class-B, est Cola Thailand's Vutthikorn Inthraphuvasak continued his winning streak. Starting off in P1, the Thai driver was in the center of the action, fighting off Team Jebsen's Yuey Tan and Francis Tjia of OpenRoad racing while aggressively pushing to improve his position.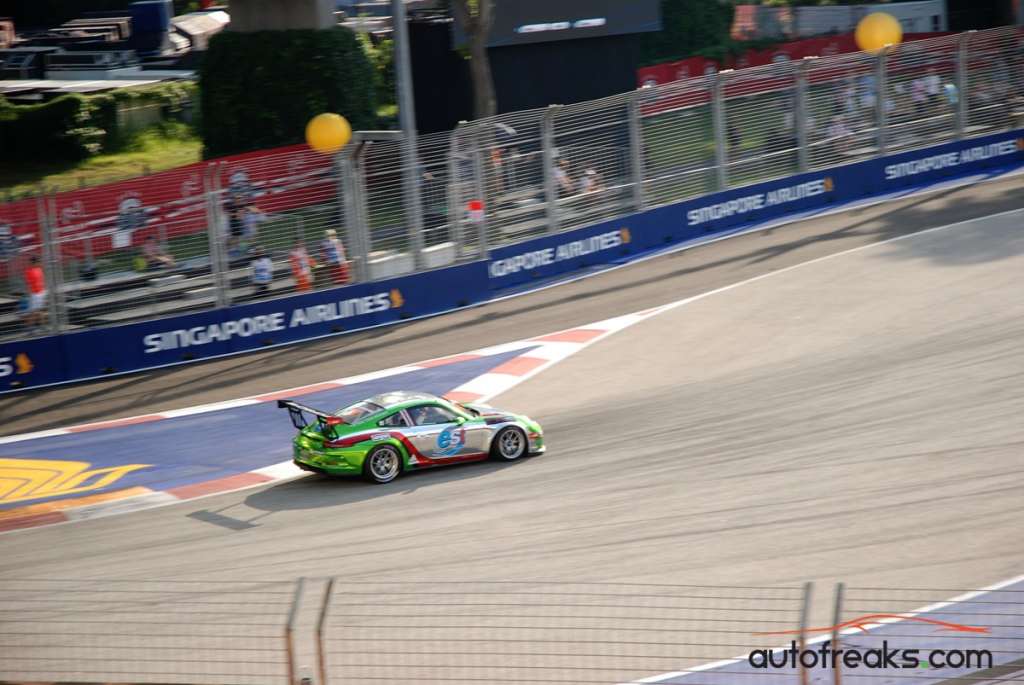 Meanwhile, Absolute Racing's Yuan Bo, who was on pole after obtaining the fastest qualifying time but started much further back after receiving a penalty from Round 8 in Australia, glued his foot to the pedal as he shot up the ranks of drivers, overtaking Tan, Tjia and Zheng Tong Auto's Bao Jinlong.
Just as Bo came into view of his Thai rival, Inthraphuvasak managed to pass Team Jebsen's Cui Yue, giving him some breathing room from Bo's furious charge forward.
In an exciting last lap overtake, Bo managed to pass Inthraphuvasak, but then suffered locked brakes that saw him smash the wall going into the tunnel in Turn 16, crunching his front right bumper and displacing his wheel while giving Inthraphuvasak a final chance to fly into first.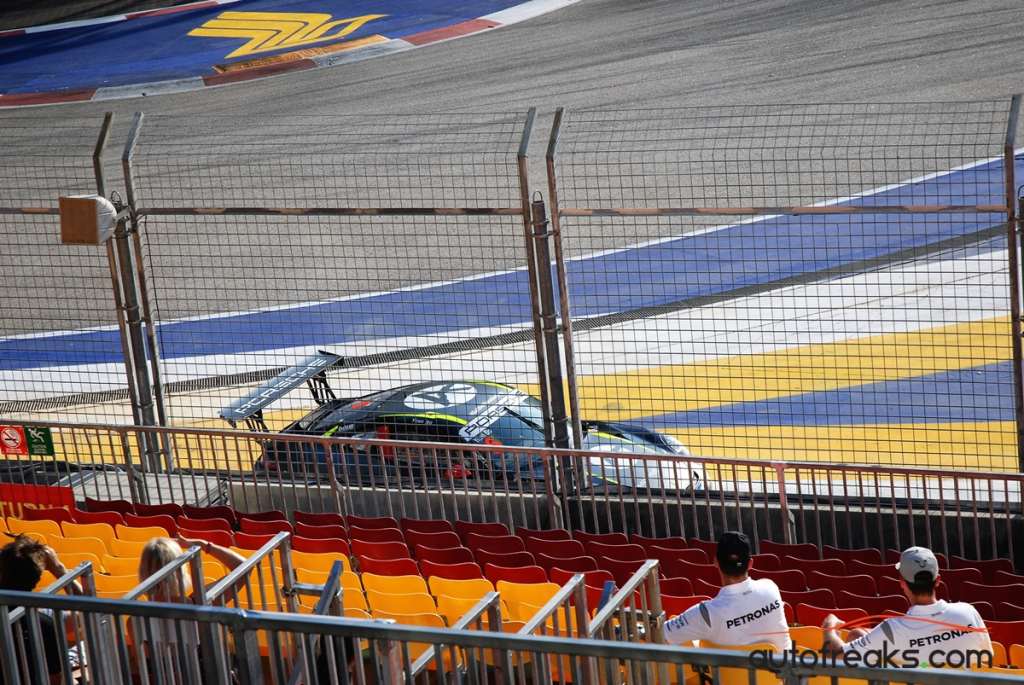 Bo still managed to limp across the finish line in second place, followed by Yuey Tan in third and Francis Tjia in fourth. However, a 3-second penalty later applied to Yuan Bo boosted Tan to second place, with Bo officially in third.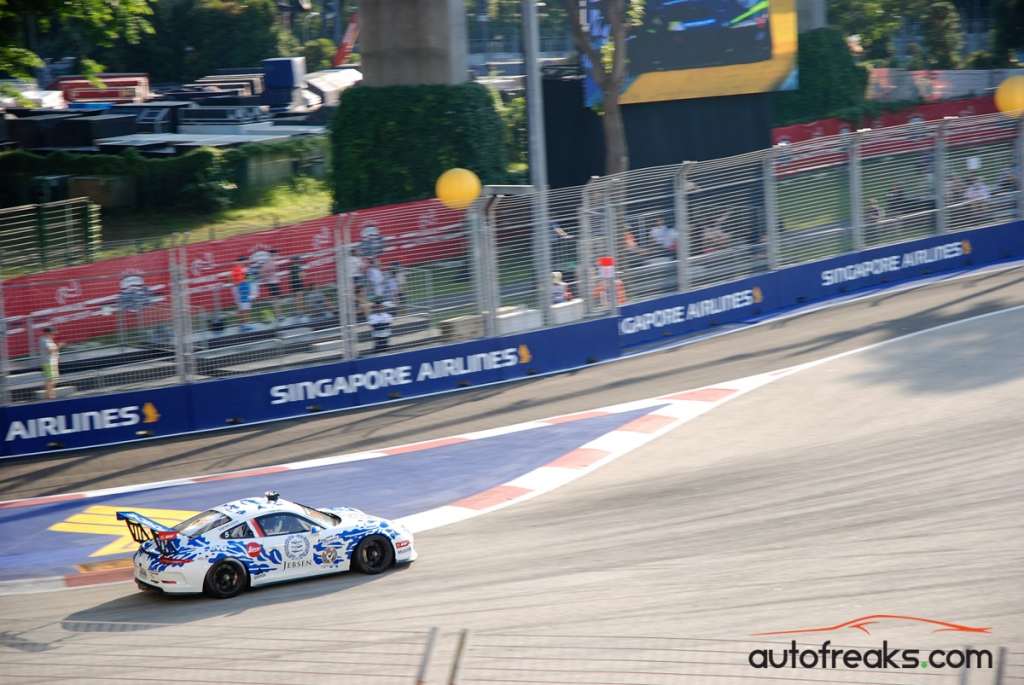 "The gap between me and Bo was so close until the last few laps, when he had a chance to overtake me in the last corner. I still tried my best and went as fast I could. He had a brake problem in turn 16, that's why he went into the wall. But luckily we both managed to come back and cross the finish line," Vutthikorn Inthraphuvasak said during the post-race press conference.
With just two race stops left and one of the tightest late-season point spreads ever witnessed in the Porsche Carrera Cup Asia, the next race which will take place at the Sepang International Circuit in Malaysia on September 30th, will be a truly defining moment for the 2016 season.
Porsche Carrera Cup Asia 2016 Round 9– Results
| | | | | | |
| --- | --- | --- | --- | --- | --- |
| Pos | No | Driver/Nationality | Class | Entrant/Nationality | Time |
| 1 | 86 | Martin RAGGINGER (AUT) | | Team Porsche Holding (CHN) | 28:01.679 |
| 2 | 99 | Nico MENZEL (GER) | | PICC Team StarChase (HKG) | 28:02.833 |
| 3 | 68 | Maxime JOUSSE (FRA) | | Kamlung Racing (CHN) | 28:03.734 |
| 4 | 88 | Mitchell GILBERT (AUS) | | Absolute Racing (HKG) | 28:14.515 |
| 5 | 10 | Andrew TANG (SIN) | | Porsche China Junior Team (CHN) | 28:15.933 |
| 6 | 19 | ZHANG Da Sheng (CHN) | | Fun88 Team Sunfonda (CHN) | 28:21.869 |
| 7 | 18 | Vutthikorn INTHRAPHUVASAK | B | est cola Thailand (THA) | 28:45.362 |
| 8 | 5 | Yuey TAN (SIN) | B | Team Jebsen (HKG) | 28:46.275 |
| 9 | 6 | YUAN Bo (CHN) | B | Absolute Racing (HKG) | 28:46.444 |
| 10 | 21 | Francis TJIA (HKG) | B | OpenRoad Racing (HKG) | 28:50.135 |
| 11 | 77 | CUI Yue (CHN) | | Team Jebsen (HKG) | 28:51.435 |
| 12 | 16 | Wayne SHEN (HKG) | B | Modena Motorsports (HKG) | 29:03.540 |
| 13 | 78 | Suttiluck BUNCHAROEN (THA) | B | True Visions Motorsports (THA) | 29:09.649 |
| 14 | 23 | Paul TRESIDDER (AUS) | B | Paul TRESIDDER (AUS) | 29:34.785 |
| 15 | 9 | LI Chao (CHN) | B | Team Betterlife (CHN) | 29:44.635 |
| 16 | 3 | MICHAEL S. (INA) | B | OpenRoad Racing (HKG) | 29:57.989 |
| 17 | 8 | Sontaya KUNPLOME (THA) | B | Racing Spirit Thailand (THA) | 29:58.477 |
| 18 | 22 | SIU Yuk Lung (HKG) | B | LKM Racing (MAS) | 30:13.220 |
| 19 | 17 | FUNG Yui Sum (HKG) | B | Arrows Racing (MAS) | 30:14.693 |
| 20 | 55 | BAO Jinlong (CHN) | | Zheng Tong Auto (CHN) | 26:28.634 |
| 21 | 28 | John SHEN (HKG) | B | Modena Motorsports (HKG) | 26:49.281 |
| 22 | 2 | Kenneth LAU (HKG) | B | Prince Racing (HKG) | 28:13.032 |
| 23 | 11 | Jeffery CHIANG (TPE) | B | RC Racing (SIN) | 28:29.302 |
| 24 | 86 | WANG Xi (CHN) | B | Team Formax (MAS) | DNF |
Overall points after Round 9 (top 5)
| | | | | |
| --- | --- | --- | --- | --- |
| Pos | Comp No | Driver | Entrant | Points |
| 1 | 68 | Maxime JOUSSE | Kamlung Racing | 155 |
| 2 | 99 | Nico MENZEL | PICC Team Starchase | 148 |
| 3 | 88 | Mitchell Gilbert | Absolute Racing | 147 |
| 4 | 10 | Andrew Tang | Porsche China Junior Team | 144 |
| 5 | 19 | ZHANG Da Sheng | Fun88 Team Sunfonda | 121 |
 Class B points after Round 9 (top 5)
| | | | | |
| --- | --- | --- | --- | --- |
| Pos | Comp No | Driver | Entrant | Points |
| 1 | 6 | YUAN Bo | Absolute Racing | 188 |
| 2 | 18 | Vutthikorn INTHRAPHUVASAK | est Cola Thailand | 184 |
| 3 | 5 | Yuey TAN | Team Jebsen | 131 |
| 4 | 16 | Wayne Shen | Modena Motorsports | 131 |
| 5 | 21 | Francis Tjia | Openroad Racing | 115 |
PHOTO GALLERY