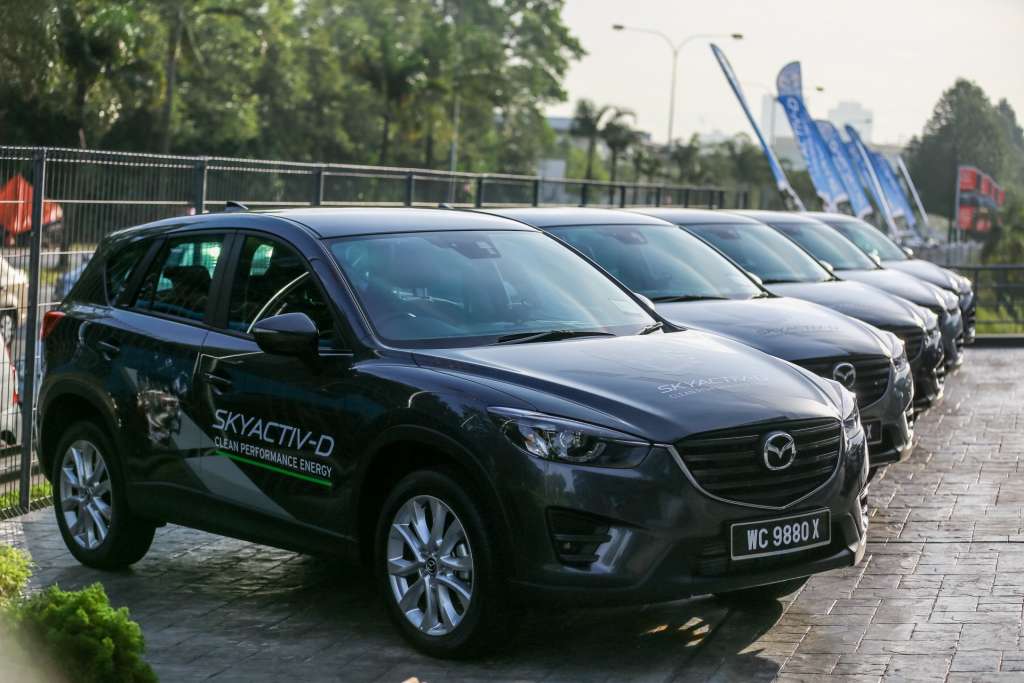 ADVERTISEMENT
Whereas other automakers are hopping into the hybrid and electric vehicle game for their fuel saving ambitions, Mazda has taken a separate path by embracing diesel power as a way to boost fuel-economy and power in their passenger car offerings.
Thanks to numerous advances in diesel technology, Mazda has developed a very efficient and environmental-friendly Diesel engine called the SkyActiv-D. This new range of diesel engines found in Mazda's crossovers and passenger cars are comparable to hybrids as they enjoy tax rebates for eco-cars in Japan, and comply with strict exhaust gas regulations (including Euro6) without the need for costly after treatment solutions, which is typical for traditional diesel engine.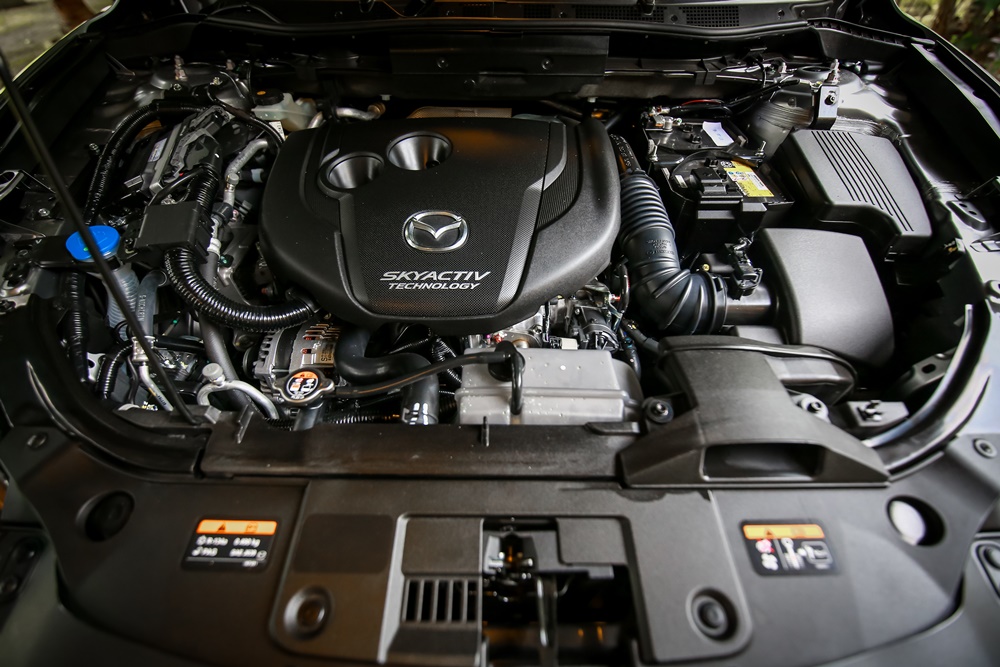 Mazda's clean diesel technology has won-over customers in Japan for several years as its diesel sales accounts for 80% in its domestic market.
Riding on this success and thanks to the increasing numbers of fuel stations offering low-sulphur Euro5 Diesel in Malaysia (235 stations in total), Mazda's SkyActiv-D diesel powertrain has finally made its way to our local soil. The introduction of these diesel models is breaking new ground in Malaysia because Mazda is currently the only Japanese automaker that offers diesel variants for its passenger cars in the mass market segment.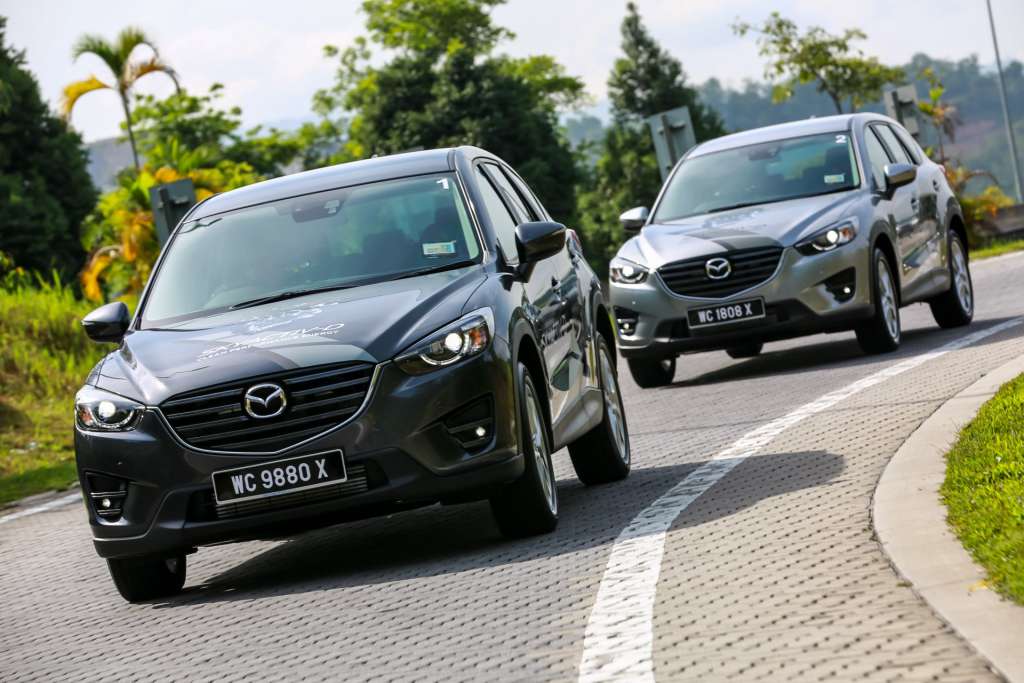 The introduction of Mazda's clean diesel engine will come in stages and to begin with, it will be found under the bonnet of the Mazda6 sedan and the CX-5 crossover, which are offered alongside its petrol variants. In the future, diesel variants will also be seen in compact SUV and cars like that CX-3 and Mazda2 diesel. It will come in a 1.5-litre turbodiesel though Bermaz Motor did not mention the exact timeline of its introduction.
Both the CX-5 and 6 come with a 2.2-litre diesel displacement, paired with a SkyActiv-Drive 6-speed auto gearbox. The SkyActiv-D engine has an impressively low compression ratio of 14:1 which is the same as its petrol-burning SkyActiv-G. This results in cleaner burns and discharges fewer nitrogen oxides to produce virtually no soot, claimed the automaker.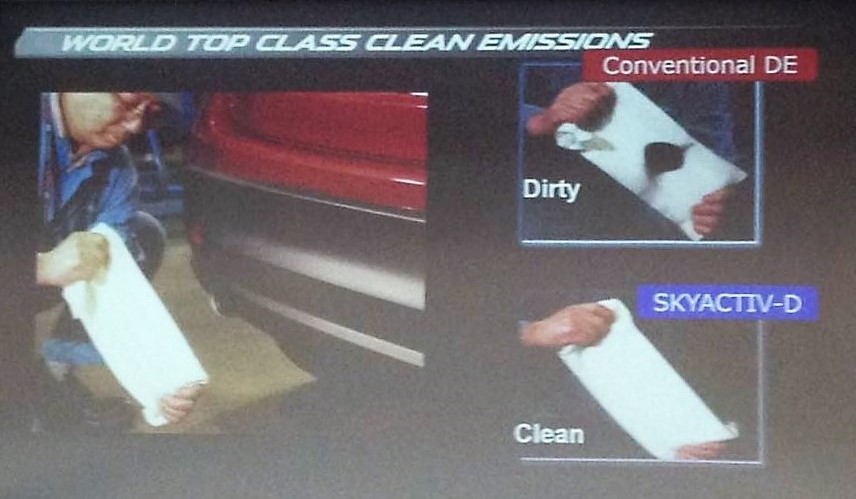 This revolutionary diesel technology would come at a price tag though. Retailing at RM161,929, the CX-5 2.2 Diesel is RM6,763 pricier than the CX-5 2.5 petrol while the Mazda6 2.2 Diesel will cost you an additional RM7,589 over the 2.5 petrol variant.
While this might put some buyers off, it is worth noting that its diesel engines enable 20% better fuel economy than its petrol variants. Based on the test results done by the automaker, the CX-5 and 6 with SkyActiv-D should deliver 4.1L/100km if driven economically. This means, your initial increased cost could be outweighed by what you'll save at the pump in the long run, though we'll have to wait for a longer term review with these diesel models to find out if it's really good on fuel.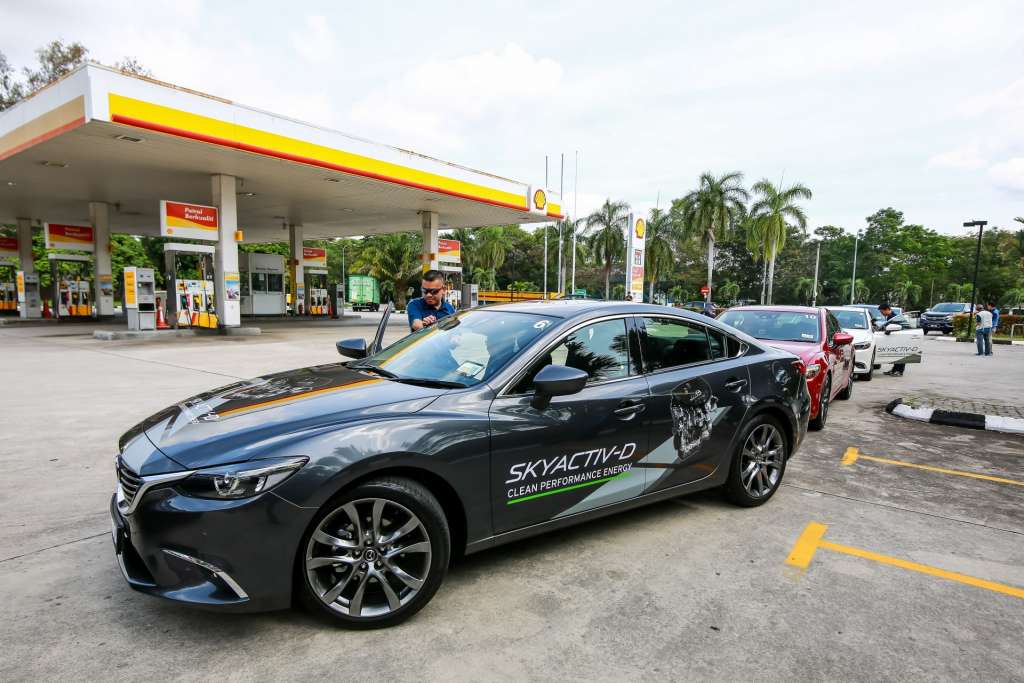 The frugal fuel economy is achieved by using a new two-stage turbocharger, which delivers smooth and steady response from low to high engine speeds, and improved low- and high-end torque. One small turbo and a larger unit are selectively operated to suit driving conditions. The system offers high torque and good response at low speeds, and high power at high speeds.
Moreover, the reduction in compression ratio to 14:1 and pressure has made it possible to significantly reduce the overall weight of the diesel engine. There is also a dramatic reduction in friction, to the same level of an average petrol unit, thus contributing toward better fuel economy.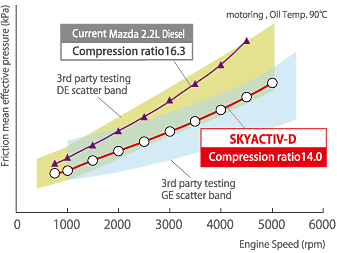 Lowering the compression ratio of a diesel did come with a drawback though. During warm-up, the engine temperature can be too low to support proper combustion, and misfires result. To get around this, Mazda fitted a two-stage variable valve-lift (VVL) system on the exhaust side in order to be able to create additional valve overlap. This causes the hot exhaust gases to be drawn back into the next cylinder to warm it up, improving cold start.
During my short stint in the CX-5 diesel, it came as no surprise that the 2.2-litre diesel variant can easily outperform the bigger 2.5-litre petrol brethren with plenty of pulling power thanks to the 173hp and 420Nm of torque that lurks underneath the CX-5's skin.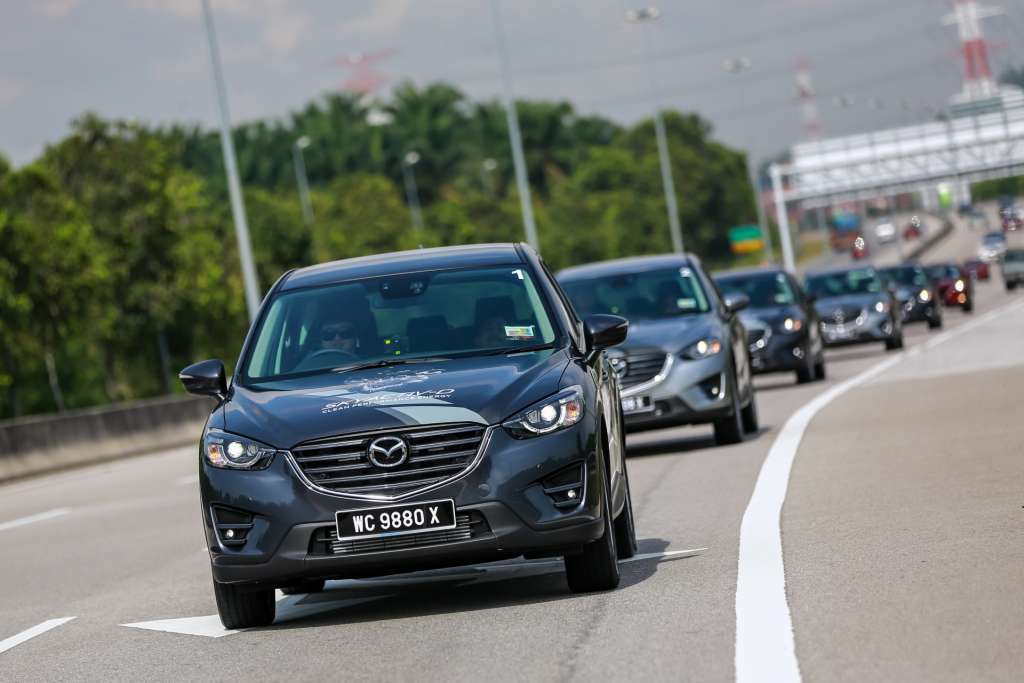 The CX-5 diesel performs with aplomb at highway speed, providing immediate response with incredibly smooth and linear power delivery, which is excellent when overtaking slow moving traffic.
The diesel does not only offer superior output and excellent response but it is also one of the quietest engines in its segment with such huge amount of torque under its hood. The typical clatter usually associated with diesel car is absent inside the CX-5 cabin, in fact, the CX-5 Diesel felt well insulated and quiet just like its petrol siblings. It's very quiet at most revs, becoming tad noisy only at high speed.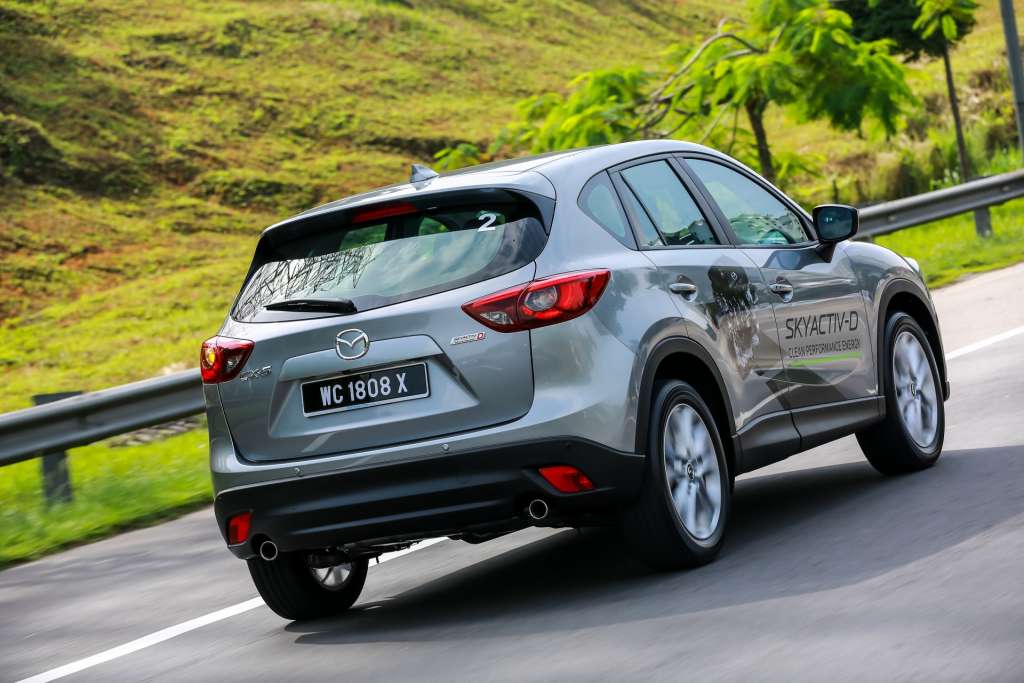 The diesel powerplant does not come at the expense of its excellent ride and handling either. It is still fun to be driven around, incomparable to other SUVs in the market.
Besides the 'SkyActiv-D Technology' badge, the diesel variant is pretty much identical to the 2.5G AWD petrol variant inside and out but adds on an all-new safety component called Smart City Brake Support (SCBS) and Blind Spot Monitoring System (BSM). SCBS automatically applies the brake to prevent low speed impacts while BSM will alert the driver if there's a presence of vehicles in the blind spot area by displaying an icon in the wing mirror.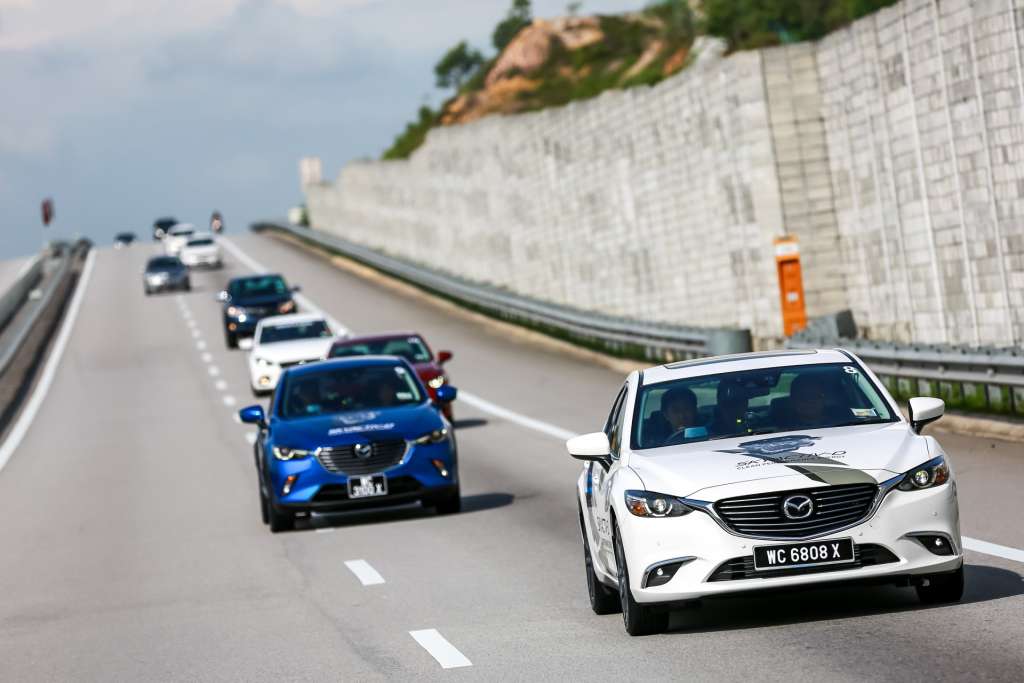 Mazda's SkyActiv-D had me convinced into buying one (I've had my eye on the Mazda 2 diesel for a long time now!) in fact, after testing it for myself, it has definitely changed my own negative preconceptions towards diesel cars.
These diesel models would be fitting for buyers seeking extra power from the Mazda6 or CX-5 as the 2.2-litre SkyActiv-D model offers an additional 170Nm of torque at half of the revs, compared to the 2.5-litre petrol, making the bigger petrol variant sound a tad mediocre.
On top of that, with the growing number of Euro5 diesel stations in Malaysia, owning a diesel variant seems to be very promising for those who are concerned about rising petrol costs as well as the environment.