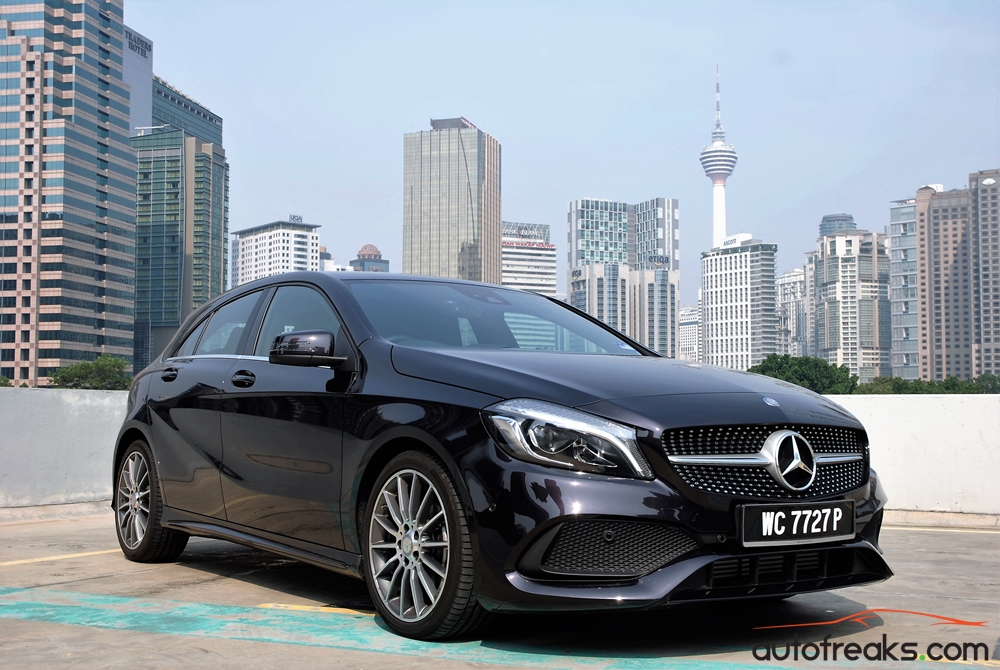 ADVERTISEMENT
The original Mercedes-Benz A Class enjoys considerable customer appeal, especially amongst soccer-moms particularly due to its MPV-like body shape, spacious interior and impressive versatility.
But it didn't have a true competitor until the German automaker decided to turn the A-Class into a traditional hot hatchback with a much lower and wider stance that places it as a proper rival to the BMW 1 Series and Audi A3.
The A-Class's radical departure from the preceding series is apparently a successful one. As a matter of fact, the third generation model series has changed consumer perception towards Mercedes-Benz as a more youthful brand rather than being stereotyped as a typical choice of vehicles for the middle-aged buyers. As a result, a more younger generation of buyers are now showing interest in the German premium automaker.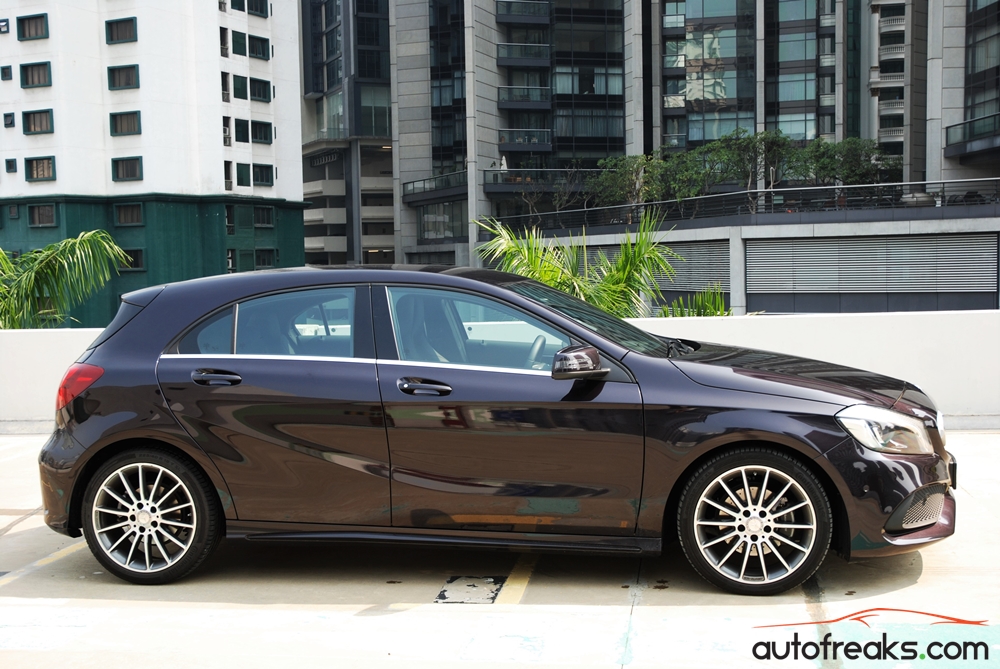 The 3rd generation A-Class has gone through a makeover this year to meet the needs of its customers for even more comfort without compromising on dynamic performance. AF was lucky enough to be given the opportunity to test the Mercedes-Benz A200 with AMG Line for a couple of days and boy, at first glance it's hard not to fall in love with this baby Benz.
While other automakers thrive on performance, Mercedes-Benz is the bastion of high-fashion by paying attention to very important details in the new A-Class, aesthetics wise. The svelte looking A-Class dressed in Metallic Purple here gathers a lot of envious stares from passers-by. It has a premium looking diamond grille, new LED High Performance headlamps and newly designed rear lights. The A200 is further enhanced with the 'AMG Line' which includes AMG Body Styling and 18-inch AMG Wheels that adds a more sportier look to the stock A-Class.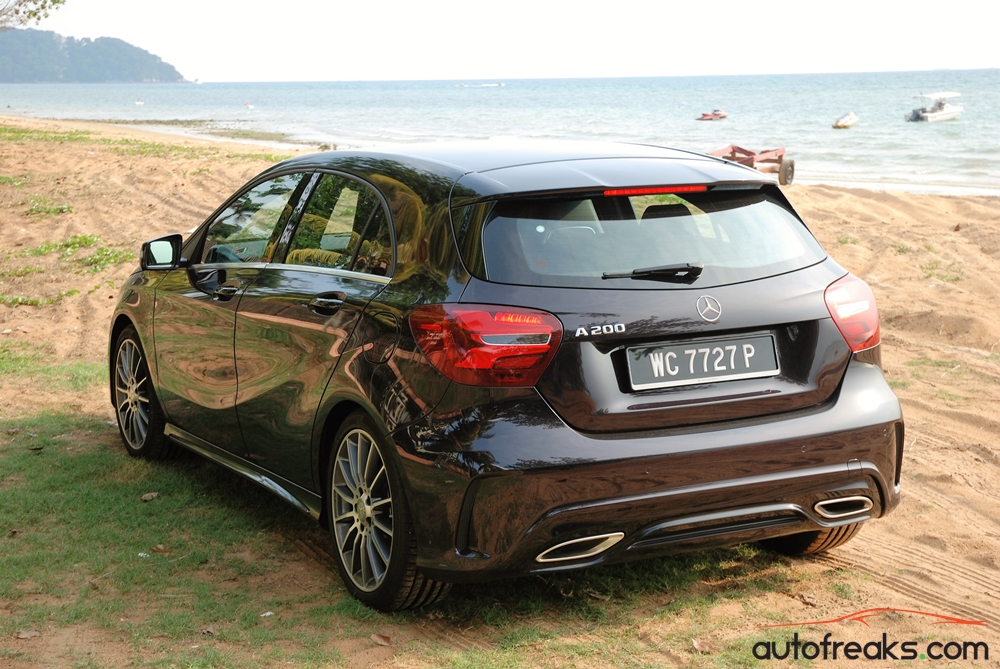 The same thing can be said when sliding into the cabin. It welcomes you with high-fashion luxury and comfort with an extensive use of high quality materials like Dinamica/Artico black upholstery, black roof liner, carbon-look trim and leather.
The black theme portrays an up-market ambiance inside the cabin but at the same time, it visually creates a confined space. While some might enjoy being cocooned in A-Class, the dimmed compartment does make me feel a little claustrophobic.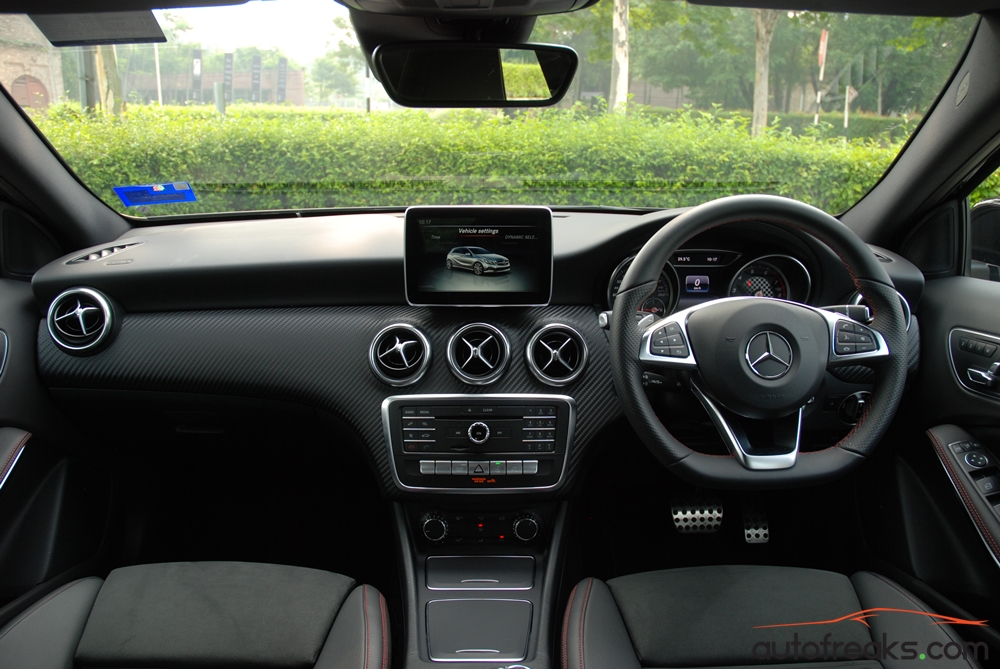 Meanwhile, the switch gear and the new 'floating' media display that sits atop the dashboard is very classy and typically top end. The 8-inch Media Display hosts a variety of infotainment systems like radio, USB or Bluetooth connectivity and the vehicle's settings can be controlled via a rotary button located on the centre console. While it can be a bit fiddly to operate, I quite like it because you can avoid leaving finger prints all over the screen.
The compact shape of the 3rd-gen A-Class does come at expense of its overall cabin space. Sitting at the back seat can be a little squeeze for three passengers unless you're petite like me. Apart from that, the 340-litres of boot space available in the A-Class is less spacious compared to its rivals. Besides the restricted amount of space, it also has a higher boot lip that might be a little troublesome for you to load heavy items. However, it makes up for the space deficiency with the rear seats that can be folded down.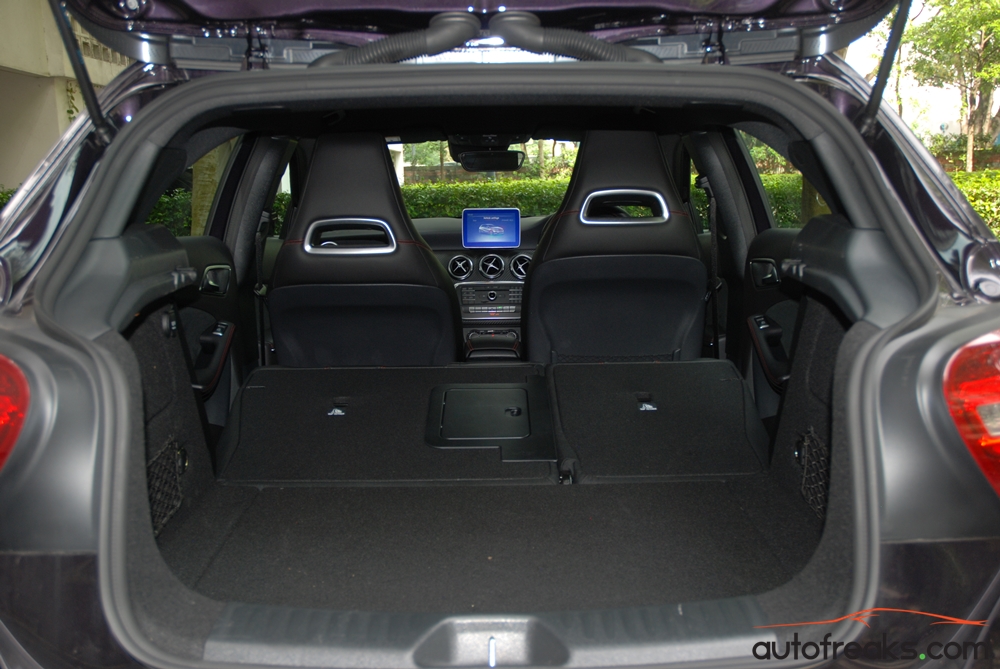 While the A-Class's overall looks had me completely sold, I was also keen to find out if it's able to live up to the hype from behind the wheel.
The A200 as tested here is powered by a 1.6-litre in-line 4-cylinder turbocharged petrol engine that churns out a total output of 156 horsepower and 250Nm of torque. Power is sent to the front wheels via a 7G-DCT dual-clutch transmission.
Thanks to its compact and lightweight body, the A200 sprints down the highway at a brisk pace with excellent high-speed stability. It takes only 7.8 seconds to reach 100km/h while top-speed is electronically limited to 224km/h.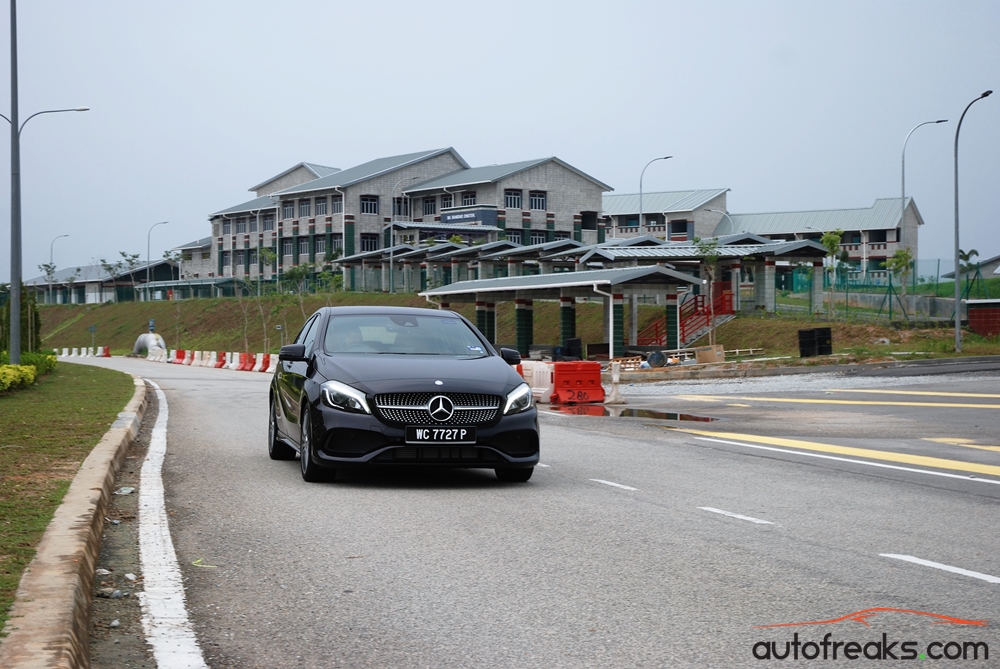 I do enjoy the smooth shifting seven-speed auto gearbox while its turbo engine makes it a fun little piece of German engineering. The A200 might not be the quickest nor the most dynamic A-Class in the bunch – especially if you compare it with the performance version A45 AMG – however, it is still able to satisfy most drivers with an engaging driving experience, well, only if the rear-wheel drive 1 Series is out of the picture…
The A200's taut suspension matches its sporty appearance but it won't suit everybody's taste buds as it makes the overall ride comfort a bit of an unpleasant experience, especially on our poorly maintained Malaysian roads.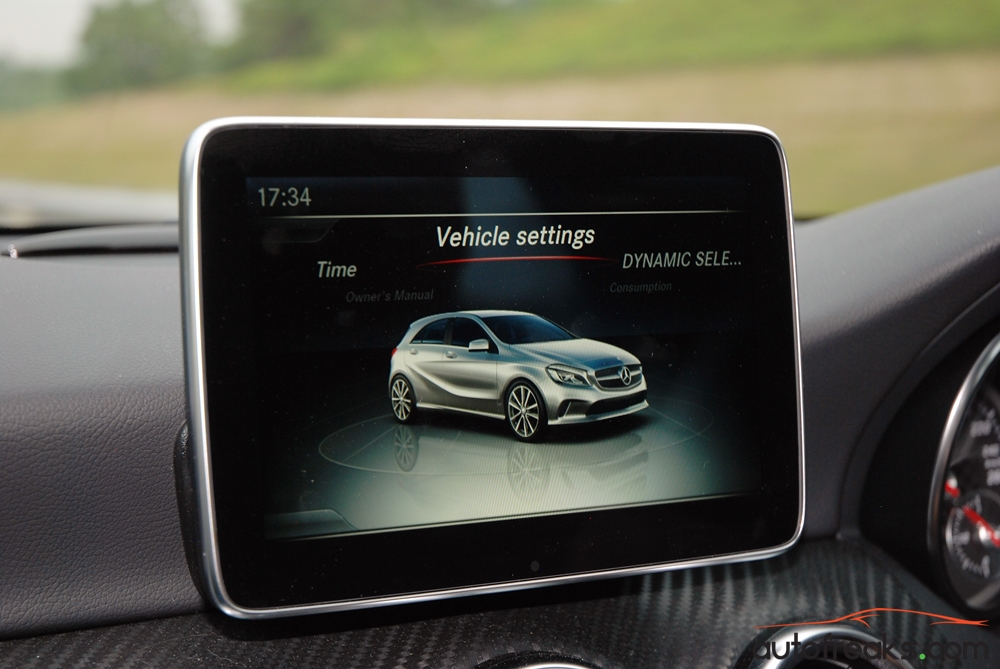 The refreshed A200 now comes with Dynamic Select where you can change the vehicle's drive characteristics to suit your driving style. By using the switch in the upper control panel, you can choose to set your vehicle to either, Comfort, Sport, Eco or Individual modes. The system will then modifiy the engine, transmission, steering and air-conditioning based on your preference. While this new feature isn't much to shout about, it certainly did spice up the A200's overall driving experience for enthusiastic drivers, or help you to achieve your fuel savings ambitions.
Speaking of fuel economy, on average, I managed to get 9.7-litre/100 km on a combination of urban and highway driving based on the trip computer reading at that time, which is a far cry from the 5.4-5.1-litre/100km as the automaker's estimate.
What really concerns me the most is the amount of wind, road and engine noise that intrudes into the A-Class cabin. The BMW 118i I've tested just a couple weeks earlier, felt more relaxing and calming to be driven, compared to the A200.
Unlike other premium offerings in this segment, the A-Class features the most comprehensive standard equipment in its class giving other luxury brands a run for their money. There's Cruise Control with Speed Limiter, windscreen wiper with rain sensor, reverse camera and active parking assist available as standard features.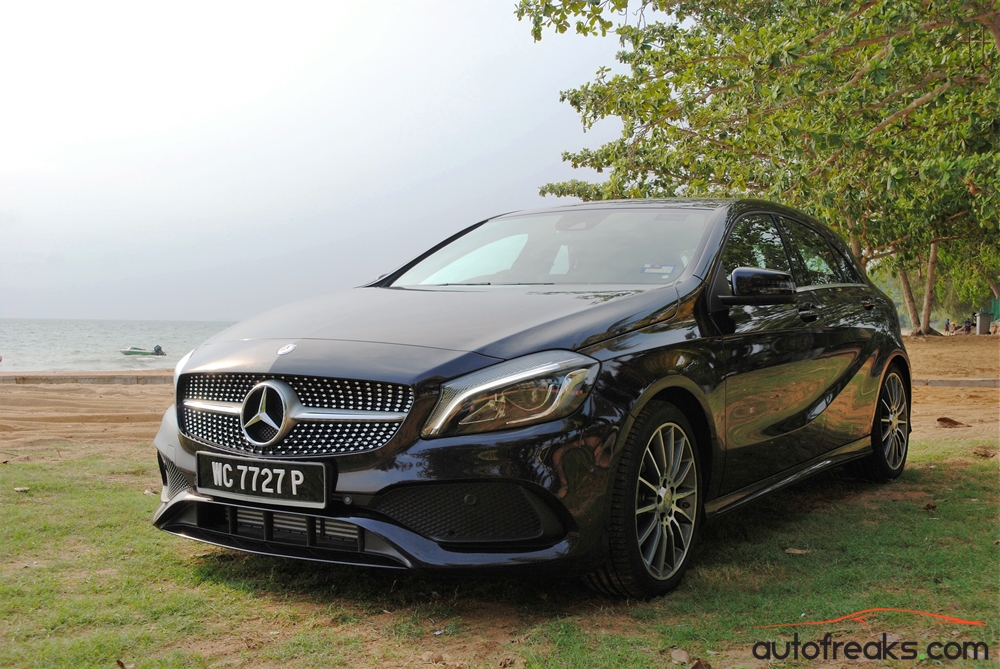 On top of that, the A200 comes with a bag full of safety features like Attention Assist, Collision Prevention Assist Plus, PRE SAFE, Adaptive Brake Lights, Airbags, Anti-Theft Protection Package, Anti-Theft Alarm System as well as tyre pressure monitoring system that will provide you with added security when hitting the road.
With a few improvements and adjustments made to the A-Class, it seems clear that Mercedes-Benz is aiming for the younger generation demographic with this hatchback. It will certainly satisfy fashion-minded buyers who are seeking an entry level premium hatch that comes complete with all kinds of tech and goodies, on top of its super classy cabin.
PRICING & TRIM LEVELS
The A-Class comes in 4 variants and the A200 as tested here sits above the A180 and below the A 250 Sport. The entry level price starts at RM195,888 while the A200 as tested here retails at RM205,888. The 250 Sport will set you back at RM238,888 and last but not least, the A45 AMG will cost you RM348,888.
In comparison, Beemer's entry level 118i is slightly more affordable at RM173,800, while the 120i M Sport will cost you RM 202,800. Audi's A3 1.4TFSI on the other hand is priced at RM186,900 while the Audi 1.8 TFSI quattro set you back at RM 237,900.
It might not be the most affordable premium hatchback in market compared to Audi A3 or the BMW 1 Series, but for RM205,888, the A200 is a great package for the price you pay.
*all prices are OTR retail, without insurance
SPECIFICATION: Mercedes-Benz A 200 with AMG Line
Engine: 1595cc 4-cylinder
Power: 156hp @ 5300rpm
Torque: 250Nm @ 1250-4000rpm
Transmission: 7G-DCT dual clutch transmission
Acceleration 0-100 km/h: 7.8 seconds
Top Speed: 224 km/h
Price: RM205,888 OTR including GST without insurance

????????????????????????????????????

????????????????????????????????????

????????????????????????????????????