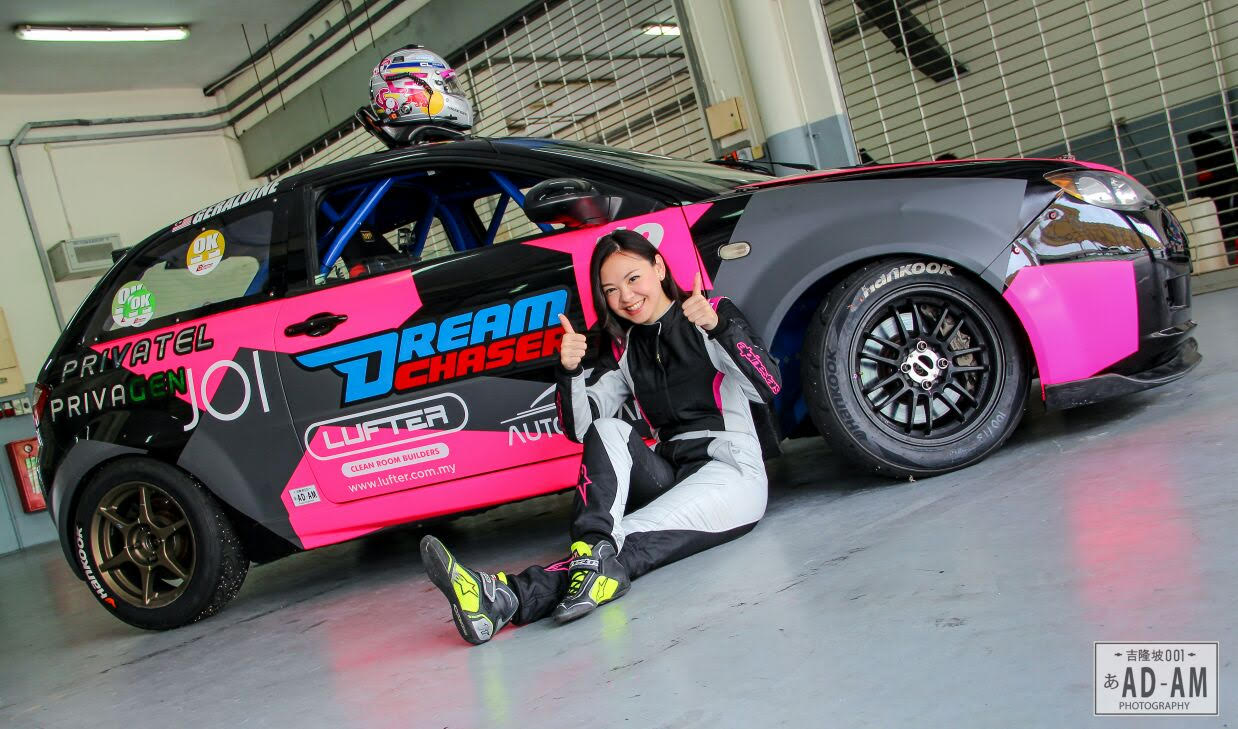 ADVERTISEMENT
Following the footsteps of Singapore lady driver Claire Jedrek, Geraldine Read made her debut in the Malaysia Championship Series (MCS) in Sepang last weekend, with hopes to break the male dominance in the sport.
"Well, the main intention is for me to have fun and enjoy the race. I have always loved motor racing, and I am a competitive person. It has been a while since my last race, so my aim is beat personal records and finish well. I've seen Claire on the podium and it's an inspiration for me to see a woman up there. In fact, seeing Claire on the podium gave me the confidence to really step up my game," said Geraldine.
Driving a Proton Satria Neo machine in the Malaysian Touring Car (MTC) championship for cars below 1,600cc, Geraldine, who has competed in Sepang in the Sepang 1000 km Endurance Race (S1K), will be racing under the Dream Chaser Racing Development Programme, which supports aspiring and talented drivers in joining competitive racing.
"I will forever be grateful to the RedBull Rookies, which launched me into the sport two years ago. It ignited a passion that can only be understood by those who have been bitten by the racing bug. This is my first venture into the Malaysian Championship Series. I am thrilled to be part of the Dream Chaser Racing Development Programme, sponsored by Privatel Privagen. I must thank them for this great opportunity, along with Momentum Autoparts who has helped prepare me with the entire set of appropriate driver's gear for my 158cm self," she added.
"Participating in a level playing field just adds to my competitive spirit. Although racing has been dominated by men, there is no reason why more women can't break through that barrier. Any sport requires practice, determination and a bit of luck. Every race is a learning curve, and with more races under my belt, I can only aim to improve myself. From both S1K and the RedBull Rookies, the experience I gained was priceless, and I am looking forward to finishing well in this race," commented Geraldine, who will also have the support of the illustrious Pentagon Racing.
Competing in her third season in the Touring Production class, Jedrek – a TV host, regular marathon runner and celebrity fitness instructor, is excited to compete on the newly-laid track, which hosts its first car racing event this weekend after the successful MOTUL FIM Superbike World Championship 2016 Malaysian Round recently.
"I am really looking forward to the changes out on the circuit and am ready for new challenges. I have a new teammate, so I am looking forward to meeting him on the R Engineering team. It's been a long wait to get back on circuit. In the meantime, I've had some time on the simulators and kept myself on edge with karting. Fresh year, fresh challenges," said Jedrek.