ADVERTISEMENT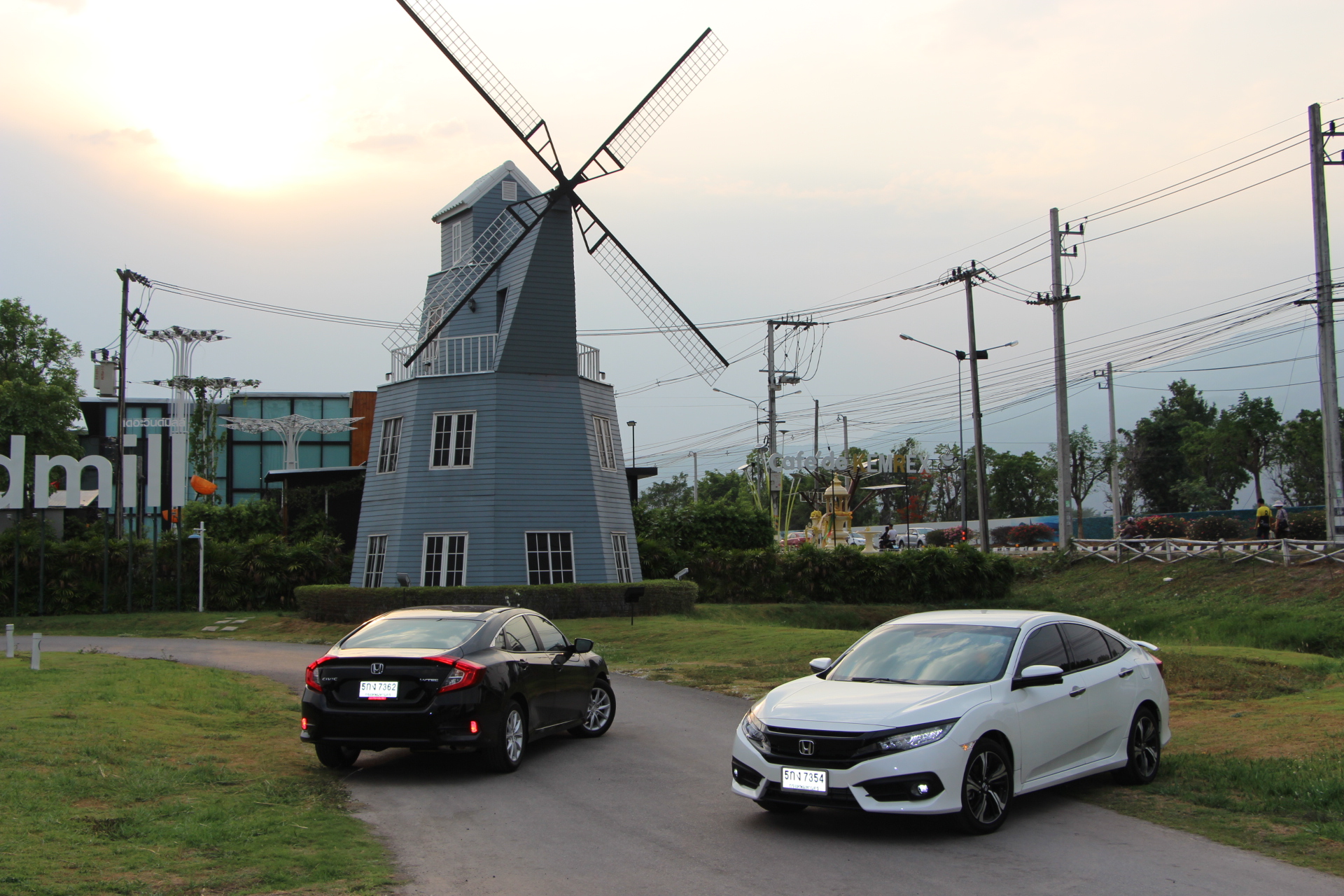 This is not going to be easy, because it doesn't happen very often that a mind-set can be so easily and definitively changed with the advent of just one new model, but it did. And it happened. Recently. To me. I'll have to get back to that later, because I still have no idea how to word it, yet.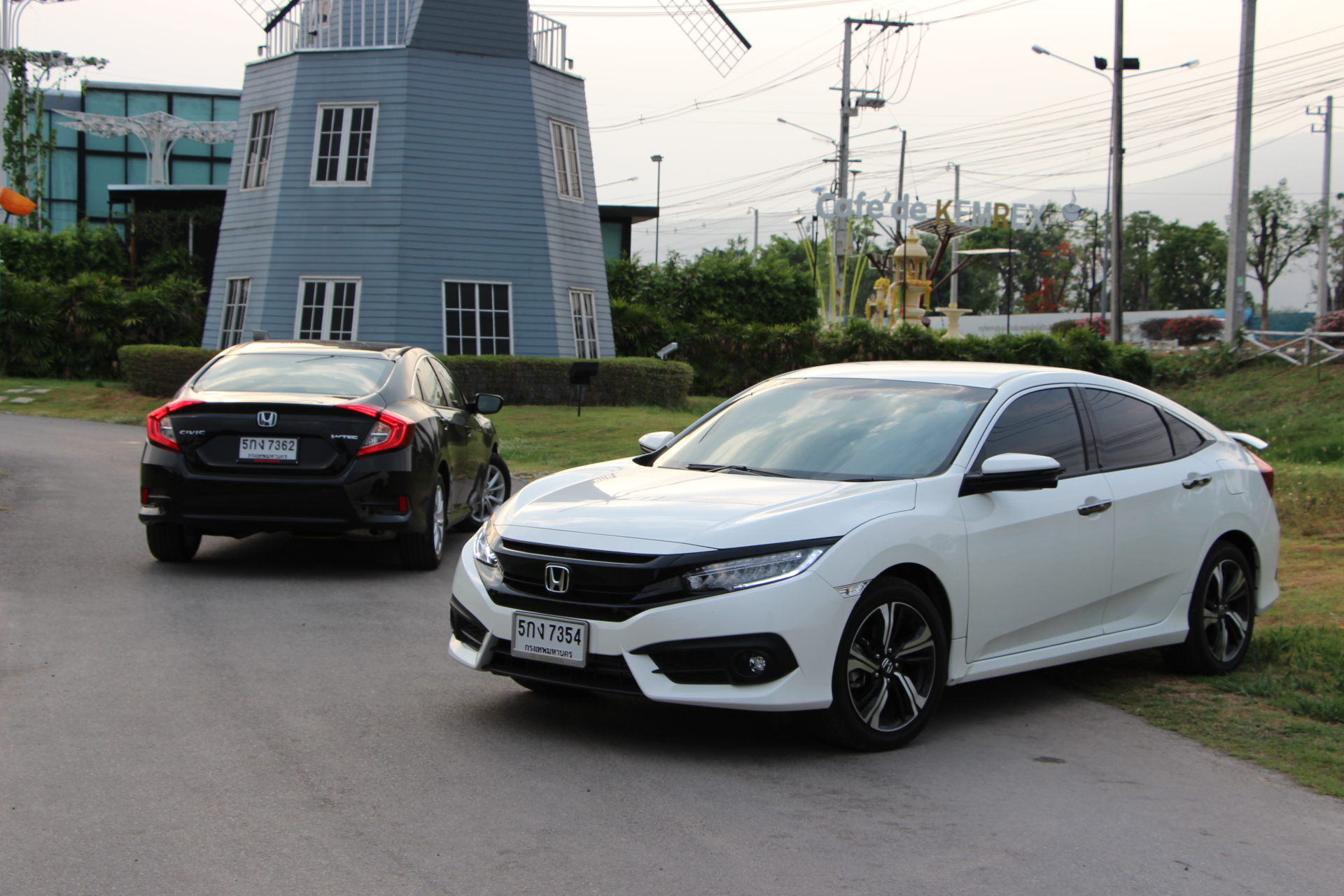 Where were we? Ah yes, the Honda Civic. Now in its 10th incarnation, and on the trail of a history spanning 44-years, it's the car that single-handedly put Honda on the global map, and it's the model that made the brand a household name. Don't believe me? Ask anyone, I can pretty much guarantee that either them, a friend or relative of theirs has owned a Honda Civic at one point or other in his or her life. Heck, even I have. And maybe that's why this car, more than any other in Honda's extensive stable of vehicles, is more than just the bread-and-butter model, it's the icon, it's the one they absolutely, unequivocally cannot afford to get wrong.
Style with Substance…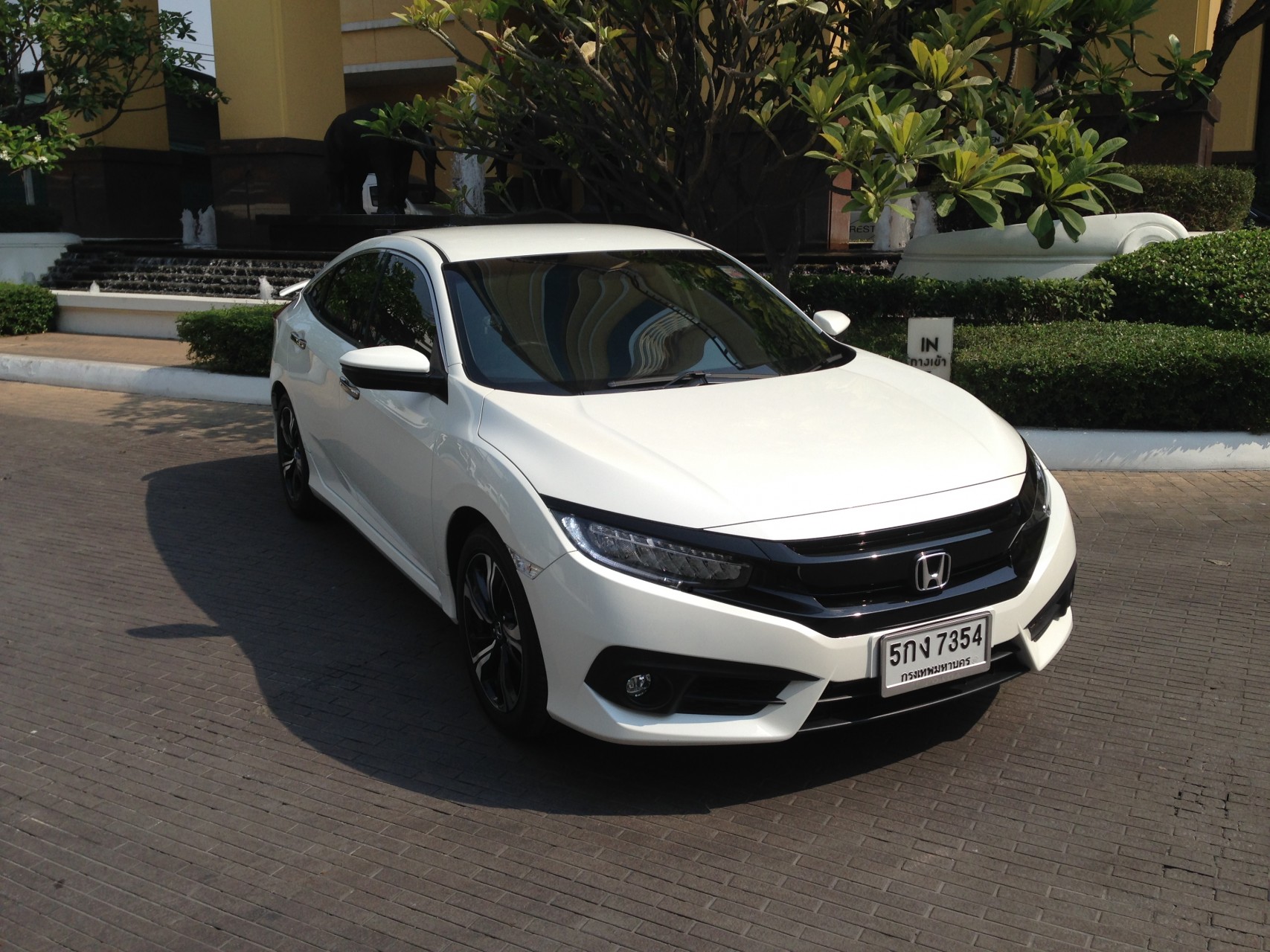 Before we get into the dark, dirty, nitty-gritty details, let's get one thing out of the way first; the design and styling of the all-new Civic. As subjective as it may be, I've not yet found anyone who doesn't like the way the new Civic looks. In a nutshell, using what Honda calls a 'Revolutionary Neo Silhouette Design Concept', the 10th Gen Civic has certainly upped the game insofar as what a Gen-Y, C-Segment sedan should look like.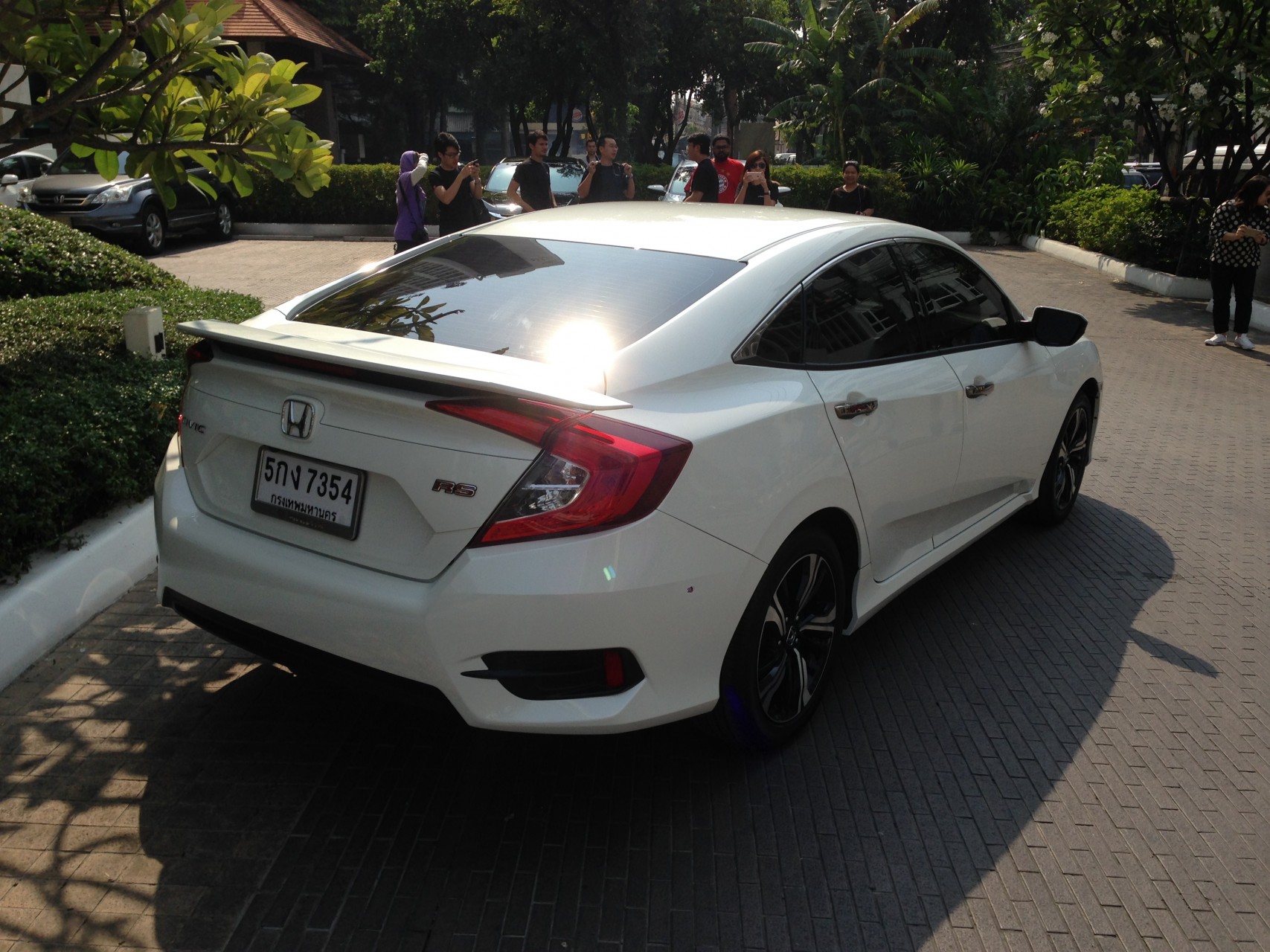 There's definitely been a lot of thought and consideration given to the new styling. From the wide and low-slung stance at the back, to those absolutely glorious front haunches cradling the bonnet, to the signature black 'wraparound' grille that flows seamlessly to the new LED headlights, there's no getting away from it, this is a very good-looking car. It looks low and muscular, purposeful and poised to strike, it's both stylish and sporty at the same time. And before we step inside, check out the new Civic's party trick…
A Whole New Level of Convenience…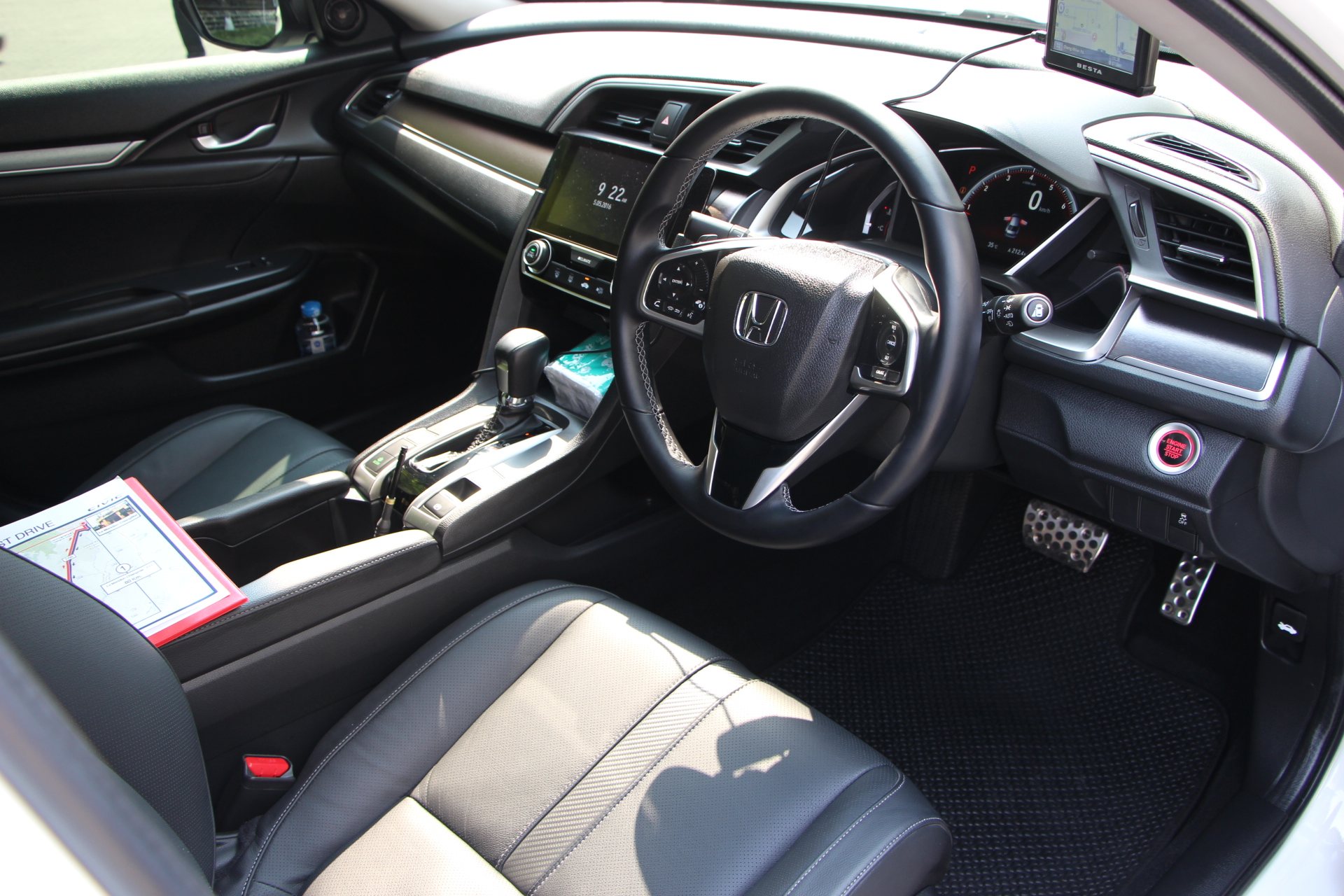 Remember how you were always told to turn-off all the auxiliary functions in a car before killing the engine? Well, for the new Civic you may want to leave the A/C on, because from up to 40-meters away, you can remote start the engine simply by holding down a button on the remote key-fob for 5sec. It won't unlock your doors – the last thing you want is someone jumping in and driving off – but it will start the engine, and if you've left the A/C on, it'll cool the car down for you before you get there. How cool is that?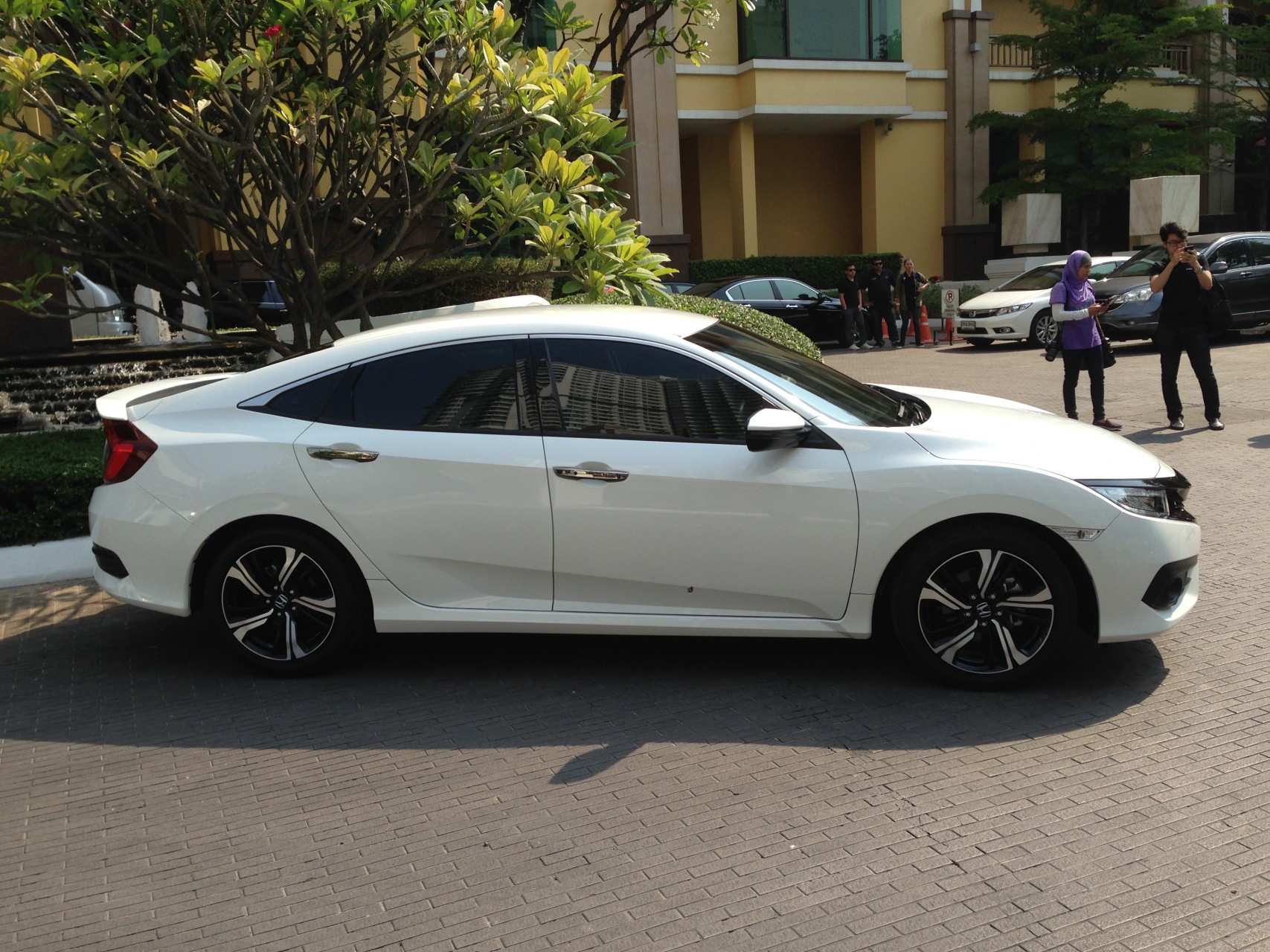 Conversely, when you do leave the car, there's a 'Walk-away Auto Lock' function that uses sensors to detect if you have the fob with you, by using 1-sec burst-pulses to check if you're still in the general area of 2.5m around the car – perhaps getting something from the boot or back seat – but once all the doors are closed and the sensors detect that the fob is no longer anywhere near the car, it automatically locks all the doors, just in case you forget to do it. No more second-guessing yourself after 10min if you'd locked the car or not.
Nonidentical Twins?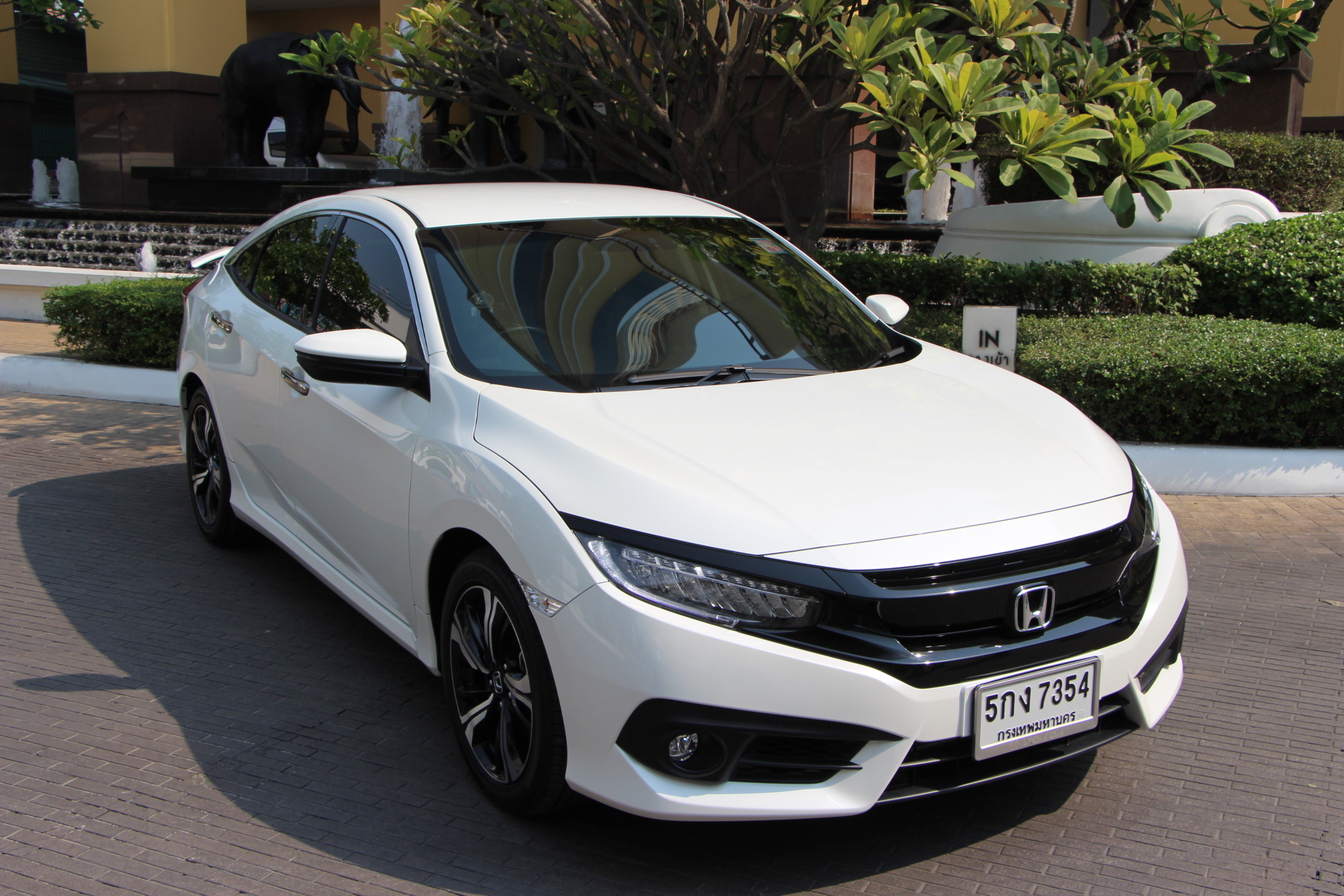 Okay, at this point before we get to the interior of the new Civic, I should mention that there are actually TWO new Civics. Huh? What? Well, while both are technically 'new' in terms of numeric-generation and exterior design, only one of them is completely new inside, outside and under the bonnet. And that of course is the one everyone's talking about, the 1.5-litre DOHC VTEC Turbo (above). The other 'new' Civic is powered by a more familiar 1.8-litre SOHC iVTEC (below).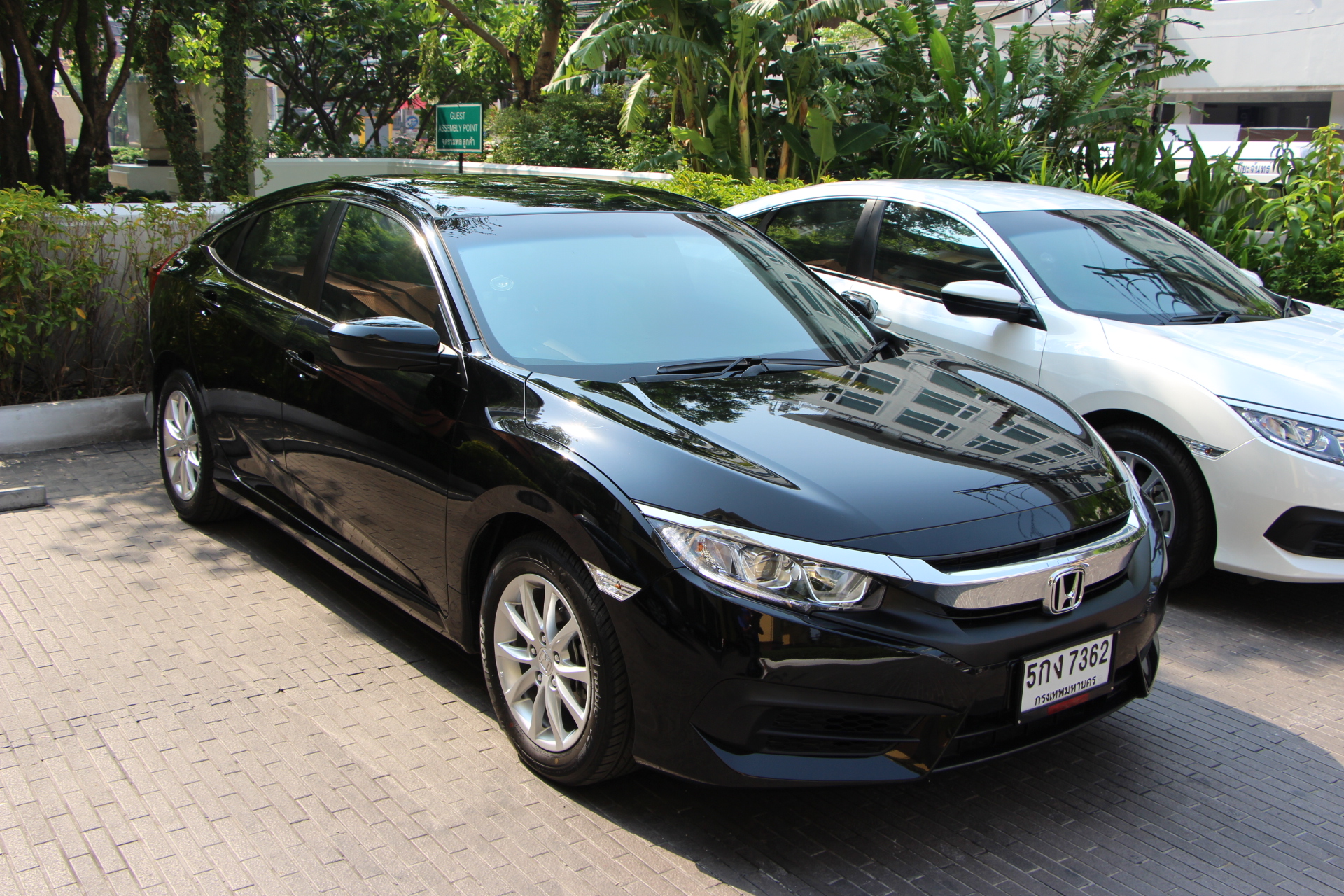 Fret not though, because there's very little that separates the two in terms of interior appointments as well as active and passive and safety features. Speaking of which, both models come with 6-airbags, Vehicle Stability Assist, Hill Start Assist, Brake Hold Assist, Daytime Running Lights, ISOFIX, and Seat-belt Pre-tensioners. Honda's own internal crash-test results revealed a full 5-star rating for adult occupant safety, and 4-star rating for child occupant safety.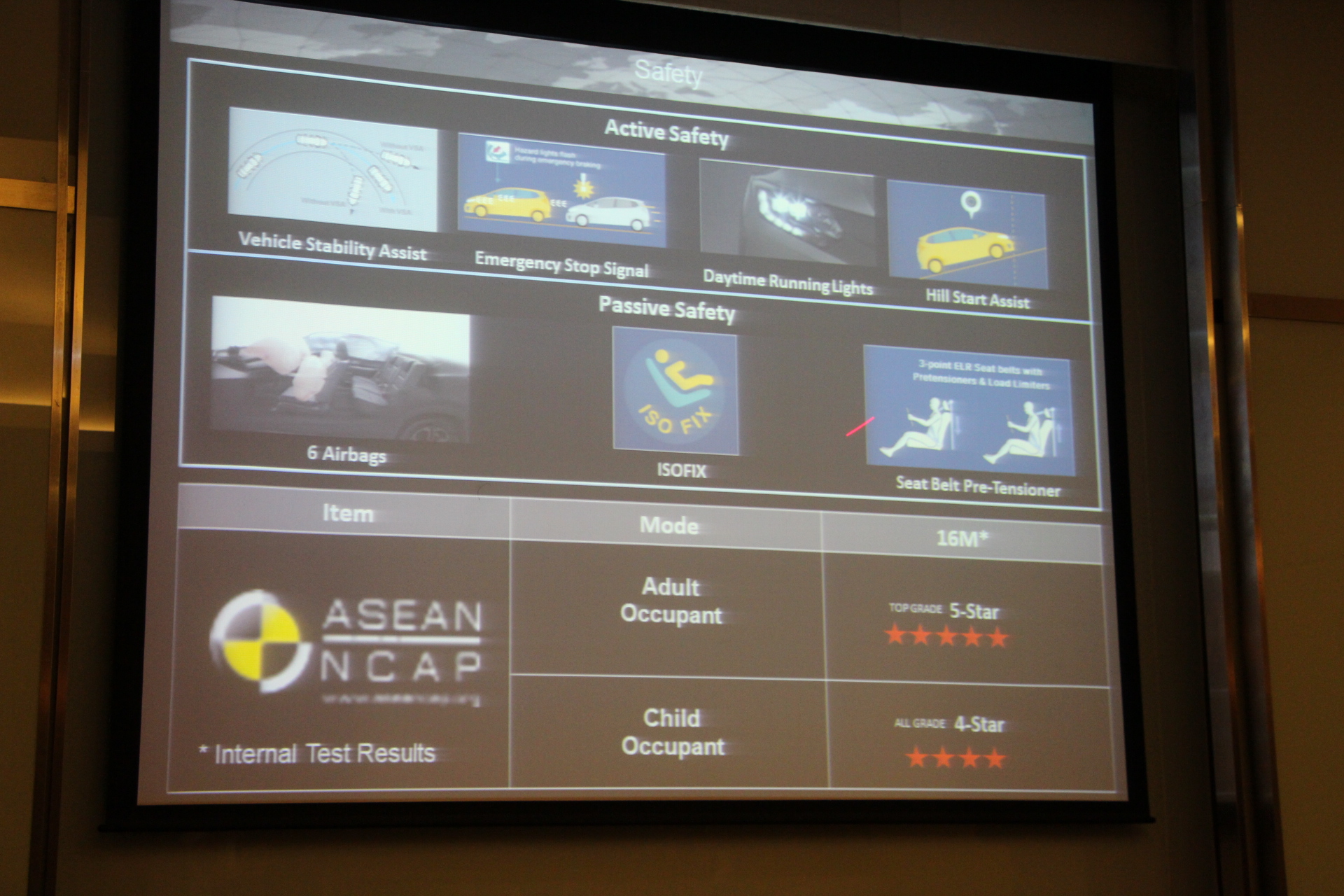 In fact it was the 'lesser' of the two which prompted that opening paragraph…I'll get to that soon, I promise.
An Inside Job…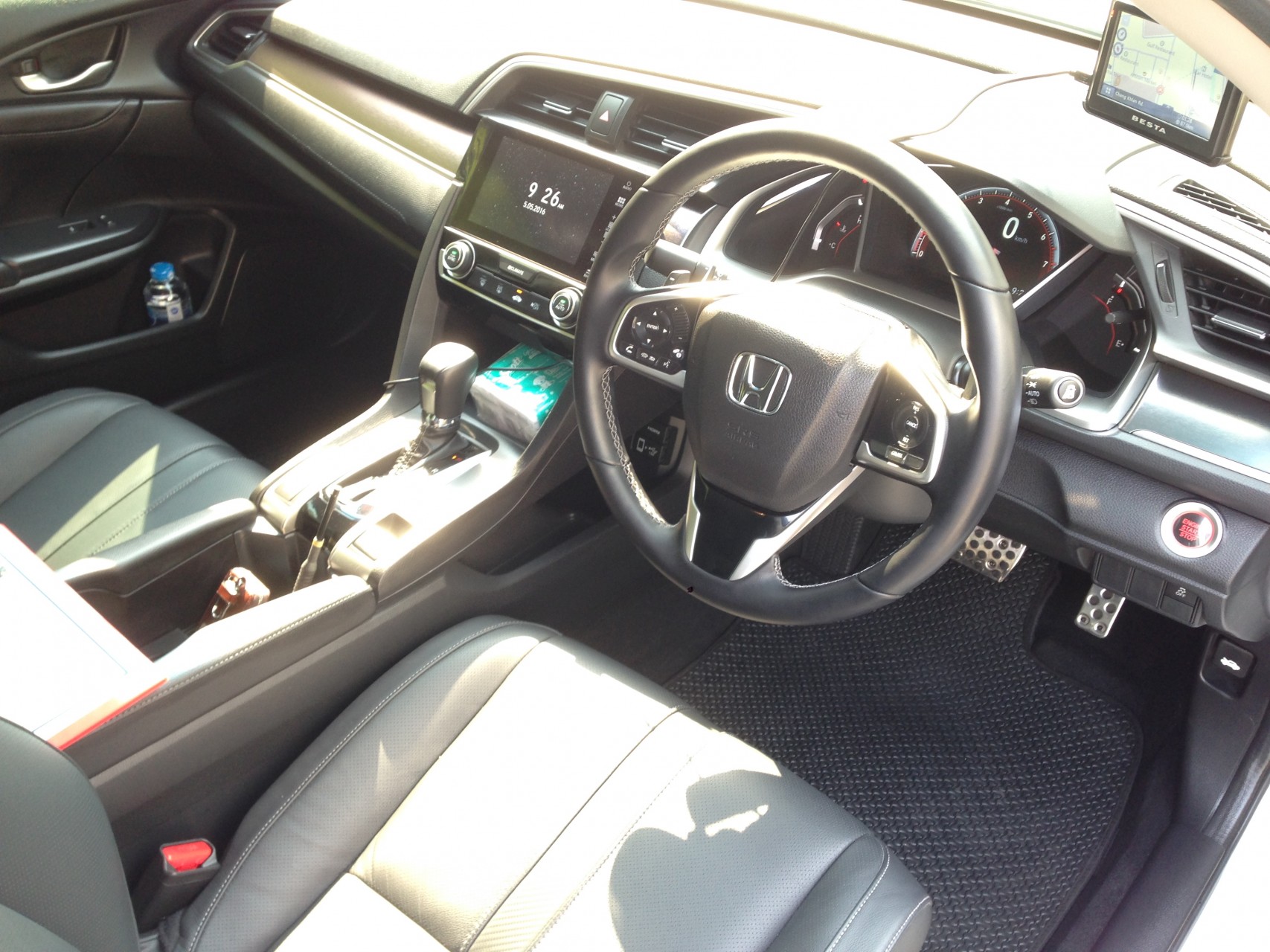 Complementing the exterior of the new Civic, is an interior that has again raised the bar in this segment. The driver is cocooned in a very 'coupe' style driving position, and the added benefit of power-adjustable seats ensures that the ideal driving position for drivers of varying height and girth is easily attainable. A commanding all-round view thanks in part to slimmer A-pillars and a snug, well-padded and contoured seat ensures comfortable, fatigue-free driving. All in all, there's no faulting the cabin of the new Civic, in fact, even rear passengers should be quite comfortable thanks to more than adequate leg- and head-room. Above is the interior of the 1.5 VTEC Turbo, and below is the interior of the 1.8 iVTEC, can you spot the differences?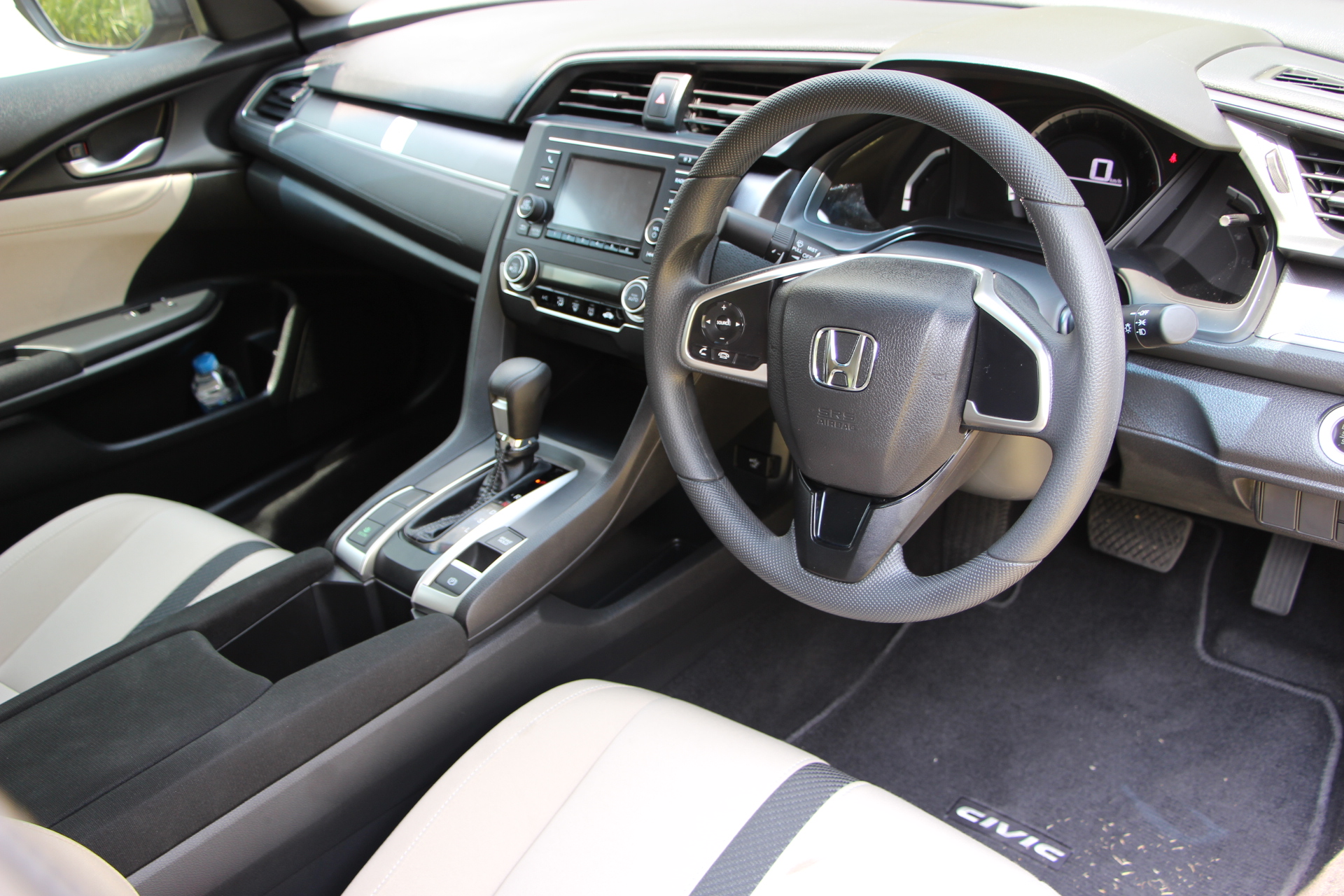 Revelation…
Right, so as promised, I've come to the part where I need to explain my opening paragraph. It's no secret that I'm a die-hard fan of manual-transmissions, always have been and always will be. 3 pedals rule. While I don't really mind a DCT, or even a properly ratio'd regular 6-speed auto, I absolutely detest continuously-variable transmissions, a.k.a. CVTs; I can appreciate their benefits, but I've always felt that they're whiny, lethargic, characterless and make too much noise.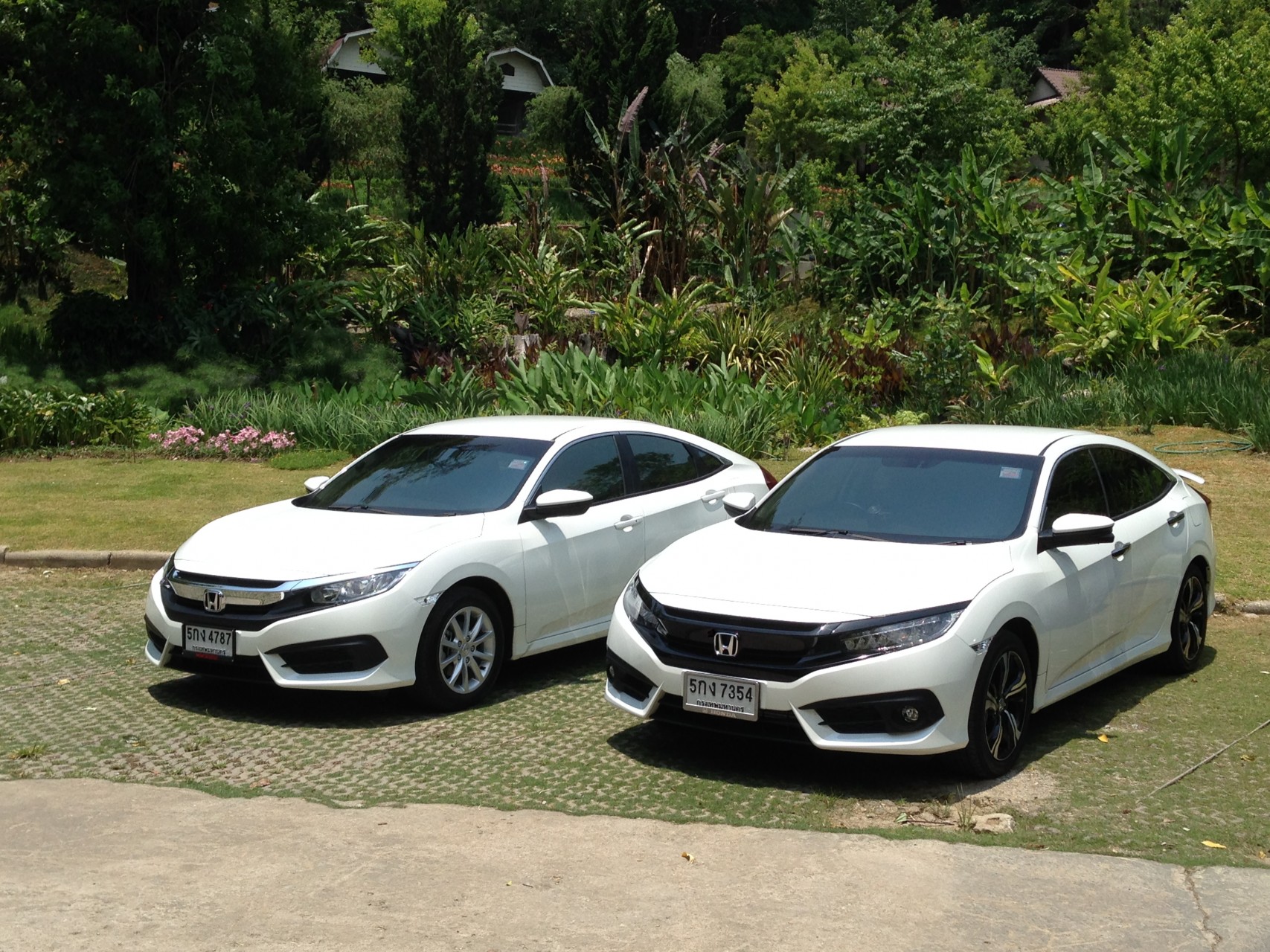 Well, suffice it to say, the torque-converter equipped CVT in the new Civic altered that mind-set. Get this, in the 1.8L iVTEC – which churns out a respectable 141Ps and 174Nm of torque – by selecting Sport Mode, say you're charging into a corner and hit the brakes, the CVT automatically drops two ratios to give you a modicum of engine-braking, since there are no paddle-shifters for you to do this manually, like you can in the 1.5L Turbo. It then reverts to a regular CVT in Normal 'D' Mode. This new and improved CVT, despite still being a tad noisy at higher revs, has been tuned to deliver the kind of performance you'd expect from a regular automatic gearbox, with one added benefit; as expected, there's absolutely zero shift-shock.
Getting to know the Civic Turbo…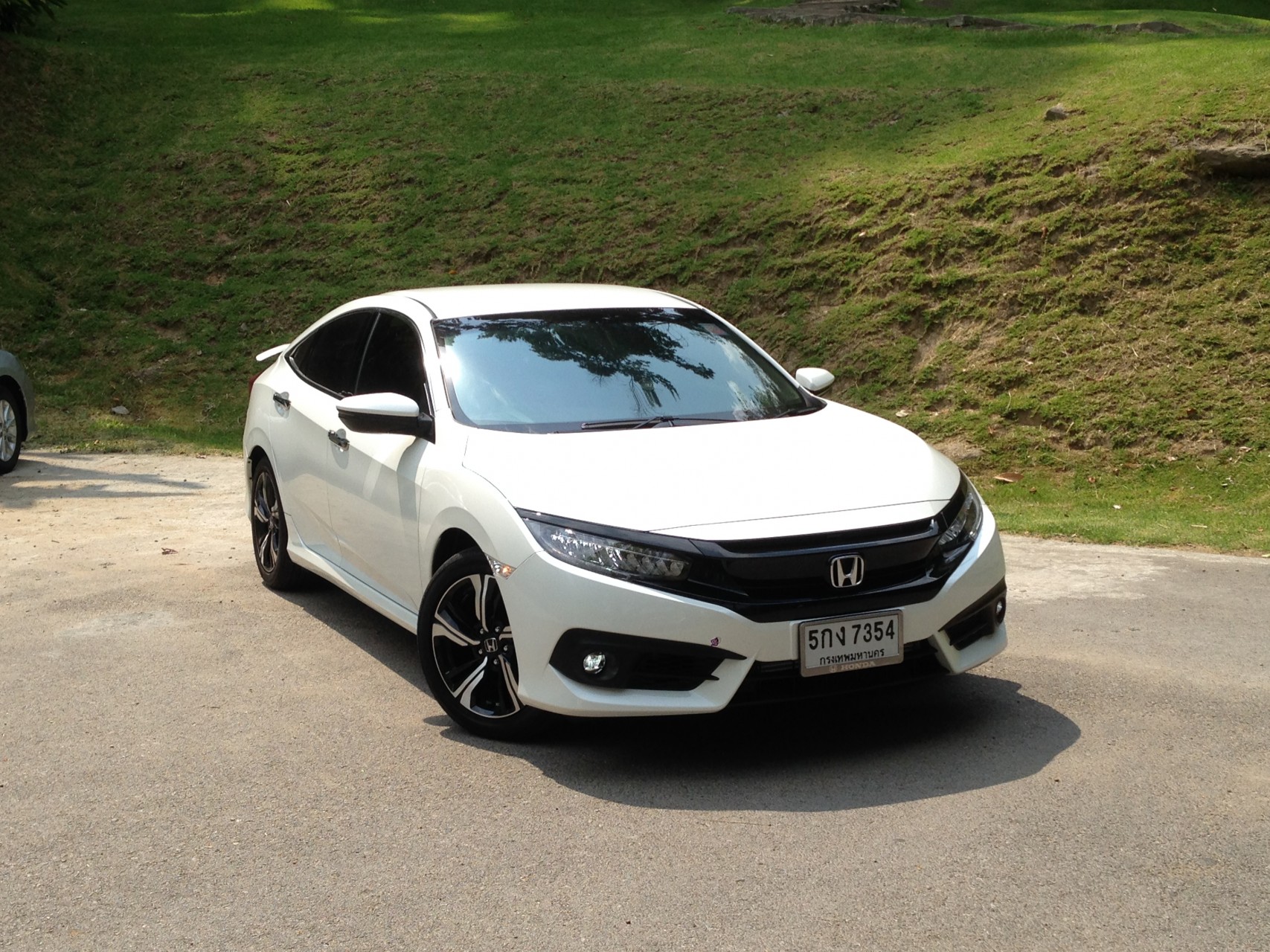 So now we get to the 'hero' car of the 10th gen. Civic, the 1.5L VTEC DOHC DI (direct injection) Turbo. This is the one everyone's talking about and rightly so. It's the first turbocharged Honda that HMSB has ever introduced, and it's got 173Ps and 220Nm of torque coming from its 1.5L DOHC Direct-Injection engine. DI is another first for Honda locally.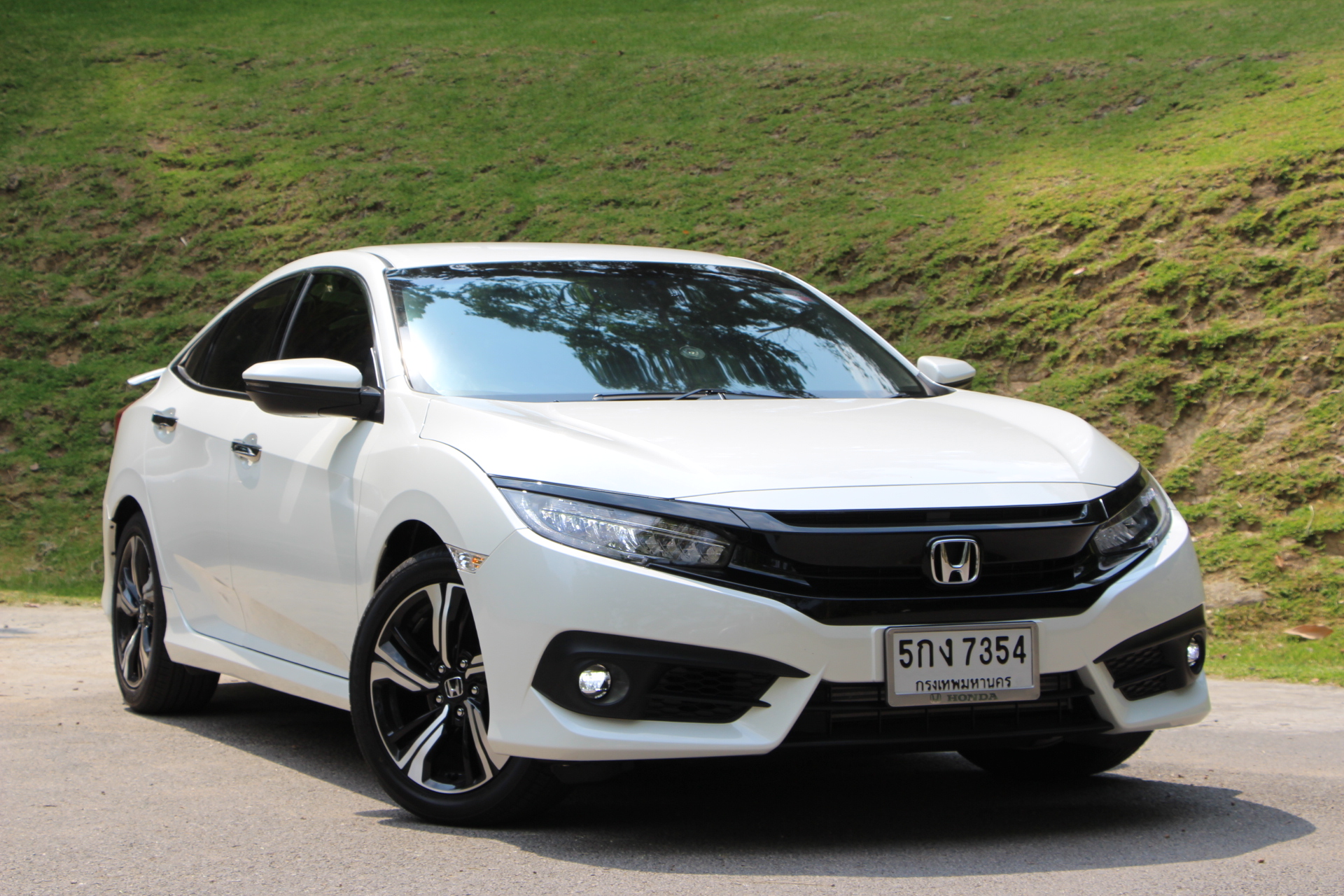 However, I think there's been a bit too much hype preceding the introduction of this car, so let me set the record straight. If you're expecting the new Civic 1.5 VTEC Turbo to deliver NSX type performance, you're going to be gravely disappointed.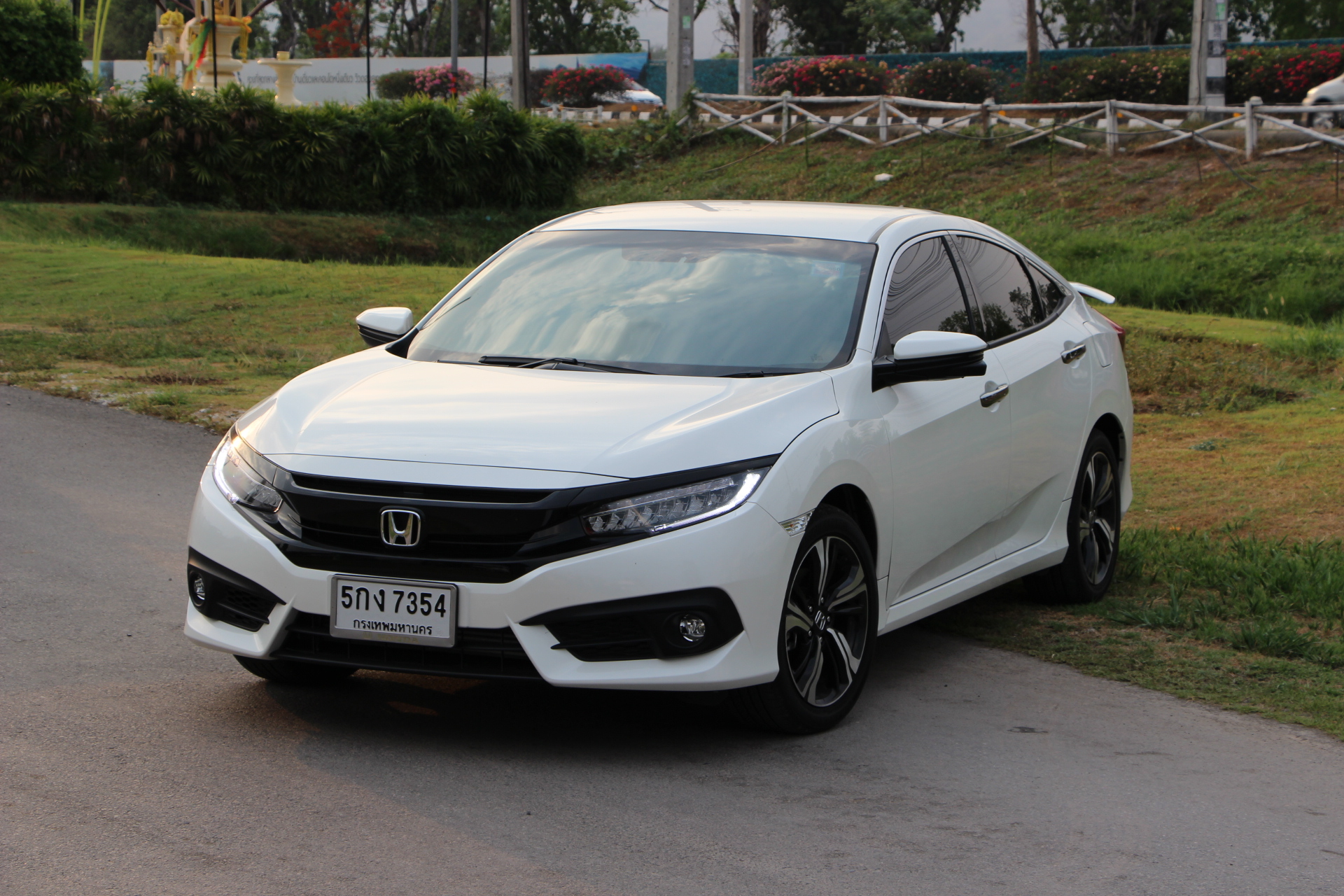 The new Civic Turbo should not be thought of as a race-car, in fact it's not even a Honda Sports model like the S2000 or Type-R. Remember, it has to appeal to a broad spectrum of buyers who will likely use this car for commuting and the occasional out-of-town drive, and it has to be able to accommodate passengers in comfort. So giving it race-track-like performance, as well as track-biased ride and handling, would have been a big mistake on Honda's part.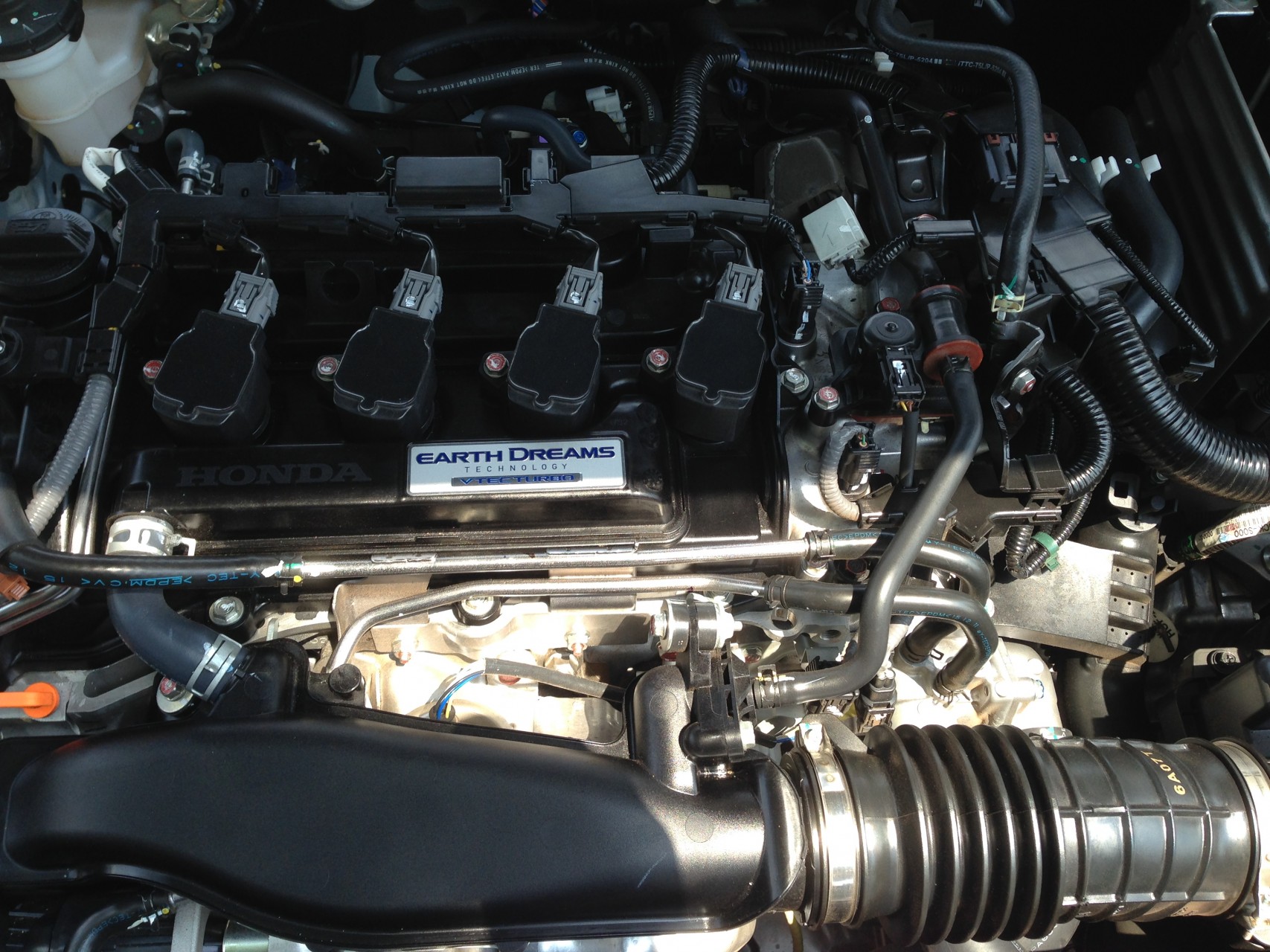 Instead, what they've done is use forced-induction on a small capacity engine to give it better fuel-efficiency, lower emissions and especially for us Malaysians, lower yearly road tax, without sacrificing power and engine performance. In reality, you're getting 2.4L performance from a 1.5L. What's not to like?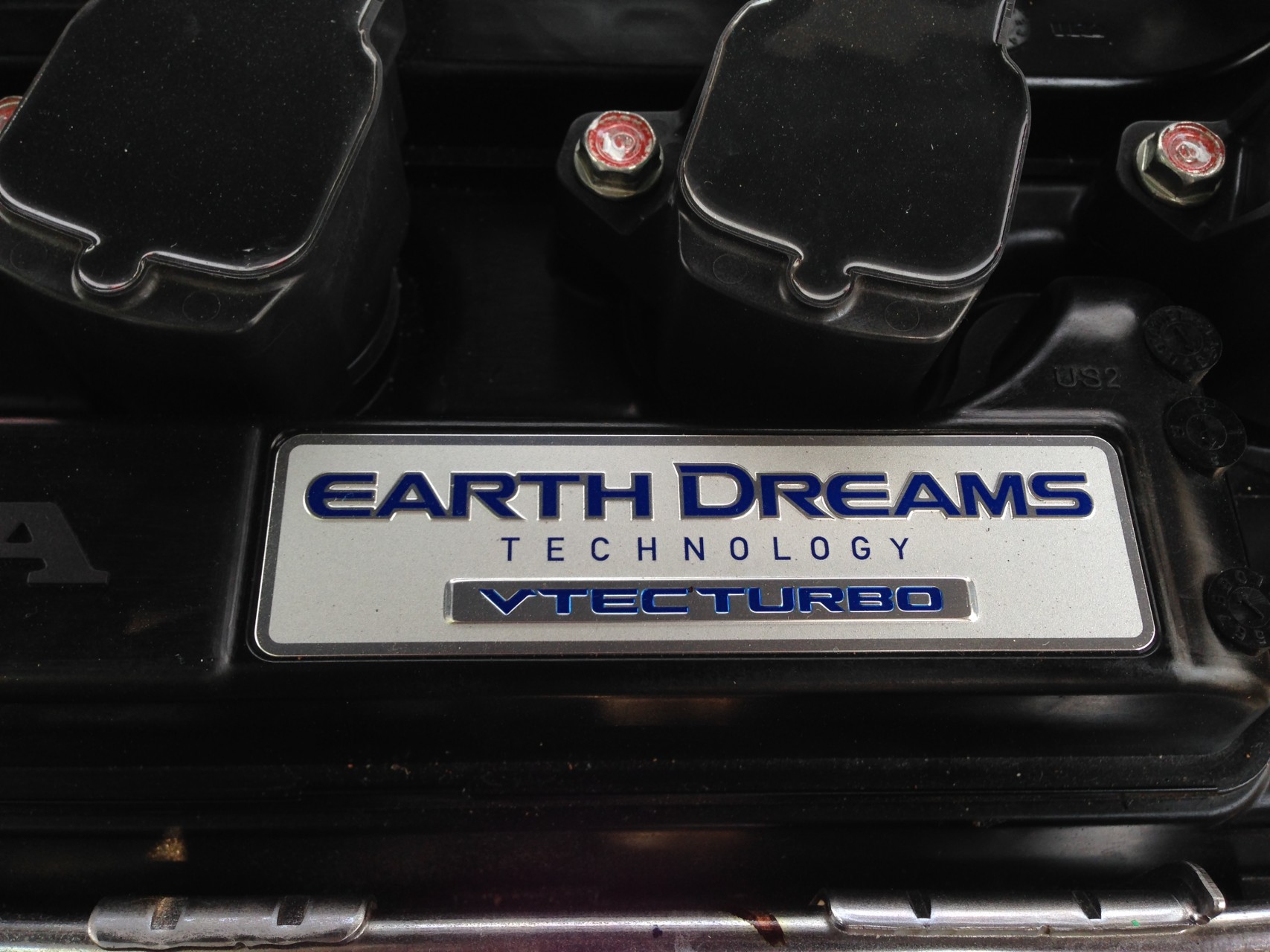 But don't get me wrong though, the 1.5 VTEC Turbo is by no means slow. Once the turbo vanes get spooling, the acceleration is very rapid, and triple digit speeds are seen to in a hurry. There is unfortunately a bit of turbo-lag, especially during roll-on acceleration when the CVT is in its highest ratio, thus it's actually better to select 'S' mode or actively use the paddle-shifters on the steering wheel to manually drop a couple of ratios before accelerating. Of course being a CVT, the 'virtual' shifts are instantaneous. I reckon it's a light-pressure turbo, as it seems to run out of steam toward the upper reaches of the speedometer.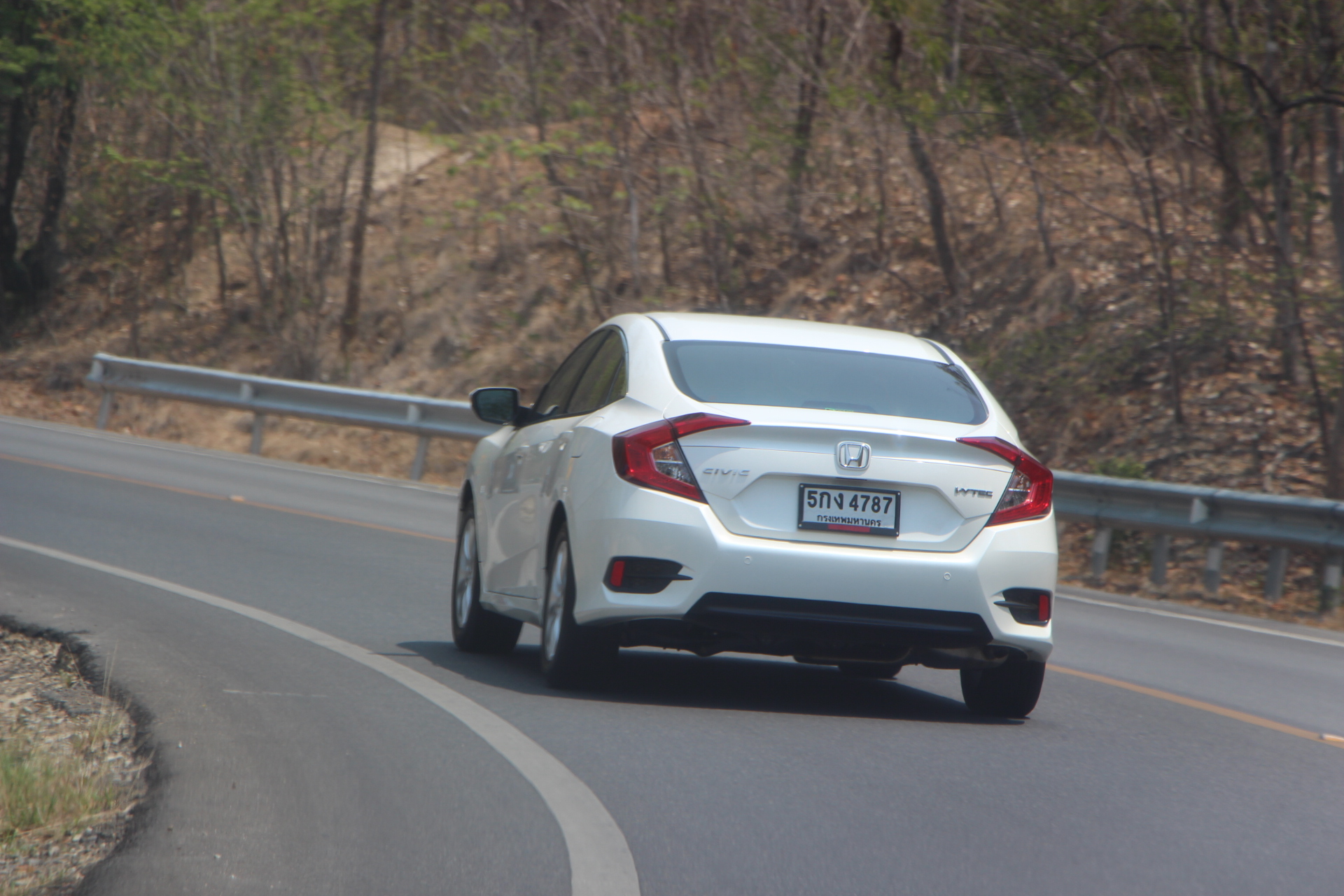 You'll be well past 180kmh before you even realise this though. As with the 1.8L there are two drive modes to choose from, Normal and Sport, and dropping the lever to 'S' as mentioned before, instantly ups the revs by 2,000rpm for quicker throttle response. I call this the 'Drive Angry' mode because it really does alter the behaviour and driving characteristics of the car significantly.
Conclusion…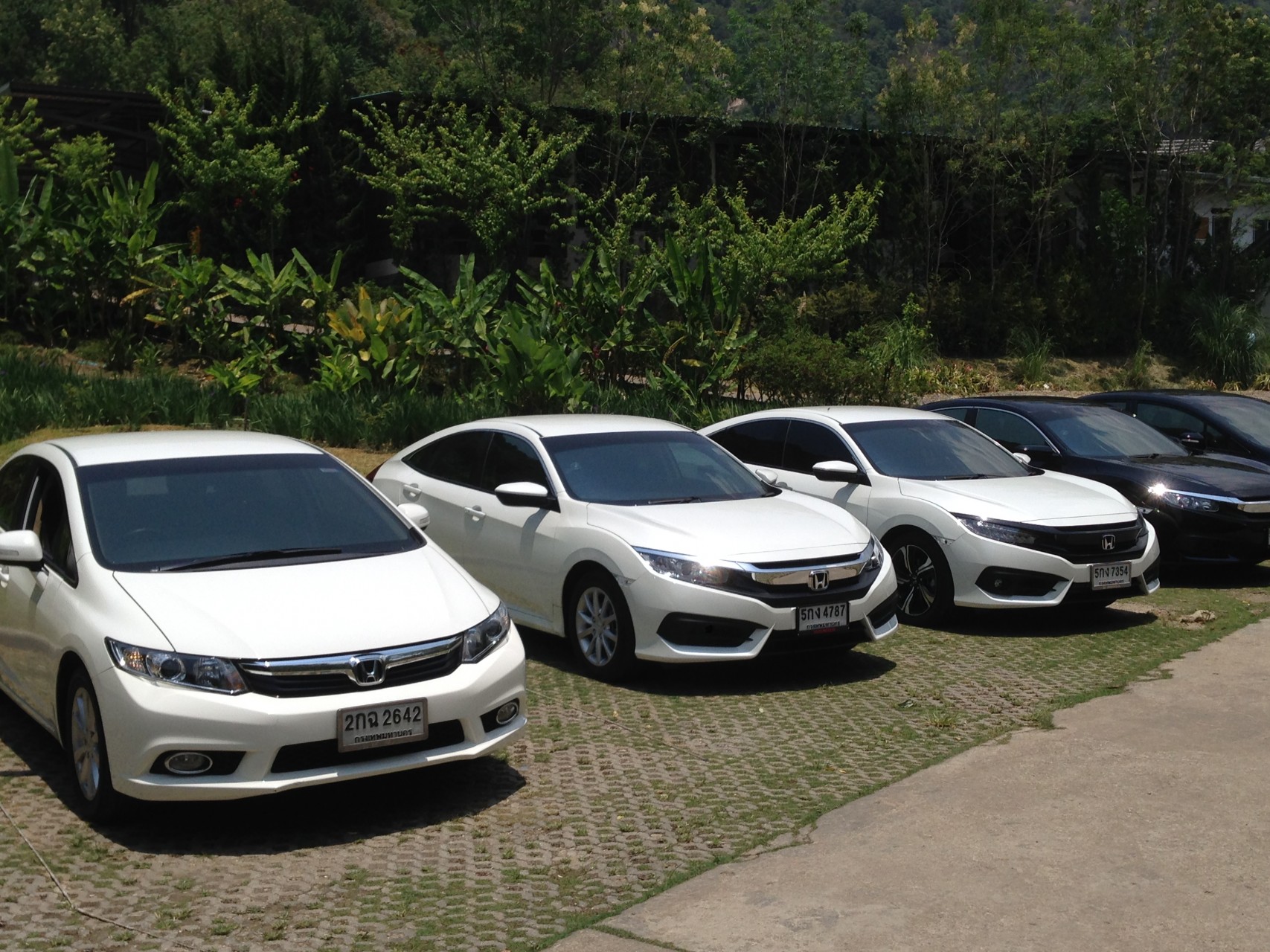 It's hard to not like the new Civic really, and I for one think that this car will be able to sell on its looks alone. In fact, despite the hype surrounding the 1.5 Turbo, I'd venture to say that the 1.8L is going to be equally popular amongst buyers, simply because of its very appealing design. It's also using a tried, tested and proven powertrain, housed in a raucously good-looking body.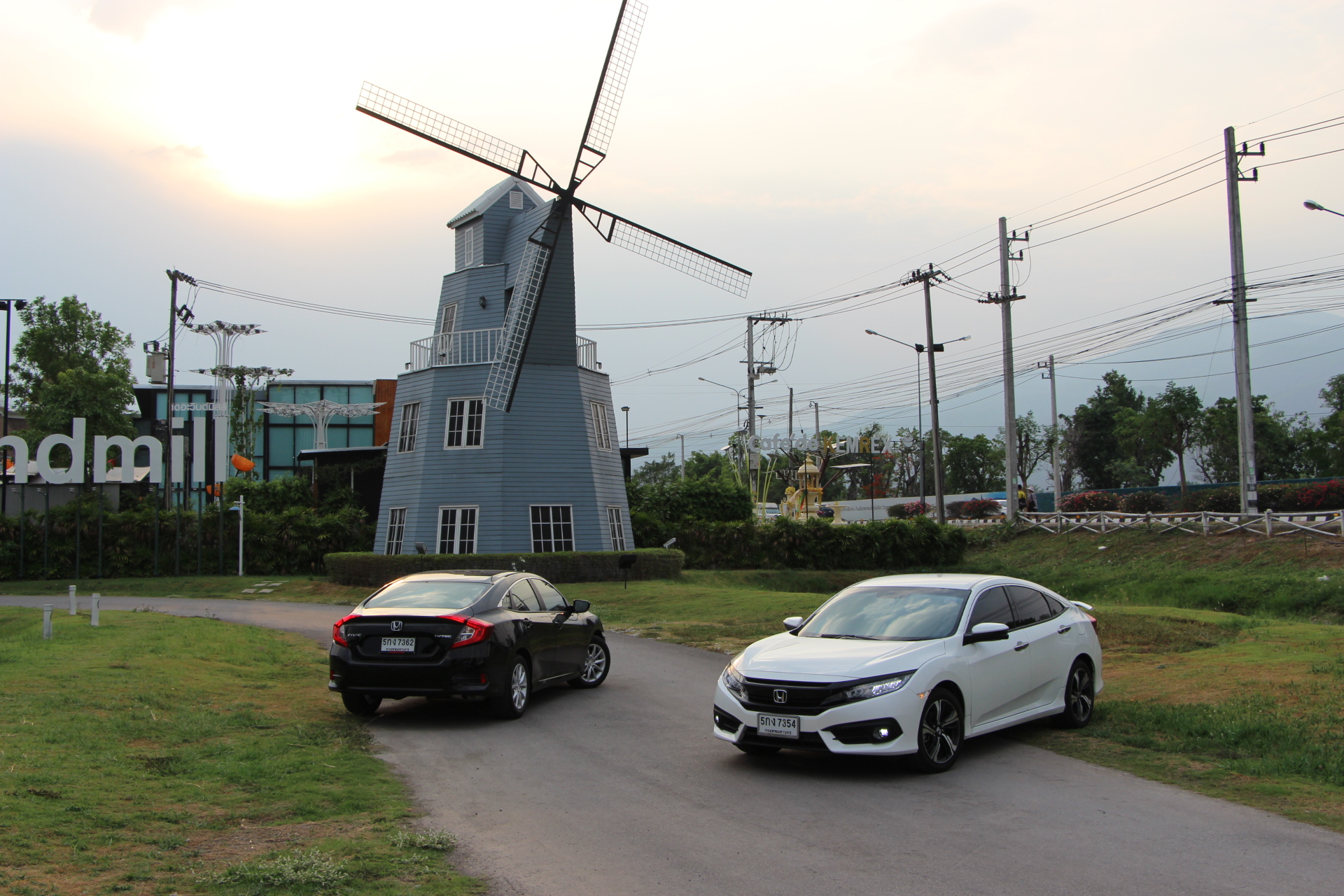 In either guise, it's a winning combination both externally and internally, and judging from response and interest that Honda's dealers have been getting, I reckon the biggest problem HMSB is going to face with the new Civic is supplying the demand. We'll be getting our hands on the car for a more extensive full-local-review once it reaches our shores in the very near future, so stay tuned for that! – Chris Wee.
UPDATE: Just as we were publishing this article, HMSB sent out the official press release on the new 10th Gen. Civic, so here it is in its entirety: (Full photo gallery follows below)
***10TH GENERATION ALL-NEW CIVIC
SET TO BE THE GAME CHANGER***
First Honda model to apply a

brand new 1.5L VTEC Turbocharged

engine

Equipped with four new advanced features which are first in its segment

Now open for booking, to be officially launched in Q2, 2016
Petaling Jaya, 12 May 2016 – Honda Malaysia today announced that the highly anticipated, 10th Generation Civic is officially open for booking and will be launched in Q2, 2016. The All-New Civic has been completely re-engineered to recreate the sensation and evoke the enthusiasm of Civic fans globally. The All-New Civic is poised to be the game changer in its segment with features that are segments first and class above.
Since the 1st Generation Civic was introduced in 1972, the succeeding generations has been well accepted globally. The Civic is synonymous with the Honda brand in Malaysia, which appeals as an exciting, fun and dynamic vehicle. Since Civic was introduced by Honda Malaysia in 2001, the company has sold 81,013 units of Civic up to March 2016.
The All-New Civic has been re-designed to go back to its roots where it brings back the original strong character of the Civic. The solid sculptural body surface and advance athletic sleek cabin design symbolizes the solid character of this All-New Civic. Honda believes the 10th Generation Civic is the best Civic ever made. Proportionally, it boasts a longer hood, a sporty front overhang, which gives the All-New Civic a more aggressive athletic and "in motion" appearance. Furthermore, for the first time in Malaysia, the All-New Civic will appear with Full LED Headlights combined with LED Daytime Running Lights to provide high brightness competence.
Measuring 4,630 mm in length, 1,799 mm in width and a height of only 1,416 mm, the All-New Civic is lower and wider which provides good stance. With this dimension package, the All-New Civic delivers exceptional stability on the road, ensuing for more confident driving during acceleration and corners. The redesigned 'Thin A' pillar of this new Civic, offers an excellent viewpoint for the drivers. The rear seat foot space width has also been increased by 27 mm compared to the current model.
The All-New Civic has been further improved in terms of body rigidity and steadiness. The improved body stiffness with front MacPherson suspension and rear Multilink suspension further provides comfortable driving experience. To further reduce NVH on the road, a light weight sound proofing system has been applied to the All-New Civic, which includes an underbody covering plus a high noise isolation door system.
Under the sporty hood, the All-New Civic will be offered with two engines for the Malaysian market. For the first time in Honda Malaysia's line-up a brand new 1.5L VTEC Turbocharged engine from Honda's Earth Dreams Technology will be introduced. The 1.5L VTEC Turbocharged engine delivers 173PS and 220Nm of torque which is equivalent to a 2.4L engine performance; additionally this will be the first engine for Honda Malaysia to adopt the direct injection system. The 1.5L powertrain will be mated with Continuously Variable Transmission (CVT) aimed to provide fun-to-drive performance without sacrificing fuel efficiency. On the other hand, the 1.8L i-VTEC engine which produces 141PS and 174Nm of torque is fitted with CVT for a smooth driving experience.
The 1.5L Turbo rides on a set of 17-inch alloy wheels while the 1.8L is fitted with 16-inch alloy wheels. The All-New Civic is also equipped with numerous top in class features that will revolutionize the segment, particularly, four new advanced features. Firstly, the Remote Engine Start. This feature allows driver to start their vehicle engine up to 40 meters away with a simple push of a button in the remote key. This provides the driver the convenience to activate the air-conditioning to cool down the cabin before entering the vehicle.
Next is the intelligent Walk Away Auto Lock. The vehicle will automatically lock all doors when the driver walks away with the smart key beyond 2.5 metres range (with no individual in the car). The last two features are the Electric Parking Brake and Brake Hold which improves driver's convenience and provides a seamless driving experience. All these four features are the first in its segment.
To enhance the comfort of the driver, the All-New Civic will be equipped with 8-way driver power seat for all variants. Honda's commitment in providing top class safety features is further emphasized with all variants equipped with Vehicle Stability Assist (VSA), Hill Start Assist (HSA), Emergency Stop Signal (ESS), ISOFIX and 6 Airbags (Dual Front Airbags, Side Curtain Airbags, and Side Airbags)
Honda Malaysia believes that the All-New Civic with its numerous innovative features and fun-to-drive element will appeal to everyone from young families to working adults and professionals.
The dynamic, technologically advanced and stylish All-New Civic is now open for booking at all 88 authorized Honda dealers nationwide, meanwhile customers will be able to view the All-New Civic for the first time in Malaysia at My Auto Fest 2016 which will take place from 20th – 22nd May 2016 (10:00am to 9:00pm) at Mines International Exhibition and Convention Centre.
For more information, customers can visit any Honda dealer; call Honda's Toll Free number at 1-800-88-2020 or log on to www.honda.com.my or www.ridethedream.my to discover more about the exciting features of the All-New Civic.
Photo Gallery…