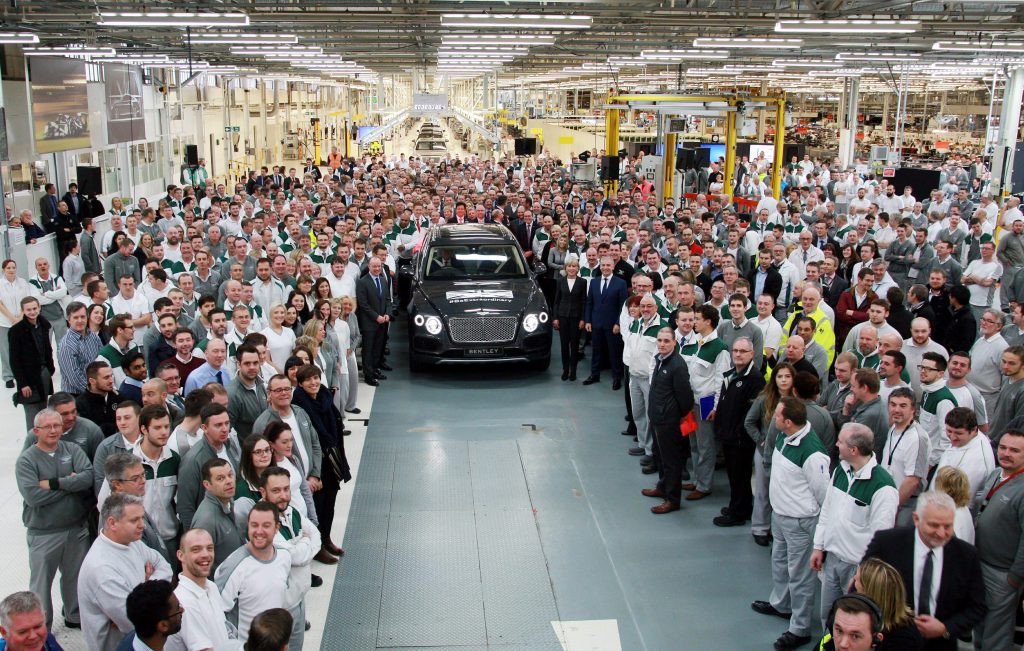 ADVERTISEMENT
The very first production Bentley Bentayga SUV recently left the assembly line at Bentley's iconic headquarters in Crewe, UK.
Developed over the course of 4 years, the Bentayga is Bentley's first ever SUV and getting here required creating more than 1,500 jobs in the UK as part of an £840 million investment programme. The Bentayga will now enter full production, with deliveries to customers starting in January 2016.
In the following period, Bentley will be busy making the "First Edition" model of which only 608 units will be assembled and one of the SUV will be heading to the Buckingham Palace for Queen Elizabeth II.
Joining Bentley's Heritage Collection, the first production Bentayga which is finished in Anthracite paint colour was handcrafted across 130 hours. During the assembly process, the car passed through a new bodystore, a new paint shop and a new assembly line, all part of this substantial investment.
Both the limited-run model and the standard Bentayga are powered by a newly developed W12 6.0-liter twin-turbo engine which produces a total of 600 bhp and 900 Nm of torque. This allows it to accelerate from 0-100 km/h in just 4.1 seconds, whilst reaching a top speed of 301 km/h.
Wolfgang Dürheimer, Chairman and Chief Executive of Bentley Motors, said, "Bentley Bentayga will be the benchmark against which all other SUVs are measured, defining a new segment – the luxury SUV.
"This car is a celebration of UK manufacturing at its very best, not only reinforcing our commitment to industry in this country, job creation and significant investment, but to our home in Crewe. This is an important moment in our history, where we reflect and celebrate, but also look ahead to delivering this extraordinary car to our customers.
"I would like to take this opportunity to thank my colleagues from all parts of the business for their dedication and professionalism in delivering the Bentley Bentayga. It would not have been possible to deliver this car without the support and belief from the UK Government, our parent company and other business partners. We can all take pride in this achievement."
UK Prime Minister David Cameron, commented, "I am delighted that the first Bentley Bentayga has rolled off the production line in Crewe. It marks the culmination of a period of exceptional hard work by Bentley and its dedicated workforce as they brought this remarkable new vehicle to market.
"The Bentayga represents an ambitious £800 million investment into the Crewe factory backed by £9.5 million from the Regional Growth Fund. It has created hundreds of valuable skilled jobs for the area and secured the future of production onsite.
"Well done to all at Bentley. This is a moment of great pride for everyone who lives and works in Crewe."