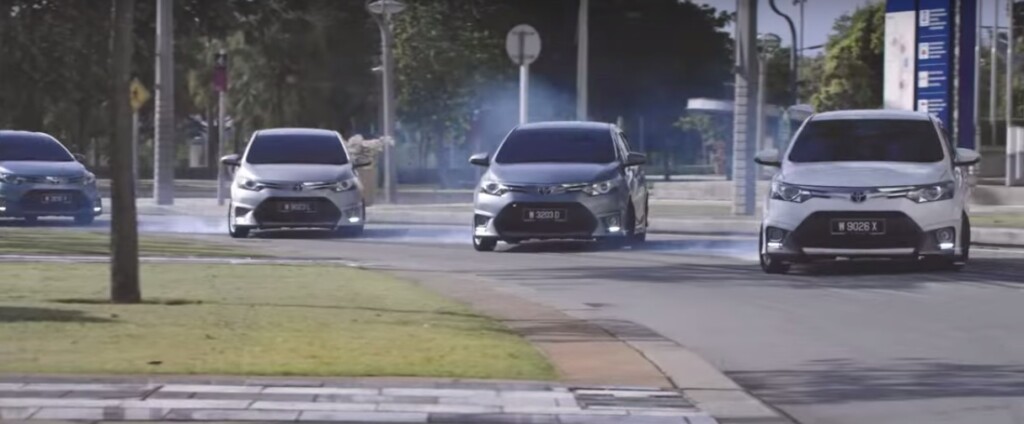 ADVERTISEMENT
UMW Toyota Motor is set to debut the refreshed Toyota Vios in Malaysia and to anticipate its arrival, the company gave the public a first-look at the new sedan with the launch of the 'Pulse of Action' ad campaign.
Marking its tracks in a familiar scene to the public, the locally-produced video explored everything truly-Malaysian. The campaign showcased the Toyota Vios in adrenaline-filled action, performed under the sunny setting of the asphalt roads in Kuala Lumpur and Putrajaya, on the same weekend as the first Kuala Lumpur City Grand Prix.
The campaign which was brought to life by film director, Ryo Miyakoshi and Director of Photography, Hiromi Tsushima, is set to appeal to a wide range of audiences as it features the Toyota Vios as a young, exciting, and fun-to-drive car with a stylish look that reflects sportiness and driving excitement. On set, the Toyota Vios was driven by well-known professional stunt drivers from team Chiba of Japan.
Akio Takeyama, Deputy Chairman, UMW Toyota Motor said, "Our intention is to communicate to the people of the Vios' advanced handling abilities and controllability. This is what we are demonstrating through this commercial."
Leading up to the launch of the 60 second ad campaign, 3 different versions of 15 second teaser clips were amplified across various digital platforms to garner hype and excitement from the public since 19 Oct 2015. The entire campaign will also be supported by four additional videos of behind-the-scenes footage and interviews with the Japanese team and UMW Toyota Motor'stop management throughout the duration of the campaign.
The TVC which airs from October 2015 will also be available across multiple communication platforms such as TV channels, cinema, social media, online, on-ground promotions, and showrooms until June 2016. You can watch it for yourself by clicking on the YouTube link below.