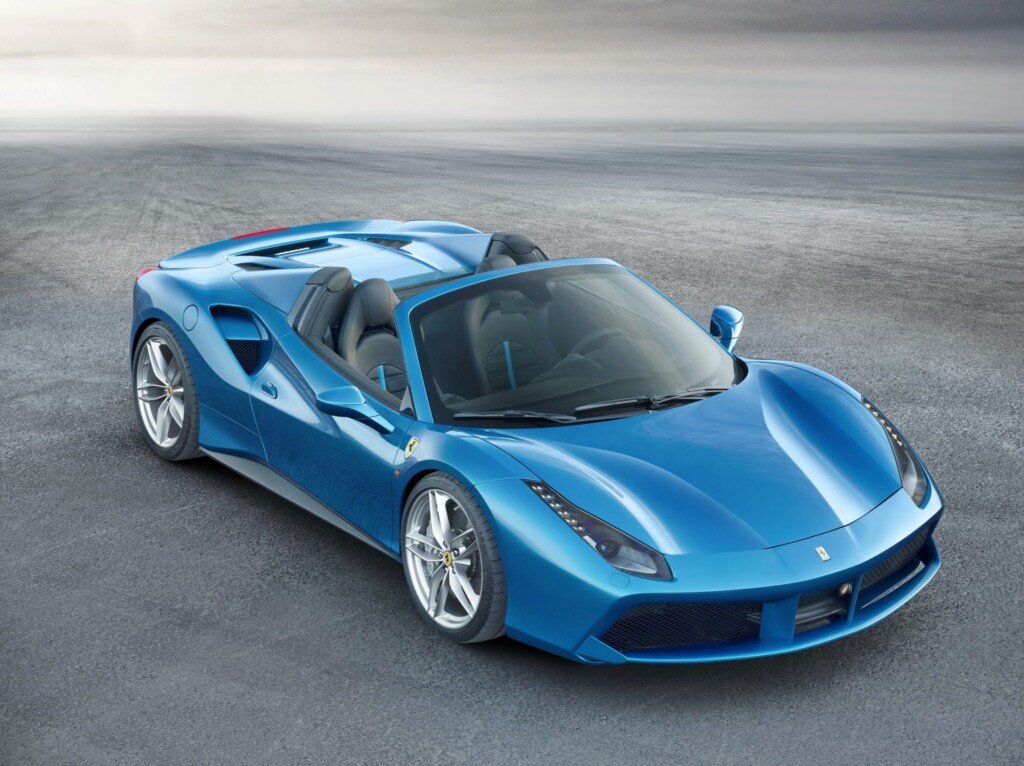 ADVERTISEMENT
At the 2015 Frankfurt Motor Show, Ferrari has taken the wraps off its most powerful drop-top ever built by the Prancing Horse called the 488 Spider.
The 488 Spider is powered by the 488 coupé's 4-litre turbo-charged V8 which punches out a maximum 660hp and 760 Nm of torque. This is an astonishingly sporty car with blistering acceleration from 0 to 100 km/h in 3 seconds and 0 to 200 km/h in 8.7 seconds.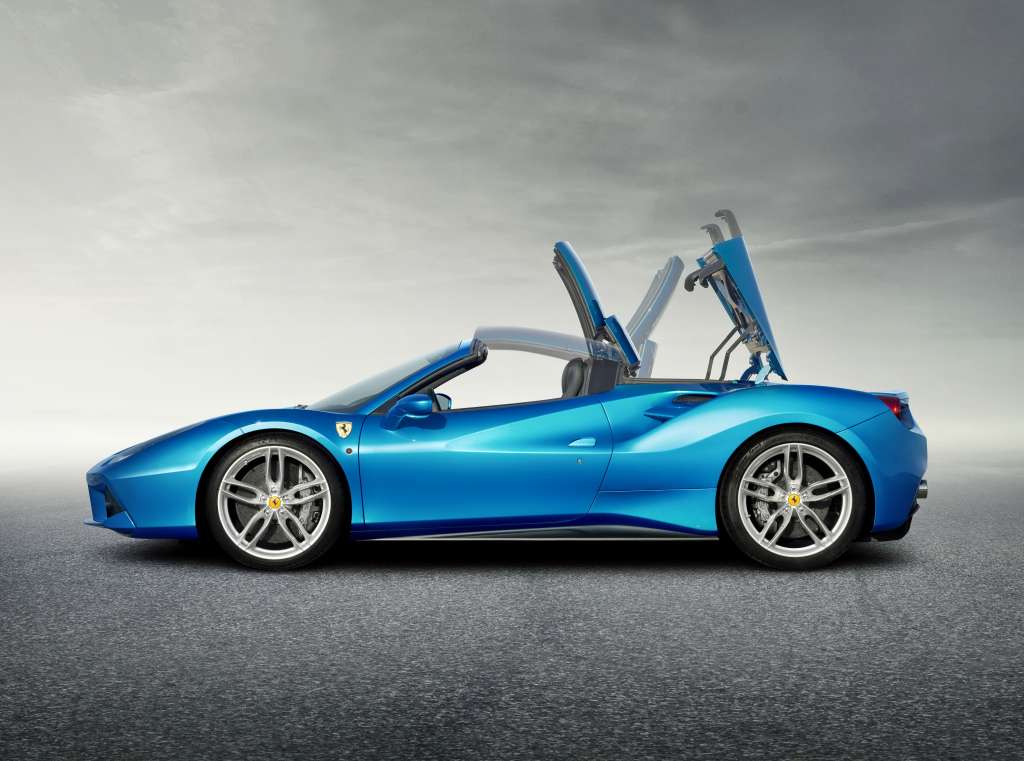 In line with Ferrari tradition, and drawing on the harmonics typical of Prancing Horse cars with this kind of architecture, this 8-cylinder has its own 'absolutely distinctive' soundtrack, thanks to exhaust headers with longer, equal-length piping and the flat-plane crankshaft. The sound was crafted to be seductive but never invasive when the top is dropped, with both volume and clarity increasing in signature Ferrari fashion as the engine instantly responds to the accelerator pedal and revs increase.
The Scaglietti centre of excellence's aluminium crafting skills have also produced a light, high performance spaceframe chassis made of 11 different 6000 series aluminium alloys containing varying percentages of magnesium and with specific characteristics to meet the demands of the different areas of application. Extraordinarily, this yields the same torsional rigidity and beam stiffness figures as the coupé, in which the roof is a structural element, improving the chassis' performance by 23% over that of the 458 Spider.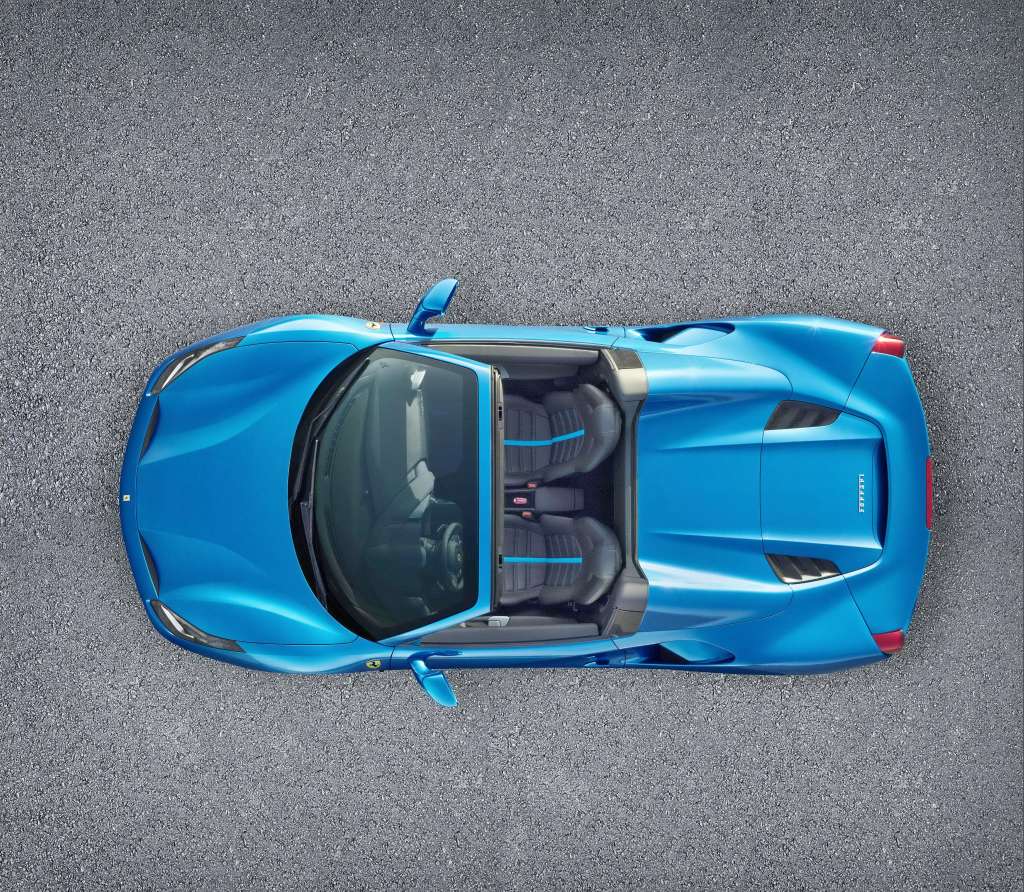 The 488 Spider uses a RHT (Retractable Hard Top) which is also found on the 458 Spider. The RHT is not only lighter (- 25 kg) but also provides better protection from noise and elements even when lowered courtesy of a glass wind-stop adjustable to three different positions. The RHT can be raised or lowered in 14 seconds even when the car is moving.
Unlike its predecessor, the 488 was designed in-house, at Ferrari's own Styling Center. Still, the final result is nothing short of astonishing, transforming an already beautiful form in something more aggressive and planted, able to accommodate the Retractable Hard Top and meet the aerodynamic demands of the car. Every part of the 488 Spider's body has an aerodynamic responsibility, from the flying buttresses which optimally channel air flow to the engine cover, to the air intakes with sculpted mesh grilles.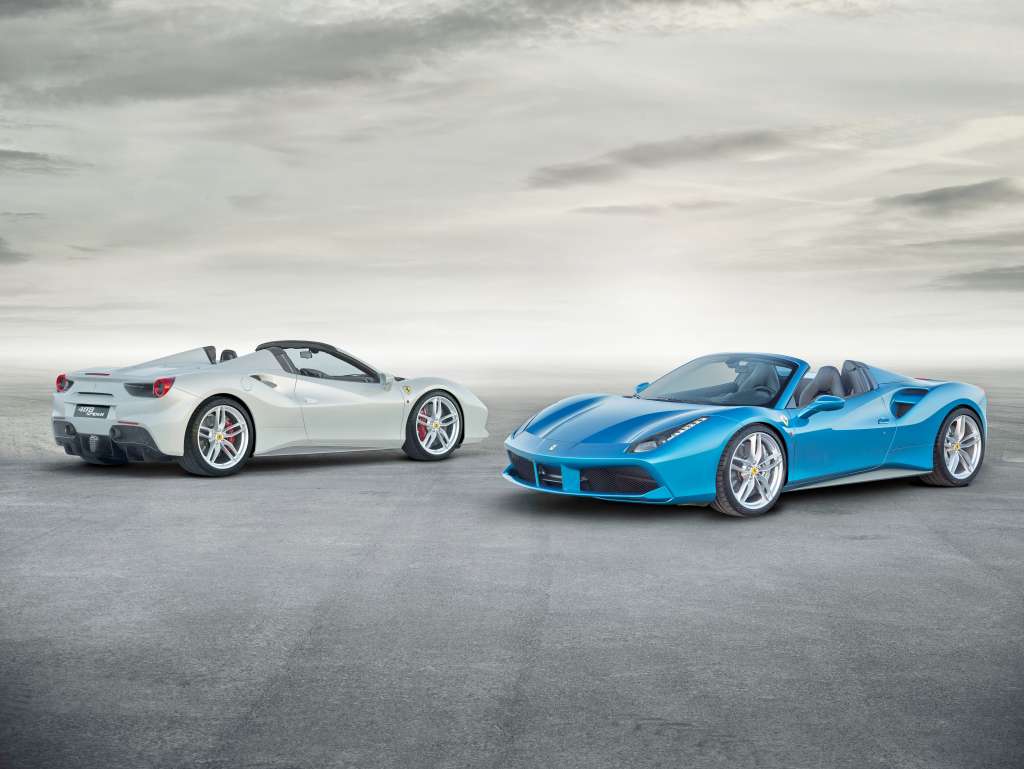 Along with the 488 Spider's unveiling, Ferrari premiered a new colour called Blu Corsa , designed to enhance the car's forms.
Check out the video below that showcases the Ferrari 488 Spider being enjoyed in breathtaking B-roads with the roof tucked away. Bliss.