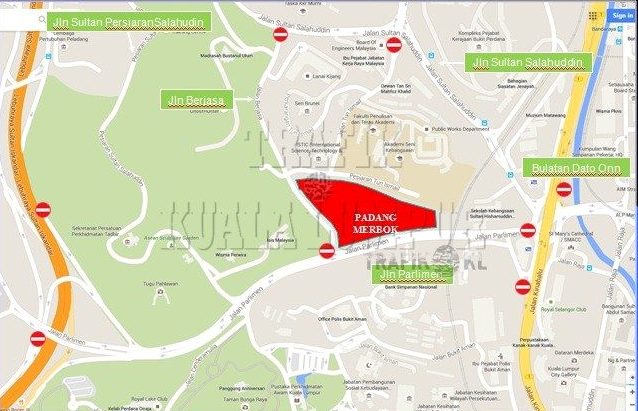 ADVERTISEMENT
KLites do take note. There will be several major roads closures around the Kuala Lumpur city centre happening tomorrow (16th September) due to the 'Himpunan Rakyat Bersatu' rally.
Kuala Lumpur traffic police chief Mohd Nadzri Hussain said that the roads will be closed in stages, depending on the flow of traffic. Listed below are the roads that will be affected by this rally.
1. Jalan Parlimen
2. Jalan Kinabalu
3. Jalan Sultan Salahuddin
4. Dato Onn roundabout
5. Jalan Raja Laut
6. Jalan Kinabalu/Jalan Hishamuddin
7. Jalan Pudu/Tun Tan Cheng Lock
8. Jalan Kuching
9. Jalan Raja
10. Jalan Tunku Abdul Rahman
11. Jalan Munsyi Abdullah/Jalan Dang Wangi
12. Sultan Mohammad roundabout
13. Jalan Damansara
14. Hishamuddin roundabout
15. Jalan Kuching/Jalan Tun Razak
16. Jalan Sultan Ismail
17. Jalan Conlay
18. Jalan Raja Chulan
19. Jalan Leboh Ampang/Jalan Tun Perak
20. Jalan Sultan Ismail/Jalan Ampang
Suggested alternative routes for those who wish to go to the city centre are:
1. Jalan Tun Razak
2. Jalan Hang Tuah
3. Bulatan Kampung Pandan
4. Bulatan Pahang
5. Jalan Loke Yew/ Jalan Hang Tuah
6. Jalan Bukit Bintang
Recently, the organisers of the 'Himpunan Rakyat Bersatu' gathering have received permission from KL City Hall (DBKL) to gather at Padang Merbok between 12pm and 6pm on 16th September 2015. Nadzri said more than 80,000 people were expected to gather at the Padang Merbok and a total of 430 police traffic officers will be deployed to control the traffic flow. Given the number of roads being closed, it might be wise to just stay out of KL tomorrow, or use the LRT.
Source: News Straits Times