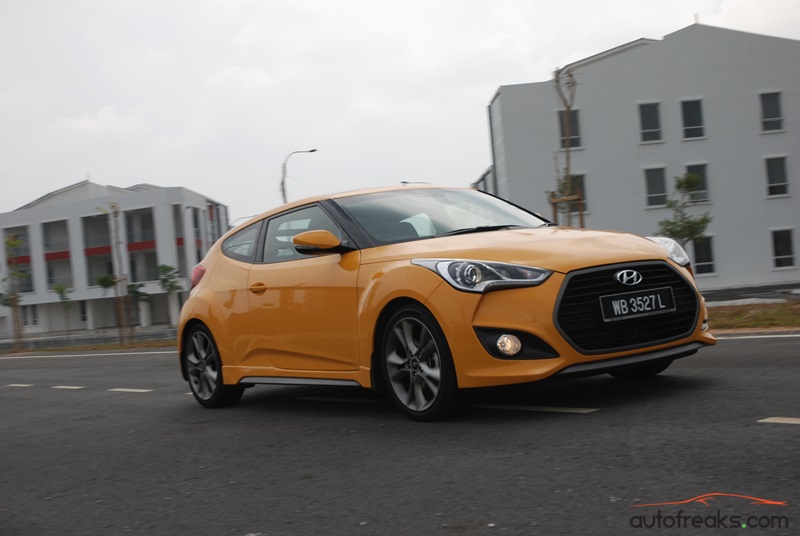 ADVERTISEMENT
They say symmetry is the key to good design, well, apparently, Hyundai didn't get the memo when they came up with the Veloster…
We all know that the Hyundai Veloster became popular because it possesses a 2+1 door layout. In other words, there's two doors on the passenger side and only one on the driver side. The lopsided design plus its rarity on our local roads makes it a point of curiosity, especially among car enthusiasts, even if it's not everyone's cup of tea… It also look very athletic when viewed at all angles, at times, people tried and encourage me for a race whilst waiting at the traffic light.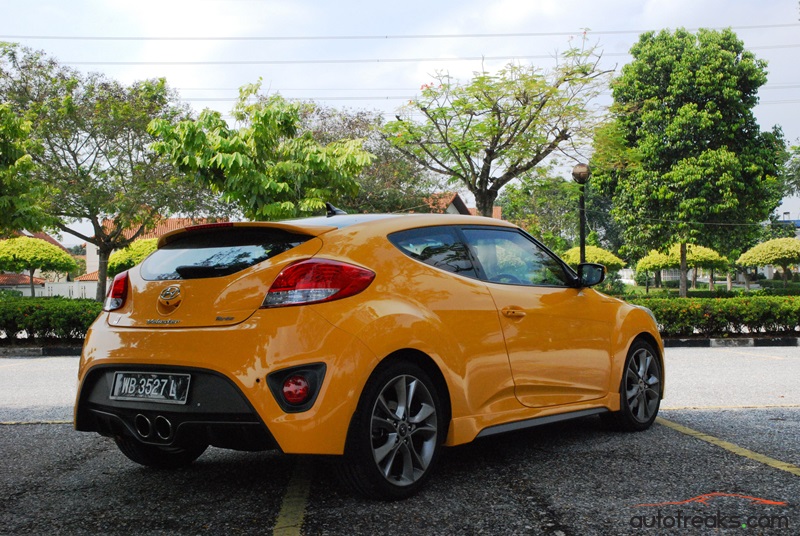 But, what really makes the Veloster stand out is if the fact that it possesses so much European flare, it's ready to rival top hot-hatches in its segment. They say you should not judge a book by its cover, so right from the moment I was given the keys to the Veloster Turbo, I was keen to find out if the hot-hatch is able to live up to its sporty appearance.
While the Hyundai Veloster has been around in our market for quite some time, the turbo variant only arrived here in April this year. Hyundai's 1.6-liter Gamma turbocharged engine is capable of producing 186hp and 265Nm of torque, mated to a 7-speed Dual-Clutch Transmission (DCT). This allows a brisk acceleration from 0-100 km/h in 8 seconds thanks to its twin-scroll turbocharger that, when combined with the direct-injection system, results in minimal turbo lag and very responsive power delivery.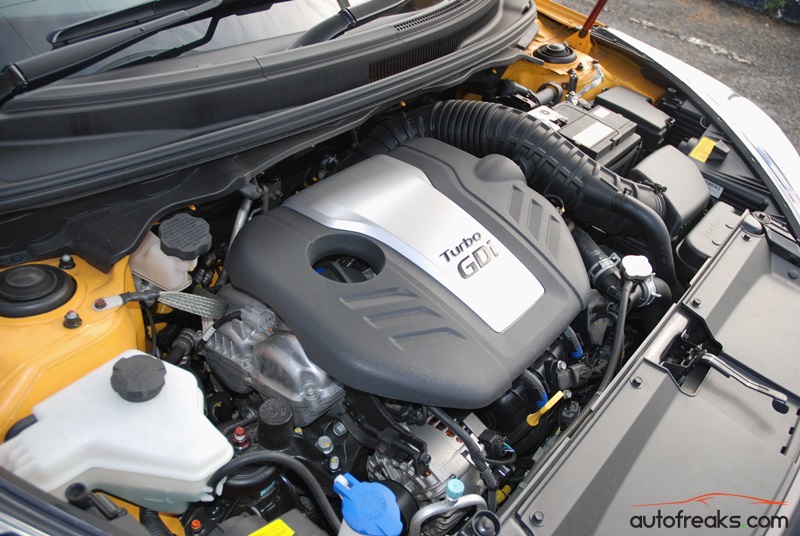 Although it is not up to a certain standard of a typical car enthusiast due to the lack of manual shifting, the Veloster Turbo is actually so much fun to be driven around as the response is instantaneous, the brakes bite reassuringly and the ride feels planted.
What's more entertaining is that the Veloster tackles sharp corners with aplomb and only requires a little steering effort. There's plenty of grip to keep the car from swerving all over the place when going through faster turns, while the chassis feels very agile. Plus, the steering gives plenty of feedback and pretty much goes exactly where you want it to go. The Hyundai Velsoter Turbo features a Flex Steer System that allows drivers to adjust the steering assistance system with three different levels of weight through the wheel which include normal, comfort and sports mode. It piqued my curiosity for a moment, but I couldn't be bothered with it after a while.
Due to the tuned suspension setup, the overall ride is a bit unsettled, especially on rough surfaces. Since our local roads are generally filled with plenty of unexpected undulations, at some points it can get a tad irritating. It would also be nice if the engine produced a distinctive growl for a more sporty appeal, because I noticed that there's quite a lot of wind noise that creeps inside the cabin.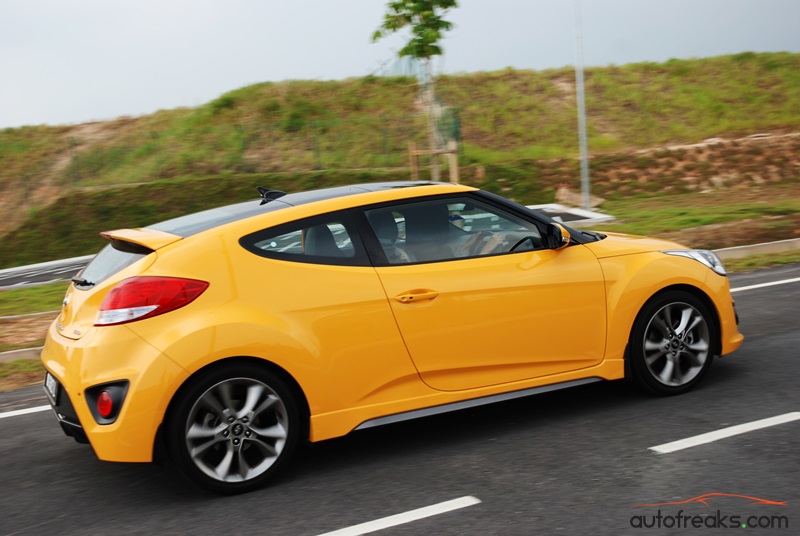 Turbocharged engines are popular with its bipolar personality. Since the turbocharger generates extra power, it allows smaller turbocharged engines to equal larger non-turbocharged ones in terms of acceleration. But because the turbocharged engines are smaller, they're also generally capable of achieving better fuel economy. During my test run, I was able to achieve 8.7L/100km on a combination of the occasional bouts of heavy traffic-flow driving and adrenaline rush highway sprints. I was also able to maximize fuel economy by activating the ECO mode, however, since I was given the keys to the Veloster Turbo only for a weekend, I didn't want to spoil all that fun. In fact, I even volunteered myself to run errands just so that I can have some extra alone time with the hatchback.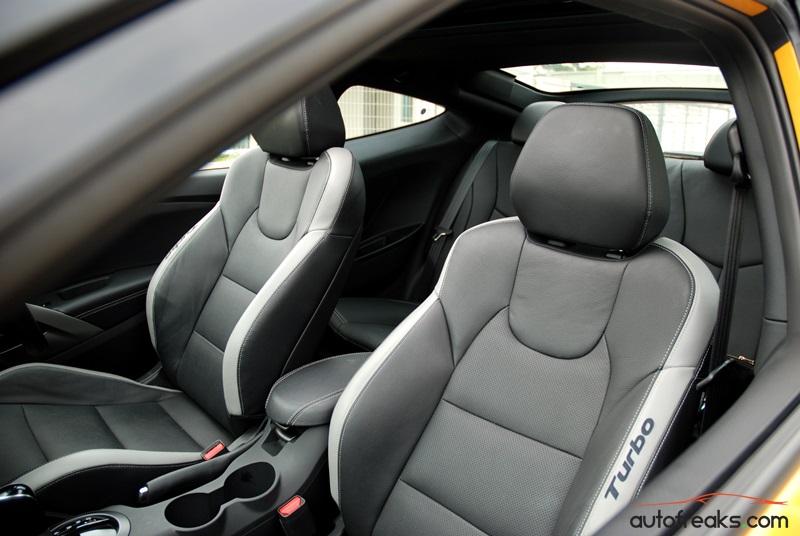 Developed for the tech savvy and style conscious Gen-Y buyers, the overall interior layout of the Veloster Turbo is generally very modern with plenty of pizzazz that promises the best bang for your buck. A multifunction 7-inch touchscreen display is located on the dashboard and it allows you to connect to your smartphone via Bluetooth connectivity. Aside from that, the Veloster Turbo is flanked by an indulgent amount of other standard kit, including rear parking sensors, push-button ignition, panoramic sunroof, heated front seats as well as a nicely contoured semi-bucket seats.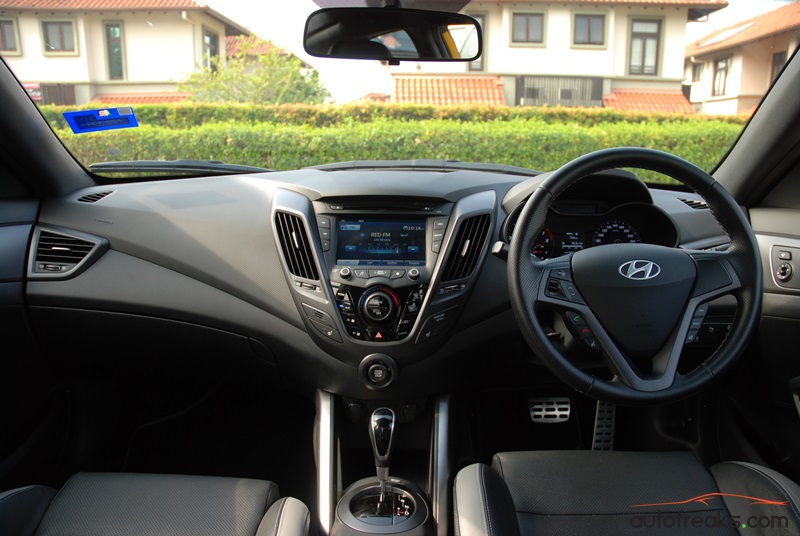 One of my most favourite interior goodies found in the Veloster Turbo is its audio system. It comes complete with central speaker, external amplifier and subwoofer that does a great job at providing crisp sound as if you're listening to a live-band music. I personally find it absolutely delightful!
Unlike some of its rivals, the Veloster only allocates two seats at the rear that is separated with a plastic cup holder. In fact, the Veloster's rear cabin has an abundance of hard plastic surfaces everywhere, which makes it less comfortable to relax or slouch. The worst part is that rear occupants, especially taller ones, might find their heads nestled in unsettlingly close proximity to the 'helmet' shaped roof, and the radically slanted rear screen. A short trip around the block won't be a problem, but for a long distance drive, it won't take long before the back seat passengers start to throw tantrums.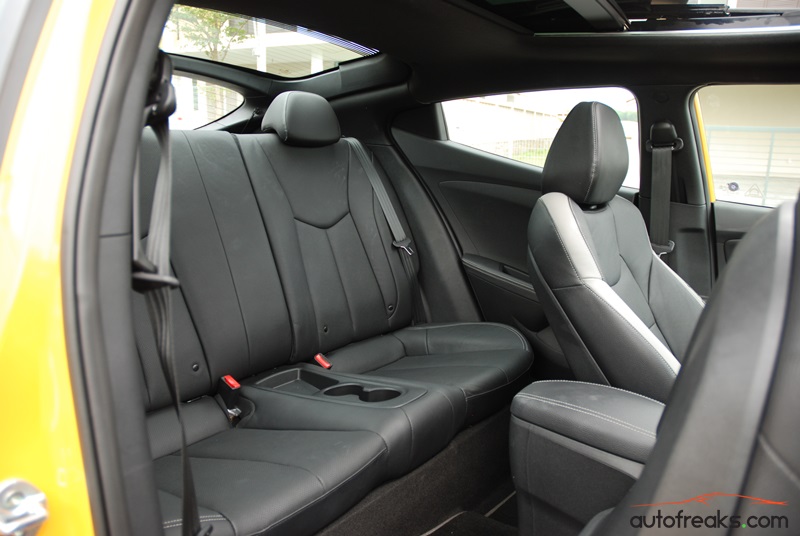 On the plus side, I was surprised to find a large and useful trunk that offers an abundance of space, large enough to even fit a human inside. Or you can just stick to filling it with the usual stuff like suitcases, gym bags, shopping bags or sports equipment.
Fun, zippy and stylish, the Veloster Turbo offers the trifecta of must-haves that will appeal to single urban dwellers or the answer to your mid-life crisis. The turbo engine and funky looks made it shine as a smile-inducer especially when you're having a bad day. Of course, for RM148,118 you can buy a much bigger and more practical car, but rarely does value come in as interesting a package as this, so two thumbs up for that!
SPECIFICATIONS: Hyundai Veloster 1.6 Turbo
Displacement: 1.6-litre T-GDi petrol engine
Transmission Type: 7-speed DCT
Power: 186hp @ 5,500rpm
Torque: 264Nm @ 1,500 – 4,500rpm
Fuel Consumption: 8.7L/100km
Price: RM148,118.55 (OTR with GST w/o insurance)