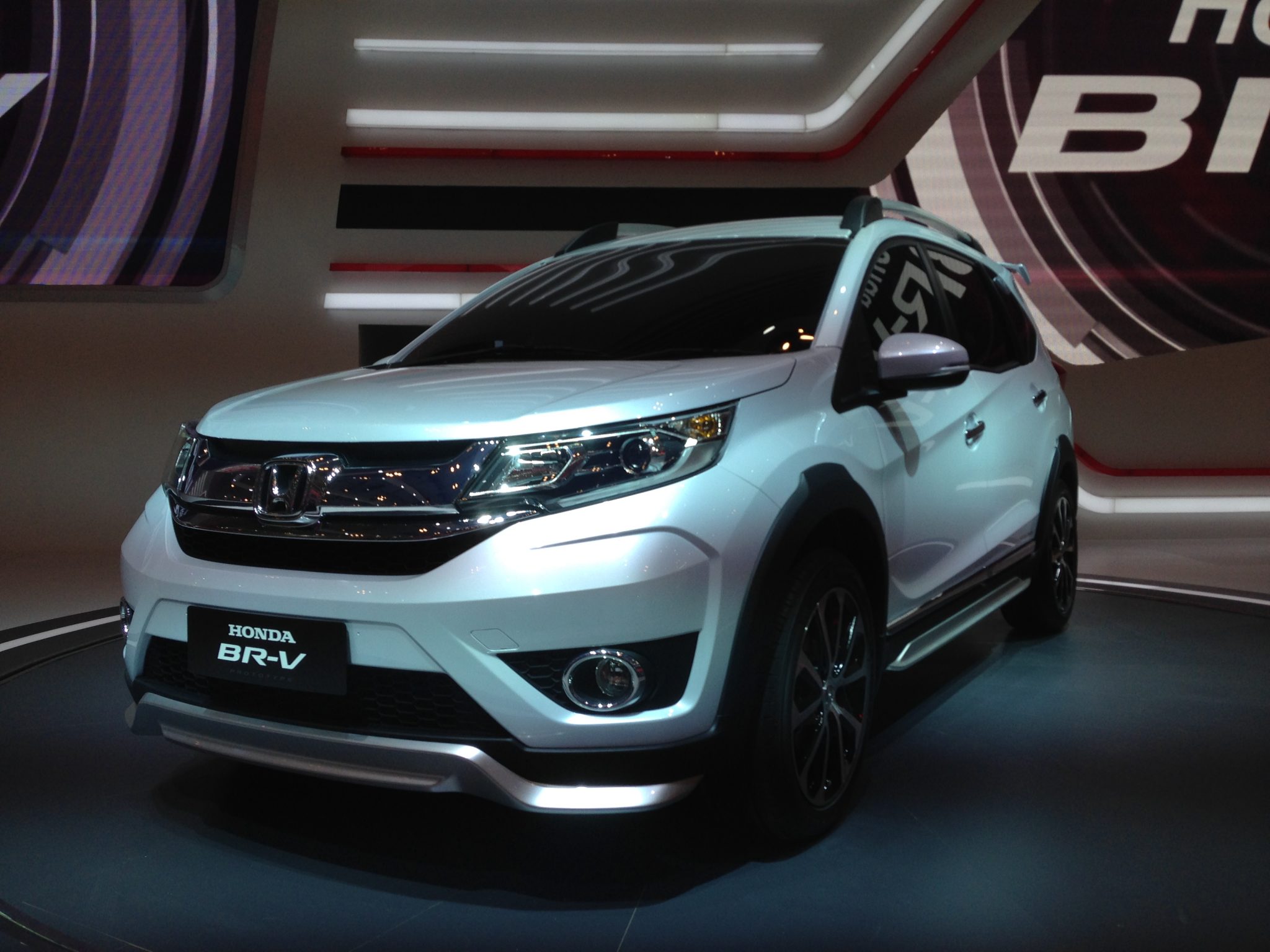 ADVERTISEMENT
This has to be one of the most highly-anticipated launches of the year, and just moments ago, Honda Motor Company Ltd. just took the covers off the all-new Honda BR-V at the Gaikindo Indonesia International Auto Show 2015 (GIIAS)…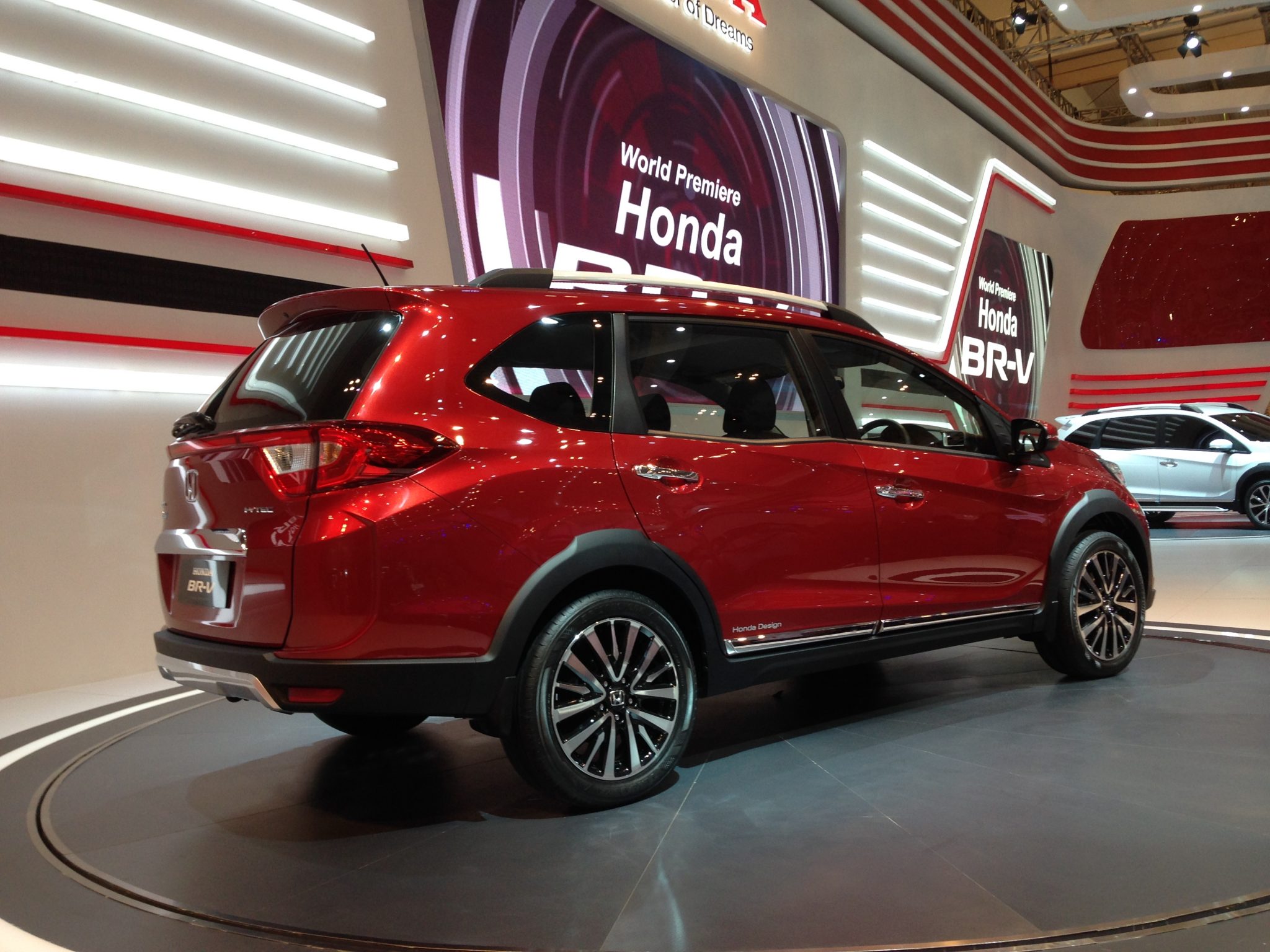 So just what is the Honda BR-V? Well, try to think of it as an amalgamation of a SUV and an MPV and you'd not be far off the mark. It's a 7-seater MPV, and yet boasts the looks and characteristics of an SUV, MPSUV anyone? It's a BRaVe new world folks and Honda is taking a big bite out of it.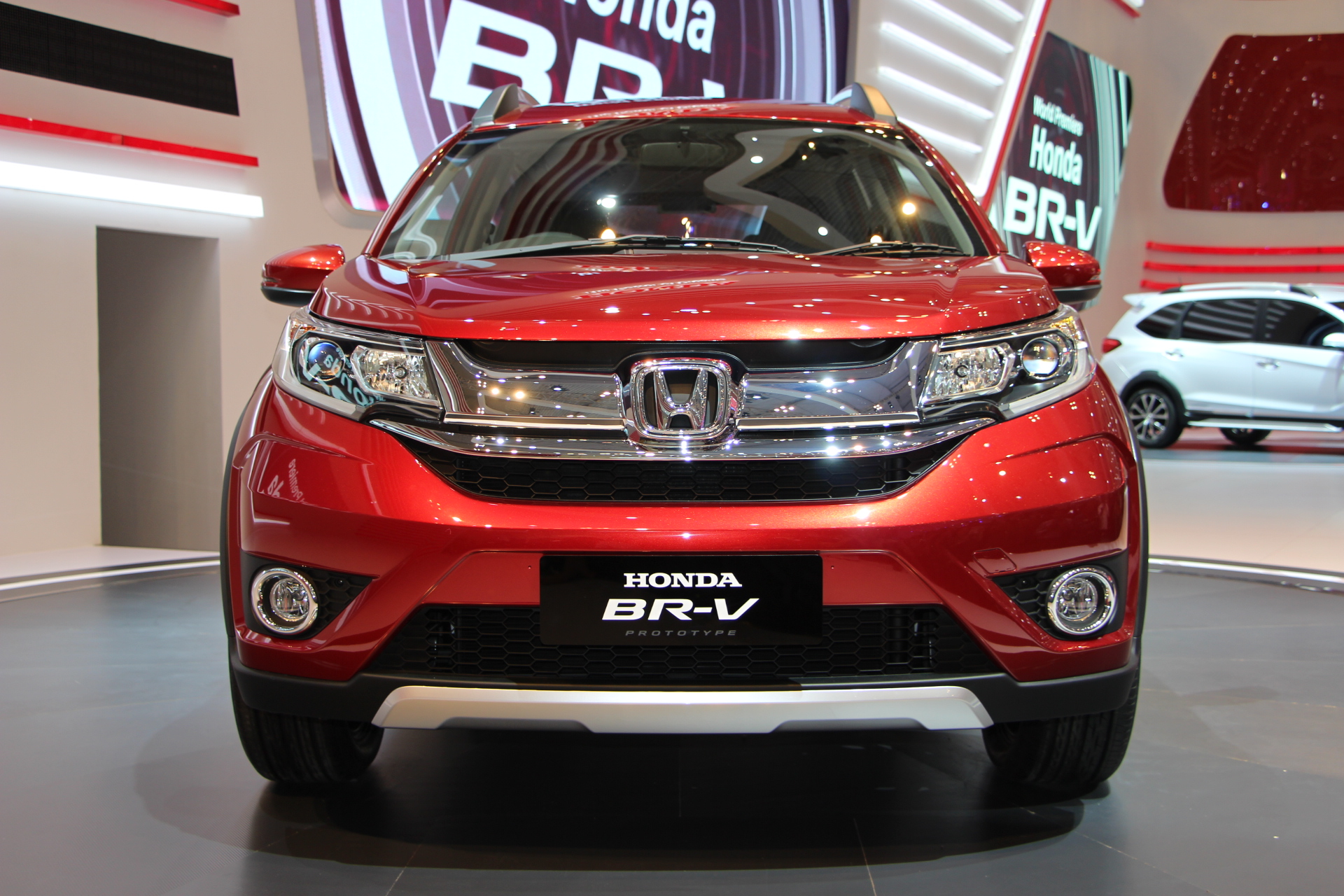 The BR-V, which has been dubbed a 'multi-passenger crossover utility vehicle', is powered by a 4-cyliner, 1.5-litre i-VTEC engine that churns out 120bhp (88kW) and 145Nm of torque, and is mated to a CVT transmission (a 6-speed transmission manual is available but not for our market…if the BR-V comes over that is, ahem)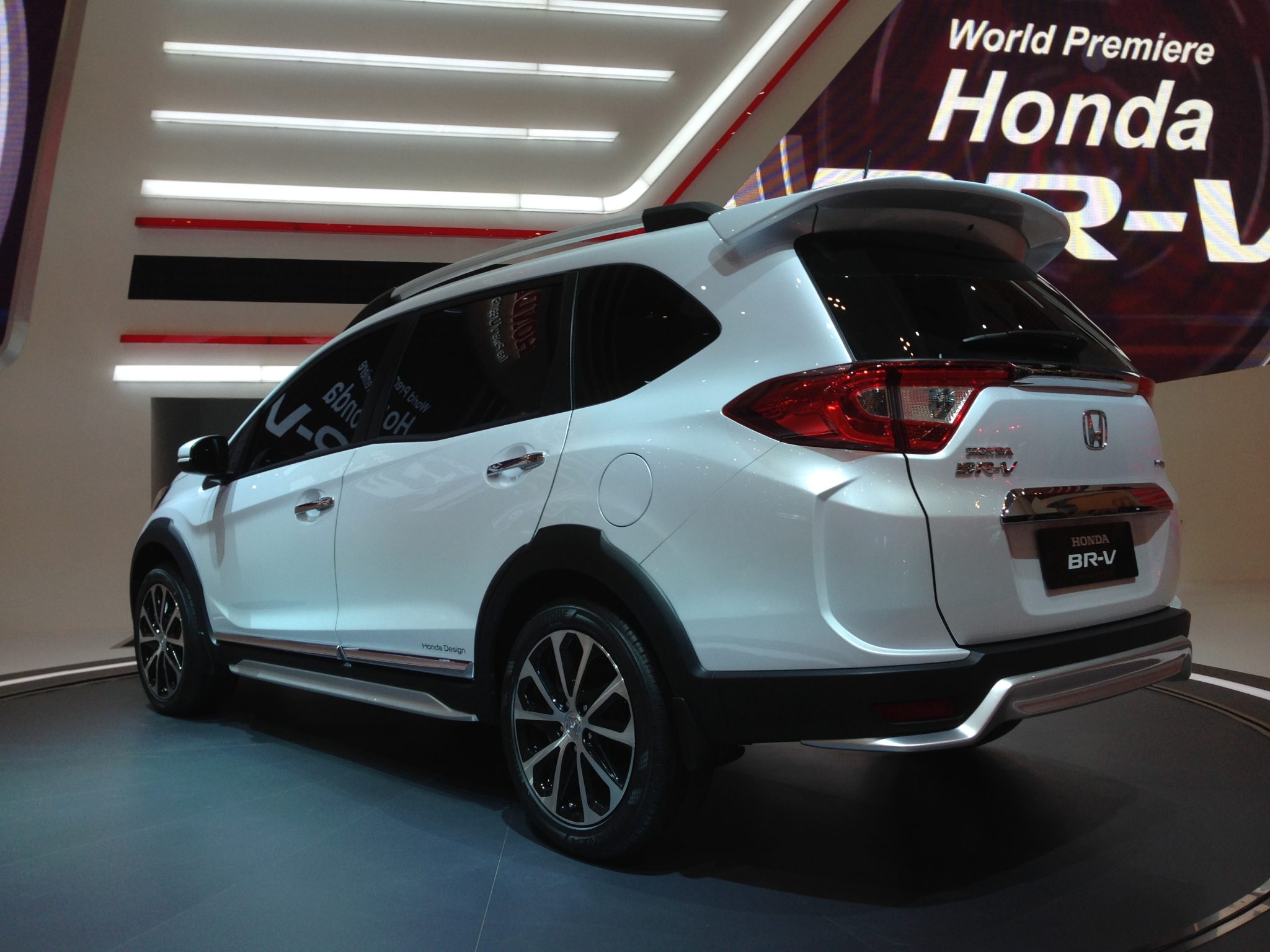 At a glance the BR-V makes a very strong and positive first-impression, based solely on how it looks. It's hard to believe that its actually built on the Honda Brio platform, because it looks a lot larger than the aforementioned, and visually, it looks a lot bigger than the HR-V.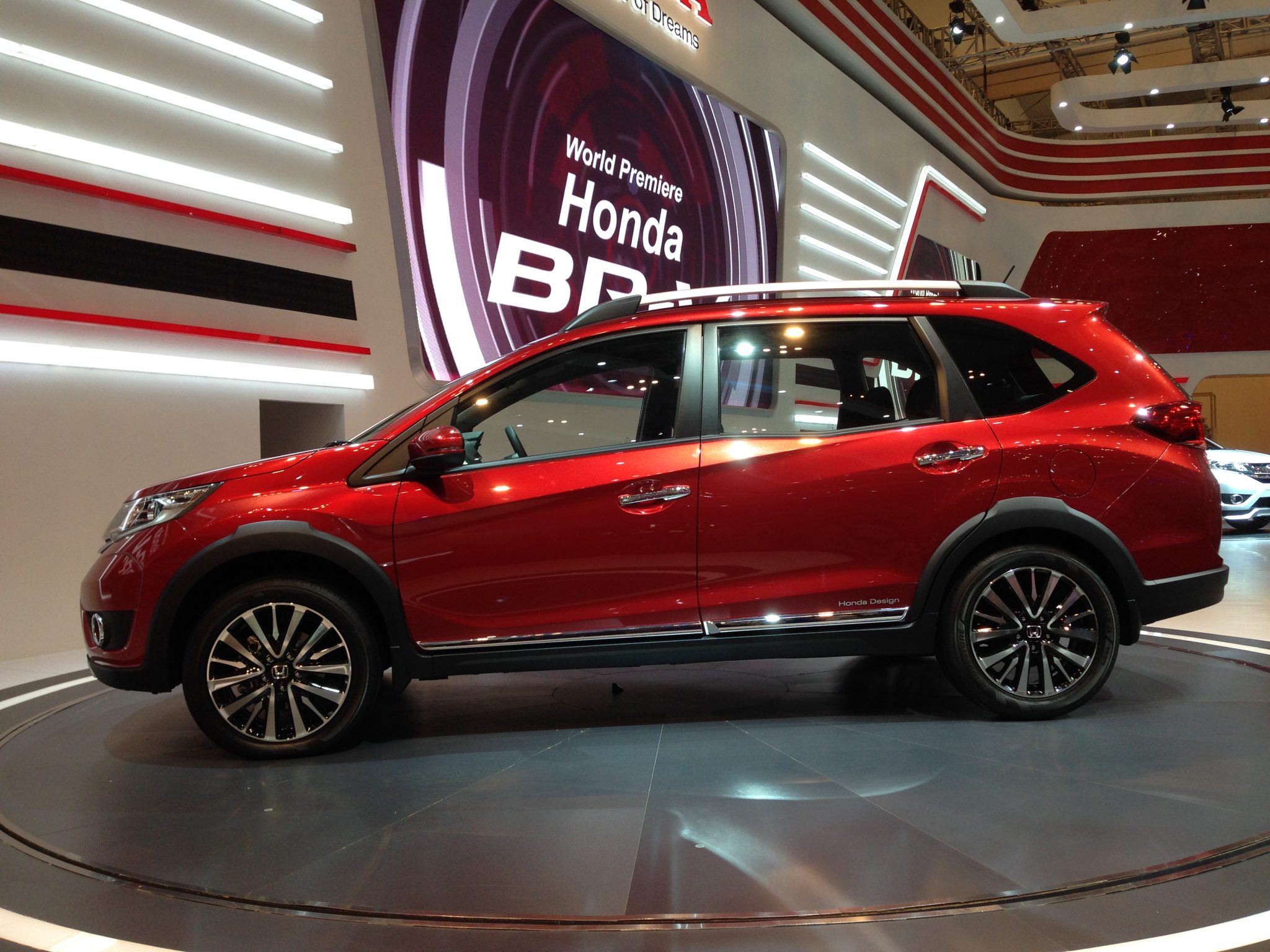 Design wise the BR-V has very bold and accentuated lines, and while personally I feel there's a just a tad too much chrome on the front, the rest of the rendering comes off as very visually pleasing. It's going to be a hit with those whose families are growing and can't see themselves in a bona-fide 'family MPV' just yet. To put a local colloquialism to it, those who want something a lot less 'uncle' are going to be drooling over the BR-V, which really does come across as one of the sportiest looking MPV's I've seen in a while.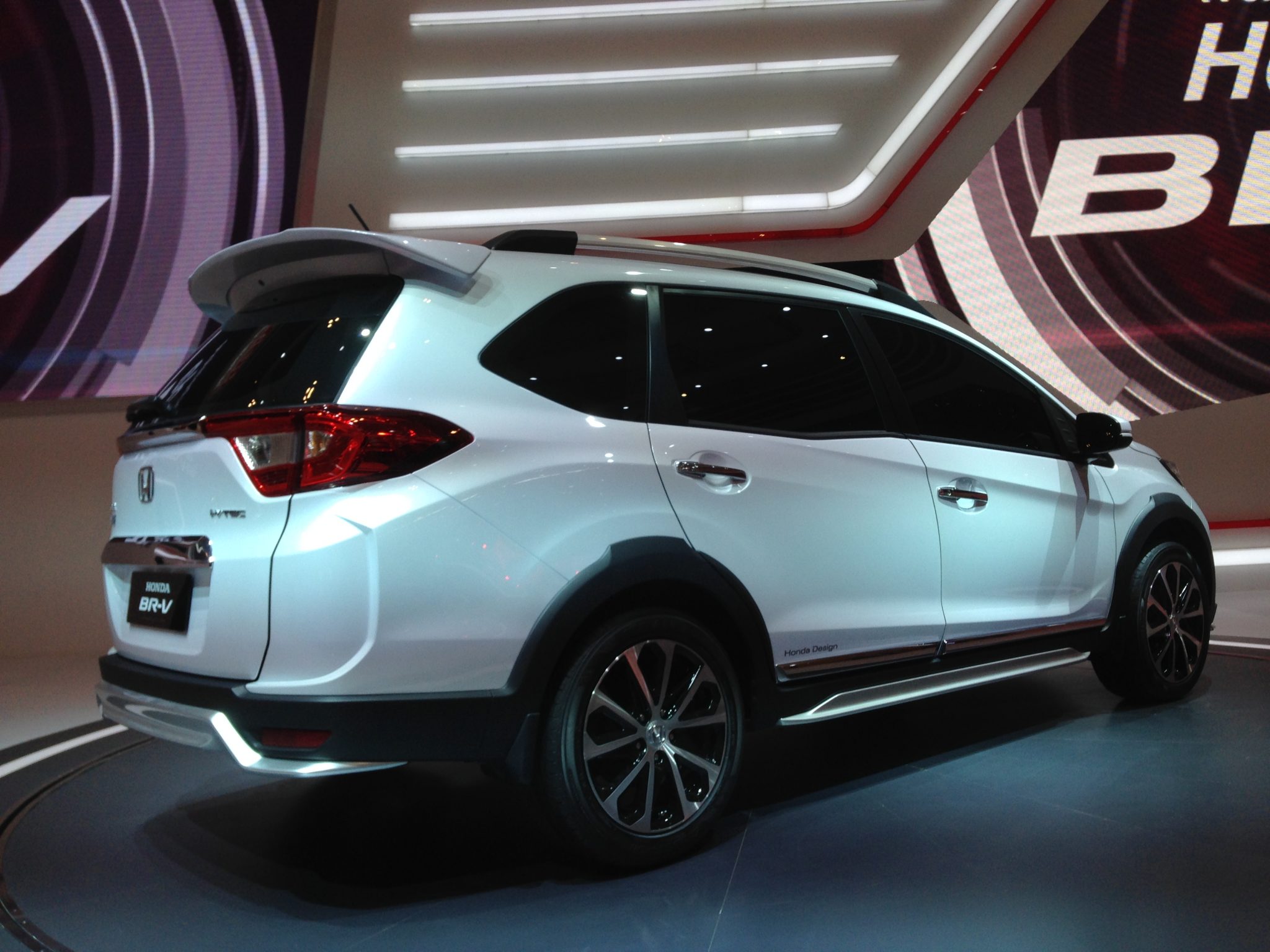 Slated to be sold initially first in Indonesia in early 2016 followed by other countries, this world premiere was officiated by Noriaki Abe, COO for Regional Operation (Asia & Oceania) Honda Motor Co. Ltd. together with Kusnadi Budiman, President Comissioner of PT Honda Prospect Motor (HPM), and Tomoki Uchida, President Director of PT Honda Prospect Motor.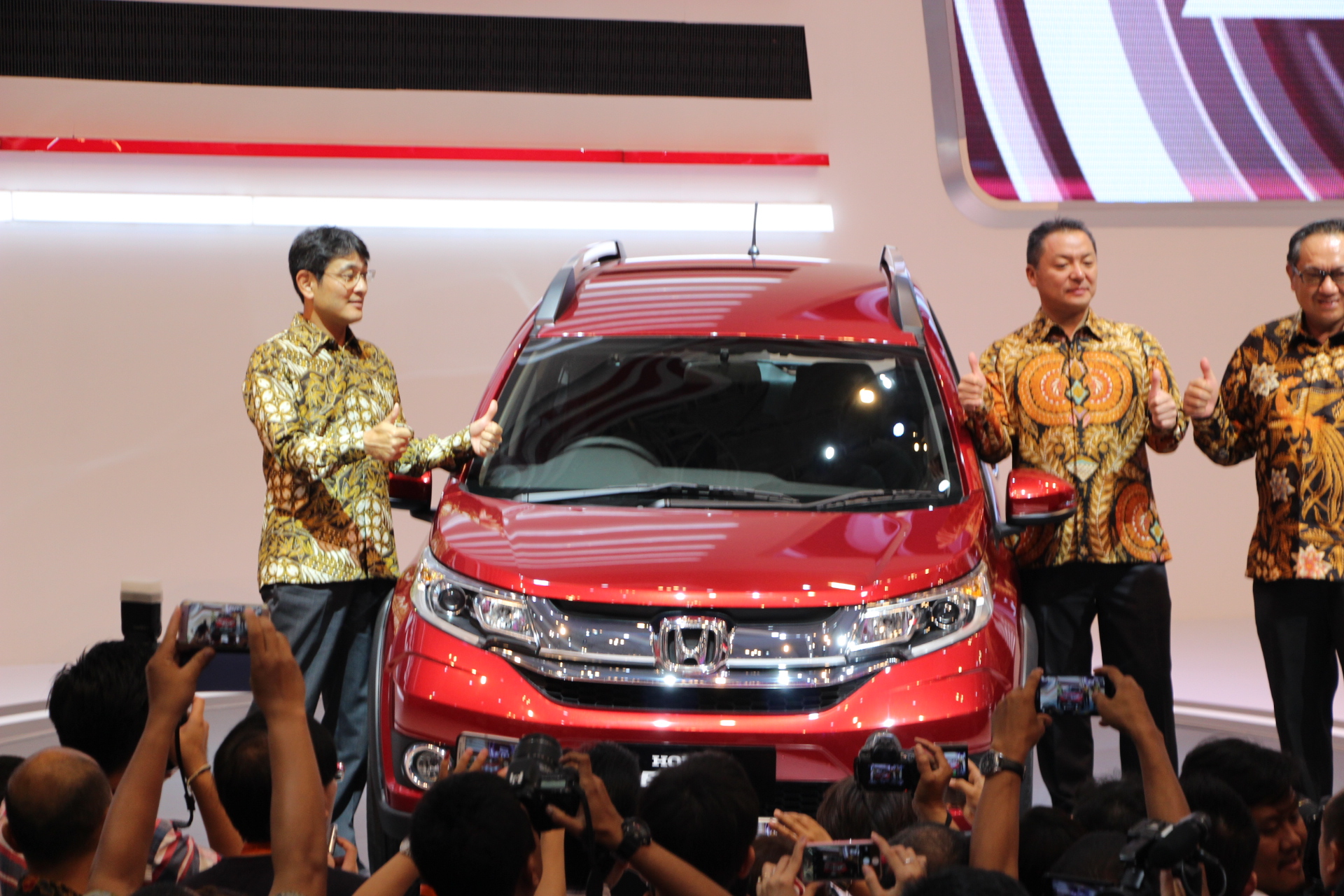 "Honda started business in Indonesia in 1971, and the importance of this country for Honda's auto business has been increasing year by year," Mr. Abe (above, left) mentioned in his remarks. "With the all-new 7-seat BR-V and the rest of the Honda line-up, we will continue to offer exciting products and the joy of driving to our customers in Indonesia."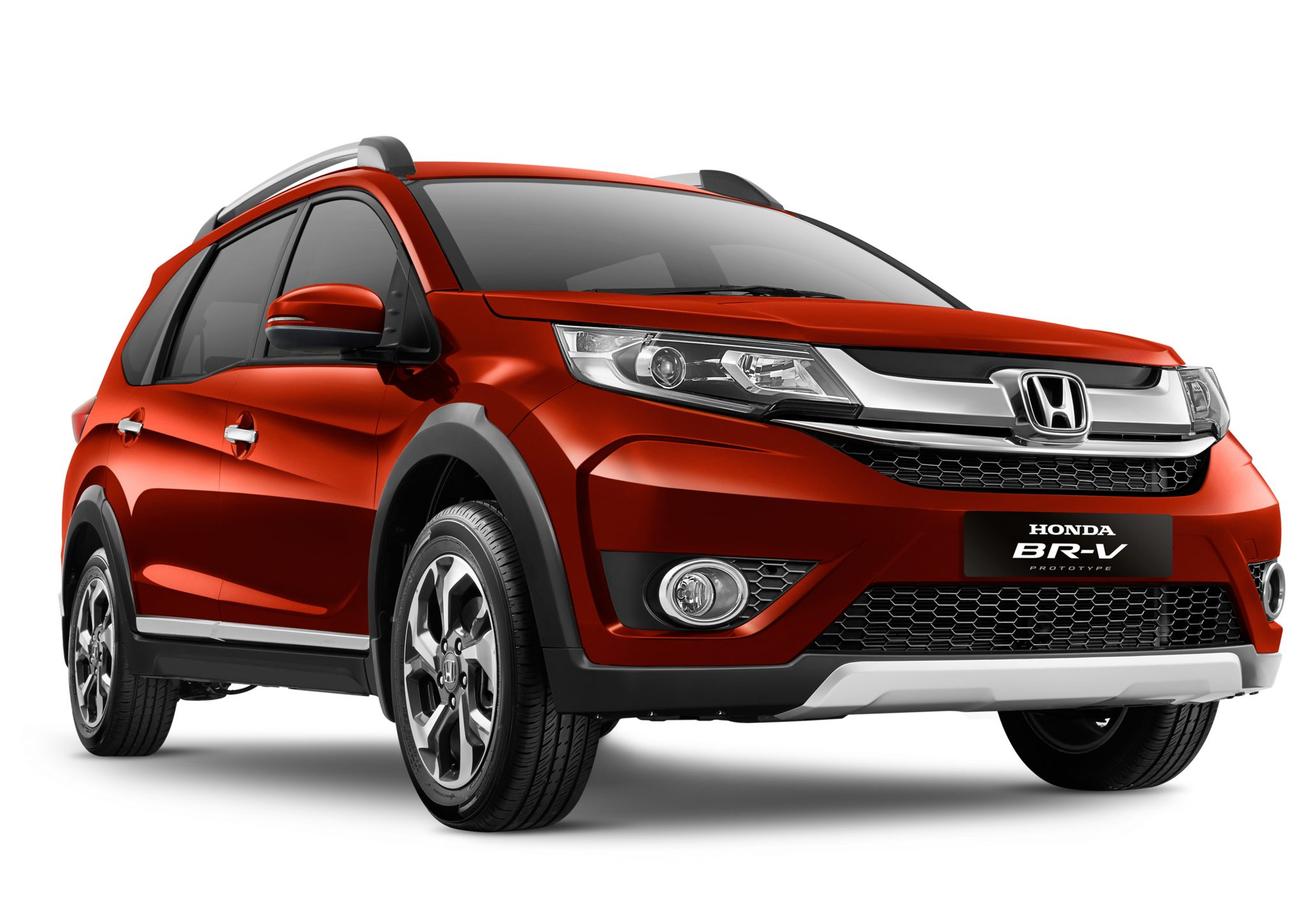 Meanwhile, Mr. Uchida said, "Honda BR-V was developed to fulfill the needs of Indonesian customers. We believe Honda BR-V will be greatly received by customers in Indonesia and become the main attraction in this year's motor show."
Honda BR-V will be marketed in Indonesia with a price range from Rp. 230 to Rp 265 million, and the booking will start from GIIAS onward. The production of Honda BR-V will start at HPM's Karawang factory in January 2016.
Honda BR-V Launch at GIIAS 2015 Photo Gallery:
Key Features of All-New Honda BR-V:
The Exterior
High ground clearance
Big roof rails for all grades
LED connected tail light design in C-character
New 16 inch aluminium wheels
The Interior
Class-leading spacious and comfortable cabin with additional knee room and head room
Advanced features such as Multi-Information Display
Rear air conditioner between the first and second row seats to expand air flow to all areas
Engine and Transmission
4-Cylinder 1.5-liter i-VTEC engine
120 horsepower @ 6,600 rpm and maximum torque of 145 Nm @ 4,600 rpm.
New 6-speed Manual Transmission
Continuously Variable Transmission (CVT) under Honda's "Earth Dreams Technology"
Safety
Dual and Front SRS airbag
Anti-lock Braking System (ABS) and Electronic Brake Distribution (EBD)
Vehicle Stability Assist (VSA)
Hill Start Assist (HSA)
Front 3-Point Load Limiters with Pretensioner ELR Seat Belt and ISOFIX
Introduction: The Honda BR-V Story
As the Asian automotive market grows in its diversity, new vehicle types and segments are increasing accordingly. The volumes actually exceed expectations. Honda, the professional automotive maker, is consistently developing new types of vehicles to best meet customer preferences and needs in each country and region.
After the success of Brio, Amaze, and Mobilio, which all recorded great sales performances, Honda recognized that there is one segment gaining more interest among Asian customers – the Small SUV segment. Honda provides HR-V in the Medium SUV and CR-V in the Compact SUV segment, but lacked suitable product in the Small SUV segment. To satisfy customers' needs in this segment, the company undertook market research and found that the volume of the Small SUV segment in Indonesia had expanded dramatically since 2010. With no product offered in this segment from Honda, the company aims to provide an outstanding Small SUV vehicle for Indonesian customers.
Market research with target customers showed that core needs in this segment were a "Proud" feeling to demonstrate self-achievement; an "Adventurous" feeling to enjoy activities with family and friends; and "Family Comfort" where all family members could ride together safely and comfortably. Customers in this segment want an outstanding, active utility vehicle in which they can spend their time with their whole family.
Honda R&D Asia Pacific Co., Ltd., with its vast experience in developing Brio, Amaze and Mobilio, set out to develop the best vehicle in this segment. Development team, led by Chief Engineer, Mr. Atsushi Arisaka, worked together again to create and deliver the best Small SUV vehicle to match customers' needs. Honda is confident that its All-new BR-V is the best car for them.
The Grand Concept – A Sporty MPV…
Advanced "Scene Hunter" – Wherever I want –  
With the combination of SUV appearance and handling, together with a great utility and spacious cabin for the whole family, BR-V is a new-generation crossover utility vehicle. Customers can experience the outstanding appearance of an SUV and still benefit from family oriented design and comfort.
The tough, solid appearance of BR-V features a high ground clearance and a great engine performance that suits active and sporty driving. With its advanced design and high quality materials, BR-V customers can enjoy the driving experience of an advanced "scene hunter" and can go wherever they want in this vehicle.
With this new generation crossover utility vehicle, customers can get away from an ordinary lifestyle, enjoy activities with families and friends and always feel safe through the high standard of safety features. Moreover, BR-V offers a spacious cabin, suitable for up to 7 people, with sufficient baggage capacity in its large trunk.
Exterior Design Concept
Active Solid Motion
The front view of BR-V reflects toughness and a premium SUV character. A tough hood, a solid motion pillar, high ground clearance and a strong, short fender express a toughness and active movement. Big roof rails are standard equipment, giving added convenience and function. Door step, under guard and bigger outer panel also reinforce the sportiness and toughness of the SUV.
Another highlight of the exterior design is that even though BR-V has a third-row configuration which can carry up to 7 people, Honda overcame the challenge of a compact and sporty design by using a solid motion pillar.
Front view: Solid Wing Face design
Wide appearance headlight and front grille design
Headlights and front grille are designed to highlight the continuous line, giving a sharp and wider appearance and expressing the Honda front face identity. A thicker bonnet shows a stronger and more powerful front view. Fender and bumper are designed to unify and highlight the sturdy, premium image of an SUV.
Side view
The character line from front door to front fender emphasizes toughness and a sporty appearance. Black cladding around the body highlights the SUV characteristic and a powerful profile.
Wide Appearance & Connected Tail Light design
LED tail lights in C-character with a wide appearance and tail gate are designed to reflect body toughness, with a sporty, premium feel.
Wheel: Dynamic & Rugged Design
New 16 inch aluminum wheels emphasize the dynamic and rugged design. Wheel spoke shape expresses the ready-to-go-everywhere feeling and a dynamic, sporty image. The shadow from dark grey wheel cover also highlights a sporty and rugged appeal. Trim wheels have a main layer combined with fin layer to enhance sports appeal.
Color Concept
Dynamic Passion concept is applied to reflect the active and sporty character of SUV.
The available exterior colors of BR-V are:
Taffeta White
Lunar Silver Metallic
Modern Steel Metallic
Crystal Black Pearl
Passion Red Pearl
Misty Green Pearl
Interior Design Concept
Premium & Active
To capture the SUV feel, the interior design reflects the tough and premium image.    The Honda design team added a sharp and dynamic line to the interior design which in itself gives a comfort for passengers.
Multi-layer, meter illuminated gradations on premium white light with black background enhance the sporty appeal. Decorative silver parts and painting on the instrument panel and armrest enhance the premium quality, while the line of the instrument panel creates a sense of space in the cabin.
Automatic air conditioning is newly designed for a premium look. Push start button (only for top grade) is also applied for more convenient use.
Fabric seats feature multi-layered fabric to enhance a sports feel, while the black interior color, combined with a new design and a separated headrest complement the overall sense of sportiness.
The interior space of BR-V is a class-leading spacious and comfortable cabin. A sense of quality, reflected in every element, provides the ultimate comfort and luxury, supplemented with well thought out storage capability. Considerable effort went into a second row seat and a third row seat to provide a comfortable and relaxing atmosphere.
Cabin
To create more cabin space for the BR-V, a portion of the instrument panel in the lower part has been reduced to provide more legroom for the front seat passenger. Space was added in the center below the AV position to conveniently hold a smartphone or wallet.
Package
BR-V offers additional knee room and generous headroom in the second and third row. The third seat is a 50/50 split folding type and quickly folds and tumbles, to create more cargo space. Passengers can enter and exit the third row easily and the second row seat is also convenient with a one-motion fold-down function.
Rear Air Conditioner
The rear air conditioner is positioned between the first and second row of seats to expand air flow to all areas, ensuring maximum comfort for all passengers, no matter where they are seated.
Electrical components
To offer a premium feeling, Honda designed a new indicator illuminated in white light for all grades and a bigger indicator screen for top grade. Multi-Information Display shows information such as fuel consumption, trip meter (two points), outside temperature, instant fuel efficiency, and clock on a bigger display screen. The driver can check by simply touching the switch. For easier window operation, Honda added auto-up for the driver.
Powertrain
The BR-V is powered by a petrol engine with 6MT which provides high torque and better shift feeling with a wider gear ratio range. Fuel consumption performance is set to balance with acceleration. Therefore, the drive benefits from smoother acceleration, more fun driving and yet great fuel efficiency.
Engine
The BR-V is powered by a "16-Valve, 4-Cylinder 1.5-liter Lo/Hi VTEC engine" which has maximum power of [email protected] 6,600 rpm and maximum torque of 145 Nm @ 4,600 rpm. It's well balanced with an excellent ride feel and outstanding fuel efficiency even carrying many family members. The BR-V's engine delivers great acceleration with the combination of its newly-developed transmission (6MT) and intelligent tuning.
It delivers class-leading fuel efficiency and low CO2 emission. High fuel efficiency performance is achieved by friction reduction of each part, offset oil supply crankshaft, eccentric groove main bearing, improvement of the cooling system and low-viscosity oil. Emission levels were reduced by high swirl head port, high intake flow and low compression ratio. For weight reduction technology, surface rigidity of the cylinder block is optimized. Moreover, an independent bearing cap block is applied.
To improve fuel efficiency, the 1.5L engine comes with two friction reduction technologies;
A Cooling Control Spacer (CCS) inside the water jacket to immediately optimize water temperature and broaden piston clearance with a warm temperature, resulting in lower friction and improved fuel efficiency.
A molybdenum disulfide (MoS2) piston skirt and main bearing coating, which are excellent at reducing friction between the pistons and cylinder walls. MoS2 is a high-performance lubricant that reduces the possibility of piston seizures while providing better oil retention and increased fuel efficiency.
In addition, a lightweight one-piece plastic intake also adds to fuel efficiency. An EGR plate on the cylinder block intake manifold further contributes to the BR-V's outstanding fuel efficiency.
Honda changed the position of the intake system in order to intake fresh cool air into the engine for pulling power. This is a design change for optimizing engine usage in SUV. Changes were also made to the driveshaft and heat cover to provide longer tread and maximize hill climbing performance.
Transmission
6-speed Manual Transmission
To offer a smoother acceleration and better driving performance, 6-speed manual transmission was newly developed for the BR-V petrol engine exclusively.
This new 6MT corresponds with high torque and gives better shifting with a wider gear ratio range that best matches the engine's output characteristics, along with lower gear. The final gear was set at a low ratio to improve acceleration performance. Honda has set an exclusive low ratio for second gear to improve uphill climbing ability and smooth acceleration performance for this new generation crossover utility vehicle.
Although fuel consumption should be affected by a low ratio setting, BR-V balances fuel efficiency and acceleration performance. The driver can enjoy fun driving without any concerns of unnecessary fuel consumption.
CVT (Continuously Variable Transmission)
Honda's middle-sized Continuously Variable Transmission uses 12 high-strength belts to achieve a wide ratio-range transmission with a compact size.
The weight of the transmission has been reduced even though torque capacity has been increased, achieving low friction and improved fuel efficiency. Liquid packing that resists deformation of the transmission was developed to enable weight reduction.
The pulley oil pressure is maintained with high precision under any driving conditions by superior control technology.
Chassis
For a better collision performance and more comfortable ride of the All-new BR-V, body rigidity and damper have been developed for a Small SUV driving feel.
Since input force is higher for a Small SUV vehicle, Honda has enhanced both strength and body rigidity. Body rigidity and collision performance was achieved by adding a main frame and under load path which join the sub-frame and front bulk head into the front section.
For cabin connection between the front and rear section, Honda improved an under floor joint by adding a welding spot under a load path. This enhances joint efficiency, even with length sized up for a wide tailgate doorframe. Side body rigidity is not affected as its structure is firmly connected to the suspension and body rigidity of both opening of the tailgate and cargo space is optimized.
CAE (Computer Aided Engineering) was employed to calculate and ensure greater stiffness and a newly adapted damper ensures enhanced driving feel and ride. With a seamless wide ratio of 6MT, and best setting CVT, occupants are assured of smooth and stress-free acceleration when driving at speed on the highway.
Mac-Pherson strut front suspension
The Mac-Pherson strut front suspension features a kingpin axle with extra rearward inclination, a large caster angle, extra caster trail and optimized roll steer. As a result, the BR-V exhibits a high degree of stability during forward motion. With an optimized layout and construction that combines high capacity with low elasticity, the compliance bushings help provide an extremely comfortable ride.
H-Shaped torsion beam rear suspension
The H-shaped torsion beam rear suspension features a reduced spring lever ratio and optimized trailing arm bushing characteristics for a comfortable ride. Optimized roll steer and roll camber contribute to the BR-V's stable handling and excellent road holding ability.
EPS offering a stress steering feel.
The electric power steering (EPS) offers a satisfying level of assist, while the rigidity attached gearbox helps ensure the steering feel is stable and direct. Combined with the optimized suspension geometry, the EPS delivers easy steering at low speed and stable steering at higher speeds for a natural, stress-free feel.
High-Tensile Steel
To enhance safety, high-tensile steel sheet has been adopted to balance with the body's length and weight. A high-tensile steel frame has been added in the middle of the body to enhance collision force absorption. Many high tensile steel sheets are also used to increase the durability of the body and the floor to resist the force of the tumble seats in the second and third row.
NVH performance
For a better NVH performance of BR-V, tyre noise, engine noise and idle N/V were improved. Noise insulation features continue with greater dampening for the floor and an insulator added to better absorb noise at roof level. The thickness of dash insulation between the engine and interior cabin was increased to prevent outside noise. Honda also added a thicker hood insulator and door lining to reduce braking and acceleration noise. Moreover, a new damper in the BR-V has greatly improved NVH performance.
Safety
To improve the safety standards and enhance protection for vehicle occupants and other road users, Honda embraces a comprehensive approach to vehicle safety that provides a high level of both active and passive occupant protection.
Honda has applied VSA (Vehicle Stability Assist) function in BR-V for the first time. Along with other Honda standard safety features, BR-V is equipped with Anti-lock Braking System (ABS), Electronic Brake Distribution (EBD), Hill Assist Start (HSA), Dual and Front SRS airbag, Front 3-Point Load Limiters with Pretensioner ELR Seat Belt and ISOFIX.
Anti-lock Braking System (ABS) with Electronic Brake Distribution (EBD)
On slick roads, ABS is designed to prevent wheel lock during sudden braking to help the driver maintain handling performance and avoid hazards. EBD ensures proportionate front-to-rear brake pressure according to the vehicle load distribution, enhancing stopping performance.
Vehicle Stability Assist (VSA)
Vehicle Stability Assist (VSA) is a system designed to prevent sideways skidding when cornering, thus complementing ABS (which prevents wheel lockup) and TCS (Transaction Control System) to help ensure vehicle stability in most driving conditions – going, turning, and stopping.
Hill Start Assist (HSA)
Hill Start Assist helps to prevent the vehicle from rolling backwards when the driver switches from the brake pedal to the accelerator pedal while the vehicle is stopped on an incline. Hill Start Assist automatically activates when the vehicle senses a certain incline and is fully stopped in any forward or reverse gear. The system uses a longitudinal G-sensor along with a wheel speed sensor and steering angle sensor to control the hydraulic brake modulator. While activated, the brakes are released when the driver depresses the throttle to make the vehicle move.
SRS airbag system
Designed to help mitigate passenger injuries and preserve passenger space, the SRS airbag system for the driver and front passenger has been subjected to the following barrier crash tests: frontal full wrap, 55km/h; frontal offset 64 km/h; side, 50 km/h; and rear 50 km/h.
Front 3-Point Load Limiters with Pretensioner ELR Seat Belt
Three-point seatbelts are standard for all seating positions. The front seatbelts are equipped with automatic tensioners to help minimize injury potential in a frontal collision. When an impact occurs, the automatic tensioner tightens the seatbelt (shoulder and lap) to help hold the seat occupant firmly in position, but then slightly relaxes the pressure to minimize the chance of injury from the seat belt itself. The front seatbelts of the Sedan also feature adjustable-height shoulder anchors.
Pretensioners with load limiters are fitted to the front seats of Honda vehicles. In the event of a front or side impact above a certain limit, when the SRS is deployed, the pretensioner instantly rewinds part of the seatbelt webbing to maximize the restraining effect on the occupant. If the load on the seatbelt increases due to the forward movement of the occupant's chest, the load limiter pays out a small amount of the seatbelt while maintaining a restraining effect. This sequence reduces the pressure applied to the occupant's chest, reducing the risk of injury. As part of the way SRS is designed to operate, the pretensioner will always operate in unison with the airbags.
ISOFIX
ISOFIX is the International Standards Organization method to fit child seats into cars easily as well as safely. This standard is the result of extensive research in the field of attachment security and car design. ISOFIX works by providing a method of affixing the child seat without the seat belt or a locking clip. This makes it easier and quicker to fit the car seat correctly.