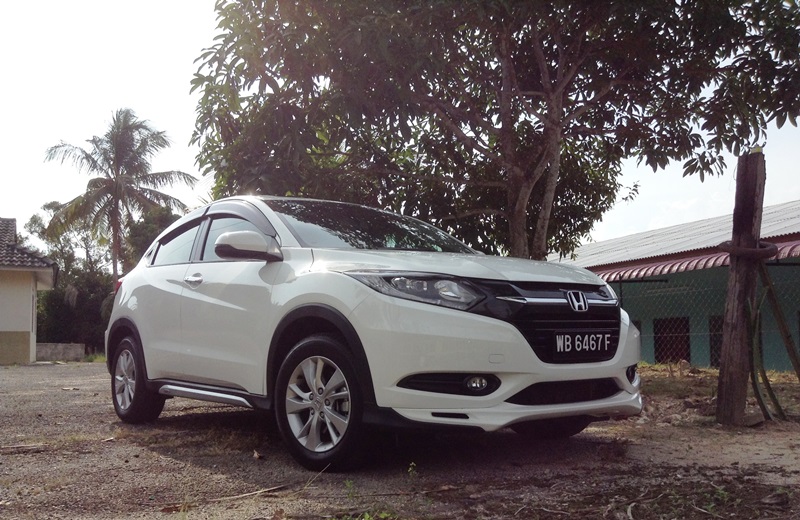 ADVERTISEMENT
If there's one thing we've come to realise, is that Honda is very good at identifying trends and stealing the limelight with a new product before the segment begins to peak. Earlier this year, the company entered a brand new segment with the all-new HR-V. Its presence in our local market has caused quite a stir in the automotive industry, especially among the younger generation of buyers who seek a smaller and more affordable  cost alternative to the highly popular CR-V.
Well, thanks to Honda Malaysia, for this Hari Raya celebration I was provided with the HR-V for my balik kampung trip to find out what all the hype surrounding this crossover is all about.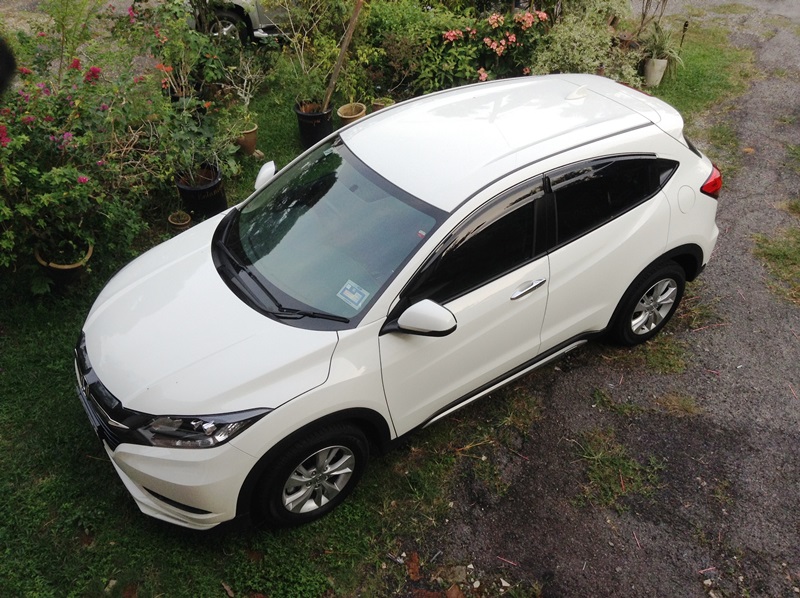 We all know that exterior styling is one of the most important things buyers look for when buying a new car. So when Honda came out with the HR-V, I was weeping with joy because after all, a good-looking new Honda below the RM100k price bracket is really hard to come by!
At first glance, the HR-V looks pretty much like the younger sibling of the CR-V and while the model sits below that popular SUV, there is actually more to it than that. Sharing the same platform as the Honda Jazz, it measures at 4,294 mm in length, 1,772 mm in width and 1,605 mm in height with a wheelbase of 2,610 mm.
The HR-V can easily be mistaken as a two door, due to the hidden rear door handle which is integrated into the C-pillar side windows (illustrated in the photo below); a nice touch that makes the HR-V look and feel like a sporty two-door coupe but best of all, it has the functionality and comfort of a minivan without even looking like one.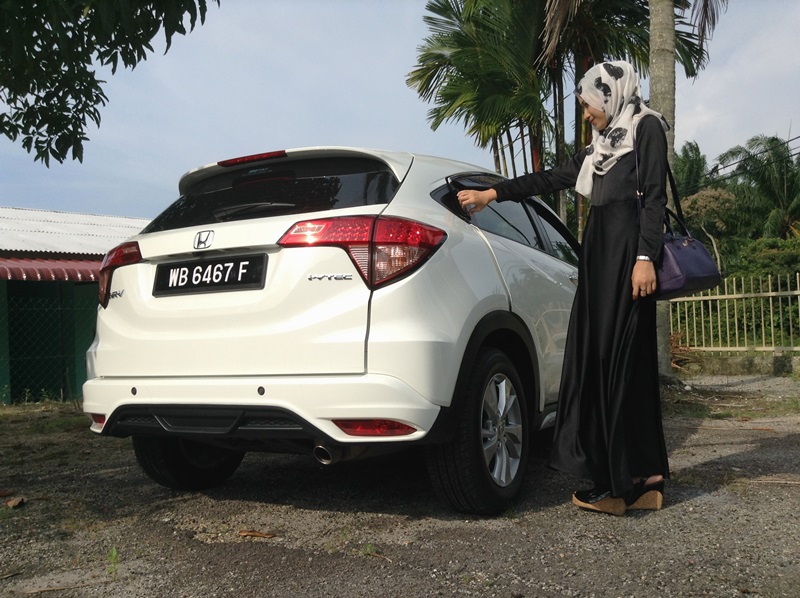 So you can probably understand why I was literally jumping up and down when Honda Malaysia's PR handed over the key to my Hari Raya ride for a week. The HR-V is the perfect car for me on this occasion because I had plenty of suitcases and duffel bags to haul when heading to my folks' hometown in Negeri Sembilan, on top of the long duration of travelling involved due to the horrendous traffic 'exodus'. The picture below is from Honda Malaysia's official media drive by the way, but it pretty much gives you an idea what the boot looks after I chucked in all my pillows, comforters, suitcases, iron board, kuih raya, and etc.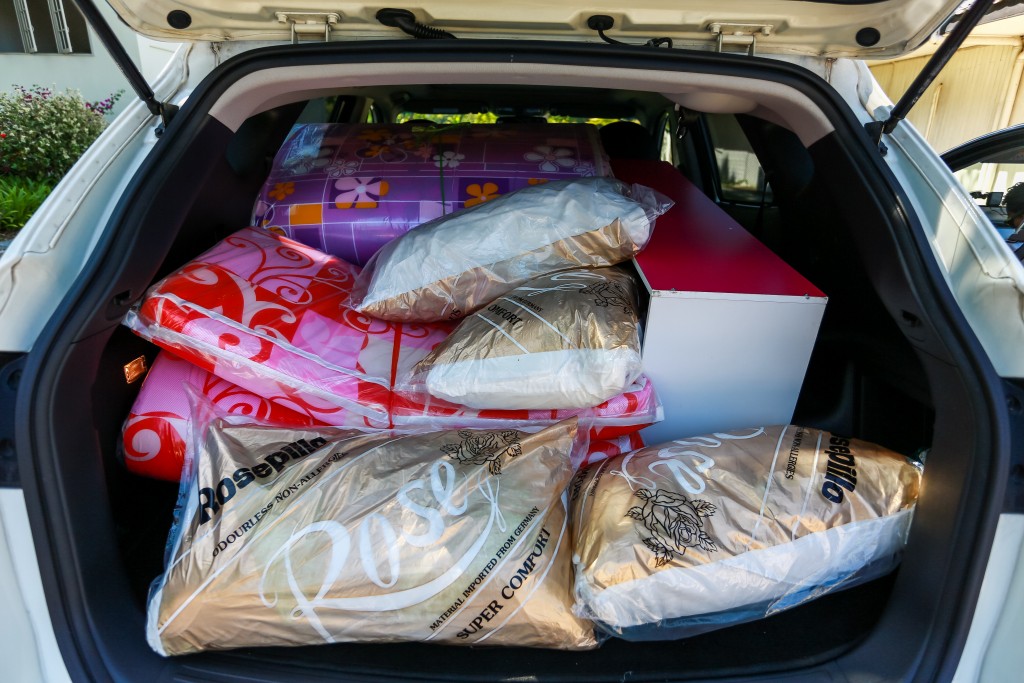 The HR-V I was provided for this test drive review was the top-of-the-line Grade V, kitted with a sporty Modulo kit that includes all the bells and whistles you could ask for in a HR-V. Honda has minimized the use of buttons and knobs on the dashboard of the HR-V and replaced it with a touch panel to make you feel like you're driving a premium car. Plus, the traditional hand brake has been replaced with a very useful electric brake, while the rear view camera proved to be very helpful in making sure that I didn't accidentally knock into anything when reversing.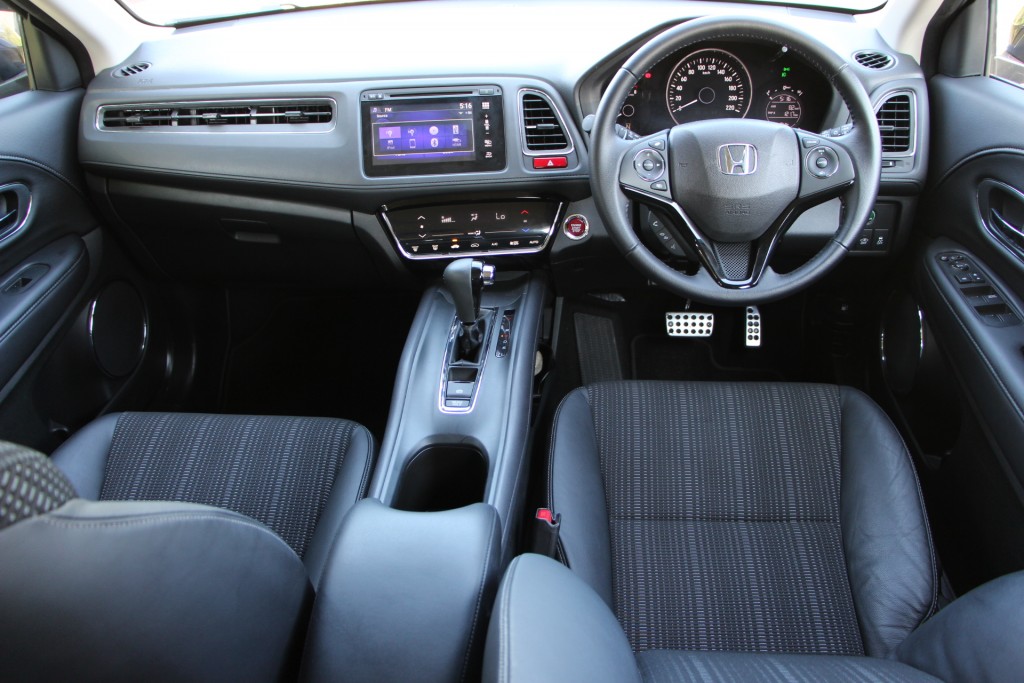 However, the only thing that irked me the most – as experienced by my front seat passenger – is the horizontal array of three continuous air conditioning vents. While it allows the cool air to circulate better inside the cabin (As I assume that is the whole purpose of such ergonomic design) the cool air blows directly on the front passenger's face or the body which can be extremely annoying, especially when the back seat passengers complain about the heat, where there are no air-conditioning vents to be found.
Although the HR-V might be one of the most affordable crossovers in the market, it has also come with a disadvantage. For instance, the locally-assembled Honda HR-V was recently crash tested by the ASEAN NCAP and achieved a 4-star result for its Adult Occupation Protection (AOP) and 4-star rating for Child Occupant Protection (COP) with 73% compliance. Honda HR-V AOP and COP scores were actually lower than its bigger sibling that was tested by ASEAN NCAP with a maximum 5-star rating. In fact, the Thailand-made HR-V built for Thai market achieved a maximum 5-star rating due to the fitment of Seat Belt Reminder (SBR) on the front passenger seat.
However, that doesn't necessarily mean that the CKD HR-V is not a safe car to begin with. It comes with a wealth of active and passive safety features, which include Vehicle Stability Assist, Electronic Brake Distribution, Brake Assist, 6 airbags and an Electric Parking Brake, just to list a few. From here I can conclude that the HR-V neither excels nor disappoints in terms of safety.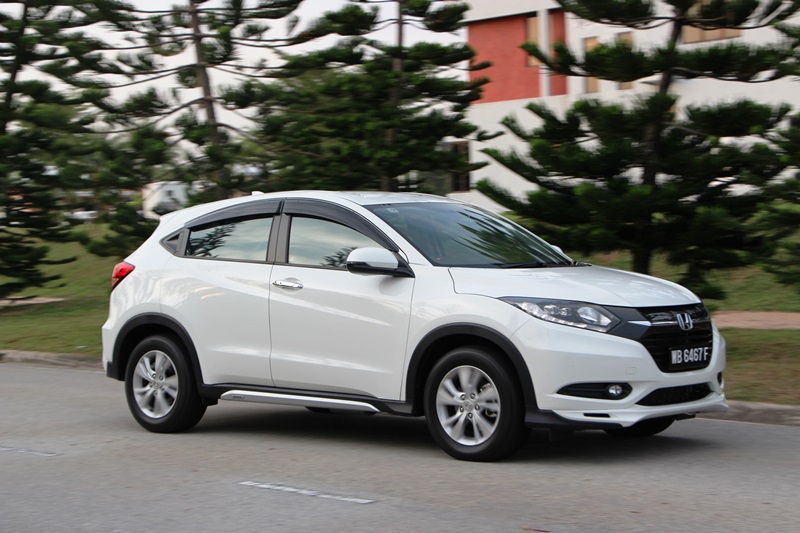 The Honda HR-V shares the same 4-cylinder engine that you would find in the Honda Civic, a 1.8L i-VTEC SOHC mated to a Continuous Variable Transmission (CVT). But that doesn't mean the HR-V drives similar to a Civic.
In order to make full use of the 141hp and 172Nm of torque on tap, you might have to keep your right foot pinned to the floor to make decent progress with this crossover. Although this will produce a loud buzzing and intrusive noise from the engine, I had to admit though that the new CVT does a great job extracting the power delivery for smooth rapid acceleration unlike other compact SUVs I've tested in the past. Once the HR-V is at cruising speed, it drives perfectly well especially for an 'average joe' driver.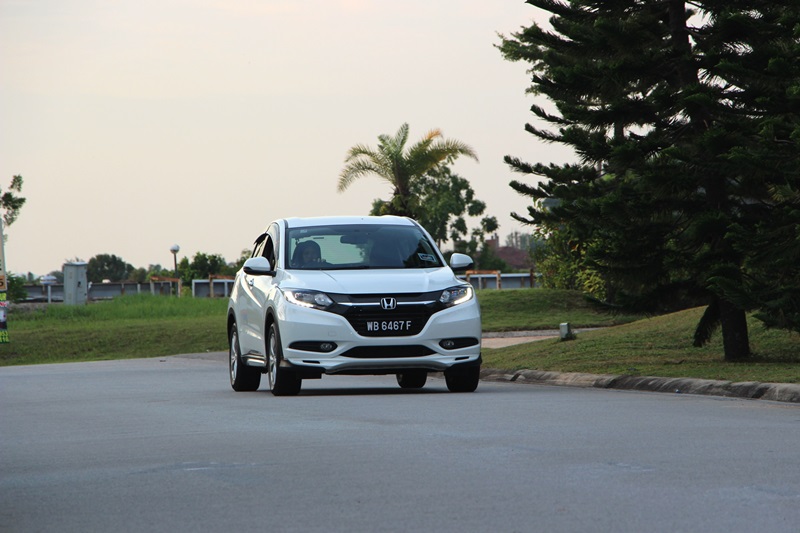 Normally, I'd be really terrified driving on narrow kampung roads because there are always going to be unexpected hazards like livestock, motorbikes, pedestrians, or chickens crossing the road, no really. Despite all these hurdles, the HR-V actually gives me a lot of confidence from behind the wheel. The wide viewing angle was secured through optimization of the width and angle of the front pillars that provide me with excellent visibility on the road.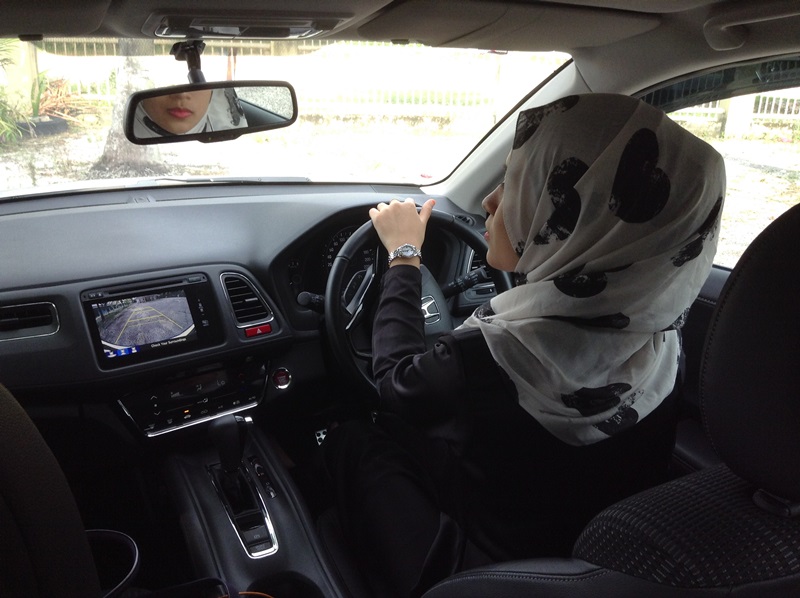 In terms of ride and handling, the steering feel is decent, if not direct, while the plush suspension is able to soak-up hidden dips and road undulation with absolute ease. You can anticipate a little bit of body-roll when going through sharp bends and concealed entrances but it is still well controlled. Its overall driving comfort is also excellent with minimal noise, vibration and harshness (NVH) all thanks to its well insulated cabin.
Honestly, I could not have chosen a better ride for my Hari Raya journey this year. The Honda HR-V – if you don't expect it to be sporty and rapid – is actually very relaxing and comfortable to drive, especially after a long day of travelling from one open house to another and after getting stuck in the traffic along the way. Thanks to its outright visibility and compact dimensions, the HR-V is also very easy to park and maneuver…although I did roll over a snake crossing the street right in front of me, but in my defence, it was unavoidable.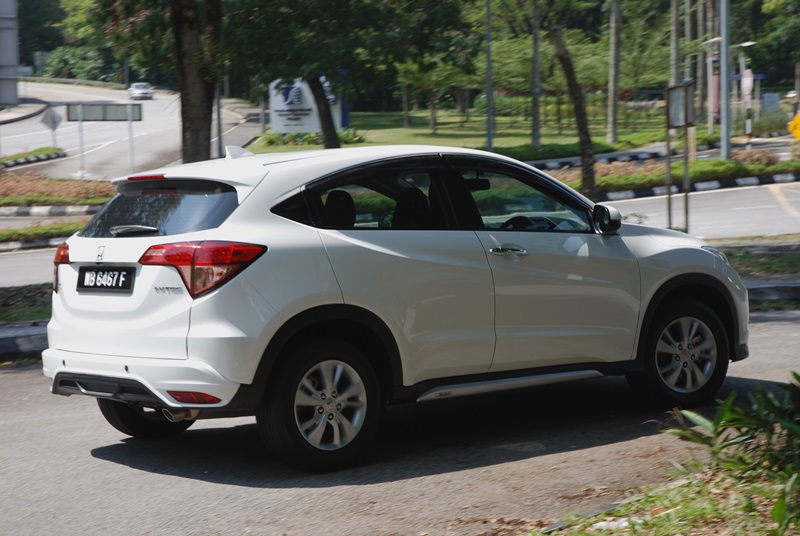 Aside from that, my whole family and I enjoyed getting a ride in this crossover as it provides ample space, even with a full complement of adults aboard. If you compare it with other crossovers in the market, the HR-V is hard to beat, especially when it comes to the level of comfort and spaciousness offered in the cabin.
Best of all, the design team at Honda was able to achieve space and usability at a high level. They call it the 'Multi-Utility Cargo' space where you can configure the rear seating arrangement by folding it flat so that you'll get a huge cargo space where you can load long items without having to scratch your head. Finally, the designers at Honda are listening to their female customers needs!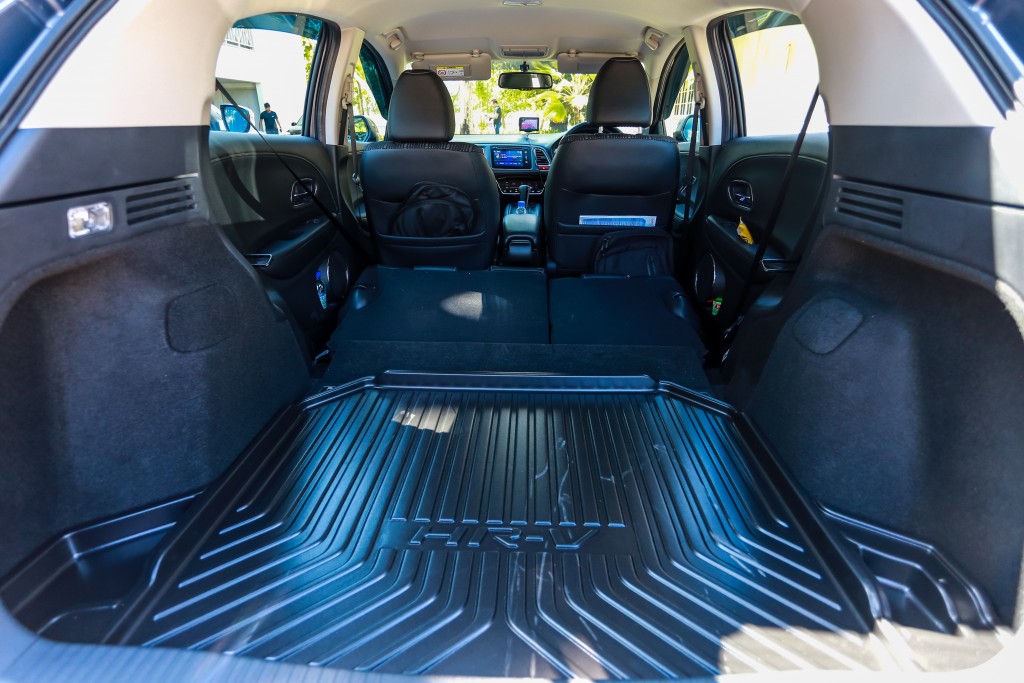 In addition to the HR-V's excellent seating and storage system, the HR-V is also backed up with excellent fuel economy. During my one week of test run, I averaged between 11.8 km/litre – 12.3km/litre on both city and highway driving. Overall, I was able to cover more than 500km of distance with 50-litres of fuel.
Although Honda might not be the first company to come out with a compact crossover, it certainly has entered the market with a good start. Thanks to its stylish design, driving ease and good value for money, it is currently selling like hot cakes in Malaysia. While we anticipate more new crossovers to slowly enter the market, Honda has had a chance to benchmark the competition and came up as a winner here. Perhaps it will convince more people to migrate from buying a sedan to an SUV in the future and outsell the Jazz on which it's based on!