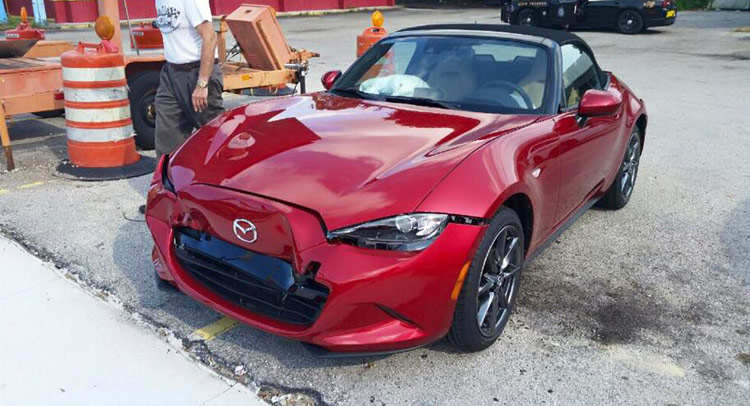 ADVERTISEMENT
Remember last year we told you about a brand new Tesla owner crashing his brand new ride before leaving the dealership's parking lot? Well, this Mazda story is very much similar in fashion but with a plot twist!
A new Mazda owner and his wife in the US recently took delivery of their brand new 2016 Mazda MX-5 Launch Edition in Soul Red (good choice!) one of only 1,000 coming to the States.
Filled with excitement, little did they know that moments after, they would be involved in a crash after a Ford F-150 rear-ended the brand new MX-5 pushing it into a car in front. The owner and his wife suffered some light injuries, while the car was unfortunately, heavily damaged. As you can see on the picture above, the uni-body was reportedly bent from the impact. Although it can be repaired, we all know that it will never be the same again…
Things looked gloomy for the owner, as he'd have to wait for the insurance companies to settle it out, something that could take a while, but Mazda North America surprised him a couple of days later with a call in which they informed him that they would send a replacement!
Although Mazda has no obligation to do anything from the moment that the accident happened after the owner took delivery of the car and left their premises, the company deserve praise for their thoughtful gesture, don't you think!