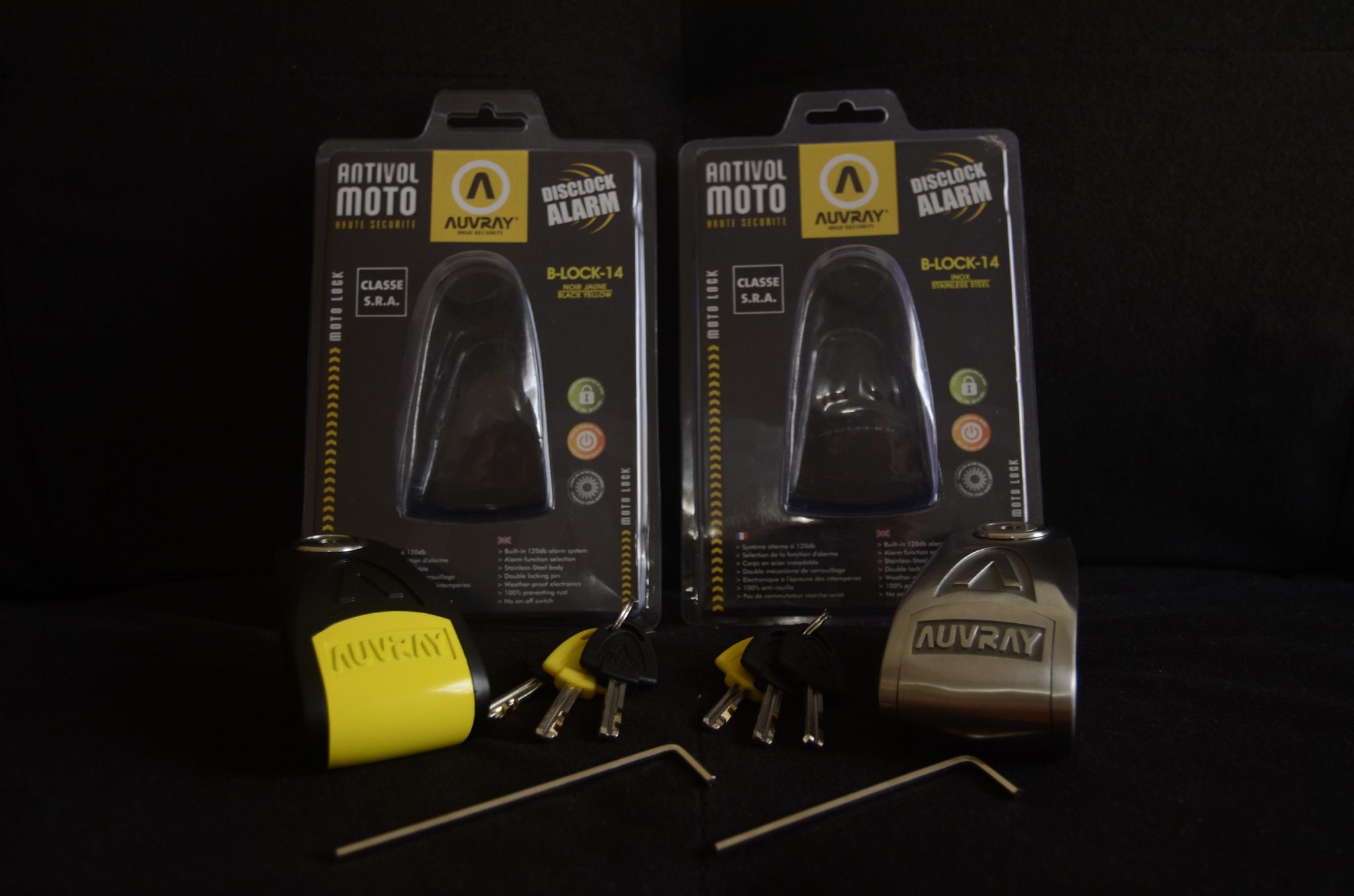 ADVERTISEMENT
Recently, with all the new bike launches, the number of motorcycles on the road have been on the rise, including higher powered ones. KTM, Yamaha and Kawasaki are amongst the ones included. However, with the increase of bikes, the amount of motorcycle theft also incrases. This includes mopeds (a.k.a kapchai) as well.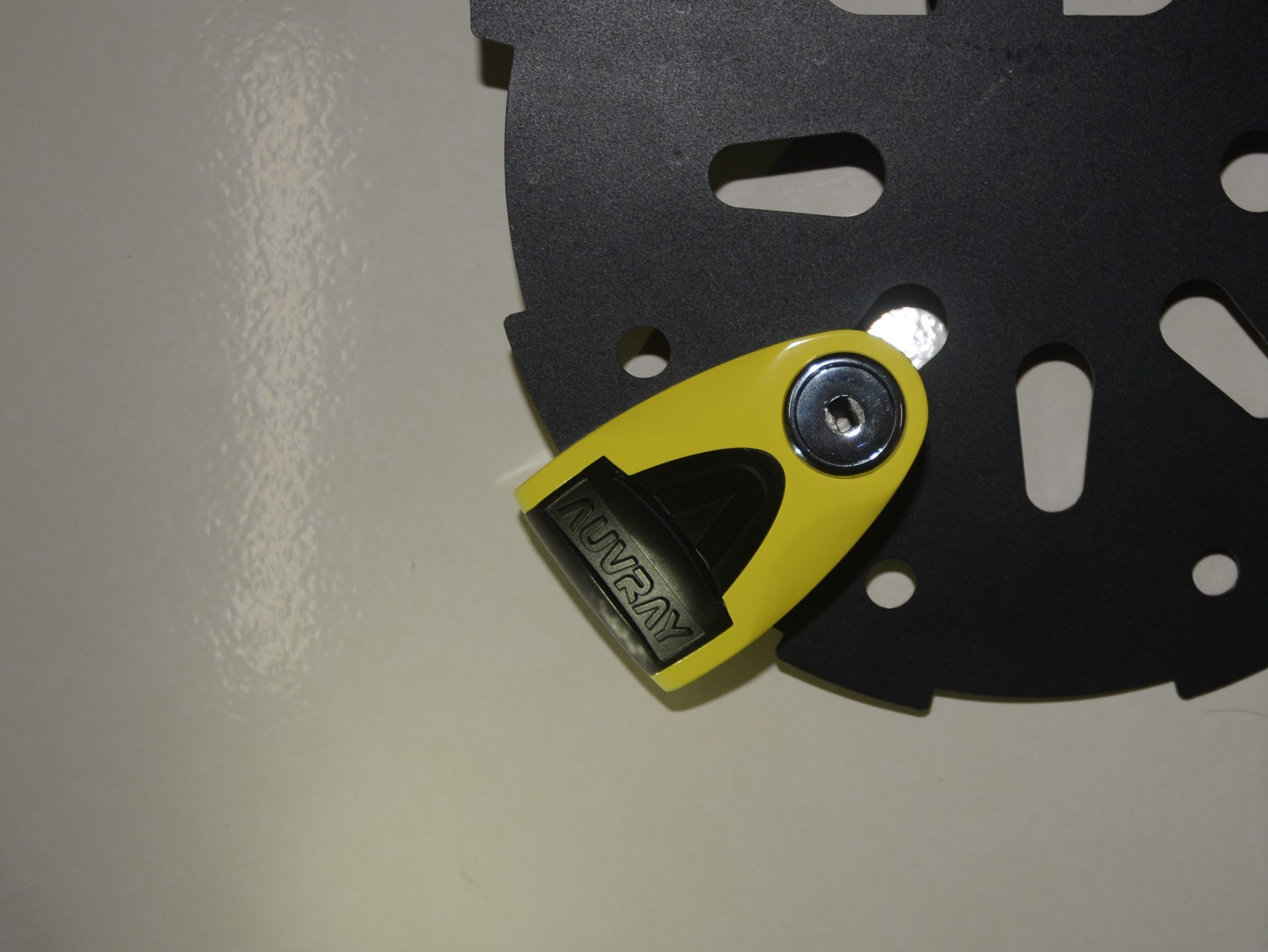 I spoke to some friends about bike theft and asked their opinion on this issue. Apparently bike thieves would steal a bike not for 'local markets'. Sure enough, parts like the tyres, speedometer and handlebars can be scrapped and sold as used or spare parts locally. Parts from the engine can also be sold as spare parts. However, only internal parts can be scrapped as the outer part has serial number. Although the serial number can be removed, it may be costly and risky to do so for the thieves.
I went on to speak to some other bikers and they shared that there are syndicates out there who actually export some of the engine parts, usually the whole engine, to neighbouring countries. These thieves can make a lot of money out of this.
I took the opportunity to look for a way to prevent our beloved bikes from being stolen and found several brands of what we call "brake-disc locks".
There are many brands out there but which locks are actually effective? I've seen some bikers who use a simple padlock to secure their bike, but that isn't effective at all. Many may argue that brake disc locks are really pointless, as thieves may use a flatbed truck with a crane-lift to jack your bike. I beg to differ, read on to find out why.
I got the chance to try one of Auvray's top-of-the-line brake disc lock with alarm, the BLA14. The said lock comes in two outlooks – one stainless steel and the other in yellow-black colour. Together in the packaging is a CR2 battery, 3 keys and an Allen key to open the battery compartment.
The number in every model name indicates the size of the locking pin. For example, the BLA06 is "alarm, 6mm". The Auvray BLA14 also has a clearance length of 2 inches (5 cm) from the locking pin to the other end, which is quite good as it would fit brake discs that are bigger.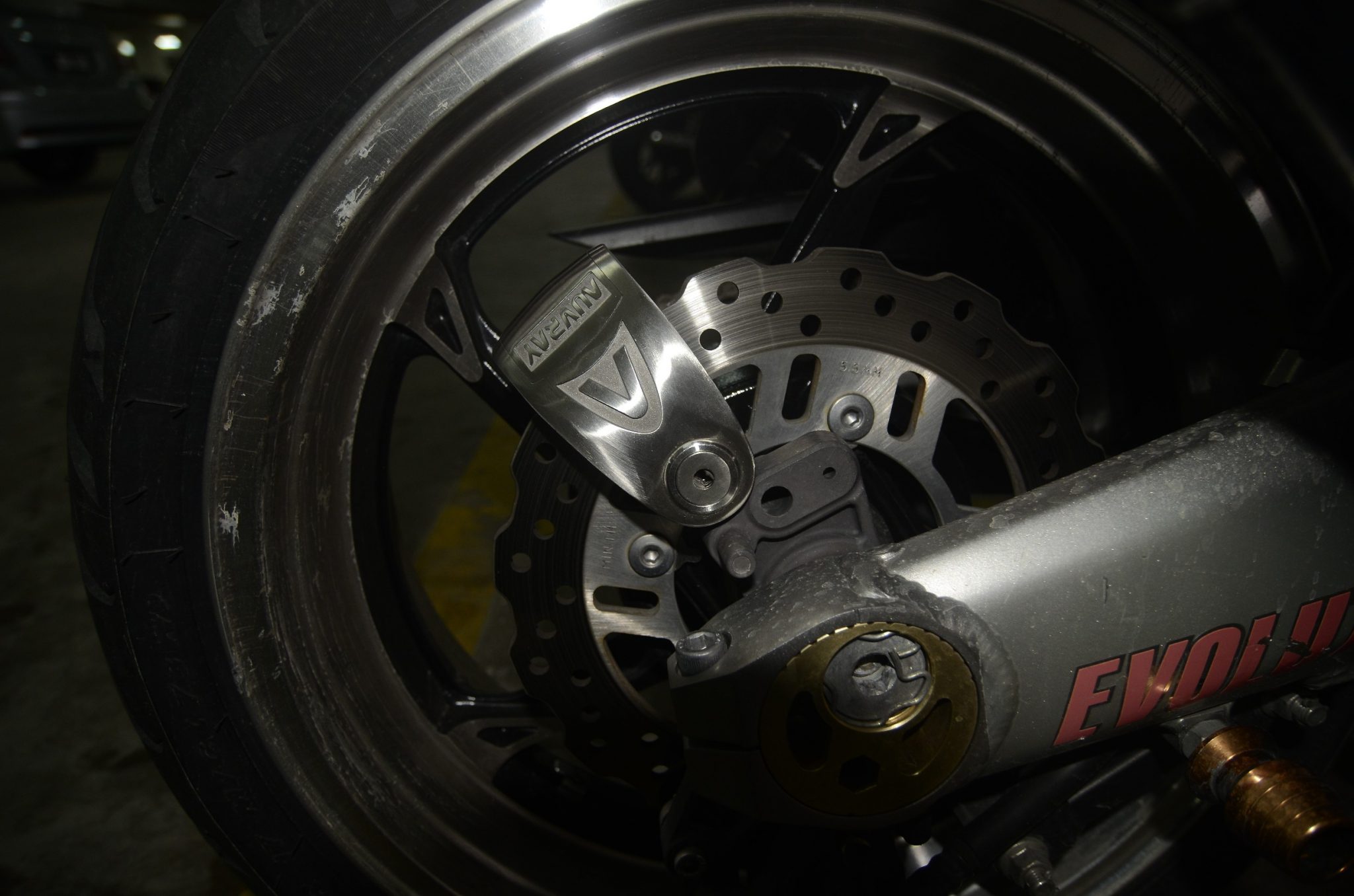 The lock is not hard to use and comes equipped with an alarm. Also, the alarm doesn't have ­­an on-off switch, which makes it very safe. If someone shakes or moves the bike in an attempt to steal the bike, the alarm will go off.
Here I tested the lock on a Kawasaki Z1000. It was quite a tight fit. So, you might want to get a smaller 6mm locking pin. Although smaller, your security is not compromised at all. I have spoken to Ming Sin in regards to the pin size, if there's anything between 6 mm and 14 mm. According to him, there will be a size ten however it's currently being tested in France. I'll share more why it's being tested in France later on.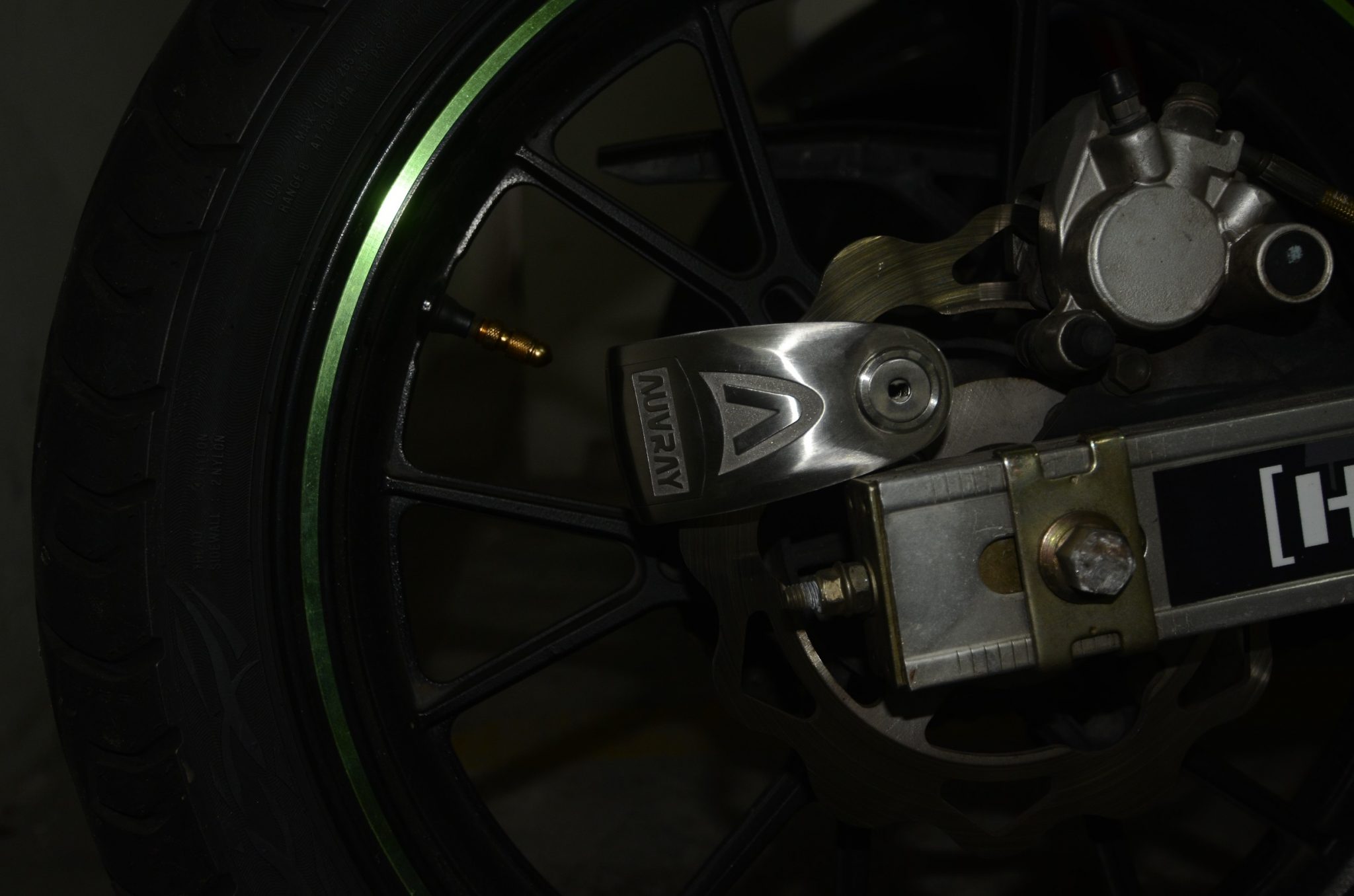 Here is a photo of the lock on my very own bike. As my brake disc isn't that big, the lock actually fits quite loose. That would mean the alarm could go off in the slightest movement if some thieves decided to steal my bike. Not to mention, if there are attempts to move the bike with a crane, the alarm will go off and if you're staying in a landed property, you will be alerted, for sure.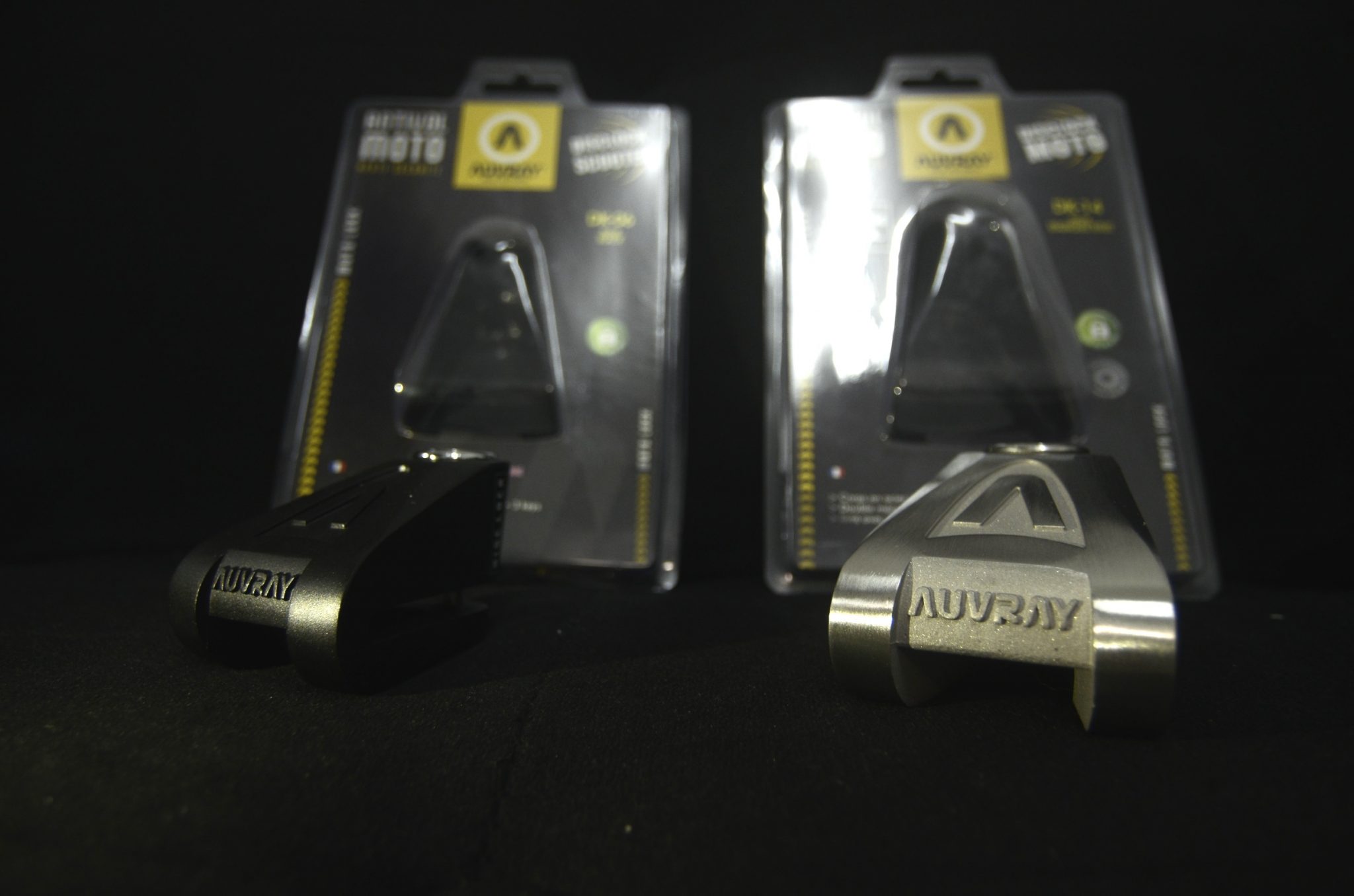 Here, I have the non-alarm units; the DK06 and BK14. Both the DK06 and BK14 is exactly the same as BLA14, only without the alarm unit. As for the DK06, the pin is just smaller and designed differently.
The alarm is battery powered and is rated at 120 decibels. Powering the alarm is a lithium, CR2 size battery that will be available in retailers soon. Under normal use, the battery can last for a year and about up to 8 months if used frequently.
Before the alarm goes off, there will be a single warning beep and I have tried making it go off and boy, you sure do not want to go anywhere near.
There are also many other models available in smaller size and different colours.
Also, the reason why the locks are being tested in France is because of the S.R.A rating tests. How they test you ask? They hammer the locks, they slam it, they throw it. In France, it is a must to purchase a lock with Classe S.R.A rated, or you will not be able to insure a bike as it is deemed as an ineffective anti-theft protection. Furthermore, with a classe S.R.A rated lock, you get 30% off your insurance premium (only in France for now though)
Auvray disc lock is distributed solely by Tan Ming Sin.
Imported by:
Calibre Bike Security (Owned by MINGCKWY Trading)
118, Block P/C, Taman Cheras
56100 Cheras, Kuala Lumpur
Email: [email protected]
Chris Wee says…
There's a famous saying, if a thief wants your bike, he's going to get it, there's no stopping him. However, disc-locks like this with an audible warning are definitely a strong deterrent. Let's put it this way, if you're parked next to an identical bike, and the other doesn't have a disc-lock like this, the thief will steal the other bike for sure, not yours. It's all about making it harder for the bastards. They always take the quickest and easiest route. So don't let them! – CW.