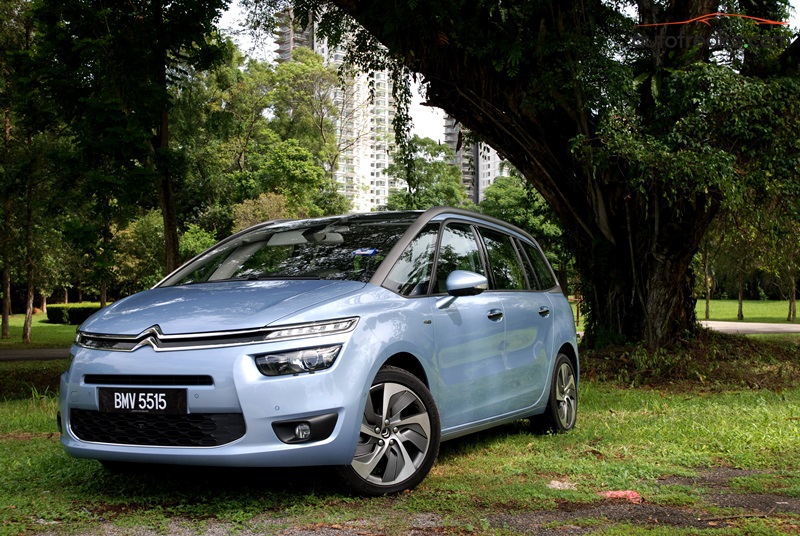 ADVERTISEMENT
Let's face it, while MPVs may not look cool, sexy or sporty, consumers buy them because they're a logical choice for hauling their large families with all that extra luggage to boot (pun intended). However, if you're looking for something that's a little bit more flashy and looks similar to the eccentric yet loveable Citroën DS5 hot hatch, perhaps the Grand C4 Picasso, launched in April this year, might give you a different perspective of owning a people carrier type vehicle.
While the Citroën Grand C4 Picasso is not as sexy as a sporty hatch in terms of aesthetics, but hey, this MPV I had for a weekend test here looks way better than other MPVs available in the market. It carries a bold style that stands out from the crowd especially in its segment. For instance, the LED headlights embedded in the radiator grille gives the vehicle an expressive, modern, high-tech look, while the rear LED lights creates a 3D effect that looks so futuristic especially when being spotted on the road at night.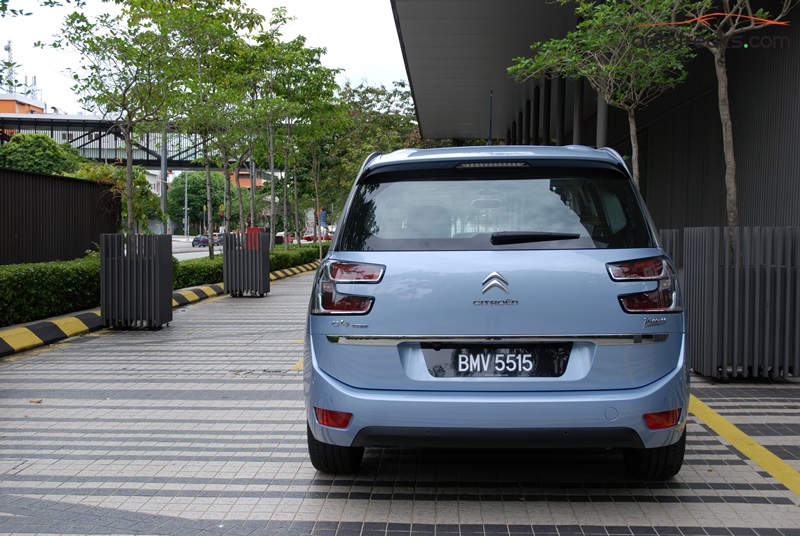 This stylish MPV is built on the same lightweight EMP2 platform shared with the recently launched Peugeot 308. As a result, the Grand C4 Picasso is identical in terms of width and length to the current model, but is 50mm lower and has a 55mm longer wheelbase. The stretched wheelbase enables more space on the inside for passengers and cargo, and the wider front and rear track also liberate more elbow room, allowing more space for everyone, especially those sitting at the back. Yes, it all sounds promising when they have these facts printed on paper, but can the Grand C4 Picasso comfortably accommodate up to 7 adults comfortably in real life?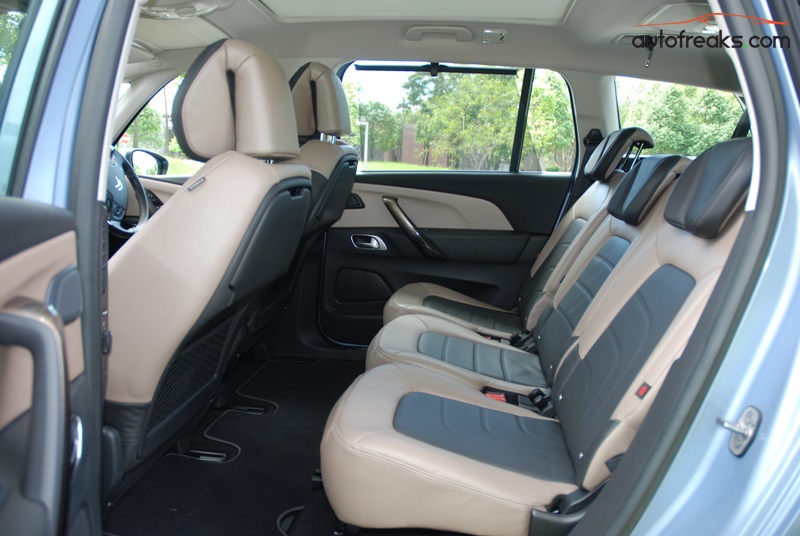 Ok, to be honest, there aren't seven adults involved in this experiment, but I did spend some time sitting on each row of the Grand C4 Picasso for the sake of this test drive review. As a 5 feet 5 inch tall passenger, there was actually plenty of knee room and headroom available on the second row rear seats that allow me to stretch my legs.
The third-row seat has quite limited legroom or kneeroom especially if your're rather large and tall. It is probably fine for kids, but not so comfortable for adults, especially when you're going on a long-distance drive. Confined spaces makes me feel claustrophobic too.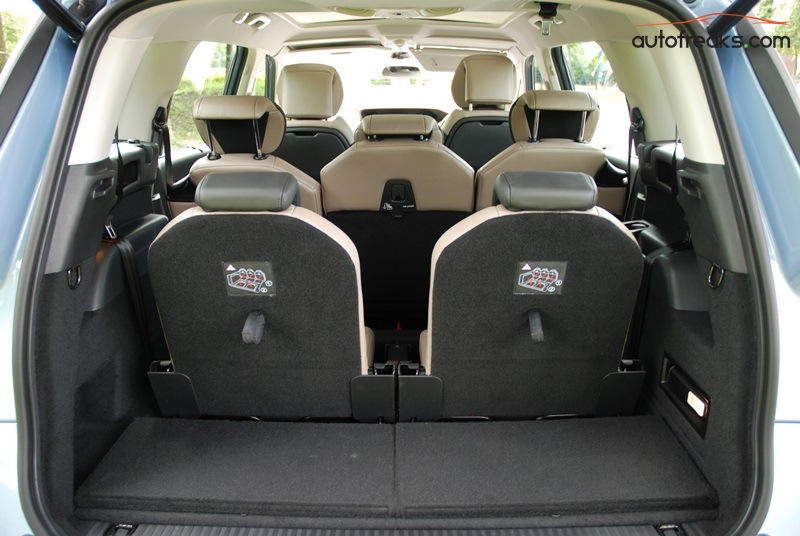 If you prefer not to use the third row or even the second row seats, you can fold them down to form a flat cargo floor. Folding and unfolding is simple thanks to well-positioned levers and straps and cargo space that can be extended up to 793-litres maximum. And wherever your passengers sit, they'll find generous storage pockets and discreet spaces in the cabin for additional storage.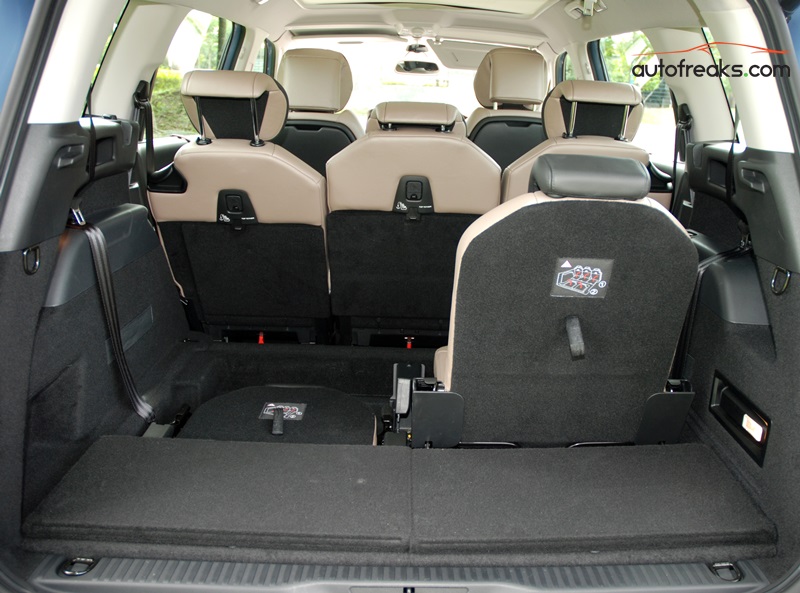 Loading and unloading things from boot is also handy thanks to its powered tailgate that can be adjusted according to your height preference, just in case your wife, or maid is too 'vertically- challenged' to reach it.
Well, things are rather comfortable for the front seat occupant and driver as well. The MPV looked so stylish and posh all thanks to its well crafted dashboard that is loaded with a wide array of technology.
As soon as you push the start button, a screen will pop up from the giant, 12-inch LCD display in the center of the dashboard. This 12-inch display replaces a traditional speedometer located on the dashboard so the driver's information such as the vehicle's speed, trip meter, fuel consumption meter, etc. can be viewed in the middle and is being displayed in a more cheerful way to replace the traditional, boring monochromatic display.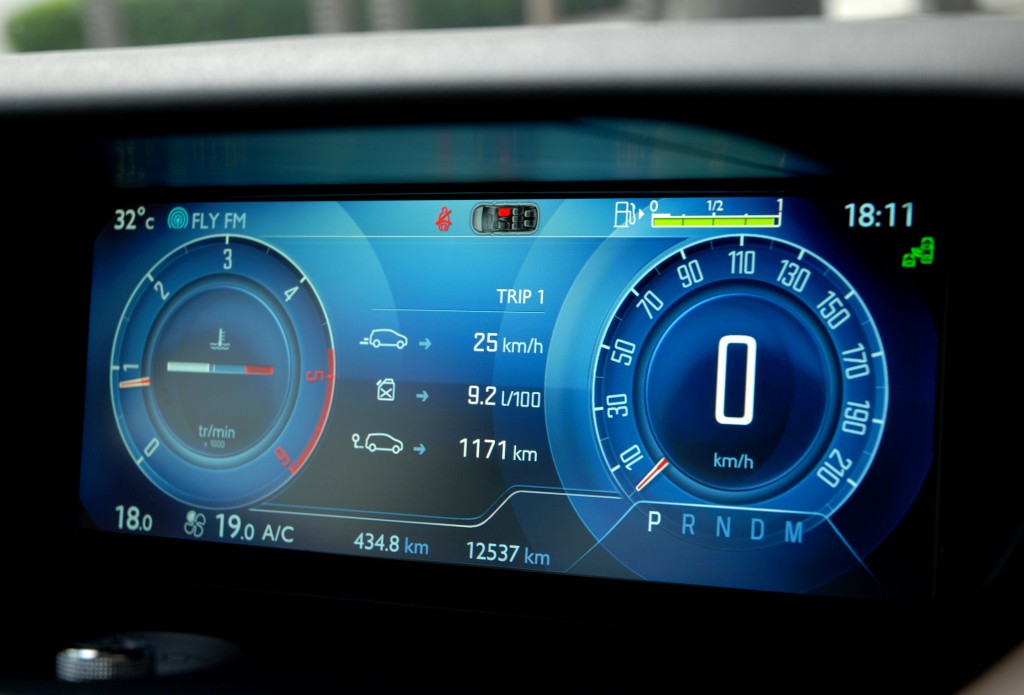 Below the 12-inch LCD display sits a 7-inch touch screen driver-interface that provides access to key functions such as the air-conditioning, radio, navigation system, automatic stop start system, rear-view camera, park assist, blind spot monitoring system and speed limit, just to list a few. Driver's will have the freedom to either disable some of these safety functions, set them or adjust them accordingly.
Honestly, I love how the overall dashboard where it combines different shapes, colours and high-quality textures in a way that looks more eye-catching and elegant in its class. In fact, the Grand C4 Picasso's interior appears to be very attractive, it's even worth bragging about.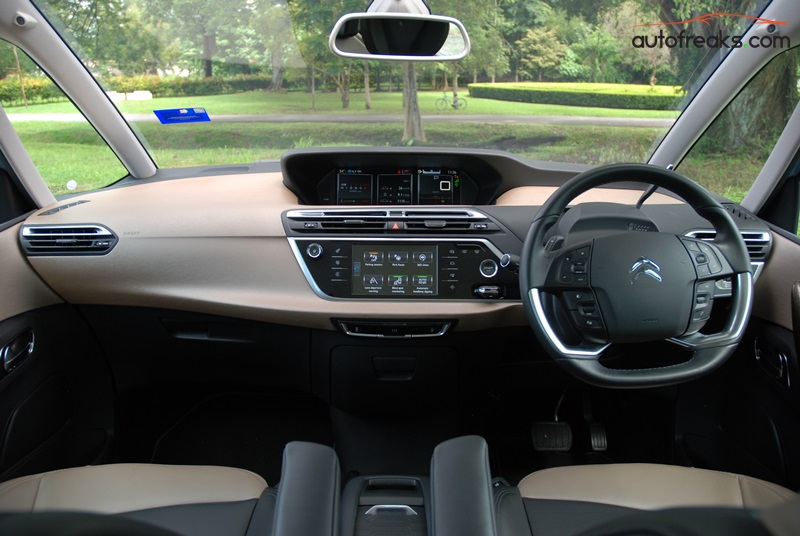 Plus, the amount of goodies offered in the Grand C4 Picasso is endless! Besides the cool tech and gizmos offered, front seat passenger's will get to enjoy massage function and electric foot rest for a more relaxing ride or for taking a snooze on long, boring stretches of road. Apart from that, rear occupants are flooded with plenty of lights thanks to its huge panoramic glass roof so you don't feel 'psychologically' cramped or die out of boredom when being seated at the back.
In case you're wondering, the blue HDi badge adoring the rear bumper of the Grand C4 Picasso indicates that the MPV is powered by a 2.0-liter BlueHDi turbodiesel that produces 148hp and 370Nm of torque, mated to a 6-speed transmission. This allows the MPV to accelerate from 0 – 100km/h in 10.2 seconds whilst reaching a top speed of the 207km/h.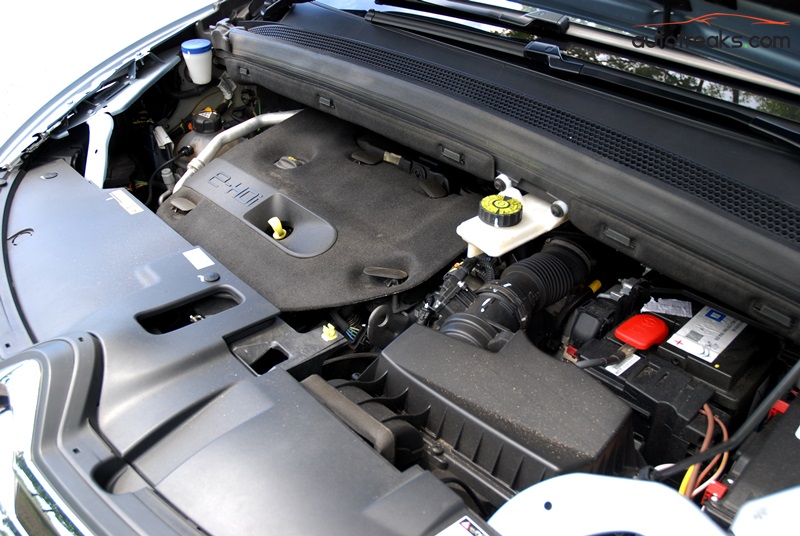 Let's be frank here; the Grand C4 Picasso is not a sporty car, not that it is meant to be either. It's all about carrying your extra passengers in comfort and style. So I can't complain about its taut ride and excellent driving refinement. Although it might not be good fun to drive, the Grand C4 Picasso is still very stable even when driven at modest speed which makes it a suitable choice for your balik kampung journey.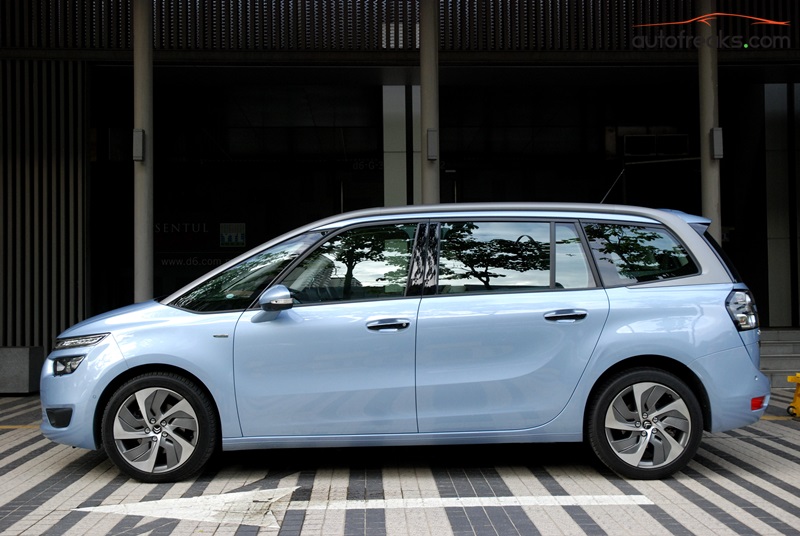 The seating position is very similar to driving an SUV. It provides high-riding position that allows the driver to have a commanding view of the surroundings when on the road. Plus, the sunvisors can actually be extended backwards into the roofline allowing better forward visibility. I find it a nice touch, though it makes the cabin a tad hot and gives so much glare to the driver, especially when driving in a sunny day.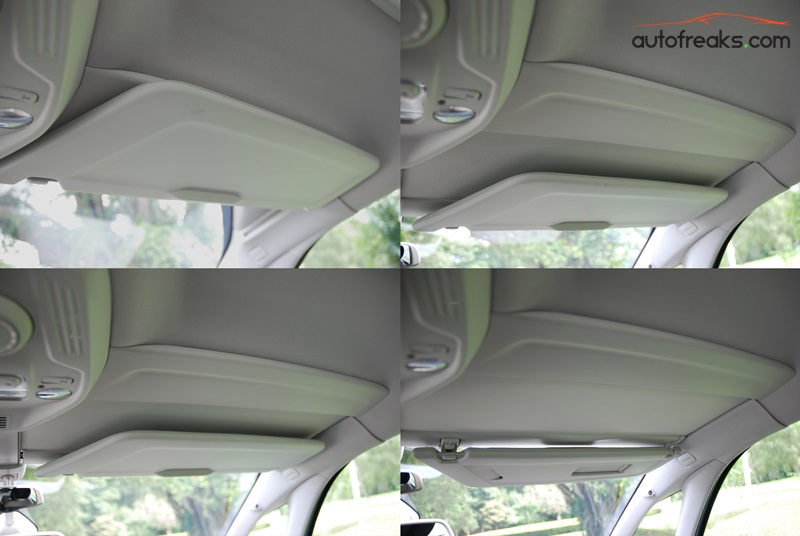 Many women drivers are afraid of driving a big vehicle like the Grand C4 Picasso because they get overwhelmed with its large dimensions. Citroen has countered the problem by offering 360 Vision system that allows you to have an eagle-eye view of the car from all corners of the MPV. As a result, you are actually more aware of your surroundings and feel more confident to park this MPV than you are driving in a sedan.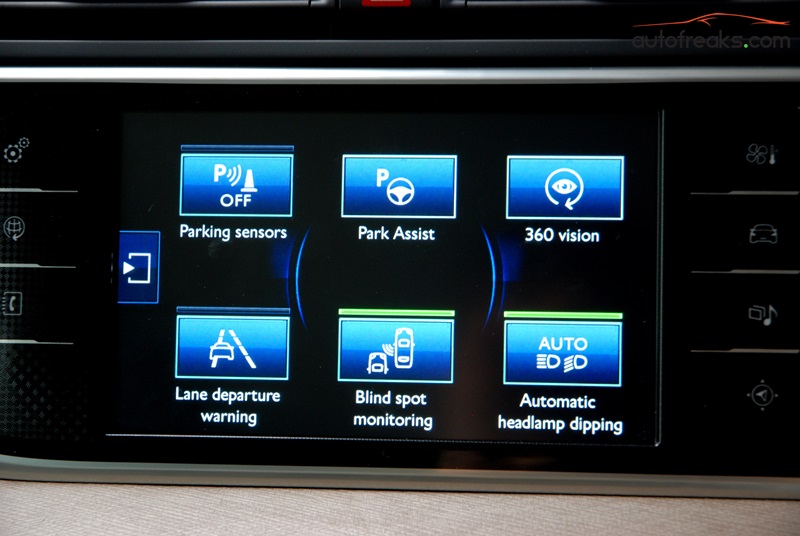 While the Grand C4 Picasso is relatively good on fuel; returning 9.2-liters/100km on a combination of highway and city drive, its diesel engine has come at the expense of its overall cabin noise insulation. When I was driving the MPV around town, I noticed that the diesel engine noise is very loud as if I was driving a minivan.
While all around visibility is excellent, it really takes away the privacy from the driver. The cabin also warms up really fast, especially in our hot climate, so you are more likely to maximize on the air conditioning settings. With the amount of glass surface area, heat-tint is really a must with this MPV.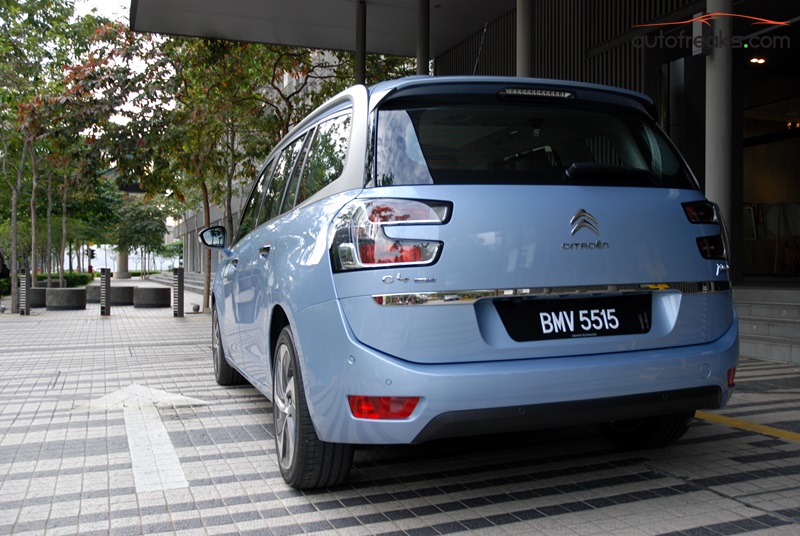 Nonetheless, for all its intended purposes, the Grand C4 Picasso is far less boring compared to other MPVs available in our local market. If you're looking for something a bit different to a traditional family MPV, the Citroën Grand C4 Picasso might be able to appeal you in a certain way. It is an excellent people carrier that we would happily recommend it to you!
Chris Wee says…
The new breed of Citroen's currently available in Malaysia thanks to Naza Euro Motors are quite a revelation in terms of motoring. Granted they're not going to sell in vast numbers, and that was probably known and a given from the start. However, there's good and bad in everything, and the good thing is that where once Citroen's were seen as a mainstream vehicle, they've now become a niche model. You don't see many on the road on a daily basis, and spotting a new one is akin to stumbling on a unicorn. And truth be told, it's impossible to miss a Citroen, they just stand out from a crowd wherever they go. Unique, individualistic and very appealing, be it the DS3 1.6 VTi, DS3 Racing, DS5 (links lead to our reviews of said cars) or even this Grand C4 Picasso, the venerable French brand offers a very different kind of motoring experience. They really are for someone who's simply jaded by the current crop of cars and people carriers, and truly, madly, deeply wants something very, very different. Look no further than a Citroen for that. – CW.
SPECIFICATIONS: Citroen Grand C4 Picasso
Displacement: 1,997cc In-line 4-cylinder 2.0-litre BlueHDi Turbodiesel
Transmission Type: 6-speed automatic
Power: 148hp @ 4,000rpm
Torque: 370Nm @ 2,000rpm
Fuel Consumption: 9.2L/100km
Price: RM189,999 OTR with GST