ADVERTISEMENT
About a month ago,  Sime Darby Auto Performance (SDAP), the importer of Porsche vehicles in Malaysia launched the new Cayenne models in conjunction with the grand opening of Porsche Centre Sungai Besi. Following its official local debut, SDAP has finally released the pricing for all seven variants.
1. Cayenne V6 starts from RM 640,000
2. Cayenne Diesel starts from RM 640,000
3. Cayenne S starts from RM 760,000
4. Cayenne S E-Hybrid starts from RM 770,000
5. Cayenne S Diesel starts from RM 780,000
6. Cayenne GTS starts from RM 900,000
7. Cayenne Turbo starts from RM 1,150,000
*The price stated includes all applicable duties and excludes registration fee, road tax and insurance.
All prices stated come with a 4-year factory warranty and a 4-year complimentary service  maintenance package, while specifications and prices are subject to change without prior notice.
To recap, the new Cayenne models now come with improved performance and torque coupled with lower fuel consumption. The familiar engines have been upgraded and optimised for the new Cayenne. According to Porsche, the new Cayenne now consume less fuel than their direct predecessors and yet have improved performance figures.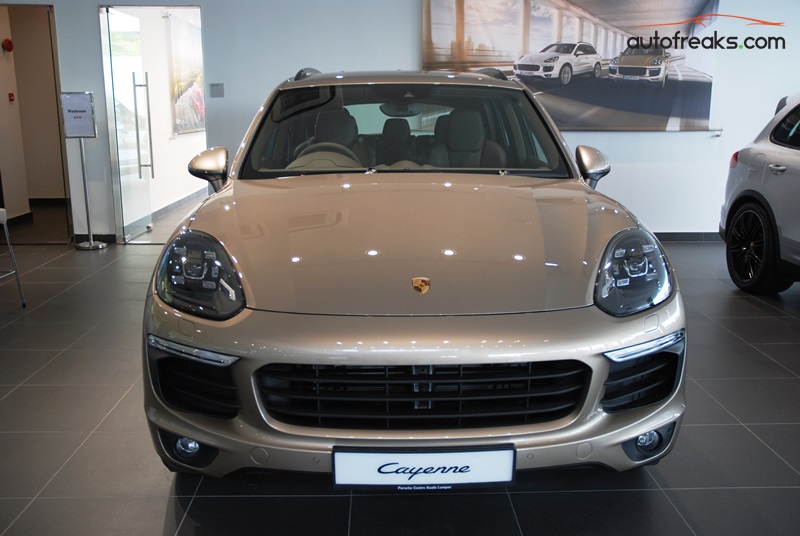 First of all, the engine used in new base model, is the familiar 3.6-litre V6 naturally aspirated engine, delivering 300hp. It accelerates the Cayenne from 0 to 100 km/h in 7.7 seconds – 7.6  seconds with the optional Sport Chrono package, which is 0.2 seconds faster than before. At 230 km/h, top speed matches the level of the previous model. Like all new Cayenne models it benefits from the general efficiency measures, such as coasting, Auto Stop/Start function and thermal  management, which results in lower fuel consumption compared to the previous model by 0.7  l/100 km to 9.2 l/100 km. That equates to CO2 emissions of 215 g/km, thus 21 g/km lower than  before.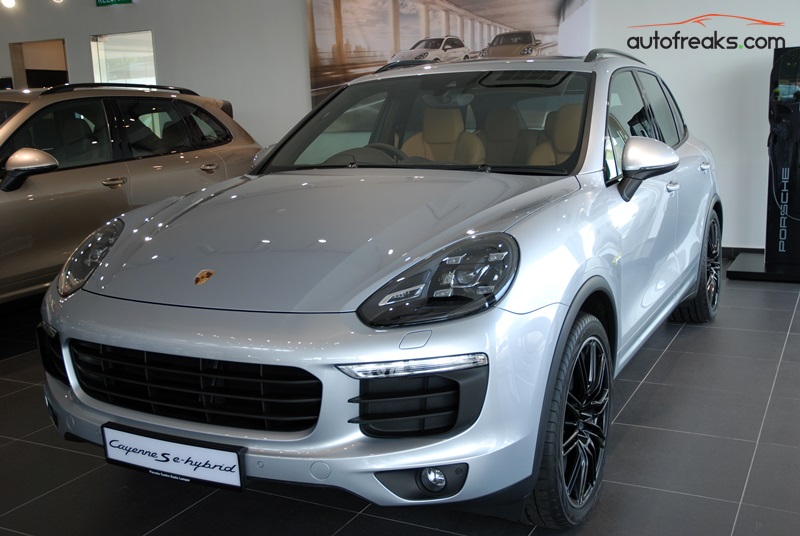 The Cayenne S E-Hybrid, on the other hand, is fitted with a lithium-ion traction battery with an energy capacity of 10.9 kWh, which enables an all-electric driving range of 18 to 36 km, depending on the style of driving and route topography. The power of the electric motor is more than doubled:  from 47hp to95 hp. The combined fuel consumption is now 3.4 l/100 km (79  g/km CO2). The 3.0-litre V6 supercharged engine (333hp) and the electric motor (95hp) produce a combined system power of 416hp and 590Nm of torque. This enables the Cayenne S E-Hybrid to sprint from 0 to 100 km/h in 5.9 seconds before reaching a top speed of 243 km/h, while the top speed in all-electric driving is 125 km/h.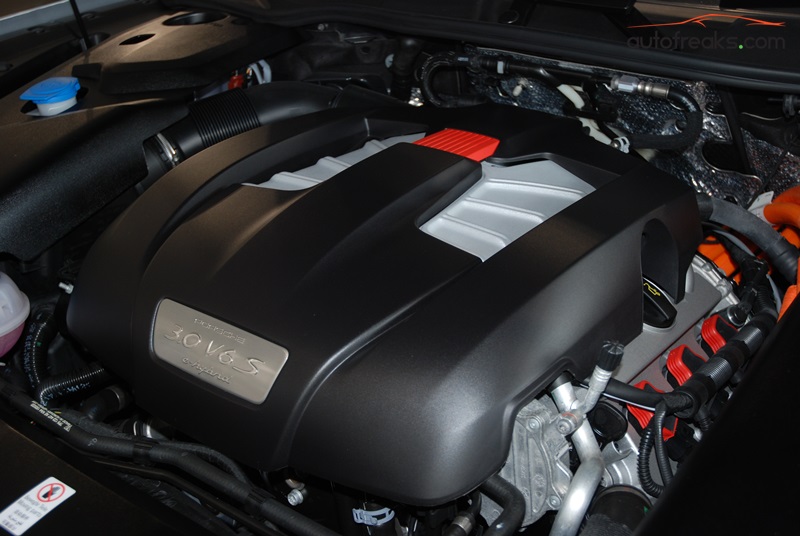 The new 3.6-litre V6 biturbo engine of the Cayenne S is another example of how downsizing with reduced engine displacement and fewer cylinders does not compromise core values: the engine's NEDC fuel consumption is between 9.5 and 9.8 l/100 km (223-229 g/km CO2), which is 1.0-litre less than with the previous V8 engine. The biturbo V6 develops a maximum power of 420hp (a gain of 20hp) and 550Nm of torque.  With its standard 8-speed Tiptronic S transmission, the Cayenne S accelerates from zero to 100 km/h in just 5.5 seconds (5.4 seconds with the optional Sport Chrono package) – 0.4 seconds faster than the previous Cayenne S. The vehicle's top speed is now 259 km/h (gain of one km/h).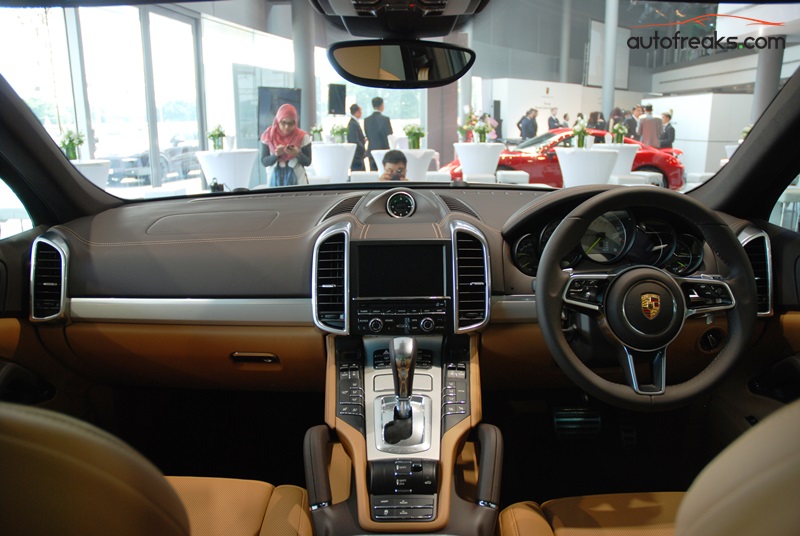 It is not only in name that the Cayenne GTS is resonant. The 3.6-litre V6 bi-turbo engine is the performance-oriented enhancement of the new power unit presented in the Cayenne S. Its consumption is lower and it delivers improved levels of performance. Compared to the previous model with a V8 naturally aspirated engine, power output rises by 20hp to 440hp and torque by  85Nm to 600Nm, while fuel consumption goes down by up to 0.9 l/100 km. The Cayenne GTS accelerates from 0 to 100 km/h in 5.2 seconds, or just 5.1 seconds with the optional Sport Chrono package. That's 0.5 and 0.6 seconds respectively less than the previous model. Top speed is 262 km/h. The Cayenne GTS come standard with a sports exhaust system, which provides the familiarly meaty GTS sound.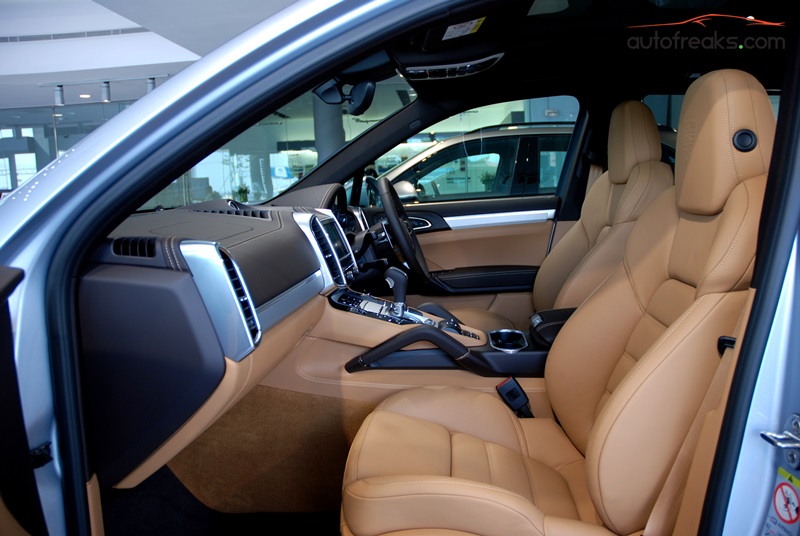 Meanwhile, the Cayenne Turbo is powered by a 4.8-litre engine displacement, 8-cylinders and biturbo boost result in engine power of 520hp and 750Nm of torque. This allows the Cayenne Turbo accelerate from zero to 100 km/h in just 4.5 seconds (4.4 seconds with the optional Sport Chrono package). Its top speed is 279 km/h while fuel consumption is rated at 11.2 to 11.5 l/100 km (261-267 g/km CO2).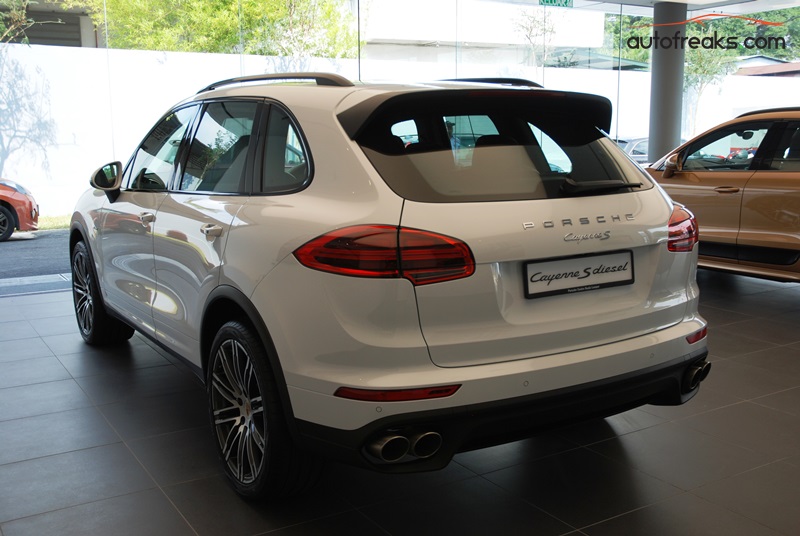 Last but not least, the diesel versions of the Cayenne combine sportiness with even better fuel efficiency. For instance, the 3.0-litre V6 engine in the Cayenne Diesel produces 262hp and 580Nm of peak torque. As a result, the SUV can accelerate from zero to 100 km/h in 7.3 seconds (7.2 seconds with the optional Sport Chrono package), while top speed is limited at 221 km/h. The 4.2-litre V8 engine of the Cayenne S Diesel on the other hand, produces 385hp and 850 Nm of torque. From a standstill, it reaches 100 km/h in just 5.4 seconds (5.3 seconds with the optional Sport Chrono package) while top speed is rated at 252 km/h. The Cayenne S Diesel NEDC fuel consumption is 8.0 l/100 km (209 g/km CO2).