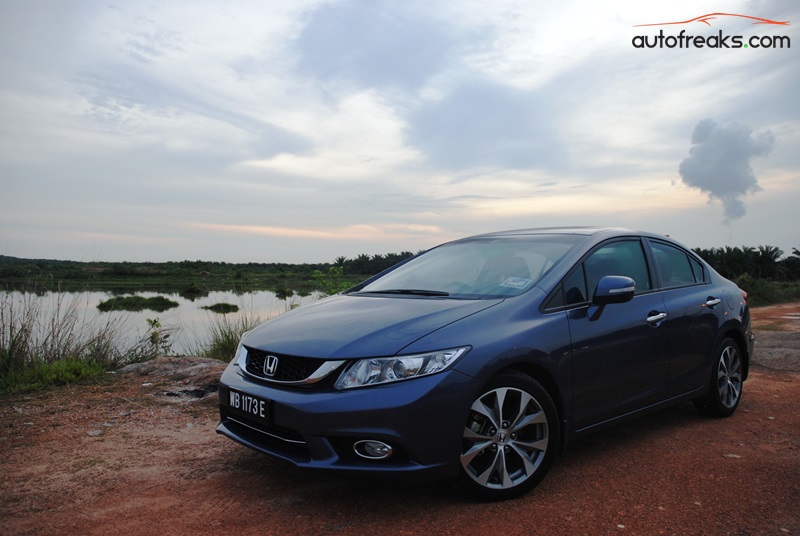 ADVERTISEMENT
What you drive says a lot about you. It reflects your personality, status, financial independence and success. What's more, certain types of rides frequently appeal to certain demographics, case in point, the Honda Civic…
So what type of car should you buy if you want a sporty sedan with lots of cool tech and gizmos included as well? Well, here's something we think you should have a look at, the 2015 Honda Civic.
With the Honda Civic, Honda Malaysia has taken some baby steps to enhance the look of its popular C-segment sedan for model year 2015. While the level of enhancement might not appear obvious, you might be able to notice several updates added to this popular sedan.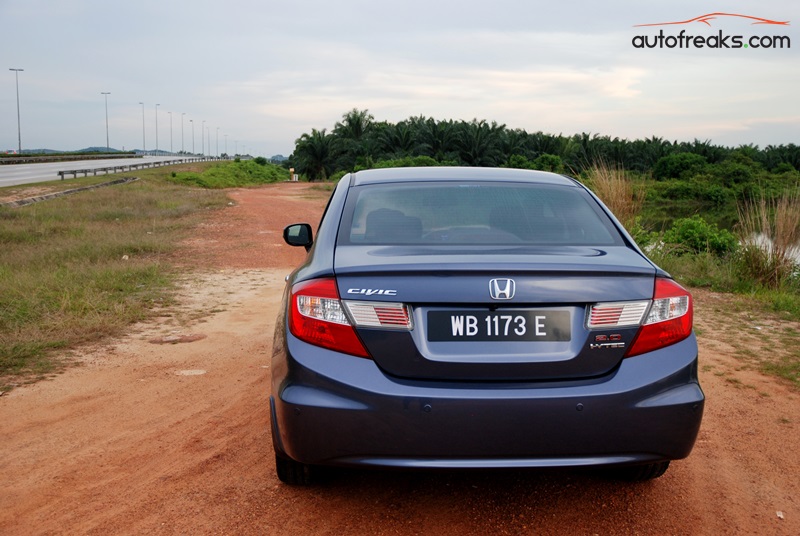 For my recent weekend test drive, I had the opportunity to drive the Honda Civic 2.0 Navi variant, dressed in Twilight Blue Metallic.
This mild-facelift Civic has all the bells and whistles you could ever ask for in a Civic, such as an enhanced 7-inch touchscreen infotainment system with navigation, push-button engine start, automatic headlights and 6 airbags just to list a few, but before we dwell on the details, first and foremost, let's take a look at the Civic's overall exterior styling.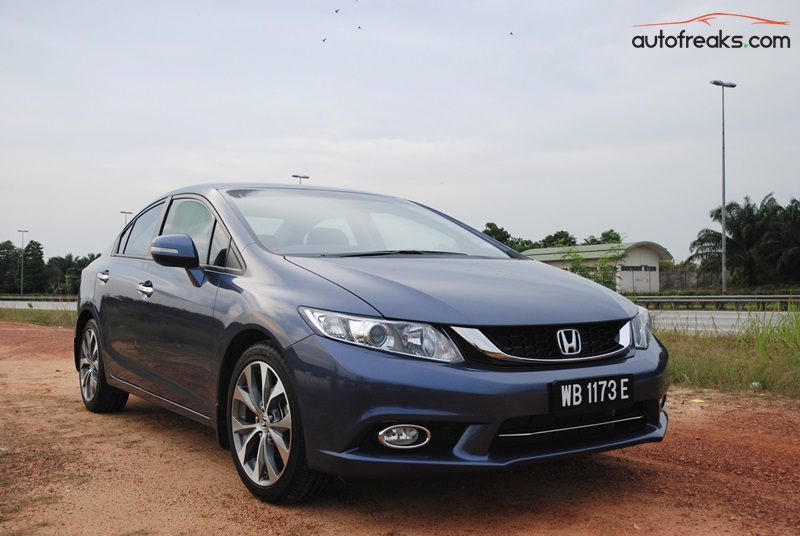 While some manufacturers try to go to the extreme when designing their vehicle to create sharp, dynamic styling and avant garde looks, Honda chooses to stick to subtlety that would likely appeal to the masses. Although some might find its overall design styling theme a little outdated, I still think that the Civic is pleasing to look at, especially since Honda enhanced the front grille with a new honeycomb design and added front spot-lights for better night-time visibility. Apart from that, the wheels have also been enhanced with 17-inch multi spoke alloys and the Civic now sports High Intensity Discharge (HID) Headlights equipped with auto on/off function.
Honda believes in 'practical' design-language, e.g. 'man maximum, machine minimum', therefore, the Civics' interior feels very wide and spacious despite measuring only 4,525 long, 1755 wide and 1,435 tall. At the same time, the Japanese automaker also wanted to lower the center of gravity for improved handling dynamics. While the Civic might appear svelte from the outside, it is actually spacious enough to accommodate up to 6 passengers in comfort.
Inside the cabin, you'll be able to find plenty of thoughtful storage spaces to keep your things organised. Best of all,  the cabin is now enhanced with more refined material such as 'Piano Black Finish' exhibiting close attention to detail. While the Civic is not something you'd call fancy, it doesn't make you feel like you're stuck driving an economy car either, thanks to its futuristic-looking multi-information display, the blue-themed audio display and all the fancy and colorful buttons that cheers up the whole cabin.
The best thing about driving the Civic 2.0 Navi is that it keeps drivers informed and entertained while traveling. My test unit came with a new 7-inch touchscreen head unit that allows access to audio, phone book, music and the vehicle's information as well as to the available navigation system. The display unit works really well as it is able to respond to taps, swipes, and pinches just like a smartphone or tablet computer.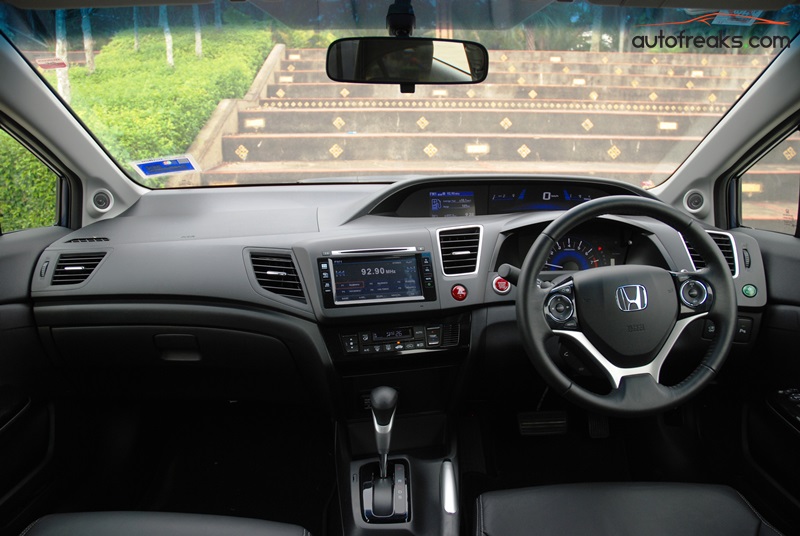 For the driver's convenience, the Civic 2.0 Navi also features a multi-angle rear view camera when reversing your car, a HDMI port that allows you to charge your phone and a Bluetooth Hands-Free telephone where you can answer and reject calls without having to use your hands. This allows the driver to stay connected on the go without compromising safety.
Speaking of safety, the Civic also comes standard with Anti-Lock Braking System (ABS) and Vehicle Stability Assist (VSA) as standard equipment throughout the whole Civic variant aside from the inclusion of 6 airbags exclusive for the 2.0S and 2.0 Navi only.
I also had the fastest Civic in the range powered by a 2.0-liter 4-cylinder engine that generates 155hp and 190Nm of torque. When hitting the road, it only took a mere seconds for me to realize that the Civic is so much fun to drive especially when sprinting on long straight.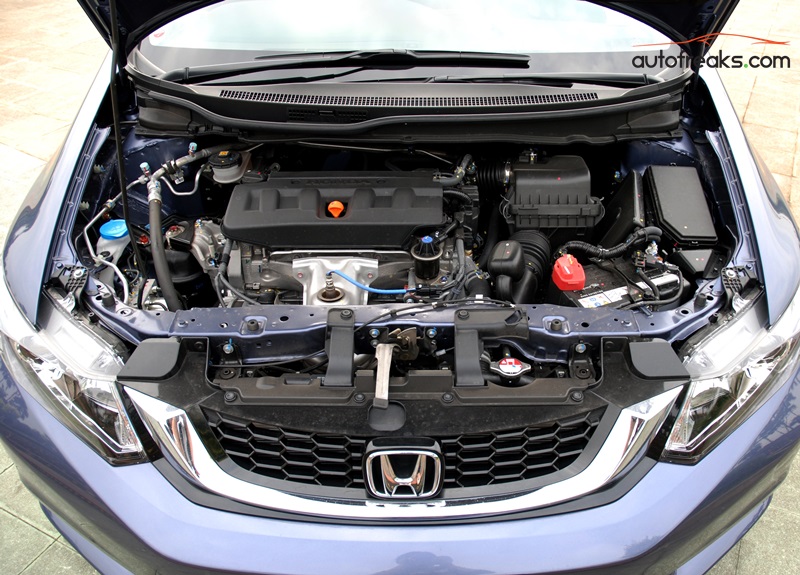 Plus, the silky smooth 5-speed auto transmission manages the power going to the front wheels really well, ensuring merges onto the freeway and accelerating relatively effortless. Personally, I enjoy the idea of seamless 'regular' gear changes as compared to my own DCT gearbox because it balances out the driving feel regardless if you're moving at a slower pace or driving fast.
The Civic never fails to impress when it comes to ride and handling either. The sedan is able to tackle corners or curves with so much poise, while its steering wheel gives a lot of feedback to the driver and it does exactly what you'd expect it to do.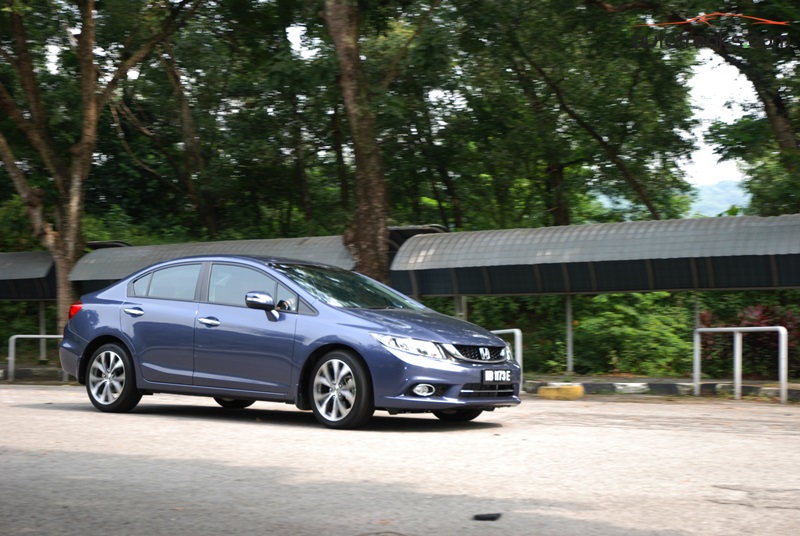 The suspension on the other hand, is more tuned for comfort, which makes the Civic feel isolated from impacts when traversing road bumps or road surface roughness, while the overall level of cabin noise is kept surprisingly low. On top of that, the Civic has very good outward visibility in every direction thanks to the slender roof pillars and large side mirrors that makes it a very easy to drive sedan.
As far as fuel economy is concerned, I managed to average 10.1km/litre, driving without the cars' Econ mode engaged. Perhaps if I press the little green leaf button on the right of the steering wheel, it might be able to achieve much better fuel consumption figures, but I was having too much fun.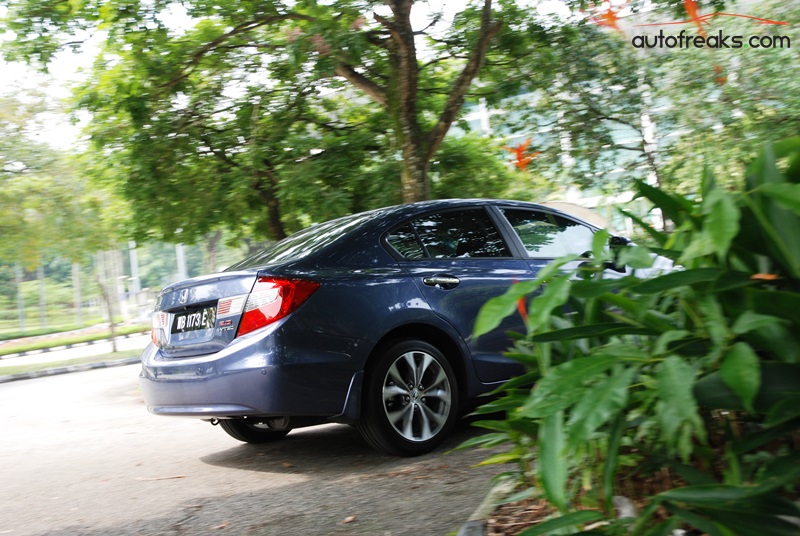 If you're looking for a sedan with a perfect balance between sportiness and practicality, the Honda Civic will probably be something you would enjoy driving on day-to-day basis. Best of all, despite all these improvements and enhancements, the Honda Civic still remains more affordable than the model it replaces which makes it excellent value for money.
SPECIFICATIONS: Honda Civic 2.0 Navi
Displacement: 1,997cc In-line 4-cylinder i-VTEC
Transmission Type: 5-speed automatic transmission with Torque Converter
Power: 155hp @ 6,500rpm
Torque: 190Nm @ 4,300rpm
Fuel Consumption: 10.1km/L
Price: RM132, 210 OTR with GST
Photo gallery: