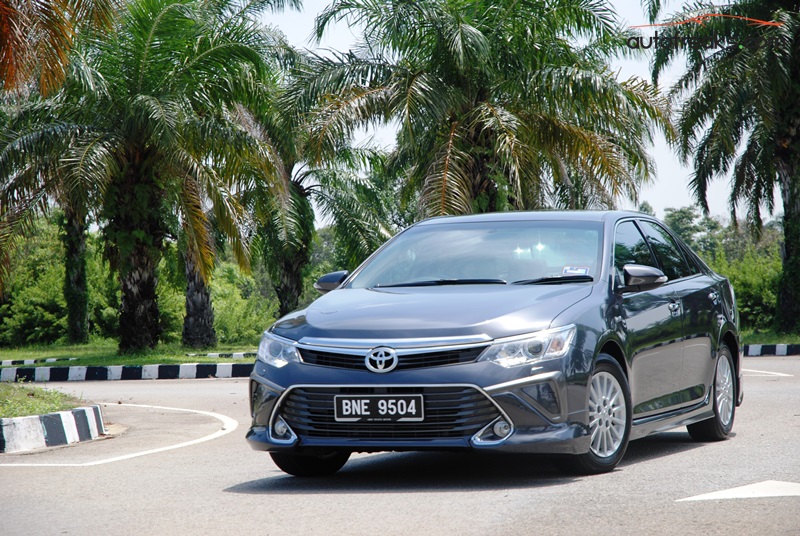 ADVERTISEMENT
It might come as a surprise to many that the ubiquitous Toyota Camry has been around in our local market for more than two decades. Since it was first launched in Malaysia back in 1994, over 115,000 units of the Camry have been sold. Today, automotive buyers are spoilt with so many choices in the D-segment that ranges from Honda, Mazda, Ford, Chevrolet, and many more, but the Toyota Camry has still remained the top choices for the greatest number of buyers in Malaysia.
Yes, some of you might not find the Camry as the sexiest or most thrilling car in the market, but it actually has some kind of appeal to vast majority buyers who are seeking a mid-size family sedan. This facelift 2.0G model which I was given for a weekend test here is the best Camry I've test driven so far and the least-boring Camry ever made.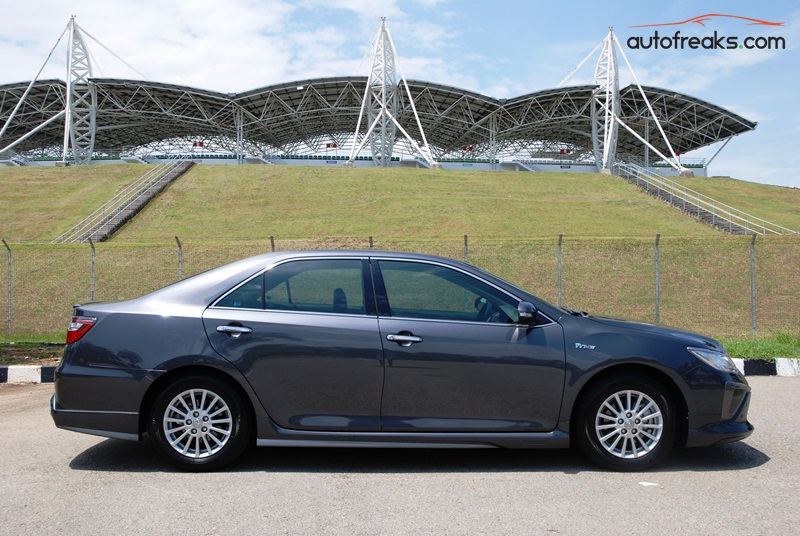 Beauty lies in the eyes of the beholder and honestly, I really like the way the new Camry looks. It has been injected with some personality and style to it. The overall look has been redesigned which presents a more powerful road presence than ever before. Additionally, buyers can opt for an aero kit that consists of a front bumper spoiler, rear bumper spoiler, side skirts, and trunk spoiler as seen on our test unit here to complement its new façade.
In the cabin, buyers will notice that the Camry now sports a black theme interior, which is a lot easier to maintain than its last iteration light-colored interior, especially if you have kids; for obvious reasons, stains are hardly noticeable in these black leather seats.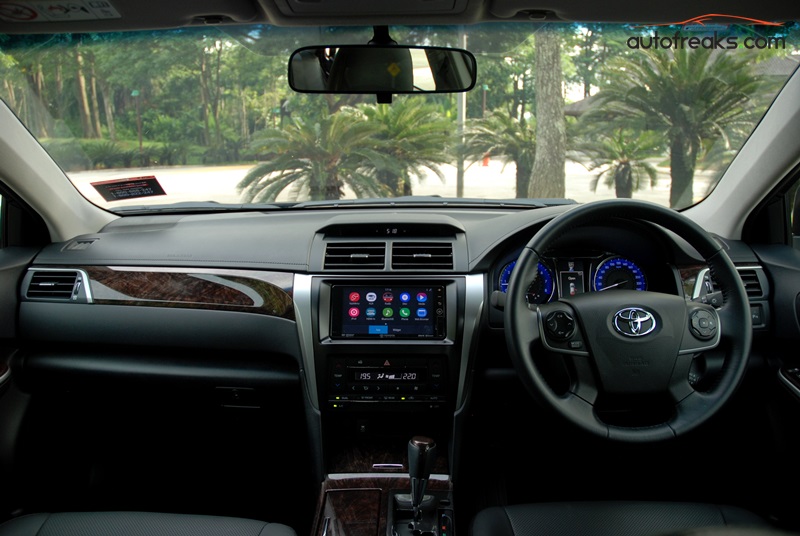 The overall cabin looks like it is made of high quality materials and it is padded with soft touch materials, especially in areas where the occupants touch the most like the door sills, dashboard and the arm rest. There's a deep cubby hole that could store just about anything like smart tag, wallet, or to charge your smart phone when on the go with the availability of USB ports.
A new notable changes found on the 2015 Camry include a redesigned center cluster with bevelled surfaces on the sides and an inverted U-shape in the middle. You will notice that the instrument panel has been revised and it looks almost similar to the one available in Lexus models.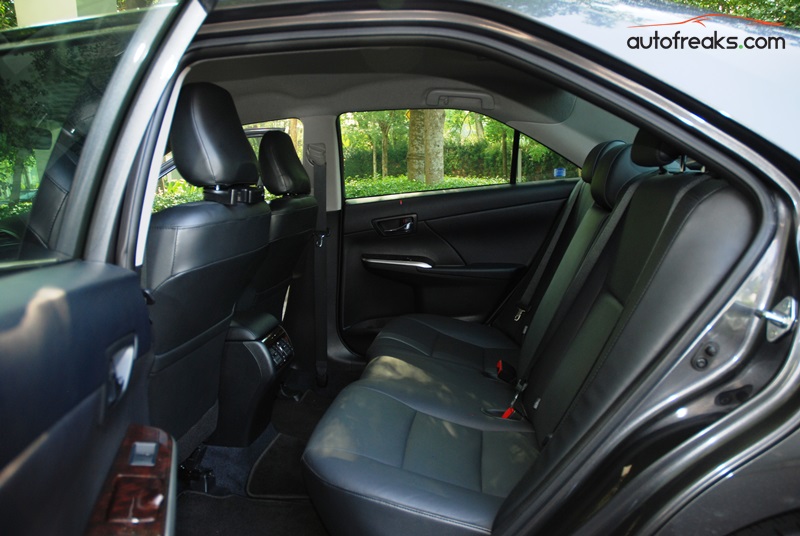 The Camry is well-known for providing best in class rear seating experience as compared to its rivals. For instance, chauffeured rear seat passengers can adjust the front passenger's seat via a button located on the right side of the seat for additional comfort when there is no one sitting at the front. Apart from that, the front passenger seat headrest can also be folded forward to enhance the rear passengers forward visibility. I didn't have the chance to be chauffeured around in the Camry, but based on my observation, there weren't any complaints from my rear seat passengers because they probably fell asleep during most of the journey.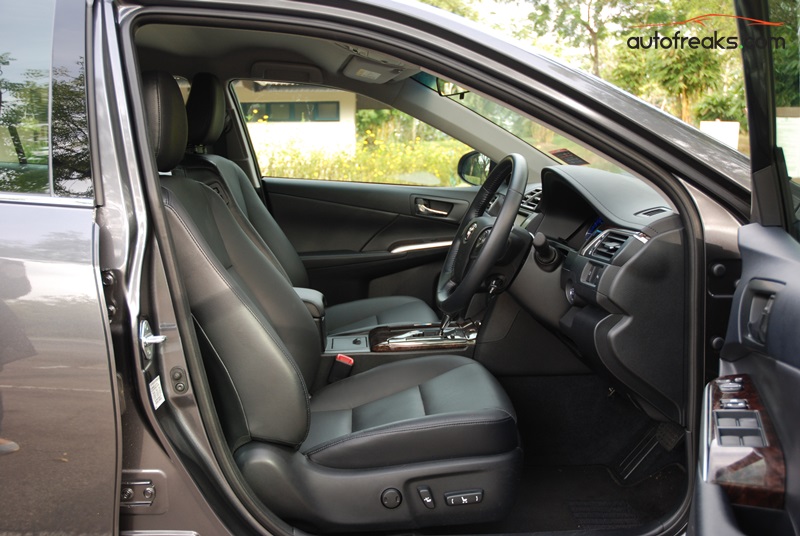 To improve the overall comfort from inside the cabin, the new Camry now comes with High Solar Energy-Absorbing glass on the side and rear windows. This glass also reduces high-frequency wind noise for enhanced quietness. As a result, you will have a very zen-like calmness and serenity when seated inside the cabin, which is good for keeping your stress levels low. I personally find its eerily silence rather awkward, so it's good to know that Camry comes with an optional 7-inch touch screen media with an internet browser and WiFi, USB and Bluetooth connectivity for easy access to my playlist.
At the heart of the 2.0 Camry lies a brand new 2.0-litre 4-cylinder petrol engine that develops 165hp at 6500rpm and 199Nm of torque from 4600 rpm, mated to 6-speed automatic transmission with a torque converter.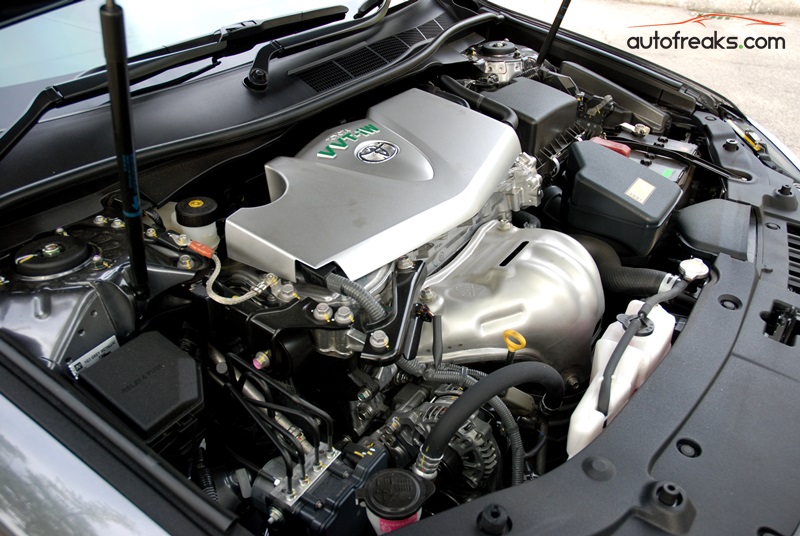 According to Toyota, compared to the previous 2.0-litre 1AZ-FE engine, the new 6AR-FSE engine is 12% more economical while power output has been increased by 13%. Optimum output is achieved with mere RON95 petrol and unhealthy emissions are much lower than before.
On top of that, the transmission, which is physically lighter than the previous unit, has been designed with features that reduce power losses so that efficiency is increased. As expected, the Camry proves to be a confidence aspiring commuter that delivers excellent acceleration when needed in a silky smooth manner. For drivers who wish to have more control over shifting, fret not because there is also the option for manual selection on the gear-lever if slotted in "+/-" mode.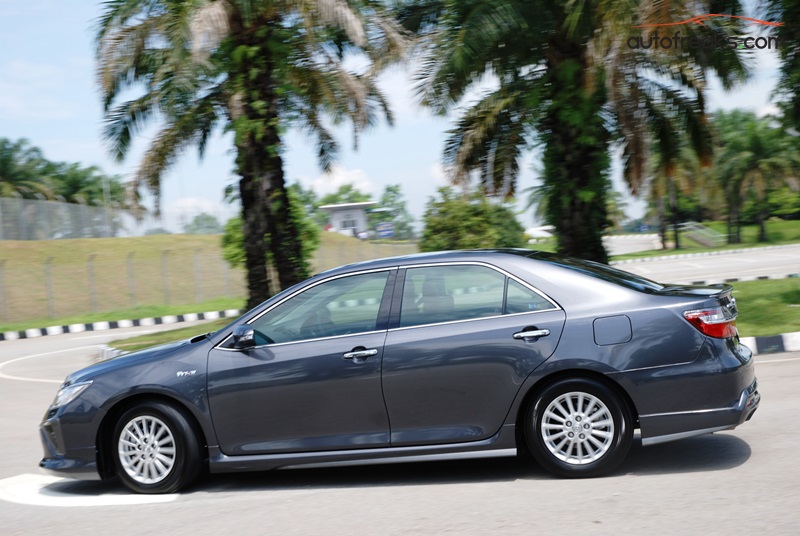 Although it might not reach the same level of handling sharpness offered by sportier competitors, nor may it be the quickest in its class, the Camry simply feels like a proper modern family sedan when you're behind the wheel.
The suspension system has been fine-tuned to improve ride comfort while the computer-controlled, vehicle speed-sensitive Electric Power Steering (EPS) system has also been tuned to combine accuracy and precise handling with better feel at all vehicle speeds. As a result, the Camry has a great sense of control, both under acceleration from a standstill and is more composed when going around corners.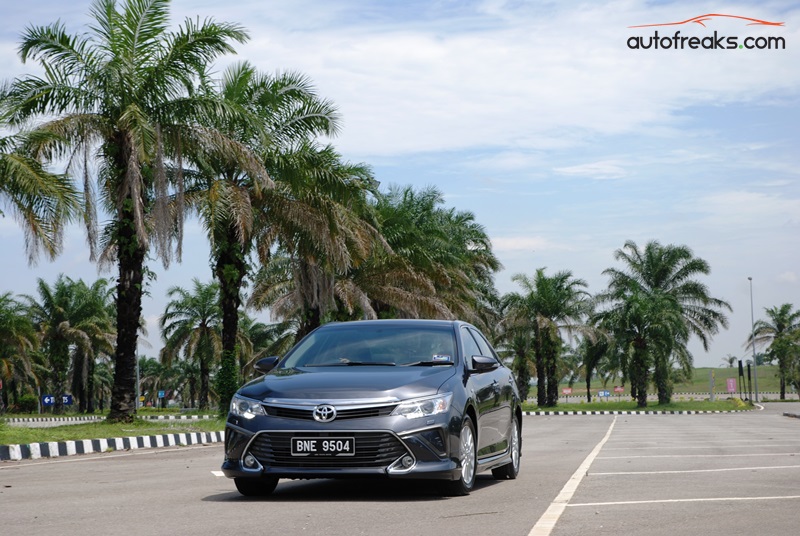 Bear in mind that the brake pedal is surprisingly sensitive, so stops can be abrupt, but it only takes a while to get used to.
Consumption wise, my weekend drive comprising mixed stop-and-go-traffic and highway speeds averaged 9.2-9.4 litres per 100km and overall, I was pretty impressed that a 2.0-litre engine could perform well in a large vehicle like the Camry. Aside from that, the engine noise is surprisingly low, it can be easily be mistaken as a hybrid. Stay tuned for that review coming soon by the way…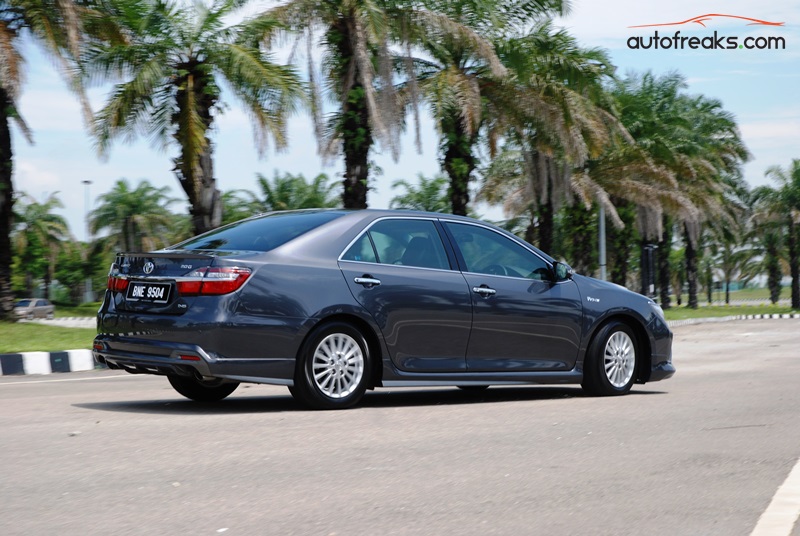 Toyota does not compromise of safety either. The 2.0G comes equipped with Vehicle Stability Control (VSC) with Traction Control (TRC), Hill start Assist Control as well as an Emergency Stop Signal which activates the hazard warning lights during hard or sudden braking as standard feature. Apart from that, ABS and Electronic Brake Distribution and dual airbag systems are also fitted in the model.
If you are planning to purchase the new Camry, opt for this 2.0G variant instead because the 2.0E does not come with Vehicle Stability Control; a crucial safety feature that has helped prevent a lot of single-vehicle accidents especially on slippery roads. Still, I find it rather confusing why there's a VSC disable button available inside the cabin because nobody buys a Camry and disengage the VSC system for track use, despite the location of this photoshoot…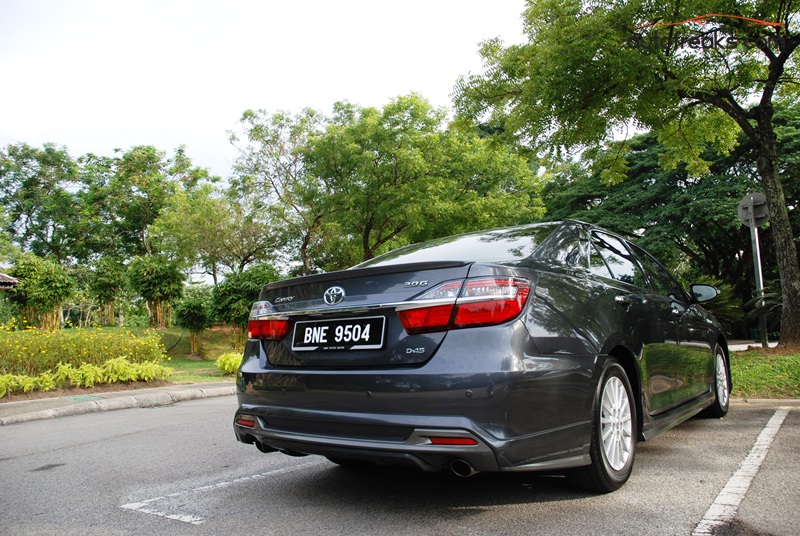 In reality, while the 2015 Toyota Camry may not be perfect, it's still known as an outstanding family sedan, and will likely be seen as such for many years and years to come. The majority of automotive consumers in Malaysia are Toyota devotees and have been so for a long time, and it's only logical that once they have a family, it's got to be a Camry for a family car. After all, Toyota has always been well-known for its affordability, reliability, dependability and after-sales service. If you are looking for a pleasant family sedan, the 2015 Camry is pretty much a no brainer.
SPECIFICATIONS: Toyota Camry 2.0G
Displacement: 1,998cc In-line 4-cylinder DOHC with VVT-i
Transmission Type: 6-speed automatic transmission with Super ECT and Sequential Shifter
Power: 165hp @ 6,500rpm
Torque: 199Nm @ 4,600rpm
Fuel Consumption: 9.4-litre/100km
Price: RM159,900 OTR with GST and insurance
Photo Gallery: